From 5pm on 7 June to 14 June 2022, Lithium Finance will coordinate with Kucoin to launch a special giveaway program for eligible users with a total prize pool of up to LITH 18,000,000 equivalent to approximately USD 30,000.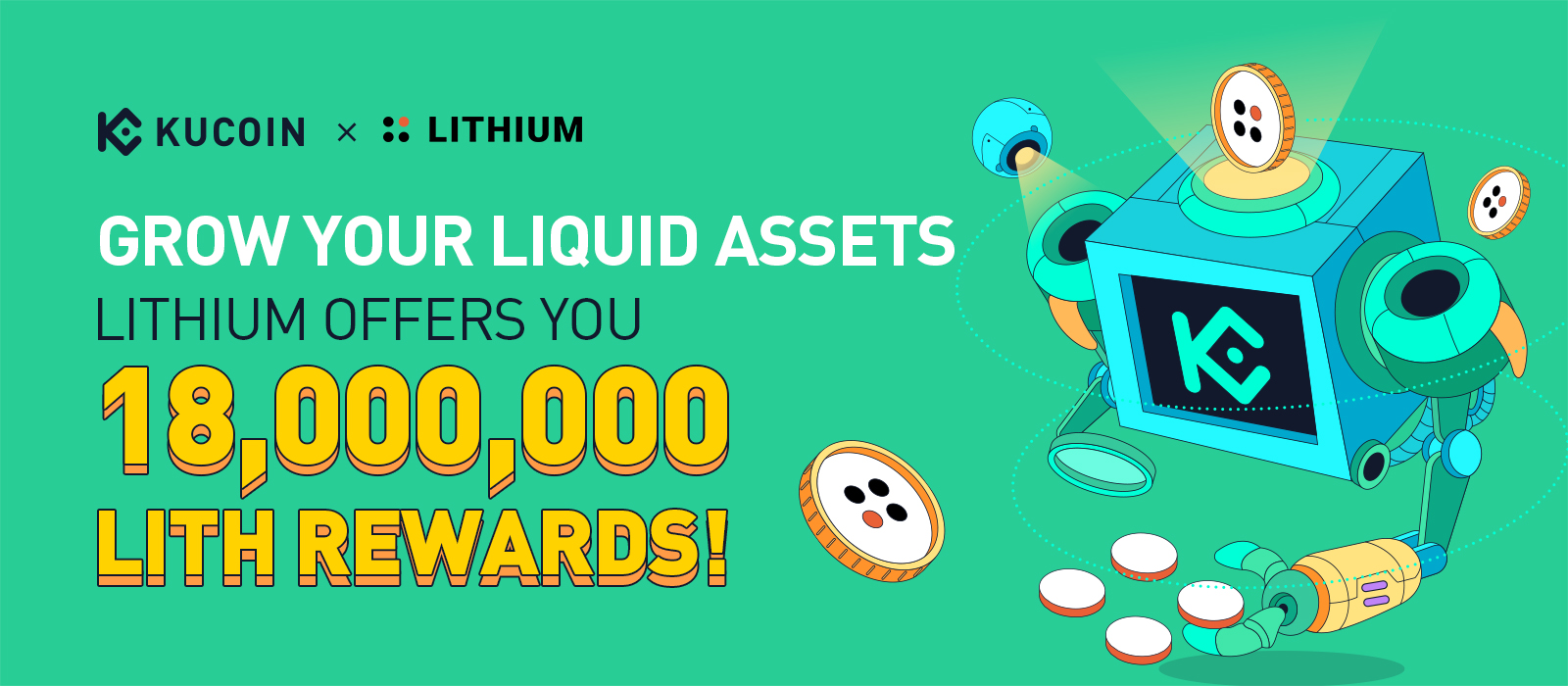 Activity 1: Gift for an old friend (5,000,000 LITH)
Users who traded LITH before 17:00 on 07/06/2022 will be able to share 5,000,000 LITH (approximately 8,500 USD) in proportion to the amount traded.
* Rewards for eligible users = (total net deposit volume of each user / total net deposit volume of all eligible users) * 5,000,000 LITH total bonus pool
Activity 2: Commercial competition (10,000,000 LITH)
Users with a trading volume (buy + sell) of at least 300,000 LITH on KuCoin will win the chance to share the 10,000,000 LITH bonus pool worth 17,000 USD).
The prizes will be distributed as follows:

Award for Qualified Users outside the top 20 winners = (Total trading volume of each user / all eligible users except top 20) * 3,500,000 LITH.
Activity 3: Lucky Draw (3,000,000 LITH)
KuCoin will draw a lucky draw for users whose trade amount (buy + sell) reaches 35,000 LITH or more, follow Lithium on Twitter and add trading pairs LITH / USD TILLION to the Favorites list.
200 lucky users will equally share the 3,000,000 LITH bonus pool. Each person will receive 15,000 LITH.
Note:
Net deposit volume = deposits – withdrawals;
Trading volume = buy + sell;
The prize amount will be calculated based on the average closing price of LITH / USDT during the campaign period.
The secondary account and the main account will be considered the same account when attending the event.
KuCoin will update the list of top 10 active leaders before 20:00 on June 10, 2022 (Vietnam time). The final ranking will be updated within 5 working days from the end of the campaign.
Prizes will be distributed within 7 business days of the campaign ending.
Trading activity on the platform will be strictly monitored. For any malicious behavior, including transaction manipulation, illegal mass registration of accounts, self-processing … the platform disqualifies participants. The final decision made by KuCoin has legal effect on all participants. Users must confirm that registration and use of KuCoin are voluntary and have not been coerced, interfered with or influenced in any way by KuCoin.
About KuCoin
Founded in September 2017, KuCoin is a global cryptocurrency exchange with over 600 digital assets. The exchange currently offers Spot, Margin, P2P fiat, Futures, Staking and Lending trading to 10 million users in 207 countries and regions around the world.
According to CoinMarketCap, KuCoin is currently one of the top 5 cryptocurrency exchanges in the world. Forbes named KuCoin as one of the best cryptocurrency exchanges of 2021. The Ascent voted KuCoin as one of the best cryptocurrency exchanges of 2021. The best cryptocurrency exchanges and apps early 2022.
Lithium Finance Information
Lithium Finance is a platform that provides valuation data for illiquid assets. Lithium Finance provides users with access to limited primary market (OTC) price data typically held by brokers, senior executives or M&A experts with many years of experience. Lithium Finance encourages the sharing and privacy of public data. The project will reward users who provide honest information and punish those who provide incorrectly priced data. From there, the market will have access to the prices of all hard-to-value assets such as pre-IPO stocks, private equity and other illiquid assets.
Join the Lithium Finance Vietnam community: Notification channel | Community for discussion
Maybe you are interested:
Note: This is sponsored content, Coinlive does not directly endorse any information from the above article and does not guarantee the veracity of the article. Readers should conduct their own research before making decisions that affect themselves or their businesses and be prepared to take responsibility for their own choices. The above article should not be viewed as investment advice.