Posting the status lines on his personal page, Pomp's brief tweet about Brazil is enough for everyone to understand, it is likely that Brazil will be the next country to legally bid for Bitcoin: "A politician Another Brazilian joins the laser eye movement"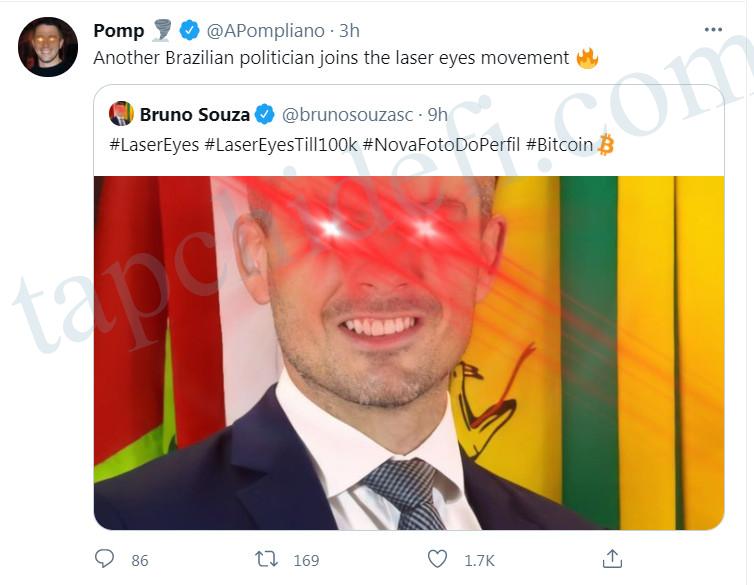 Anthony PomPlianpo: "Another Brazilian politician joins the laser eye movement"
Recently, the phrase "laser eye" seems to be mentioned repeatedly by Bitcoin experts. This movement emerged after President Bukele of El Salvador announced a legal tender for Bitcoin. Many politicians have left laser eyes on their personal witters as an impending foreshadowing of Bitcoin's hopes in their countries: Paraguay, Panama, etc., and now Brazil.
Is Brazil the next country to legal tender for Bitcoin? Or that there will be a new policy that is friendly to the leading market capitalization coin soon to be announced?
I don't know the actions of politicians when joining the "laser eye" movement and attaching the hashtag #bitcoin on personal Twitter, but the equalization of these countries with El Salvador in the field of cryptocurrencies of the Experts and leading Bitcoin holders like Pomp, Tylor Winklevoss all want to hint that Bitcoin will be legalized here.
Let's wait for their new announcements.
Another Brazilian Politician Joins Laser Eye Movement – ​​Cryptocurrency is Booming in Brazil
As the country with the largest economy in Latin America, Brazil is also struggling with the crisis of the COVID-19 pandemic.
After the US and India, this is the country that has been heavily affected by the disease. The country's President Jair Bolsonaro is facing a criminal investigation over its response to the pandemic. It is likely that the recovery of the economy will last longer while inflation is seen by experts as having spiked.
Faced with that political and economic uncertainty, institutional and retail traders are flocking to invest in cryptocurrencies. And in the first quarter of 2021 alone, the country's largest bitcoin exchange, Mercado Bitcoin, (with around 2.2 million users) traded nearly $5 billion in cryptocurrencies on its platform.
Cryptocurrencies are exploding in Brazil as investors are looking to take advantage of the bull market while the crypto industry remains largely unregulated in the country.
In February, Brazilian asset manager Hashdex announced the launch of one of the world's first cryptocurrency exchange-traded funds. The ETF, created by Hashdex and Nasdaq, tracks the Nasdaq crypto index, and allows investors to access a diversified crypto portfolio in one transaction. The ETF began trading on the Sao Paulo-based B3 stock exchange in late April.
Join Facebook Groups and Telegram group of the Coinlive to chat and exchange information about the Crypto Currency market with more than 10,000 other people.
Important Note: All content on the website is for informational purposes only and is not investment advice at all. Your money, the decision is yours.