After breaking through $38,000 in the past week, Bitcoin price lost momentum. As of this morning, June 13, the price of this coin sometimes fell below $ 35,000.
According to the data of Coin Desk On June 12 (Vietnam time), the price of Bitcoin had a time when it lost its mark $35,000/bronze, fell from a high within 24 hours 37,587 USD/dong down to level 34,682 USD/copper.
The world's largest cryptocurrency is currently trading around $35,700/dong, down 3.84% from a day earlier.
In addition to Bitcoin, other cryptocurrencies also dropped in price. Ether price plunges 1.61% to 2,418 USD/copper. XRP and Cardano also saw price drops of 3.8% and 3.27%, respectively. Meanwhile, the price of Dogecoin dropped by 3.36% compared to a day earlier.
Bitcoin price surged after the Congress of El Salvador (North America) passed a law recognizing the legality of Bitcoin. However, according to Bloomberg, the uptrend of the currency has shown signs of slowing down.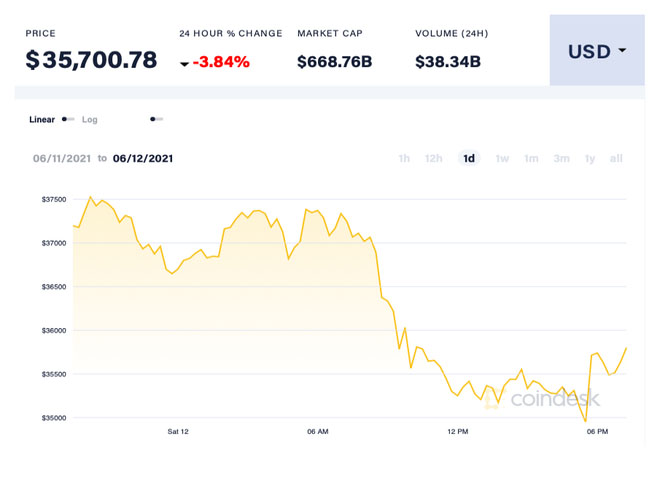 According to the news and research site The Block, trading volume has plummeted in recent weeks after surging at the start of the year.
Interest in the Bitcoin futures market has also increased. That means investors are no longer paying for futures contracts on the Binance cryptocurrency exchange as they were a few weeks ago.
On social media, new followers of major exchanges also declined. It is a measure of public interest in the crypto space.
"Transactions for NFTs (non-fungible tokens) also dropped. In the DeFi (decentralized finance) sector, the revenue generated by various protocols has plummeted, matching the decline in transactions on traditional exchanges," Bloomberg analyzed based on data from Bloomberg. The Block.
Maybe you are interested:
---
Join our channel to update the most useful news and knowledge at:
According to Zingnews
Compiled by ToiYeuBitcoin