Luxor and NYDIG have teamed up to drive growth for the North American crypto mining industry.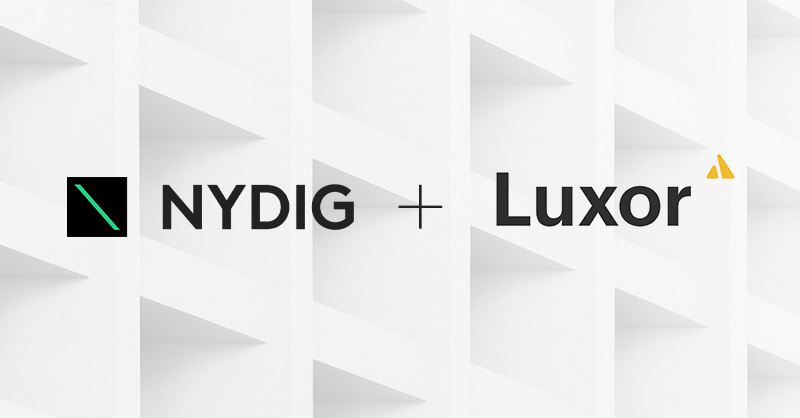 Seattle-based mining software company Luxor has closed a Series A funding round led by institutional Bitcoin technology and financial services firm NYDIG.
Luxor announced a $5 million funding round on June 9, adding that NYDIG will partner with Luxor on a number of projects related to mining and hashrate-based products.
Also participating in the bidding round were miners Blockware Solutions, Celsius Network, DPO, Navier and Supplybit. Several angel investors along with Bitnomial, Hodl Capital and Routemaster also participated.
According to the announcement, Luxor and NYDIG aim to help grow the North American mining industry with Luxor working on turning hashrate into a commodity and NYDIG providing Bitcoin technology and investment solutions to insurance companies. , banks, corporations and institutions.
Luxor offers a software solution called Switch that uses a profit conversion algorithm designed to maximize earnings by switching between blockchains and locations to take advantage of the best block rewards. Nick Hansen, CEO and co-founder of Luxor, commented:
"Luxor is well positioned to capitalize on consistent industry trends that see hashrate continuing to move into North America."
The announcement comes as China continues to crack down on cryptocurrency mining practices and US lawmakers become increasingly agitated about Bitcoin payments for ransomware attacks. .
As Cointelegraph reports, China's dominance over hashrate is dwindling while the US is on the rise due to mining operations that can tap into the abundance of cheap renewable energy in states like Texas.
Robert Gutmann, co-founder and CEO of NYDIG, said:
"We believe in Nick's vision and his team's ability to drive and expedite hashrate migration to North America and the development of tools that can strengthen the Bitcoin ecosystem."
On June 4, several Chinese mining operations are closing stores on the mainland and looking to expand internationally.
Synthetic
Maybe you are interested:
Join the chat group Coinlive Chats Now let's discuss hot issues of DeFi market with Coinlive admins!!!