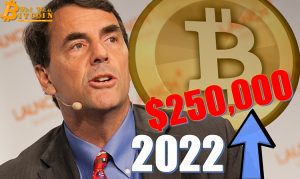 Billionaire venture capitalist Tim Draper has predicted that the Bitcoin price will hit $250,000 by the end of 2022. Major investment funds have also expressed confidence in Bitcoin.
Tim Draper – billionaire in the venture capital circle and Bitcoin investor – predicts that by the end of 2022 or early 2023, the Bitcoin price will reach $ 250,000.
This is not Tim Draper's first prediction of Bitcoin's bullish future. In 2014, when Bitcoin was still trading around $500, Draper prophesied that Bitcoin's value would hit $10,000 within the next three years.
According to CoinDesk, at the end of 2017, the Bitcoin price even crossed the $10,000 mark, reaching $18,900 on December 19, 2017 before plunging back to a low of $7,270 in early 2018.
"Maybe I will be right or wrong. However, I'm pretty sure Bitcoin's price trend will rise in that direction. This prediction is based on the belief that Bitcoin will be more widely used," asserted Tim Draper.
According to CNBC, currently only a few large companies accept Bitcoin through 3rd party e-wallet apps such as Microsoft, PayPal, Overstock, Whole Foods, Starbucks and Home Depot. Many experts see Bitcoin as a store of value, equivalent to gold and more than ordinary currency.
Moreover, Draper's prediction is also based on the limiting factor in the global amount of Bitcoin when "only 21 million Bitcoins can be mined". So far, 18 million Bitcoins have been found.
In Draper's eyes, the emergence of Bitcoin "is like Microsoft in the world of software or Amazon in the world of e-commerce". He believes that Bitcoin will become the center of all financial activity within the next 20-30 years.
Not only Draper, large investment funds are also putting their faith in Bitcoin. According to the Financial Times, a survey of 100 CFOs of hedge funds found that they expect to hold an average of 7.2% of their crypto assets over the next five years. Intertrust estimates that ratio could equate to total assets of about $312 billion in cryptocurrencies.
Bitcoin's development path is more open with the appearance of the Bitcoin futures contract model. Investment management firm Man Group is launching Bitcoin futures trading through its AHL unit. Meanwhile, in 2020, Renaissance Technologies' Medallion investment fund said it will also invest in this type of contract.
Bitcoin is the biggest contributor to the growth in 2021 of the US investment fund SkyBridge Capital – founded by former White House communications director Anthony Scaramucci. The SkyBridge Fund started investing in Bitcoin at the end of 2020 and cut its Bitcoin holdings in April, right before the Bitcoin price plunge.
"Funds are not only well aware of the risks but also the long-term potential of cryptocurrencies," said David Miller, managing director at Quilter Cheviot Investment Management.
However, some hedge funds are still wary of cryptocurrencies. The Financial Times reported that Paul Singer – Chairman and CEO of Elliott Management – ​​noted that cryptocurrency could become "the biggest financial scam in history".
The Intertrust survey also found that all hedge fund CEOs in North America, Europe and the UK expect to have at least 1% of their portfolios in crypto. In addition, it is expected that the proportion of funds invested in cryptocurrencies in North America is 10.6%, in the UK and Europe at 6.8%.
Maybe you are interested:
---
Join our channel to update the most useful news and knowledge at:
According to Zingnews
Compiled by ToiYeuBitcoin