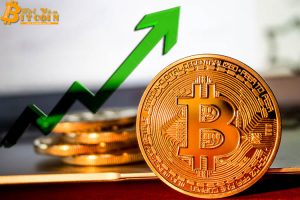 The first Bitcoin upgrade in 4 years has just been approved by miners around the world. The above positive information pushed Bitcoin price up.
According to data from Coindeck Bitcoin has risen from a 24-hour low of $34,800 to over $39,000. As of 6 a.m. on June 14, the world's largest cryptocurrency was trading around $39,000, up 9.82% from a day earlier.
Bitcoin price surged while other cryptocurrencies rose insignificantly. Ether price is up 8.7% at $2,500. XRP and Cardano also gained 6.2% and 5.5% respectively. Meanwhile, the price of Dogecoin only increased by 4.4%.
According to CoinMarketCap data, Bitcoin's share of the crypto market has increased sharply from a day earlier to 44.96%.
Bitcoin price bounced on positive news about the coin's first upgrade in 4 years. The upgrade promises to increase Bitcoin's privacy and transaction efficiency.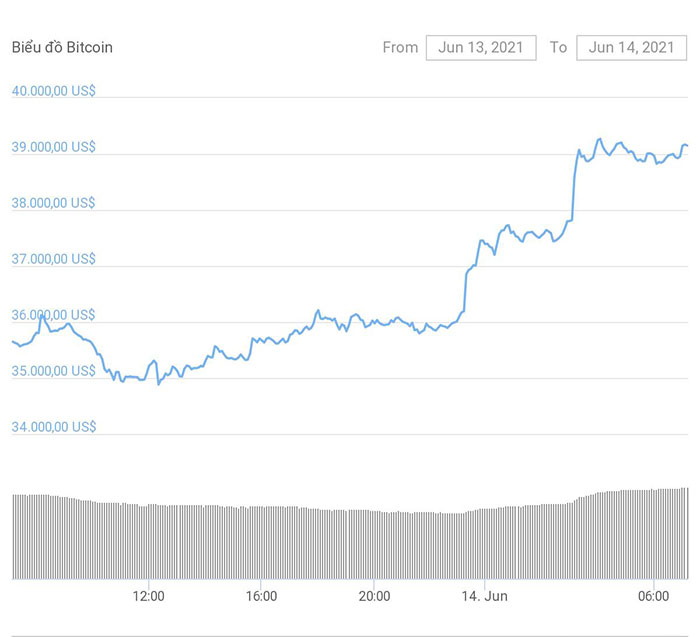 Increase privacy
According to CNBC, the first Bitcoin upgrade in 4 years has just been approved by miners around the world. This is a rare consensus among stakeholders. Accordingly, the upgrade is called Taproot and will take effect in November.
After the upgrade, the privacy and transaction efficiency of this cryptocurrency will be higher. More importantly, it opens up the potential for smart contracts – a feature of blockchain technology that eliminates middlemen from complex transactions.
"Taproot is very important. It opens up many opportunities for entrepreneurs interested in expanding the utility of Bitcoin," CNBC quoted Alyse Killeen, founder of Stillmark company, as saying.
Unlike the 2017 upgrade, Taproot has strong support. One of the main reasons is higher privacy.
"With the new upgrade, you can hide a little better. That's good news," said Brandon Arvanaghi, a former security engineer at cryptocurrency exchange Gemini.
On June 8, the Bitcoin price suddenly dropped 13% from a day earlier to $ 31,000 / dong. According to experts, the cause behind the fall is still unclear. But they may be related to concerns about the security of cryptocurrencies.
On the same day, US officials recovered $2.3 million in Bitcoin – more than half of the ransom paid by Colonial Pipeline to a group of hackers who attacked the largest US fuel pipeline network with ransomware. money last month.
According to Reuters, the US Federal Bureau of Investigation (FBI) owned the key to a Bitcoin wallet that received most of the Colonial Pipeline's ransom. It is not clear how the FBI got the key. Bitcoin is the currency often chosen by hackers to demand ransom payments to unlock data locked by ransomware.
Smart contract
The Bitcoin upgrade is also seen as a game changer for smart contracts. "The most important thing for Taproot is the smart contract. They offer a real opportunity to build apps and businesses on blockchain," said Fred Thiel, CEO of Marathon Digital Holdings.
Smart contracts are also a key driver of innovation on the Ethereum network.
In addition, according to CNBC, as more and more programmers build smart contracts on Bitcoin's blockchain, the coin also has the potential to become a "big player" in the world of DeFi (decentralized finance). .
DApps, or decentralized applications, is the term used to describe financial applications designed to eliminate middlemen. At the moment, Ethereum is the blockchain that is dominating these applications.
With DeFi projects, the Ethereum network is used for financial management, lending, and collateral. All without banks and brokers. Ethereum is also fueling an explosion of non-fungible tokens, the latest digital art craze.
"Investors often view Ether as a growth investment. They bet on the growth of a decentralized ecosystem built on top of Ethereum," commented Phil Bonello, Research Director at Grayscale Investments.
According to him, investors pour money into Ether to benefit from the growth potential of the Ethereum network. Year to date, the price of Ether has increased by more than 200%. By comparison, Bitcoin has only increased in price by 23%.
The news of Bitcoin's upgrade caused investors to rush to buy, driving the price up. However, even though the Bitcoin community agreed on the upgrade, it took another 5 months to roll out.
"It's necessary to do back-testing to reduce the chance of problems during the upgrade," said Jason Deane, an analyst at Quantum Economics.
Maybe you are interested:
---
Join our channel to update the most useful news and knowledge at:
According to Zingnews
Compiled by ToiYeuBitcoin