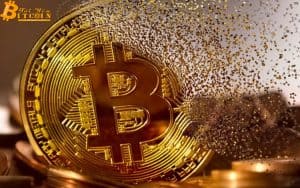 Bitcoin investors must be thinking about the serious plunge of the world's largest cryptocurrency. However, Bloomberg believes that there are assets, such as stocks of electric car companies, much riskier than Bitcoin.
Pro-Bitcoin investors appear to be in a crisis. Since peaking at nearly $65,000/BTC in mid-April, the bitcoin price has now dropped by as much as 47 percent.
Meanwhile, China, which generates about 75% of the global supply of Bitcoin, is tightening its grip on trading and mining.
In addition, a series of "storm tweets" from Tesla CEO Elon Musk also caused the Bitcoin price to continuously increase and decrease abnormally. This caused institutional investors to flee Bitcoin and return to gold.
However, Bloomberg's Shuli Ren advises Bitcoin investors not to get discouraged, as other investments are much riskier than Bitcoin. QuantumScape, an electric vehicle battery maker with a market capitalization of about $12.3 billion, is an example.
Shares of shady electric car battery company
QuantumScape has two major shareholders, Volkswagen and Qatar Investment Authority. This company just IPO in November last year through the form of SPAC.
QuantumScape's stock plunges worse than bitcoin. This year alone, the value of this stock has dropped by nearly two-thirds. That's because it's so mysterious, explains Shuli Ren.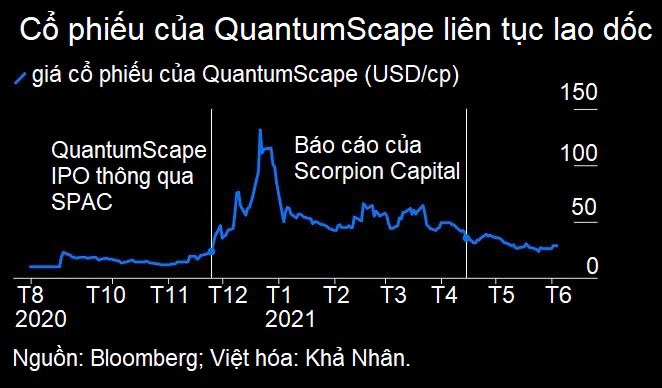 QuantumScape once made a bold claim that it can increase the operating capacity of electric cars by up to 50% while dramatically reducing the charging time for a long car ride to 15 minutes.
So far, the breakthrough QuantumScape promises has appeared only in extremely limited preliminary reports. The most mysterious is the company's electric vehicle battery development technology. QuantumScape didn't even mention the names of its experts to Bloomberg for fear of being "stolen" by a competitor.
The company's CEO Jagdeep Singh said: "I don't understand why QuantumScape has to let a third-party lab test the new technology that is considered more objective."
The shady operation of the electric vehicle battery company not only aroused suspicion but also attracted short sellers. Scorpion Capital calls QuantumScape a "scam". In response, Mr. Singh said, "the reason we keep it a secret is because it takes a lot of time and energy for the company to research new materials."
According to Bloomberg, QuantumScape should have remained a tech unicorn for a while instead of taking advantage of SPAC for an IPO. If so, this company will not be entangled in controversy or attract the attention of the public as it is now.
Stocks are more volatile than Bitcoin price
Bitcoin's biggest advantage is its finite supply, with a maximum of only 21 million coins. However, stocks are not like that. Companies can issue new shares for a variety of purposes, and directing retail investors to understand that in a positive way is an art.
However, the $43 billion electric car company of Chinese real estate conglomerate Evergrande Group isn't really that good at this. This year, the company's stock is more volatile than bitcoin.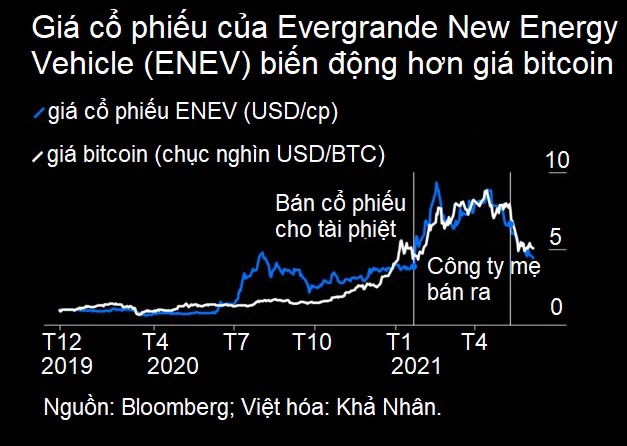 Similar to QuantumScape, Evergrande New Energy Vehicle Group has not yet entered mass production. It was not until June of this year that the company held a "summer calibration test commencement ceremony" for its 5 Hengchi models.
The company's shares soared in January after it raised HK$26 billion from founder Hui Ka Yan's group of investors: Hui's chaebol friends.
At that time, retail investors considered the participation of these tycoons as a vote of confidence from the giants for the electric car company. However, in May, the group withdrew when Evergrande's parent company New Energy Vehicle collected HKD 10.6 billion from selling shares of this electric car company.
Evergrande explained that the sale will help reduce the ownership ratio of 20 major shareholders to less than 90%, paving the way for the electric vehicle company's shares to be listed on the Hong Kong Stock Connect exchange.
The market is so hot, many investors see the move as a way for the parent company of Evergrande New Energy Vehicle, Hui's debt-ridden real estate group, to divest.
Maybe you are interested:
---
Join our channel to update the most useful news and knowledge at:
According to Vietnambiz
Compiled by ToiYeuBitcoin