Posting his latest Tweet on his personal page, the Binance Director affirmed: "Contrary to popular misconceptions, #bitcoin will encourage/fund a new era of energy research and development. clean, while helping to advance our civilization further."

Bitcoin will encourage clean energy research and development
This is not the first time Bitcoin mining has been talked about in such a positive and hopeful way. Earlier, Anthony PomPliano also said that unlike many people think, Bitcoin is actually environmentally friendly.
In the wake of a wave of cryptocurrency boycotts due to mining carrying a carbon footprint and excessive GHG emissions, Anthony Pompliano, Bitcoin enthusiast and co-founder of Morgan Creek Digital, defended Bitcoin with impassioned arguments. rigid.
Bitcoin miners have been looking for the cheapest sources of energy – that is, renewable sources like hydro, solar and wind – because it is more profitable for them.
About 75% of Bitcoin miners use renewable and clean energy sources for mining purposes today. The only problem they have is the difficulty of storing renewable energy efficiently, but the community is working to solve this problem.
Pomp also added: "The best part about this is that there is a financial incentive for operators to figure out how to innovate in this space because if they were the leaders, there would be a huge amount of money." at the end of it".
Finally Pomp closed his point by looking at the changing reality of hardware in the technology sector. While the process is admittedly slow, major tech companies are investing and working to introduce more energy efficient hardware to the market.
Concurring with Anthony PomPliano's view at the time, Changpeng Zhao also further argued that the energy costs associated with Bitcoin mining are lower than the costs of securing fiat. If you consider the bigger picture, securing fiat requires a significant portion of the military budget and global banking costs, significantly higher than the cost of mining.
And today, once again, the use of clean energy to mine Bitcoin was once again mentioned with hope when President Nayib Bukele of El Salvador announced that he had directed the President of the state-owned geothermal power company. LaGeo SA de CV plans to set up infrastructure to generate electricity for Bitcoin mining with zero-carbon, 100% renewable, 100% clean volcanic energy.
Bitcoin will encourage research and development of clean energy – El Salvador uses energy from volcanoes to mine Bitcoin
After becoming the first country to consider Bitcoin as legal tender, El Salvador has made the next move to mine the digital currency.
Not long before, on the day he announced the legal bid for Bitcoin, Bukele had bluntly replied without even thinking about mining. However, it soon occurred to him: El Salvador has hundreds of megawatts of untapped geothermal potential as well as a network of unused power plants. It's cheaper to plug it right into the factory than to ship the power elsewhere. An opportunity awaits.
"So maybe someone wants to set up a mining facility with cheap, clean, renewable energy, but it's just a thought – I'm just thinking about it right now," he told the crowd. 25,000 people.
And surprisingly, less than a day after El Salvador passed a law recognizing Bitcoin as legal currency, this assertive president announced the use of volcanic energy to mine Bitcoin.
Mr Bukele shared a video on his Twitter account showing a strong column of steam rising from a pipeline. "Engineers have just informed me that they have dug a new well that will provide almost 95MW of 100% clean geothermal electricity from the volcanoes," he said.
He said engineers have begun to design a complete Bitcoin mining center around the well.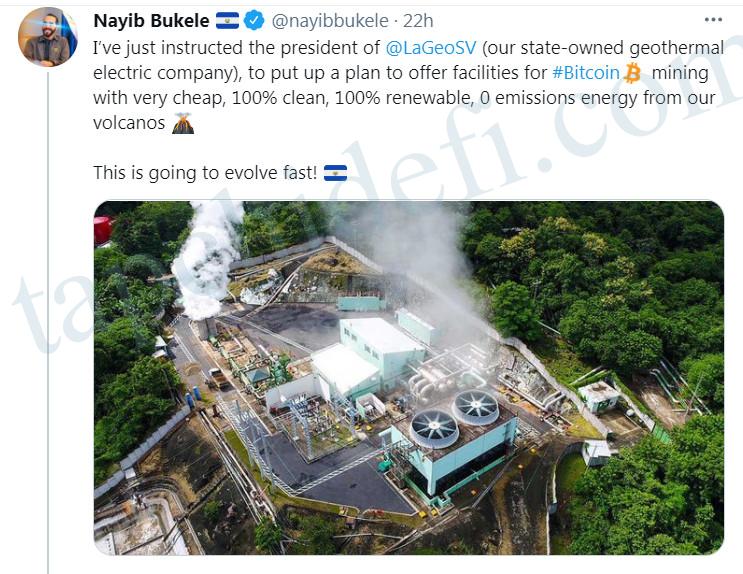 Bitcoin miners need to run a network of supercomputers to solve complex algorithms, making this operation very power-hungry. This is the reason many people have criticized this currency for harming the environment over the years.
With this innovative idea from El Salvador, it is likely that Bitcoin mining will have a new bright spot, bringing hope to miners after environmental concerns.
Join Facebook Groups and Telegram group of the Coinlive to chat and exchange information about the Crypto Currency market with more than 10,000 other people.
Important Note: All content on the website is for informational purposes only and is not investment advice at all. Your money, the decision is yours.