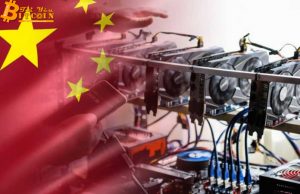 The Chinese government has begun to crack down on Bitcoin mining sites across the country, and severely censor content about virtual currencies on the Internet.
The regions with the most Bitcoin mining factories in China, such as Qinghai and Xinjiang, have been banned by local authorities. In particular, the Qinghai Provincial Administration of Industry and Technology has ordered the closure of Bitcoin mines from June 9, and banned companies from providing land and electricity for crypto projects. According to Xinhua, the announcement came just a day after Chinese President Xi Jinping visited the province and emphasized environmental protection in a speech.
On the same day, the branch of the National Development and Reform Commission in Changji, an area in the far west of Xinjiang, ordered the closure of cryptocurrency mining workshops. Currently, Xinjiang is the world's largest Bitcoin mining region based on hashrate – a measure of the total computing power of the blockchain.
On the Internet, information related to cryptocurrencies has also been thoroughly removed by China. Since June 10, search results related to Huobi, Binance and OKEx – the top three crypto exchanges – have been blocked on Baidu and Weibo. However, keywords like "Huobi official website", "Huobi download" or "Is Huobi legal" still appear.
This is the second time in a year that Weibo has removed keywords and content related to cryptocurrency exchanges. In March, this social network suspended the accounts of all three exchanges mentioned above. In 2019, the account of Binance co-founder He Yi, along with crypto entrepreneur Justin Sun, was also locked. Last week, Weibo banned a series of crypto KOLs on its platform citing "violation of principles" and "relevant laws and regulations".
China's recent "suppression" of crypto activities is cited as financial risk. However, the country is also concerned that mining problems will compromise its environmental goals. China has a goal of becoming a carbon neutral country by 2060.
Bitcoin mining nowadays consumes a lot of energy. According to the latest estimates from the Cambridge University Bitcoin Electricity Consumption Index (CBECI), the amount of electricity used to "mine" Bitcoin amounts to 111.5 TWh per year, more than the total energy used by the Netherlands.
The prevention of cryptocurrency mining will continue to be maintained by China in the future. On June 7, the Cyberspace Administration of China (CAC) held a meeting with the main content of strengthening supervision of blockchain-related service platforms, virtual private network (VPN) services. and cross-border Internet technologies.
Previously, the National Internet Finance Association, the Banking Association, and the Payments Association jointly issued a statement on the ban on electronic money services, and the Inner Mongolia Development and Reform Commission also issued a regulation, banning electronic money services. Bitcoin mining operations. "It is possible that China will issue a permanent ban on Bitcoin and cryptocurrencies in general," said Chen Weigang, general manager of the Financial Institutions Supervision Department of the China Banking and Insurance Regulatory Commission. told China News Weekly.
Maybe you are interested:
---
Join our channel to update the most useful news and knowledge at:
According to Vnexpress
Compiled by ToiYeuBitcoin