Exactly a single 12 months just after the series of horrible days that led to the collapse of the FTX exchange, the cryptocurrency industry had a week of robust development thanks to the momentum of each Bitcoin and Ethereum ETFs, assisting numerous of the key altcoins attain the their peak. 2023.
Thanks to the lively industry, all regions of the sector have new information and updates, from Big Cap, DeFi, GameFi, significant organizations and even the legal condition.
Let's assessment all the crypto movements of the week with Coinlive to make absolutely sure you never miss any significant information! 😉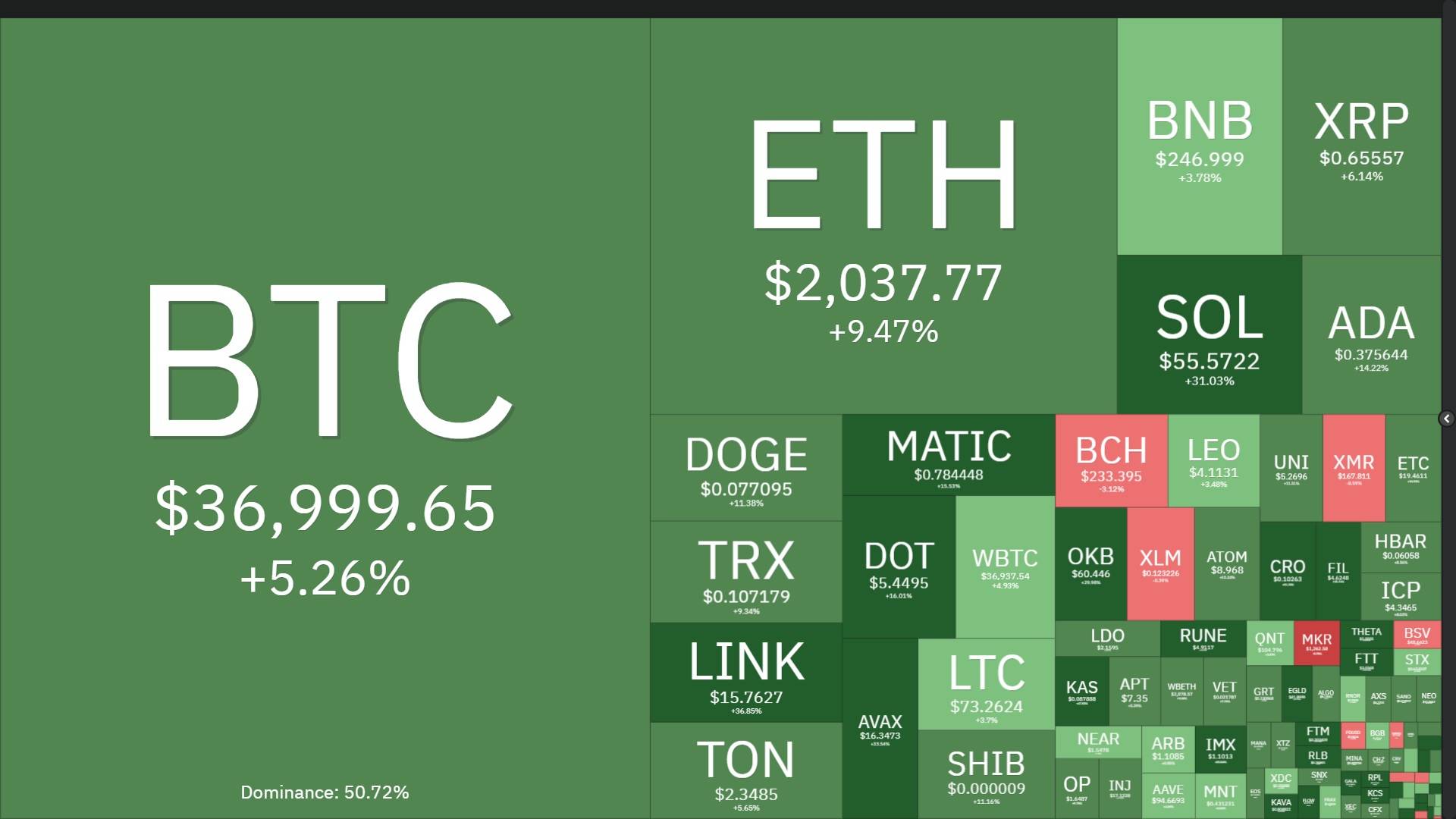 Volatility in key cryptocurrencies in contrast to seven days in the past. Screenshot by Coin360 at 08:05 on November twelve, 2023
📌 Coinlive Originals – Article to read through
– Outstanding on-chain occasions final week (November six – November eleven): Where is the income movement? MEV Bot has tens of hundreds of thousands of bucks in earnings
–
📺 CoinliveTelevision
– DeFi Discussion ep.121: Notable DAO proposals
– Brain Supplement No. 14: Law of significant numbers: why does the property usually win?
– Real business battle no. one: Use trends, assistance and resistance much more successfully
📰 News
The concentrate 🔥
– Black rock Confirmation of the creation of spot ETFs on Ethereum – BTC and ETH has increased strongly
– False information about the Vietnamese government wanting to be able to make money from X (Twitter) and virtual currency groups

– Viettel denies payment support for MetaMask
– Flooring Poloniex was attacked, damages were estimated at over $125 million
– Binance the Binance Web3 Wallet self-custodial wallet launched
– Market recovery: Cryptocurrency investment capital flows are returning strongly, trading volume has increased significantly
– Drama NEAR Foundation – Wintermute
Big Beanie 🌈
– Price Ordinals (ORDI) Steadily increasing following the news of Binance's listing, Bitcoin transaction fees have increased again

– Near Building zkWASM with Polygon Labs, implementing data availability solution, working with EigenLayer
– Polygon launched a $90 million fund for ecosystem development
– Shirt (LINK) start staking v0.2
– SEC Chairman left open the possibility that FTX could reboot, price FTT increased by x2.5
– Referee through proposed staking rewards for ARB key users, proposed to increase 21.4 million ARB rewards for STIP program
– Circle Deploy version 2.2 for USDC and EURC with many improvements
– More than 400 GROK tokens have appeared "following" our new AI chatbot Elon Musk
DeFi and Layer 2 🦄
– Evmos preparing to stop working on Cosmos, switching completely to Ethereum
– Raft Hacked and $3.3 million lost, the R stablecoin has seriously deteriorated
– Modular blockchain solution Useful deploy the test network
– SushiSwap Proposal to change SUSHI tokenomics
– Flooring Kraken I want to do level 2, looking for partners
NFT, GameFi and Metaverse 🖼🎮🌐
– BLUR prices increased dramatically just as competitor OpenSea ran into difficulties
–Web3 games Iluvium is preparing for launch on the Epic Games Store
– Ubisoft In cooperation with Immutable Build blockchain games
– Animoca brands collaboration with the NFT collection Fantastic cats to cover the Japanese market
– Magical Eden together with Yuga Labs they open a new Ethereum NFT market

– Co-founder Yuga laboratories spent $1.5 million "out of pocket" purchasing blue-chip NFTs
– Many BAYC NFT investors have eye problems after "playing" the Yuga Labs event
Great organizations 💰
– Stablecoin company Circle (USDC) is rumored to go public in 2024
– Binance it was "overtaken" by the CME in terms of futures trading volume
– Avalanche development unit 12% cut in staff
– FTX Wants to Sell $744 Million in Grayscale Own Shares, Bitwise Sues Bybit Exchange to Claim $953 Million in Assets

– Asset Management Group Vanguard will not participate in the Bitcoin ETF "race".
– Aptos collaborated with the Korean telecommunications group SK Telecom
– SBI Holdings Established a $663 million fund to invest in Web3, AI and Metaverse
Legal and Reception ⚖️
– SEC begins dialogue with Grayscale regarding Bitcoin ETF proposal
– SEC investigating Jump Crypto boss over alleged price subsidies MOON-UST
– SEC: Binance is 'losing cause' in Securities Commission lawsuit

– America wants to ban government employees from using China-based USDT and blockchain
– HSBC prepare to launch a digital asset custody service, UBS allows clients in Hong Kong to trade crypto ETFs

– Owners of LHV banks risk losing everything $472 million worth of ETH
Coinlive compiled
Join the discussion on the hottest issues in the DeFi market in the chat group Coinlive Chats Let's join the administrators of Coinlive!!!