The cryptocurrency industry in the initially week of November continued October's outstanding recovery, with Bitcoin and numerous main altcoins like Solana hitting new highs in 2023.
With the cost maximize, numerous crypto tasks and huge organizations have swiftly launched the most recent updates and developments to appeal to the community's awareness.
Meanwhile, the trial of Sam Bankman-Fried ended with the former FTX CEO discovered guilty of seven counts of fraud and deception.
Let's evaluation all the crypto movements of the week with Coinlive to make confident you do not miss any significant information! 😉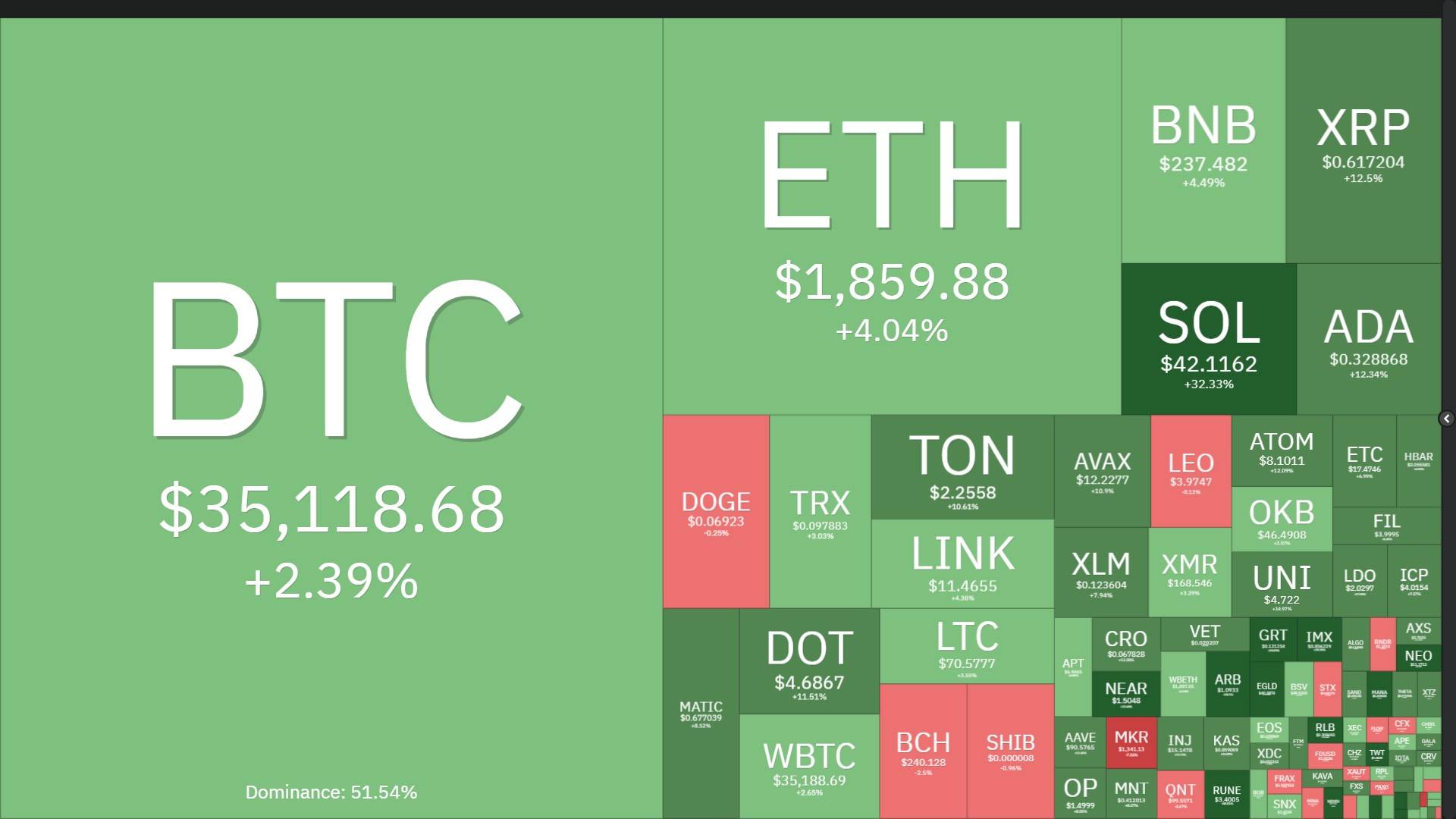 Volatility in main cryptocurrencies in contrast to seven days in the past. Screenshot by Coin360 at 07:ten on November five, 2023
📌 Coinlive Originals – Article to go through
– Outstanding on-chain occasions final week (October thirty – November four): Cash movement in the industry peaked, $one hundred million of MEME was requested
– Overview of the Sui Network ecosystem: how to get started off
📺 CoinliveTelevision
– DeFi Discussion ep.120: Data availability: how to fully grasp it appropriately?
– Finance enthusiast no. one: Lehman Brothers – The bitter story of its collapse and fiscal consequences
– Brain Supplement No. 13: When will the industry have an uptrend?

– What occurred final week #ten:

– Storyteller #one: Will Aptos and Sui be ready to come to be the upcoming generation "Solana Killers"?
– Revision: Aura Network – Blockchain Layer one supports fertile NFT land
📰 News
The target 🔥
– The Sam Bankman-Fried trial: Day 15 | Day 16 | Day 17 | Day 18 – SBF is found guilty of all charges
– Powered by keeping interest rates unchanged, BTC and SOL lead the rise of the cryptocurrency market
– Lots unlock tokens notable in November 2023
– Update from Coin98: Coin98 Finance changed its name to Ninety Eight, TomoChain changed its name to Viction
– America project charges SafeMoon (SFM) fraud, arrest of founder
Big Beanie 🌈
– Vitalik Buterin Share Layer-2 tradeoffs
– Celestia (TIA) Deploy mainnet, bulk plan list
– Pyth Network (PYTH) Announce the airdrop to the community
– Jupiter launched the JUP token and revealed the airdrop to users
– SOL 50% growth thanks to updates Solana 2023 cutoff point
– Price NEAR jumped forward after announcing the cooperation with Nym, in front of Nearcon

– Bind Q3 2023 Asset Report announced
– Circle Stop allowing individual users to mint stablecoins
– Avalanche Propose to upgrade Astra to improve the subnet architecture
– MetaMask Pre-trade risk warning function launched
– AI system token "in difficulty" after the White House decree
DeFi and Layer 2 🦄
– Starknet Awarding 50 million STRK tokens to the community
– Uniswap Transfer more than 40 million USD UNI to CEX exchanges

– Leader in blockchain exploration Avalanche it ceased operations at the end of November
– Projects attacked: Unibot, LastPass, Frax Finance, Onyx Protocol
– Frax Finance DNS attack
NFT, GameFi and Metaverse 🖼🎮🌐
– NFT trading volume increased by 32% in October, turning green for the first time this year
– The sandbox Established a $35 million fund for game development projects
– CEO Arena of the Stars resignation
– NFT Wallet Backpack About to launch a licensed cryptocurrency exchange in Dubai
Great organizations 💰
– MicroStrategy By purchasing an additional $5.3 million in Bitcoin, the BTC investment portfolio gains $900 million
– Wallet FTX transferred a total of $170 million to the CEX exchanges
– ProShares launches the first "short" Ethereum ETF in the United States
– Many market makers trade with Black rock on Bitcoin ETFs
– Animoca brands invested 50 million dollars from Saudi Arabia's state fund

– Ripple becoming Georgia's digital currency implementation partner
– Flooring Bitfinex Supports Vietnamese interface
Legal and Reception ⚖️
– Stablecoins PYUSD of PayPal suffers SEC request for information
– WalletConnect cut services to Russia to comply with the US embargo
– Taiwan Dismantling the largest crypto money laundering ring in history, involving 320 million USDT
– Singapore, Japan, United Kingdom AND Swiss Plan to test asset tokenization
– Billionaire Stanley Druckenmiller: Not owning Bitcoin is probably a mistake
Coinlive compiled
Join the discussion on the hottest issues in the DeFi market in the chat group Coinlive Chats Let's join the administrators of Coinlive!!!