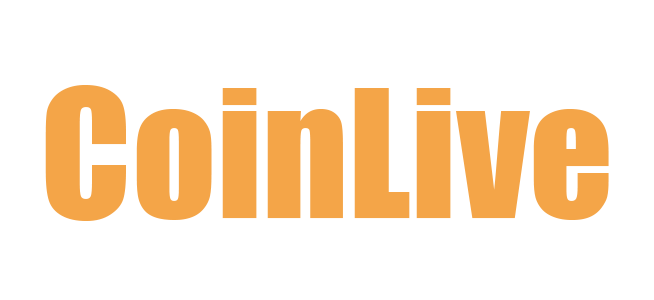 Recent research shows that crypto derivatives trading volume reached a new peak in May 2020, surpassing the previous record of March. Volumes on regulated exchanges like CME spiked for both classes. items are futures and options trading.
Monthly crypto derivatives trading volume peaks
As reported by CryptoCompare, the monthly trading volume of crypto derivatives increased by 30% in May. Volume hit an all-time high of $602 billion, beating March's previous record of just $2 billion.
Cryptocurrency derivatives markets are essentially contracts that derive value from the underlying asset, primarily Bitcoin. Derivatives include futures and options, most of which are traded on cryptocurrency margin exchanges.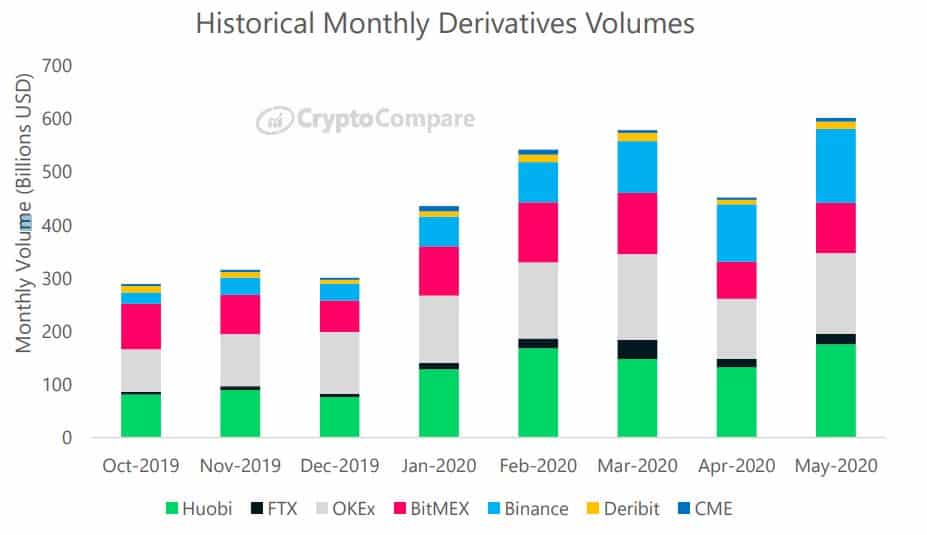 The report outlined the growth in trading volume across most exchanges. While all platforms surveyed saw a double-digit increase in derivatives volume in May, the Chicago Mercantile Exchange (CME) recorded the most significant 59% since April.
Besides regulated exchanges, Binance Futures, the derivatives platform of Binance exchange, is the second seed with a 58% gain. Next is BitMEX, FTX and OKEx. The interesting fact is that Binance is beating BitMEX for two months in a row.
However, Huobi is still the leader in derivatives trading volume, and OKEx and Binance are always in a close position.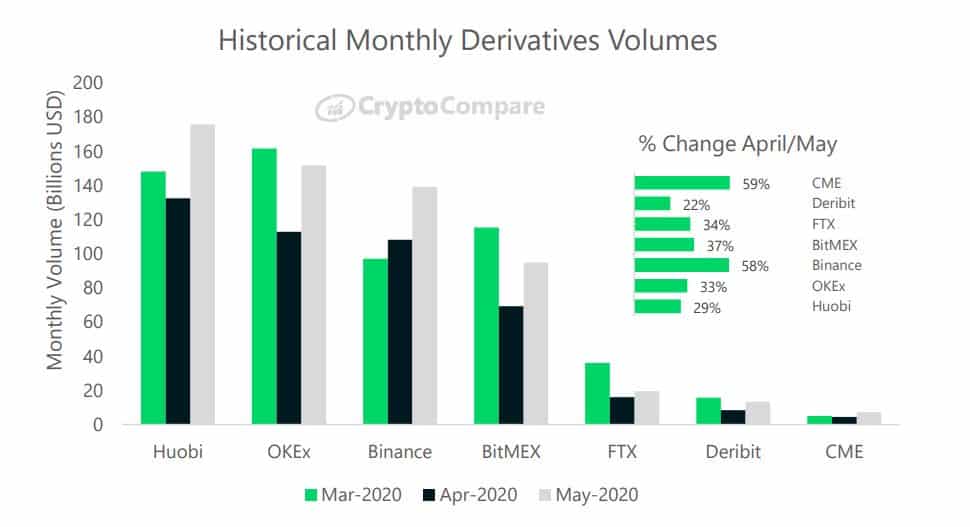 Rise of CME
As mentioned above, the growth of CME in May was quite impressive. But this may also stem from the fact that the market lost interest in April, so the momentum in May was so strong.
After Black Thursday in mid-March, when most crypto assets suffered a severe drop in value, the trading volume of the futures and options markets plummeted on the regulated platform.
CME futures market trading volume has recovered since April, increasing 36% (number of contracts) to reach 166,000 in May. Meanwhile, total CME options volume hit an all-time high of 5,986 contracts traded (16 times April volume). – Written report.
June has also gotten off to a pretty positive start for the CME, as data from Skew notes that on day 3, Bitcoin futures trading volume on the platform is close to $800 million.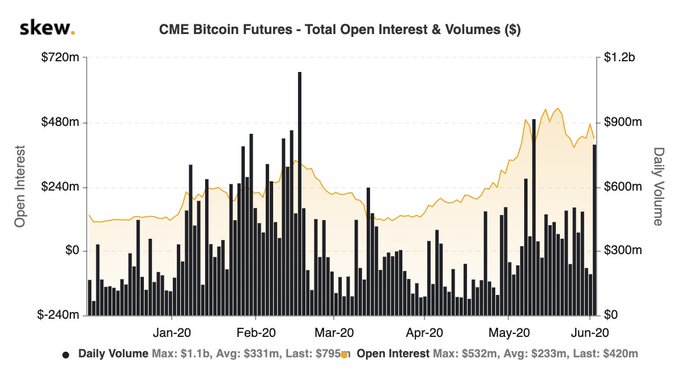 According to CryptoPotato