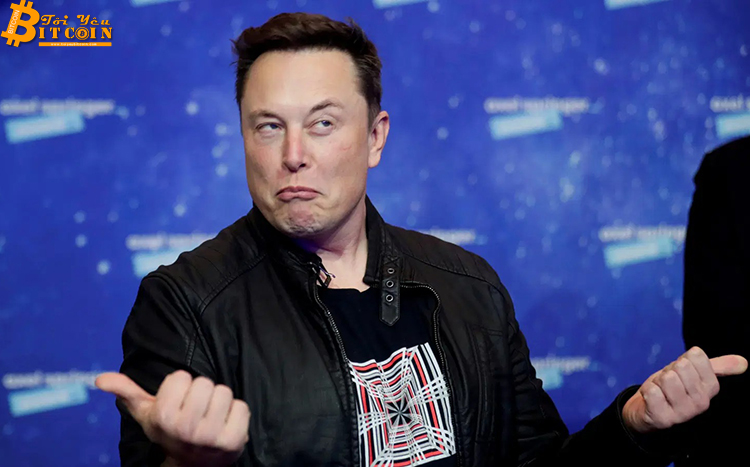 Elon Musk posted two "laughing tears" emojis under a fake Anonymous group video.
On June 5, the Anonymous account on YouTube posted a 3-minute video addressed to Elon Musk, saying that the billionaire holds influence over the virtual currency market and has abused it through tweets on social networks. The hacker group warned the Tesla CEO to "wait."
On June 8, a Twitter account called Not Financial Consulting posted a parody video of the above video with the title Anonymous Part II.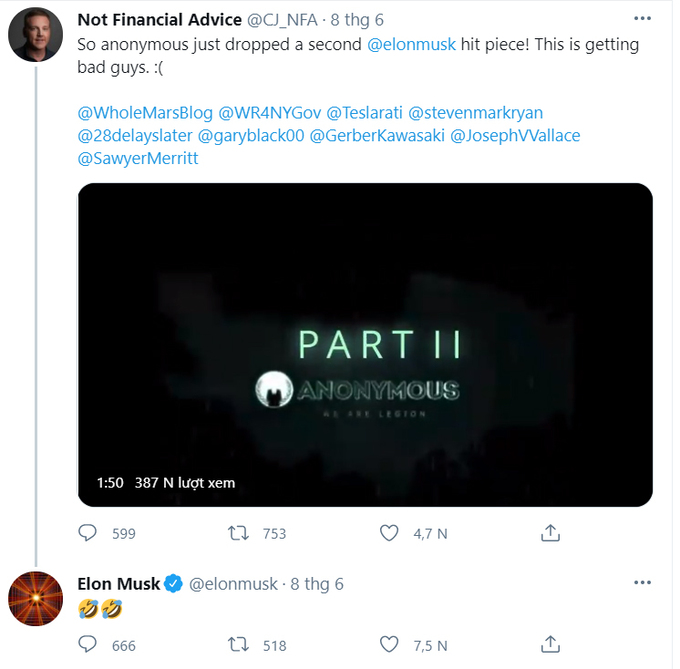 "This is another message from Anonymous to Elon Musk. We will continue to expose you, we will never stop. Our message today is that Tesla is fundamentally priceless and investors should run, not just step out of their positions. Sell ​​it all, or lose it all," said the masked figure in the fake video.
As the character was giving a warning, another voice interjected: "Wait, are you Gordon Johnson – who has been misjudging Tesla for years?". Gordon Johnson, CEO of GLJ Research, is an analyst who believes Tesla is overvalued on Wall Street.
After watching the video, Musk briefly responded with two "bad crying and laughing" emojis. Billionaire Elon Musk often makes crypto investors "dizzy" by tweets "flipping" about Bitcoin, causing the price of this currency to increase and decrease continuously.
According to Futurism, this satirical clip was made with the implication that the hacker group Anonymous was not behind the warnings earlier this week, but rather investors were angry with Musk's erratic behavior. In fact, the most popular Anonymous account – YourAnonNews and another popular Anonymous account, @BscAnon on Twitter, denied the group's role in the video.
The video posted on the Anonymous YouTube page was created in December 2015 and has only 152,000 followers, while the supposedly official YouTube channel of Anonymous has 3.51 million subscribers.
Maybe you are interested:
---
Join our channel to update the most useful news and knowledge at:
According to Vnexpress
Compiled by ToiYeuBitcoin