CoinMarketCap is a website that many cryptocurrency investors have become familiar with. For those who are new to this market, it is important to understand how to use CoinMarketCap and the indicators within this site. In this article, Coinlive will guide how to use CoinMarketCap for beginners.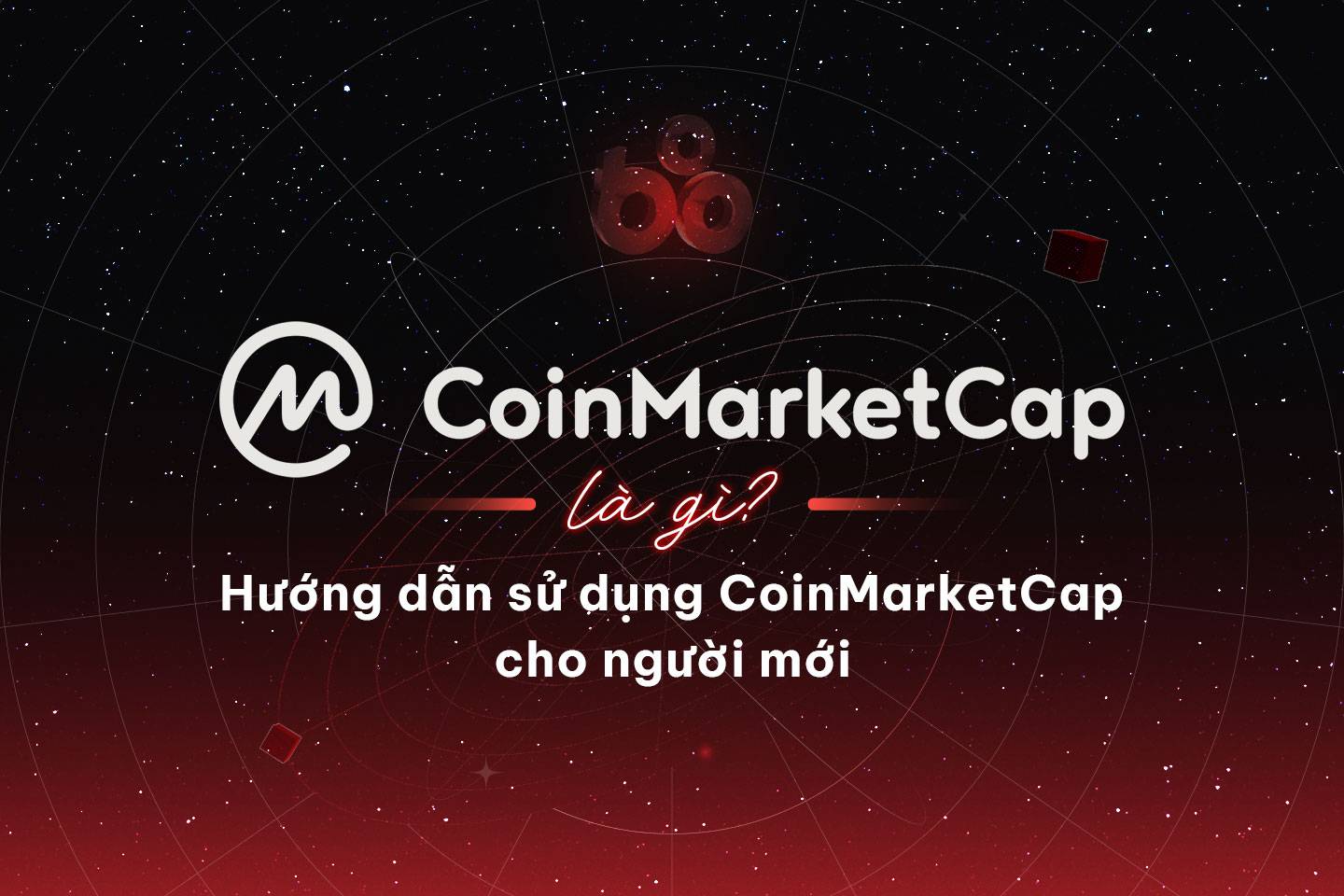 What is CoinMarketCap? Instructions for using CoinMarketCap for beginners
What is CoinMarketCap?
CoinMarketCap (CMC) is a cryptocurrency website founded in 2013 with the purpose of allowing users to track information on over 2 million cryptocurrencies. The site quickly gained popularity and became a major reference for cryptocurrency investors and was acquired by Binance in 2020.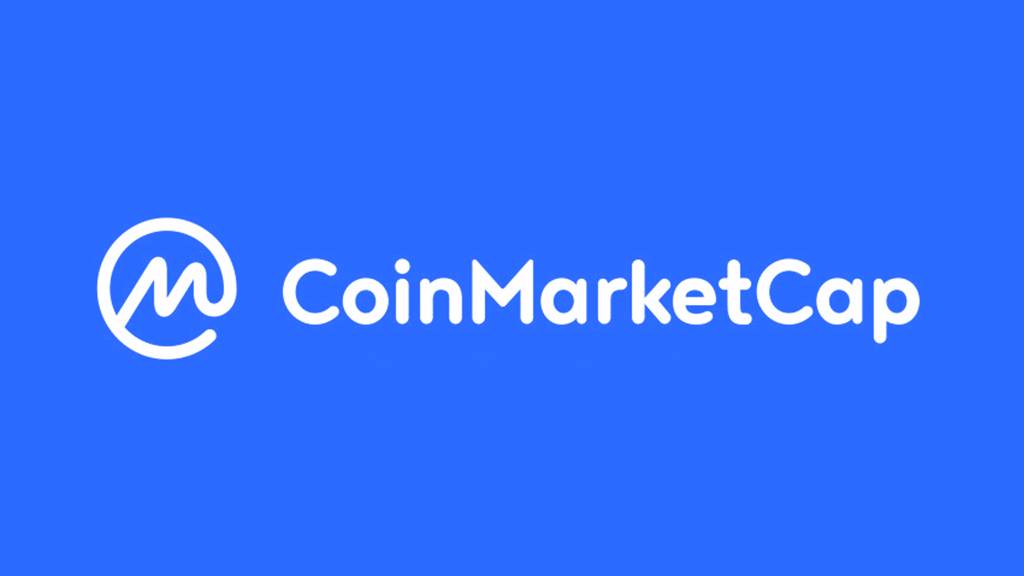 What is CoinMarketCap?
CoinMarketCap is considered a dictionary containing information on all cryptocurrencies. The above data is continuously updated for your convenience. With CoinMarketCap you can view many types of information such as: cryptocurrency price fluctuations, total supply, trades, trading volume over time, main website information. Officially, your social media accounts display the official website of a particular cryptocurrency.
Maybe you're interested:
Benefits of Using CoinMarketCap
Instant market information
CoinMarketCap provides price information, price charts and other indicators for most cryptocurrencies on the market. This helps users stay updated on instant market conditions to make trading decisions.
Provide sufficient information
CoinMarketCap provides complete information about a cryptocurrency project like website, token information, exchanges that buy and sell that token, etc. This helps users grasp the necessary information about the tokens they are interested in.
High precision
CoinMarketCap uses data from many of the major cryptocurrency exchanges around the world, helping users track the market comprehensively and accurately. Additionally, using data from these exchanges helps CoinMarketCap save time for users when they don't have to check token prices at each specific exchange.
Instructions for using CoinMarketCap for beginners
Instructions for viewing data on the home page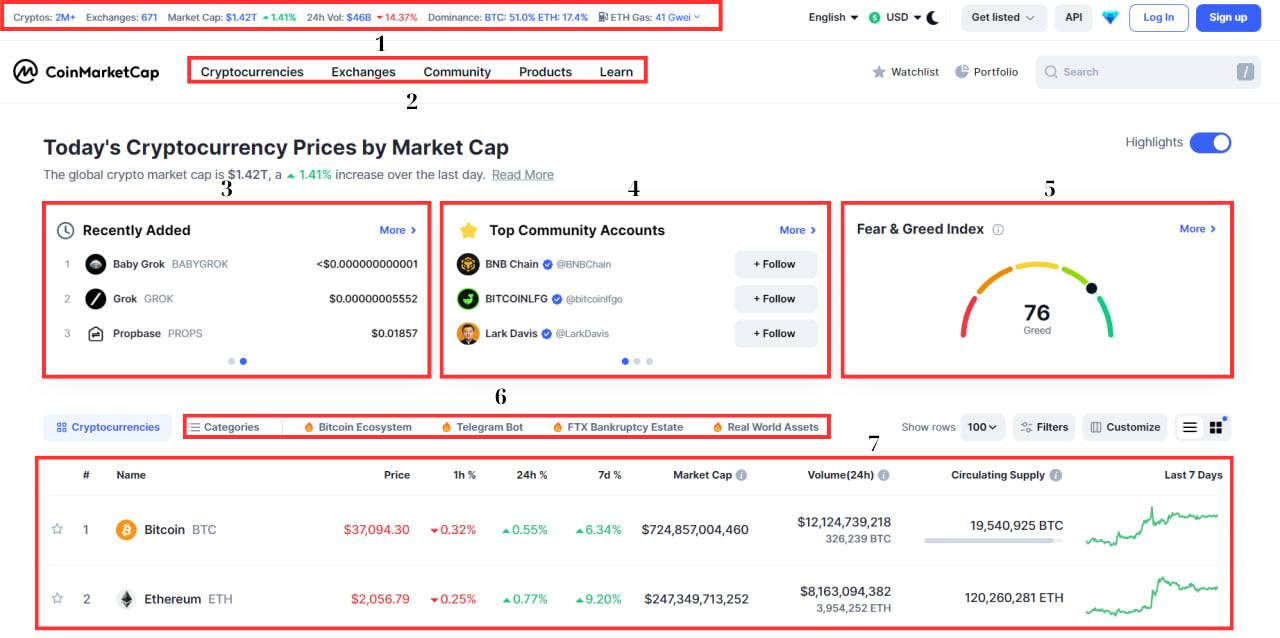 CoinMarketCap home page
You can access the CoinMarketCap homepage by clicking on the following link: coinmarketcap.com. In the homepage interface, there will be items you need to pay attention to as follows:
(First) Market overview, including the following indicators:
Cryptocurrency: The number of cryptocurrency projects currently on the market is currently more than 2 million.
Exchange: Number of centralized exchanges (CEX) currently on the market.
24 hour vol: Trading volume of the entire market in the last 24 hours.
BTC dominates: Capitalization rate (dominance) of Bitcoin compared to the entire market.
Gwei: Current gas rates on the Ethereum blockchain.
(2) CoinMarketCap features include:
Cryptocurrencies: Allows you to view information including cryptocurrency project rankings, newly added tokens, list of categories,…
Exchanges: Exchange information, including spot, DEX and derivatives.
Community: A place for the community to share cryptocurrency-related information.
Products: Where you can find CoinMarketCap products such as token rate converter, blockchain explorer, Telegram bot, market event calendar,…
Learn: This is a place that provides knowledge related to the cryptocurrency market from basic to advanced.
(3): New tokens are added by CoinMarketCap, you can click More to see more. Furthermore, this section also contains a list of tokens that have increased in price in the last 24 hours.
(4): List of top community accounts on CoinMarketCap.
(5): Fear & Greed Index, this is an index that shows investor interest in the market.
(6): List of categories that are increasing in price.
(7): Ranking of coins by market capitalization, from highest to lowest.
Instructions for viewing detailed information about a project
To view information about a project, you can enter the name of the project in the Search field or select directly from the project ranking. Some basic information you need to pay attention to are: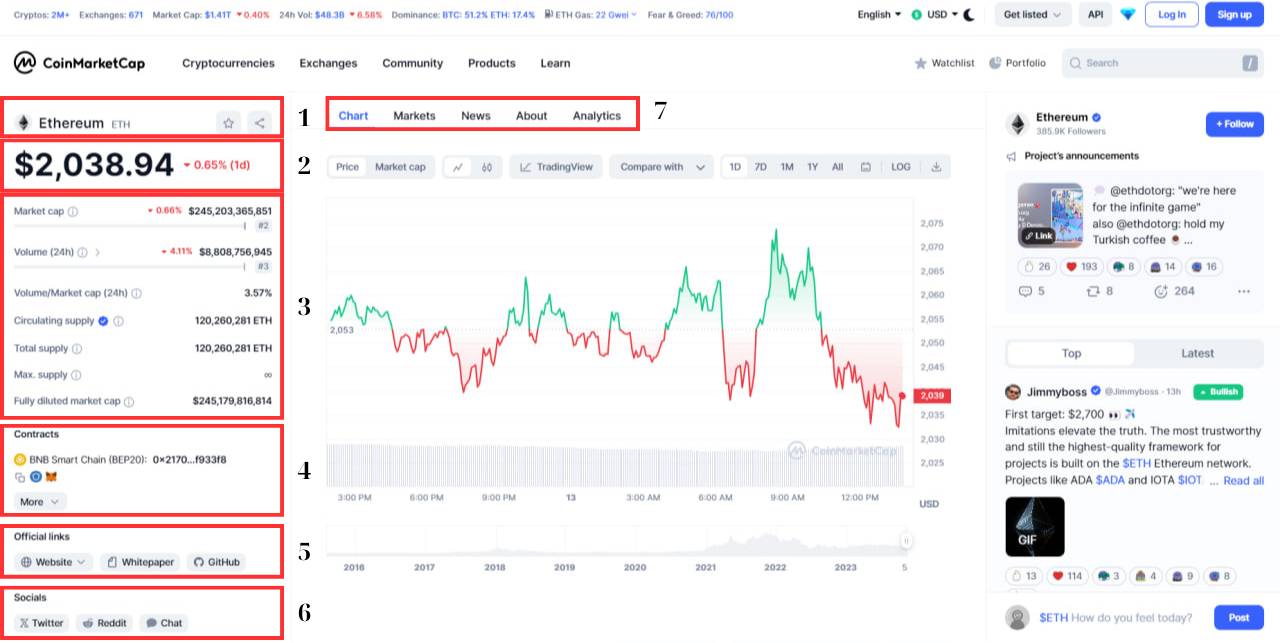 (First): Name of the project and symbol of the coin/token (here the project is called Ethereum and the symbol is ETH).
(2): Coin/token price.
(3): Information on market cap, 24-hour volume, total token supply, circulating supply and fully diluted cap.
(4): Contract address of the coin/token on blockchain.
(5): The official website of the project.
(6): Project social network account.
(7): Includes the following items:
Charts: Project pricing chart.
Market: Exchanges that list that coin/token.
News: News related to the project.
From: Project presentation.
Analytics: Project analysis data.
Instructions for creating a project tracking list
In order to create a watchlist, you must first sign up for a CoinMarketCap account.
Step 1: On the CoinMarketCap home page, click here Registration (if you don't have an account) or Login (if you already have an account).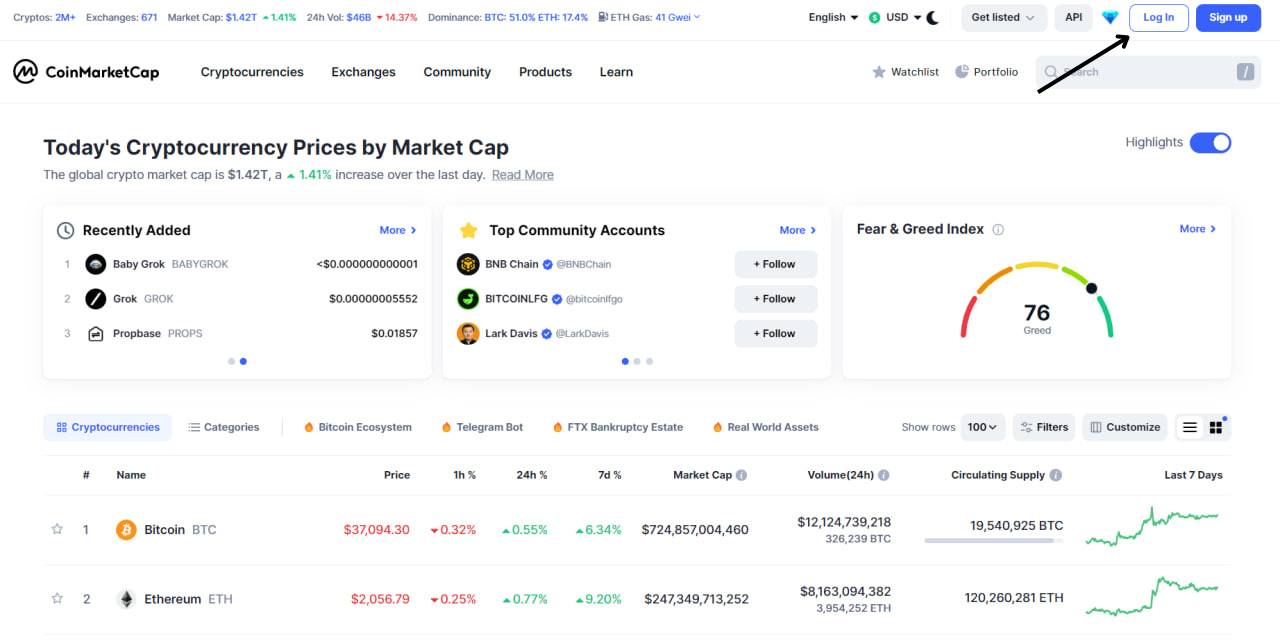 Step 2: Enter your email address and password, then select Create an account to create an account. Additionally, you can register an account in other ways, such as using your Google, Apple, Binance account, or using your personal wallet.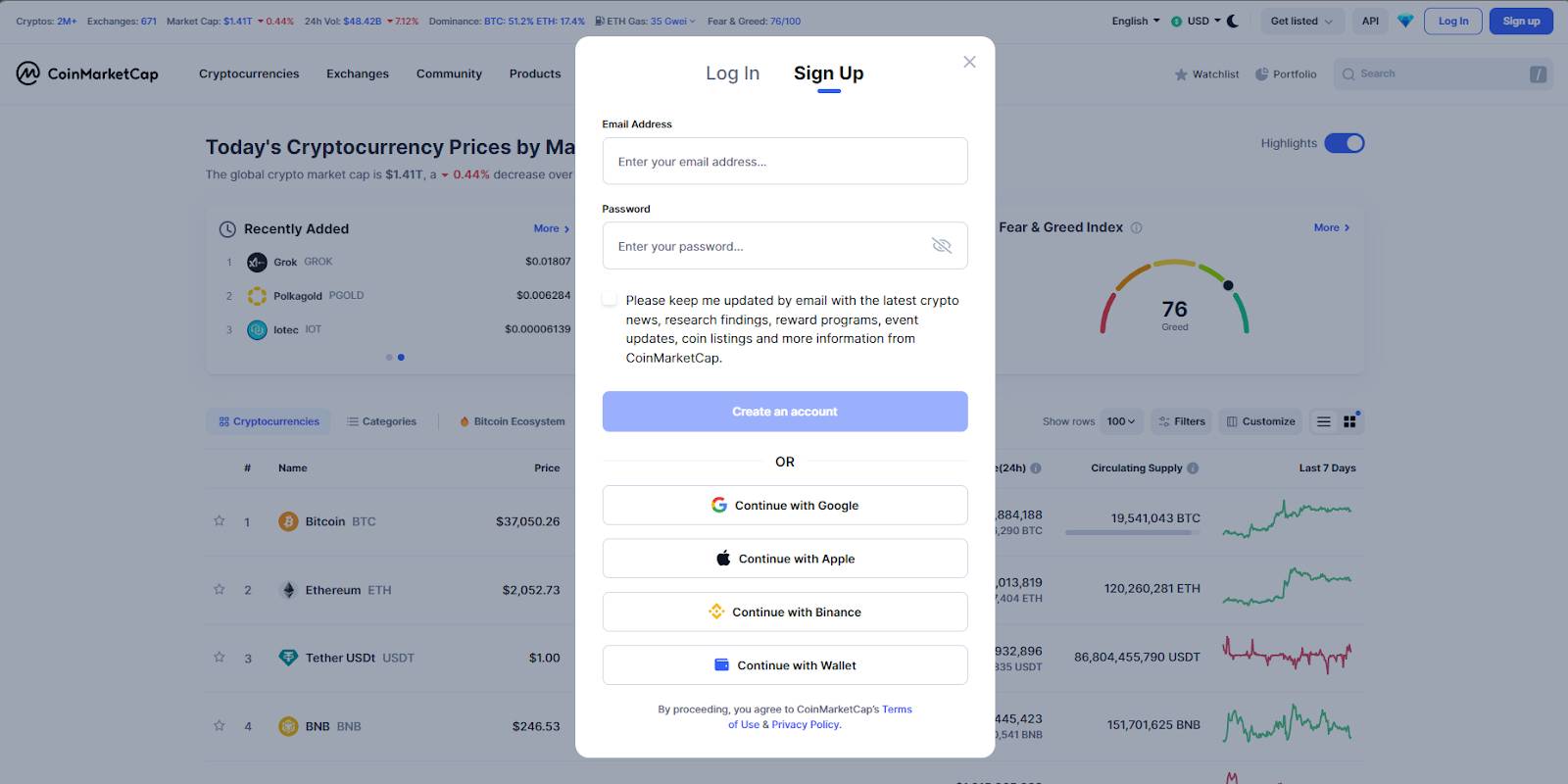 Step 3: After creating a CoinMarketCap account, you can find the project you are interested in using the search bar or by looking at the project ranking. Then click the star next to the project name.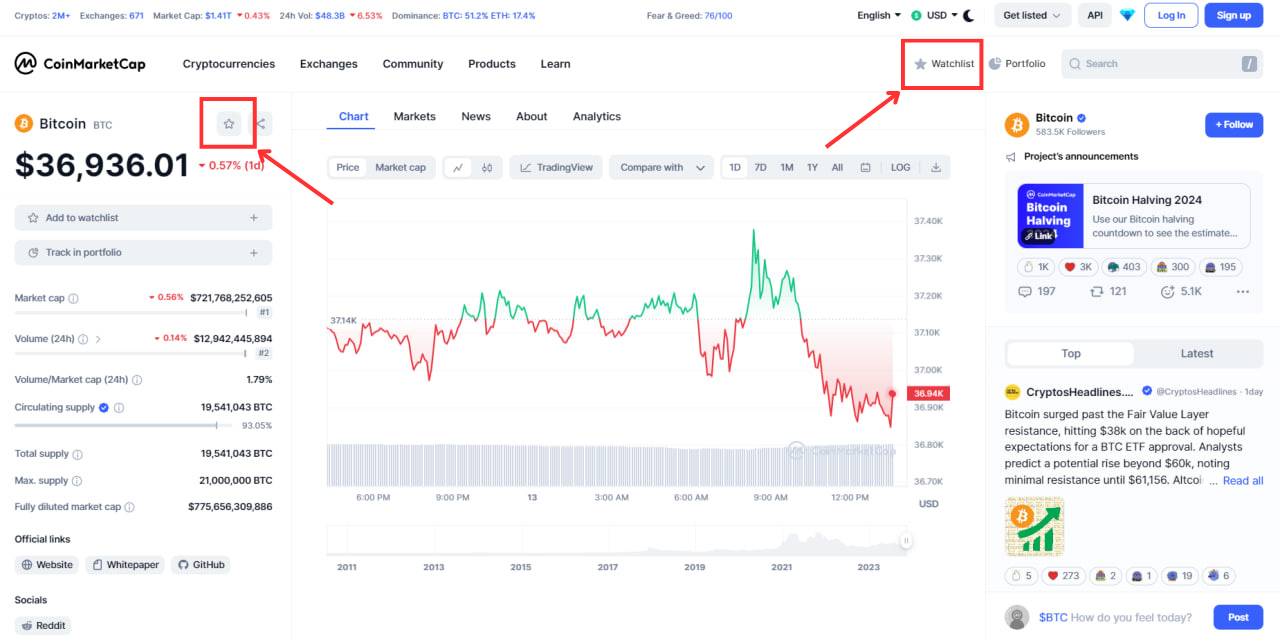 Step 4: To see your list of titles, click Checklist, all the projects you added will be displayed here, helping you track them quickly and conveniently. Additionally, you can customize the metrics needed to track or add new tokens in 2 sections: New assets AND customize.
summary
Above is Coinlive's entire guide on how to use CoinMarketCap to track cryptocurrency projects, as well as an overview of the market for beginners. We hope the above articles are helpful to those new to the market. I wish you successful investments.