What is Aavegotchi?
Aavegotchi is the first project dedicated to creating NFT collectibles of real value in the Aave ecosystem, it is a unique combination of Defi and NFT that gives users an additional choice to participate in farming. yield farming) generates long-term profits.
This is both profitable for token holders and contributes to the growth of Defi through highly accessible games.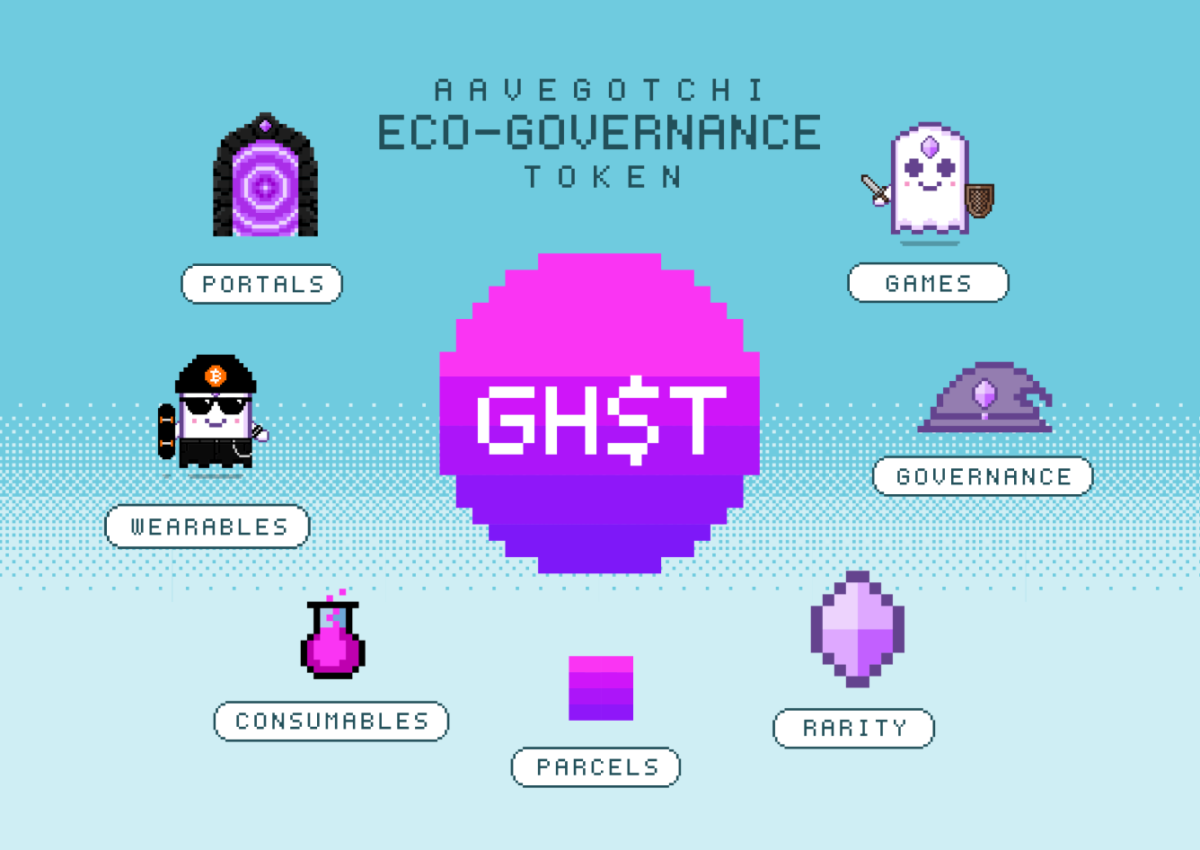 See also: What is Aave (AAVE)? Find out DETAILS about the Aave project and the AAVE token
Where does Aavegotchi derive its value from?
Aavegotchi improves their value from two main sources: intrinsic value and rarity value.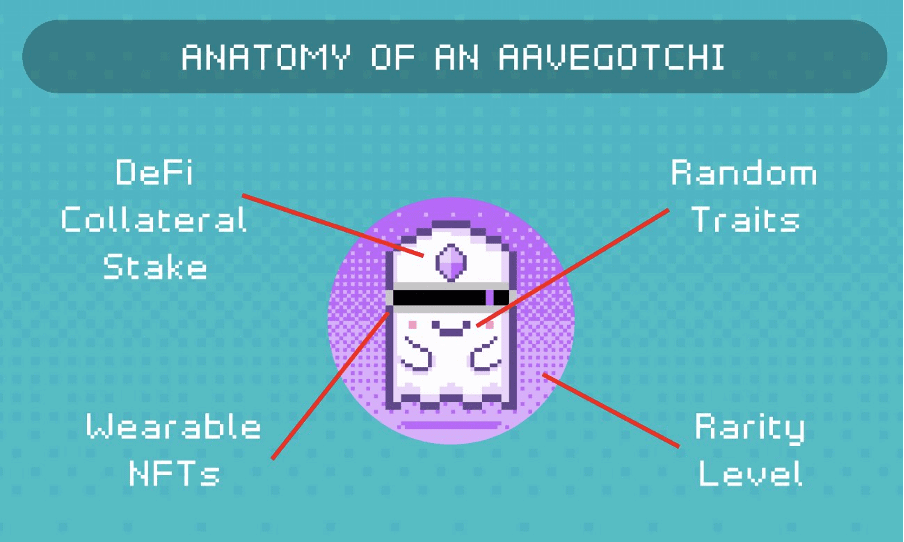 Their intrinsic value is derived from the amount the user bets. The collateral, along with the interest accrued from Aave's lending pools, becomes Aavegotchi's intrinsic value. For example, having 10 staked aLENDs in Aavegotchi means it can stay at that value, along with accrued interest.
Currently, the only collateral that can be staked on Aavegotchi are ERC-20 tokens listed on the Aave platform. As soon as AavegotchiDAO is launched, the number of accepted collaterals will likely increase.
Aavegotchi's rarity also affects its value. This also introduces the concept of "rare farming – Rarity Farming" in its ecosystem. Users receive rewards for training Aavegotchis and trading them with other players on the same platform.
In addition, Aavegotchi's game mechanics are quite interesting when you can bring NFTs to participate in minigames. There are a lot of factors that can affect the value and performance of NFTs in the game such as: randomness (when lucky to summon rare NFTs), interaction (value increases when brothers actively interact with them) and consumables that equip your NFT.
Aavegotchi Ecosystem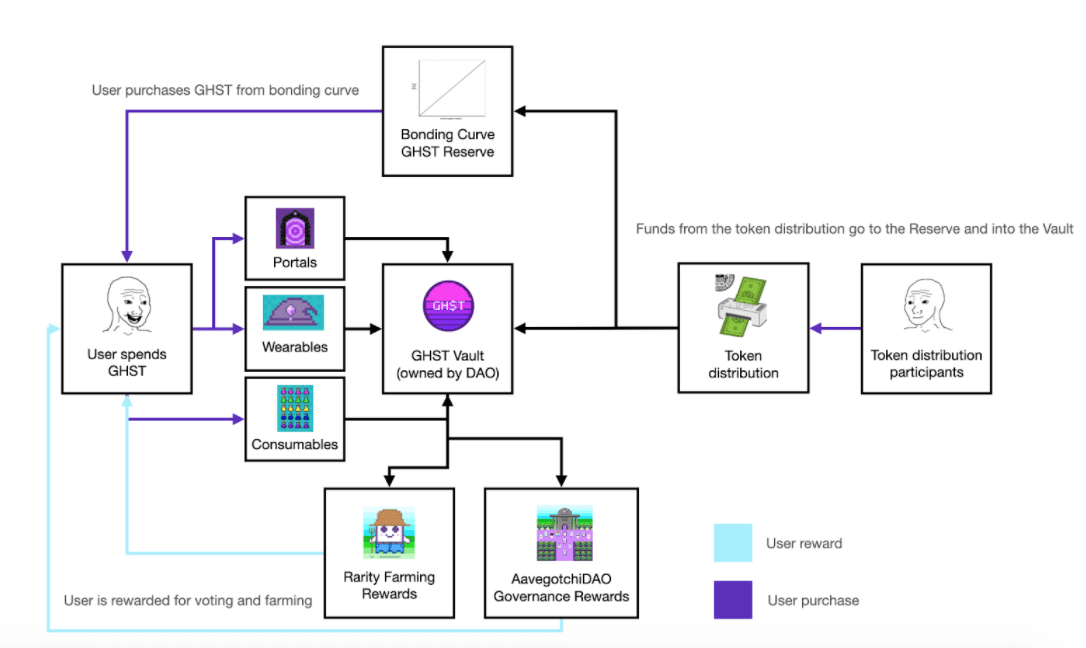 Aavegochi Portals
Users can only create Aavegotchis through a Portal. In essence, it will use a smart contract that allows the creation of new NFTs. Portals can be purchased from the Aavegotchi dApp or from the external marketplace.
Aavegotchi Knife
Aavegotchi follows in the footsteps of other successful DeFi projects such as Compound and Synthetix when it begins to decentralize the platform. Starting with the founding team, Pixelcraft Studios held a DAO-managed token distribution event (DAICO) and culminated in placing Aavegotchi governance under the umbrella of AavegotchiDAO.
What is GHST token?
GHST is a native utility token of the Aavegotchi ecosystem used for the following purposes:
Payment:

GHST is used as the base unit for purchasing digital assets such as Aavegotchi Portals, consumables and various collectibles.

Staking:

users can stake GHST to earn REALM, land plots in Aagotchi Realm.

Governance:

GHST will be rewarded to users who participate in AavegotchiDAO governance.
Some basic information about the GHST token token
Token name:

Aevegotchi token

Token Symbol:

GHST

Blockchain:

Ethereum ERC-20

Contract Address:

0x3F382DbD960E3a9bbCeaE22651E88158d2791550

Token supply:

Not fix

Circulating Supply:

37.449,226 GHST

Market cap:

39,956,997$
Token Allocation GHST
GHST tokens are allocated as follows:
Private Round:

5,000,000 GHST.

Pre-sale Round

: 500,000 GHST.

Token Bonding Curve:

Aavegotchi uses a bonding curve to distribute its tokens. The nature of the bonding curve when read will be quite complicated. But the gist of it is that when you want to buy GHST, this curve will affect your order, and increase the total supply. Then the price of GHST will increase in proportion to the new supply. On the other hand, when selling GHST back to the bonding curve, GHST will be burned, reducing its total supply and price. Thereby, the value of GHST increases and decreases reflecting the needs from the community.

Ecosystem Fund:

1,000,000 GHST.

Team Fund:

1,000,000 GHST.
Token sale
Private Round Price:

0.005 DAI/GHST. The total unlocking period is over 365 days, the first distribution is on the 180th day after the end of the Pre-sale, then a linear trickle unlock for the next 185 days.

Pre-sale Round Price:

0.1 DAI/GHST. The unlocking time is gradually the same as the Private round
Project team
The project team includes many experienced names such as:
Jesse (Founder):

The creator of Bullionix.io, experienced in NFT, was one of the leadership of the first NFT minting platform Mintable, created the Value concept – Staked NFT.

Dan (Full stack dev):

The creator of Yield Hero, the DeFi dApp that allows users to direct the yield from AAVE to any desired address, played an important role in the development of the ERC721 Stake idea with ERC20.

Xavier Iturralde:

One of the very successful artists in the NFT field.
Roadmap
According to the newly updated roadmap of the project, there are many plans in the next time that are worth our attention such as:
Launch of Polygon – Ethereum bridge supporting ERC721 and ERC1155.

Listing GHST on Aave lending platform.

AavegotchiDAO v2…
Exchanges GHST Tokens
Up to now, GHST has been traded with USDT, BUSD, ETH pairs on exchanges: Binance, MXC, OKEx, Gate.io, …
How to buy and store tokens GHST
You can buy GHST directly on the project homepage or listed exchanges.
GHST is an ERC20 token, so there will be quite a few wallet options to store this token. You can choose from the following wallets:
Popular ETH wallets: Trust Wallet, Metamask, Coin98 Wallet.
Cold wallets: Ledger, Trezor.
In addition, you can also store GHST on the wallets of the above exchanges.
Competitor
OpenSea and Sandbox.
Future of Aavegotchi project, should invest in GHST token?
Aavegotchi is an interesting project because it combines NFT with DeFi platform, two fastest growing sectors in the cryptocurrency market.
Accordingly, on the evening of March 2, the project successfully launched the mainnet and sold out NFT in less than a minute.
While other NFT projects are still building on blockchains like Ethereum or Binance Smart Chain, with the recent mainnet launch, Aavegotchi has officially launched its own blockchain.
This will help the project reduce dependence on and be affected by the problems of large blockchains (high fees, transaction congestion), and also give them more room to implement new initiatives such as staking or incorporating DeFi.
Above is all information about the Aavegotchi project that Coinlive wants to share with you.
If you have additional views, please leave a comment below.
See you in the next analysis.
Join the chat group Coinlive Chats Now let's discuss hot issues of DeFi market with Coinlive admins!!!