What is HydraSwap (HYS)?
HydraSwap is a cross-chain decentralized exchange built on Solana.
Why is HydraSwap built on Solana?
Among existing blockchains, Solana outperforms the rest in terms of network throughput. Solana achieved up to 65k TPS in a real test, which is a market leading figure. Such high throughput is required to realize the project's vision of enabling DeFi to become the financial ecosystem of the future. Therefore, the project chose Solana as its main network.
What elements will HydraSwap provide to the Solana ecosystem?
ETH is the number 1 public blockchain in terms of ecosystem, this project is far ahead of its competitors in terms of both the number of users, and the number of dapps developed on this platform. Despite offering superior technical performance, Solona continues to face various limitations as its cross-chain protocol is yet to be launched. As a result, the Solana network cannot connect to Ethereum, which results in liquidity from the Ethereum ecosystem not being able to run into the Solana ecosystem. To some extent, the SOL ecosystem is isolated from the current DeFi world.
The cross-chain protocol set to launch in HydraSwap will empower various public chains with its support for cross-chain interoperability. Through a cross-chain bridge, ERC20 assets can be easily re-issued on the Solana network so that it can be easily traded against other assets on the DEX.
For HydraSwap, user experience comes first. On the one hand, it reduces DeFi input requirements for users by modularization and simplification. On the other hand, it provides a lot of effective tools for project teams, allowing them to participate in the DeFi ecosystem. With HydraSwap's unremitting efforts, the project believes that the Solana ecosystem can be enriched while improving the scale and user retention rate, so that the HydraSwap and Solana ecosystems can achieve a good relationship. mutually beneficial cooperation.
Features of HydraSwap
Cross-chain bridge
HydraSwap provides users with a cross-chain bridge to move assets from the Solana network into other networks or vice versa.
How does HydraSwap's cross-chain bridge work?
Switch from Ethereum to Solana
The user sends a request to the cross-chain bridge to register to transfer his ERC20 assets out and provides the Solana address to receive the SPL20 assets at a 1:1 ratio to the original asset. This will allow cross-chain bridges to lock the relevant ERC20 assets.

The cross-chain bridge will then proxy a group of notary nodes (notary nodes) who will receive the requests and perform the asset locking procedure. They will wait for enough block confirmations on Ethereum to guarantee finality (finality ensures that locked assets will never leave the Ethereum network).

Once it is validated, the notaries will request the cross-chain smart contract on Solana to reissue the SPL assets and transfer these assets to the designated receiving address.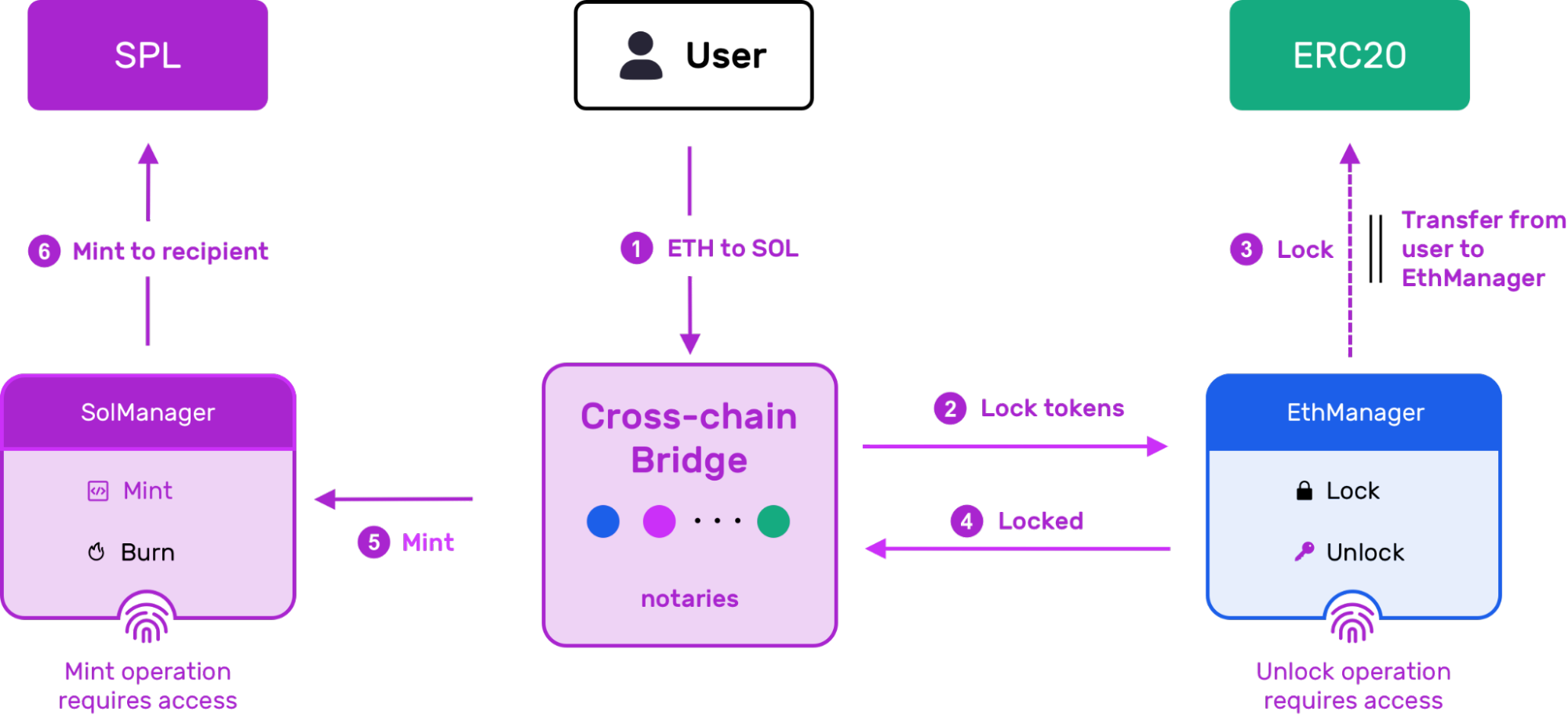 Transfer assets from Solana to Ethereum
User sends request to cross-chain bridge to redeem his assets and provide Ethereum address to receive ERC20 assets with 1:1 value of SPL assets. This will allow the cross-chain bridge to burn the respective SPL assets.

Notary nodes (notary nodes) deposited by the cross-chain bridge will receive the request and burn assets on Solana. A cross-chain bridge smart contract on Ethereum will be activated and locked ERC20 assets will be released to the specified address.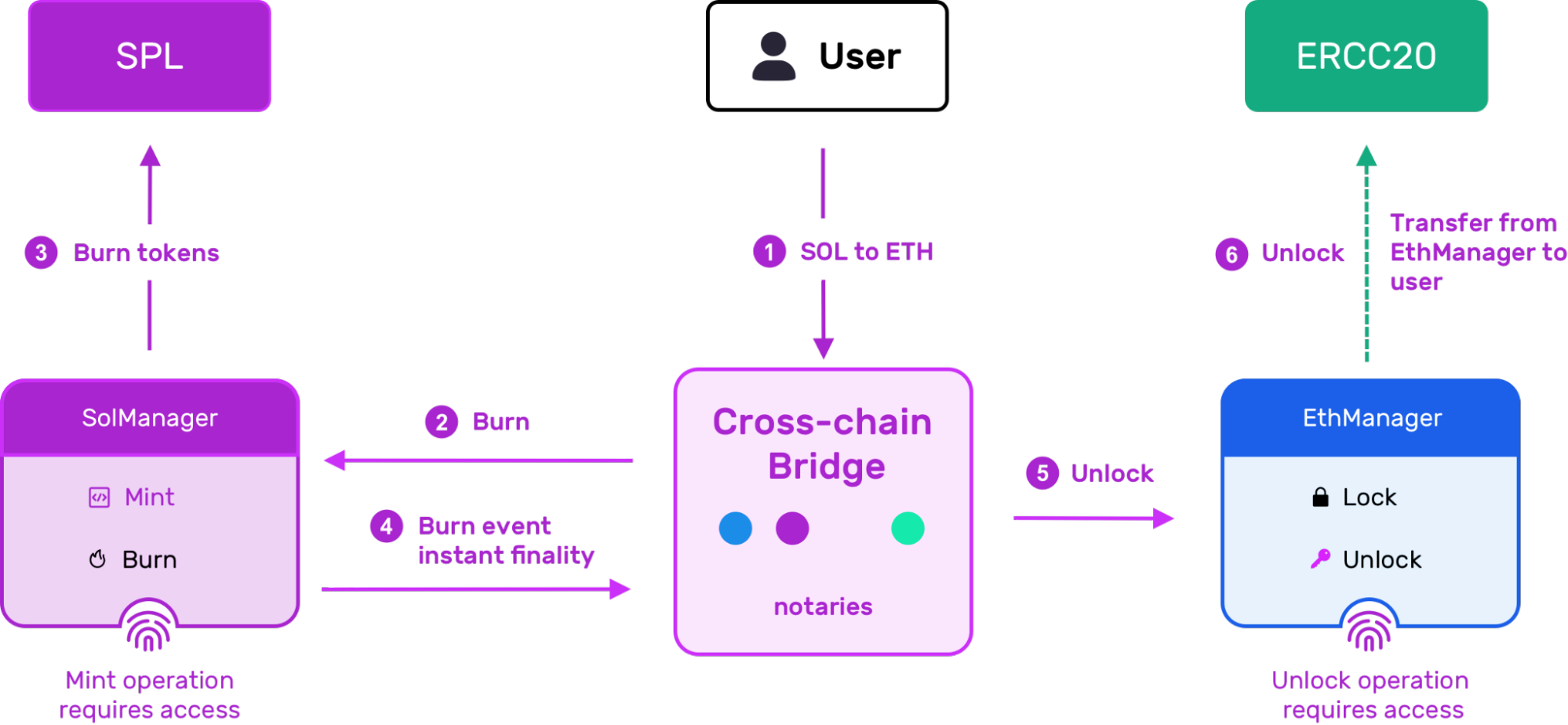 Hydra Market Making Algorithm
The advanced market algorithm aims to improve the capital efficiency of liquidity providers, increasing depth while reducing impermanent losses. Valuations are sensitive to available volatility and have greater control over the alignment curve.
Limit Price Order Trading
Price limit orders will be supported on the project's AMM/HMM system. The user can set a certain price and the trade will be triggered when the price is met. This will be more flexible and in line with the trading habits of users previously formed in CEX.
Initial Hydra Offering
Support initial DEX offering with auction modules and automatic liquidity setup to make projects and investors go more smoothly.
DeFi Arbitrage Module
The built in arbitrage module allows traders to identify and capture arbitrage opportunities without barriers.
Basic information about HYS token
Token Name

: HydraSwap

Ticker

: HYSY

Blockchain

: Solana

Token Standard

: SPL-20

Contract

: Updating

Token Type

: Governance, Utility

Total Supply

: 100,000,000 HYSES

Circulating Supply

: Updating
Token Allocation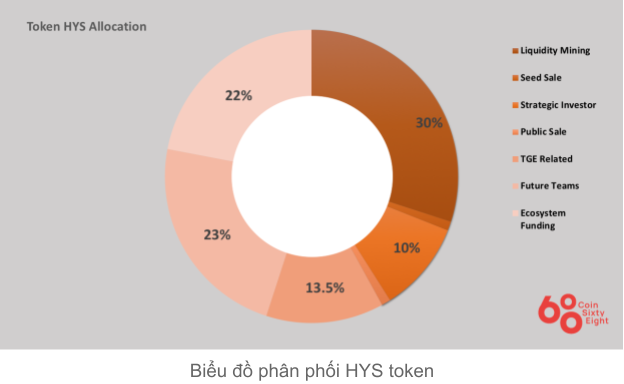 Liquidity Mining

: 30%

Seed Sale

: first%

Strategic Investor

: ten%

Public Sale

: 0.5%

Activities related to TGE

: 13.5%

Project personnel in the future

: 23%

Ecosystem development

: 22%
Token Release Schedule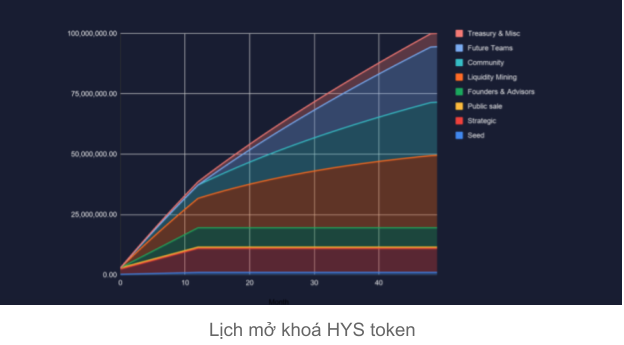 What is HYS token used for?
Administration

Staking rewards

Reduced transaction fees

Pay gas fees, and make transactions
HYS token storage wallet
Since HYS is an SPL20 token, you can store this token on the following 2 wallets: exchange wallet, Sollet Wallet.
How to earn and own HYS tokens
Updating
Where to buy and sell HYS tokens?
Update
Roadmap
Q2 2021
Launching HydraSwap 1.0

Launch HMM

Issuing HYS tokens
Q3 2021
Support limit order

Launch cross-chain bridge 1.0

Launch one-stop mining

Launch referral program
Q4 2021
Launch smart aggregation

Launch DeFi arbitrage

Start developing HydraSwap 2.0
Q1 2022
Launch HydraSwap 2.0

Launching staking and lending functions

Launching derivatives trading function
What is the future of the HydraSwap project, should I invest in HYS token or not?
Solana is a network with a relatively fast ecosystem development rate in recent times with many projects being born, HydraSwap is such a project. In addition to the basic functions of a decentralized exchange, the project also supports a cross-chain bridge that allows users to easily transfer their assets from Solana to Ethereum or vice versa. liquidity from Ethereum easily flows into Solana to bring growth to this ecosystem. Through this article, you must have somewhat grasped the basic information about the project to make your own investment decisions. Coinlive is not responsible for any of your investment decisions. Wish you success and make a lot of profit from this potential market.
Join the chat group Coinlive Chats Now let's discuss hot issues of DeFi market with Coinlive admins!!!