What is Maze Protocol (MAZE)?
Maze is an unsecured and over-collateralized banking protocol that provides users with interest-free loans. The project uses an algorithm called Stratified Harvest Regulating to replace the money market's classical interest rate model and create a highly dynamic consensus rate mechanism.
See more: What is Aave (AAVE)? Find out DETAILS about the Aave project and the AAVE token
How does Maze Protocol work?
How Maze Protocol works and how it works
Since Maze does not have an arbitrage system, providers do not get a direct income by putting assets into the asset pool. Delegation tokens (authorization tokens) generated from deposits must be staked to respective mining pools to generate pool-distributed rewards for pool contributors. In fact, the asset pools and mining pools are separate. At the same time, the delegation token (authorization token) will create an economic connection between the asset pools (asset pools) and the mining pools (mining pools) – this is the inherent self-combination ability of Maze.
What is an asset pool?
The Asset Pool transfers and stores the underlying assets of the user. They are smart contracts that allow users to send assets and receive delegation tokens in return. All four forms of interaction with the pools – providing, withdrawing, borrowing, refunding will mint or burn the corresponding amount of delegation tokens. There are three types of asset pools: the funding pool, the reserve pool, and the LP pool.
Any assets allowed by the protocol are configured with a funding pool.
Funding pools are pools of assets associated with excessive mortgage lending. The assets stored in the funding pool include:
Automatically taken as liquidity of the lending system, allowing other users to borrow.

Automatically taken as collateral of accounts, changes in supplier borrowing credits.

Reserve Pool (reserved pool)
Any assets allowed by the protocol are configured using the reserve pool. Reserve Pool is a safe savings pool. The assets stored in the reserve pool have the following properties:
Not considered the liquidity of the lending system.

Not considered as collateral of the accounts, nor change the borrowed credits.

LP Pool
LP Pool is a secure savings pool that only accepts MAZE tokens. It is considered a special reserve pool.
Mining/Farming Pools (MP)
Each funding pool, reserve pool, and LP pool is set up with a corresponding mining pool (MP). MP collects user delegation token as a sharing basis and from there distributes income to users through Stratified Harvest Regulating algorithm.
For convenience, the MP of the funding pool will be marked as fMP, the reserve pool as rMP, and the LP pool as lpMP.
What is Delegation Token?
Compared to Compound's ctoken and Aave's token, Maze's token delegation system is more complex. This protocol generates a Mirrored delegation token equal to the assets provided to the asset pool and burns an equal amount of the mirrored delegation token when the user withdraws the asset from the pool. Mirrored delegation token has its own functions and characters.
Mirrored delegation tokens include asset delegation token and farming delegation token.
Asset delegation of content includes rtoken, ftoken, and pMAZE.

Farming delegation token includes rmtoken, fmtoken and lpMAZE.
When a user deposits an underlying asset into the funding pool, the system automatically mints ftokens and fmtoken in a 1:1 ratio. When the reserve pool receives an underlying asset, it mints rtoken and rmtoken at the rate. ratio 1: 1. When LP pool receives MAZE-LP tokens, the system will automatically mint pMAZE and lpMAZE in 1:1 ratio.
What is Asset Delegation Token?
Maze's front-end application can determine an account's deposit balance based on the asset delegation token. All rtoken and pMAZE are ERC-20 standard tokens, transferable between accounts. However, the project disabled the transfer function of ftokens so that users could not move them, as the lending system had to prevent statistical data related to loan credits from being corrupted.
What is Farming Delegation Token?
The farming delegation tokens are accepted by the respective Mining pools.
All farming delegation tokens are ERC-20 standard tokens, which are transferable, which means that farming accounts may not be accounts that deposit money into asset pools.
What is Debt token (debt token)?
When borrowers initiate lending, the protocol generates an equal amount of Debt tokens. Like ftoken, Debt tokens do not have a transfer function, so users cannot move them. They will reflect the user's debt status in the Maze front-end application. The protocol burns Debt tokens after the borrower repays the loan.
Liquidation of mortgaged property
If the account's health factor is below 1, the account will be liquidated gradually. Liquidators can repay up to 50% of loans in a single liquidation, with the aim of restoring the health factor back to levels. The liquidator can take some more collateral as a bonus based on the liquidation penalty parameter.
Earn rewards for providing assets (Farming)
The underlying asset deposits do not offer any direct rewards to the asset providers. Users must stake their farming delegation tokens into respective MPs to participate in MAZE distribution. Based on the parameters of Stratified Harvest Regulators, rewards are distributed to all MPs every 10 minutes.
Basic information about MAZE token
Token Name: MAZE Protocol
Ticker: MAZE
Blockchain: Updating
Token Standard: Updating
Contract: Updating
Token Type: Utility
Total Supply: Updating
Circulating Supply: Updating
Token Allocation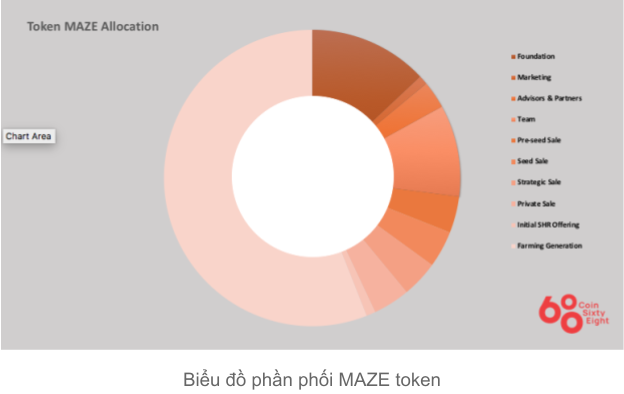 Funding: 13.64%
Marketing : 1.36%
Advisors and partners : 3.36%
Team : 10%
Pre-seed Sale : 3.64%
Seed Sale : 4.55%
Strategic Sales : 4.55%
Private Sale : 4.55%
Initial SHR Offering : 1.64%
Release via farming : 52.71%
Token Release Schedule
Updating
What is MAZE token used for?
Staking rewards.
MAZE token storage wallet
Updating
How to earn and own MAZE tokens
Buy directly on the exchange when the project issues tokens.
Join farming.
Where to buy and sell MAZE tokens?
Updating
What is the future of the Maze Protocol project, should I invest in MAZE token?
Maze Protocol is a banking protocol that allows users to borrow money without interest. With the introduction of this project, users will have one more option to borrow money in the cryptocurrency market with low risk. Through this article, you must have somewhat grasped the basic information about the project to make your own investment decisions. Coinlive is not responsible for any of your investment decisions. Wish you success and make a lot of profit from this potential market.
Join the chat group Coinlive Chats Now let's discuss hot issues of DeFi market with Coinlive admins!!!