What is Project Unvest (UNV)?
Unvest Is one Marketplace for these token is being (locked) locked or being distributed (vesting) tradable is deployed on the Ethereum Virtual Machine. Unvest smart contracts work in tandem with automated market makers (AMMs) and decentralized order books (Orderbooks) to facilitate trustless trading of tokens locked in the original investor's dispute schedule.
Unvest provides tools that are free to use for projects running IDO, while also managing a public DEX and earning revenue from pre-unlocked trading.
After launching its proof of content on Ethereum, will deploy its contracts on other chains including (but not limited to) Binance Smart Chain and Polkadot's Moonbeam.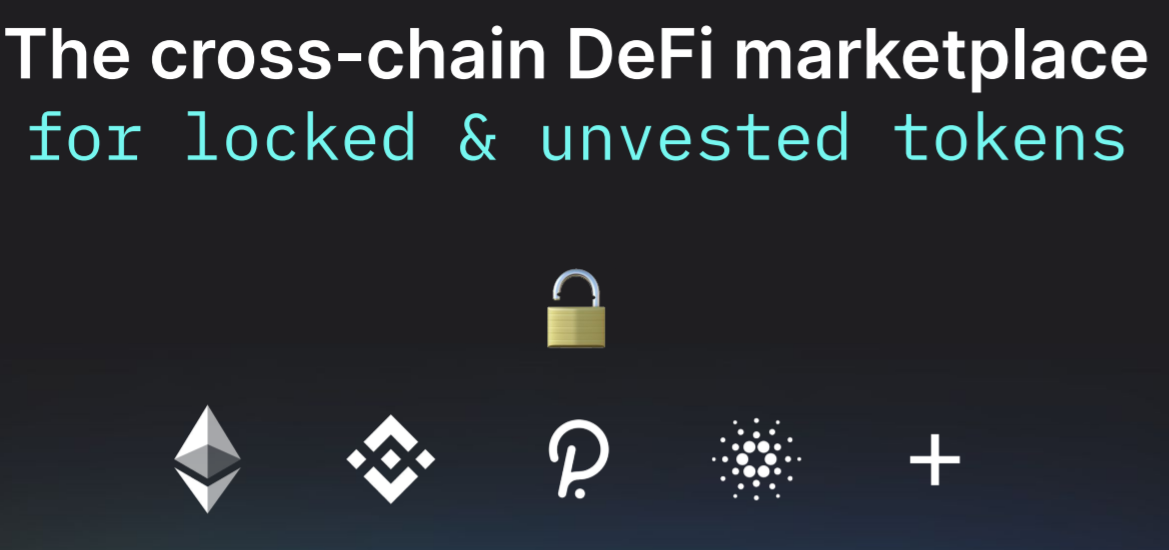 How Unvest . works
When projects list on TGE, project owners send their tokens to an audited contract, along with a recipient address for their investors and some other verification details.
This contract mint (digging) liquidity token (liquid vesting token) represents the rights to the initial tokens, divided in batches (e.g. Tuesday, Friday), they are sent to investors and can be freely traded on the market price pairs of their own.
At maturity, buyers holding Liquid Vesting Tokens can exchange them 1:1 for the original unlocked tokens through the Liquid Vesting contract.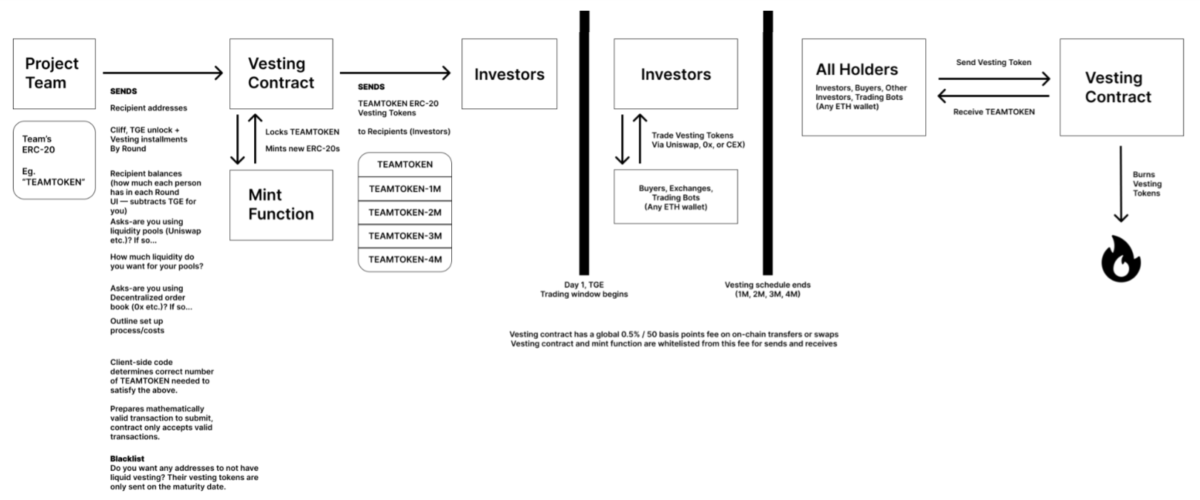 Feature
Any project can incorporate customizable Liquid Vesting into their IDO

The Liquid Vesting contract runs on Ethereum and Binance Smart Chain.
Upcoming development products
Beta token Liquid Vesting: The project first released a beta test of their own product. For users to experience with the Liquid Vesting token itself for the project.
Liquid Vesting smart contract: Next will be developing a Liquid Vesting UNV token-enabled Smart Contract that will allow any project to incorporate customizable Liquid Vesting into their IDO.
In the interface design of Univest, users will be able to experience trading features such as:
Pooll of Uniswap

Ox's Orderbook
Liquid Vesting Contract for NFT:
Now, IDO or Launchpad projects can issue a set of Liquid Vesting NFTs for ownership of each basket of uninvested (monthly grouped) tokens that can be pegged with ownership of a corresponding NFT.
Also off-chain version
With the above features, the project will design an off-chain version, a version like Coinlist that combines the features of Unvest.
The Marketplace interface allows transactions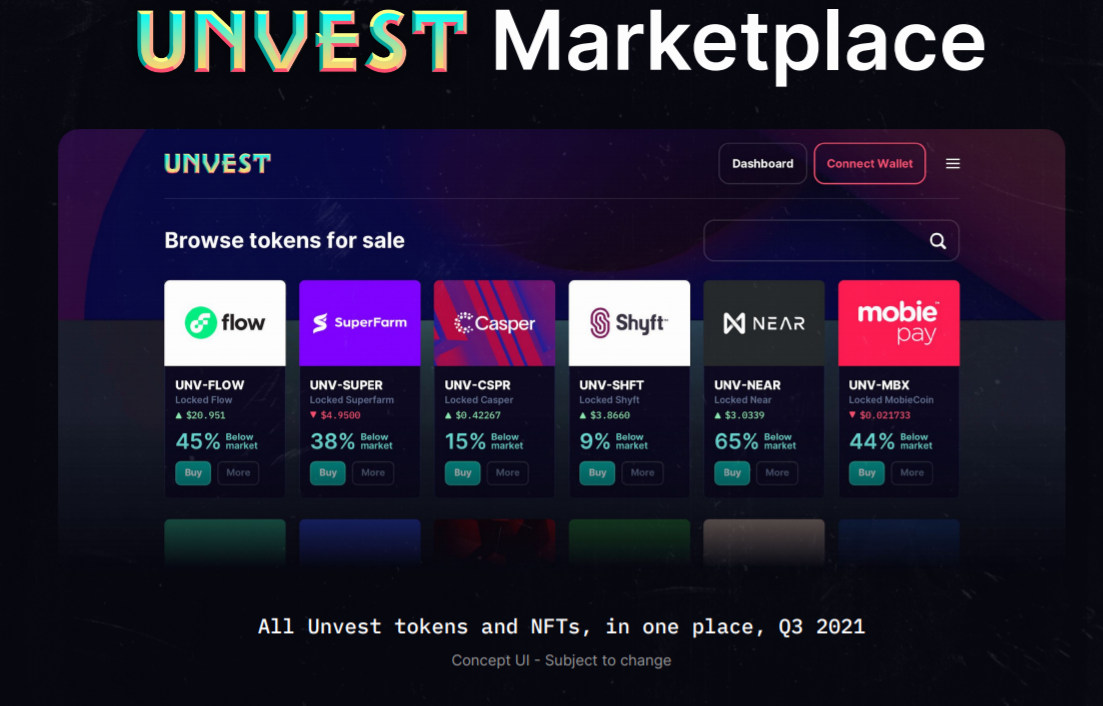 Roadmap
AT token announcement event in Q2 2021:

UNV Token – Liquid Vesting™ Beta

Q3 2021: Liquid Vesting™ Tokens

Q3 2021: Liquid Lock™ Tokens

Q3 and Q4 2021: Liquid Vesting™ NFTs

Q3 and Q4 2021: Liquid Lock™ NFTs

Off-Chain OTC Tokens
What is UNV Token?
UNV is the UNV Protocol platform token. Has the following features:
Pay:

Fees can only be paid to access certain features on the UNV platform with UNV . tokens

Stake

: UNV tokens can be staked to receive platform fees, projects can choose to add fees to start testing Liquid vesting.

Administration:

The UNV token acts as a governance token, allowing the community to define key code and platform parameters.
Some basic information about UNV . token
Token name:

Unvest Protocol token

Ticker:

UNV

Blockchain:

Ethereum

Standard Tokens:

ERC-20

Contract Address:

updating

Estimated supply after TGE:

31,920,000 UNV

Initial supply:

1,000,000,000 VND

UNV
UNV Token Allocation
Reward:

15% equals 150 million, 3 months lock then distribute 10% every month.

Team:

20%, 200 million tokens, 18 months locked, then 10% per month.

Adviser:

3%, 30 million tokens, 6 months locked, then 3% per month.

Partners/ecosystems:

16.5%, 165 million tokens, 6 months locked, then 10% per month.

Reserve:

14%, 140 million tokens, 6 months locked, then 3% per month.

Angel Investor Round:

1.4%, 100 million tokens, 12 months locked

Seed Round (Seed):

10%, 100 million tokens, 8% released on TGE and amortized in 4 quarters.

Private Round (Private):

10%, 100 million tokens, 8% release on TgE and amortization in 3 quarters.

Launchpads:

2.1%, 21 million tokens

Offering Floating Liquidity:

6%, 60 million tokens, unannounced

Uniswap main pool:

1%, 10 million tokens, locked indefinitely

Pool for Liqudid vesting:

1%, locked until maturity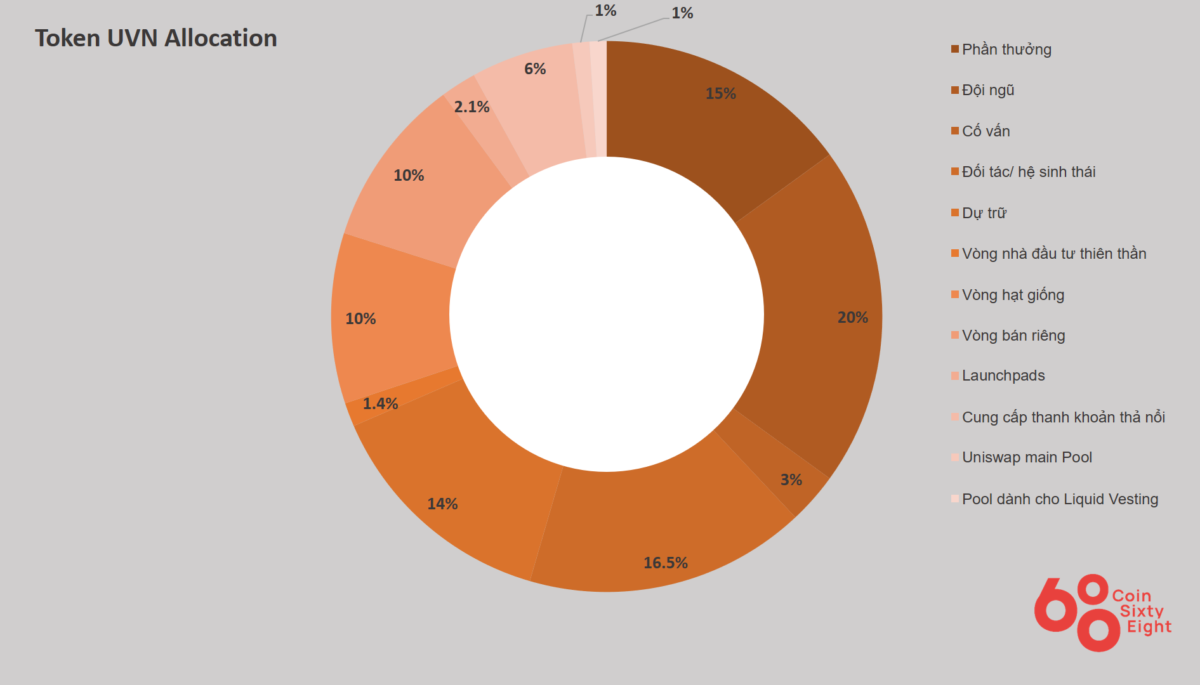 Distribution details: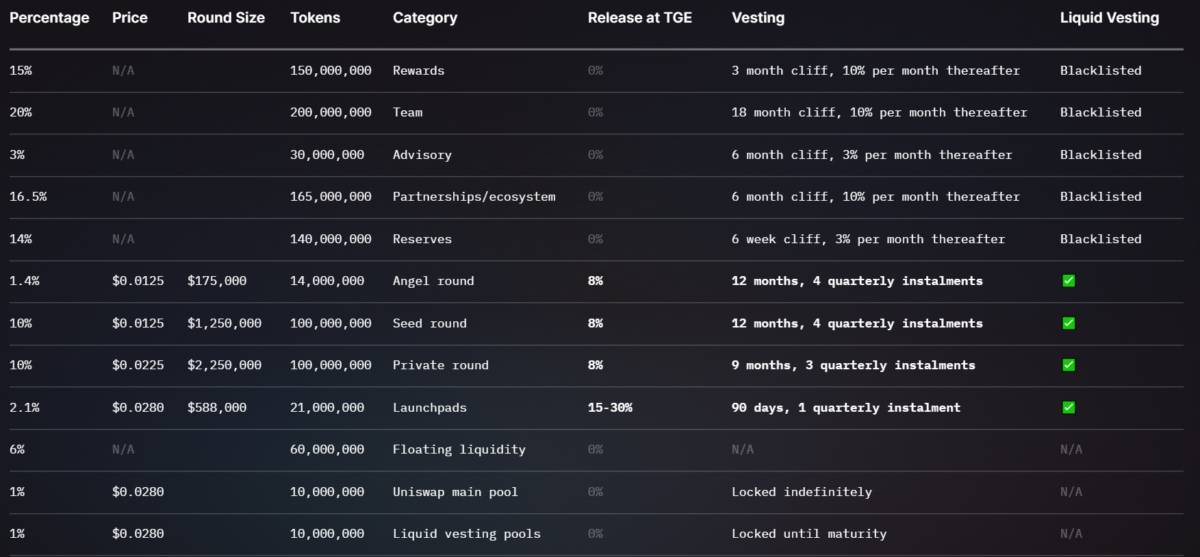 Liquid Vesting is a live product that allows any initial investor to trade ownership rights to UNV tokens prior to Vesting – without affecting (dumping) major UNV trading pairs.
Token sale
Total Initialization Capitalization:

893,000 USD

Angel ring (Angel

) selling price 0.0125 USD

Seed Round (Seed)

selling price 0.0125 USD

Private Round (Private)

0.0225 USD

List or sell on Launchpad/Listing

0.028 USD
Team
How to earn and own UNV Token
Updating
UNV Token storage wallet
As an ERC20 token, you can store most of today's standard wallets:
Coin98 Wallet

Trust Wallet

Metamask Wallet
The future of Unvest Protocol, should you invest in UNV coin?
Unvest Protocol is a DeFi platform that provides a liquidity solution for primary investors (OTC), when their tokens are locked for 1 to 2 years. Liquidity solutions through Liquid Vesting do not affect the liquidity on the Market, allowing the transfer of ownership and maximizing the return on the investment. All information in this article is researched by Coinlive and does not constitute investment advice. Coinlive is not responsible for any direct and indirect risks. Good luck!
Join the chat group Coinlive Chats Now let's discuss hot issues of DeFi market with Coinlive admins!!!