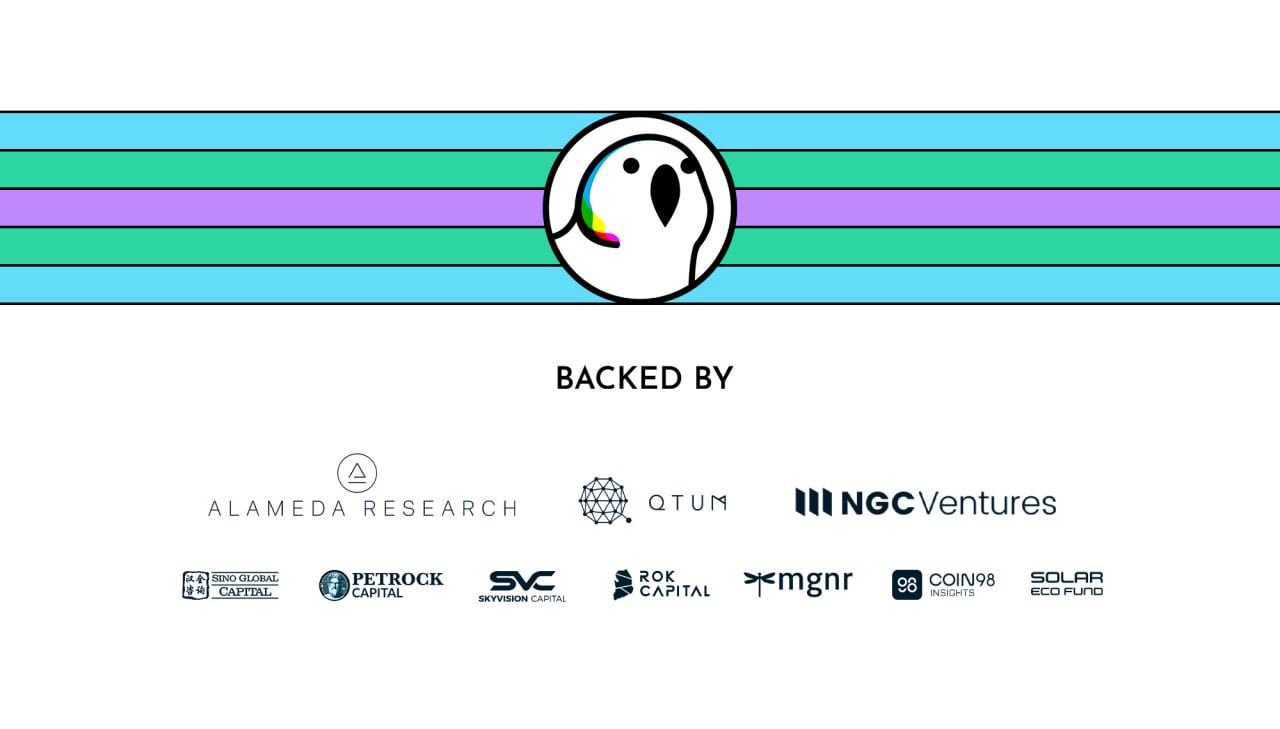 Parrot Protocol raised $5,000,000 in Seed Funding round from Alameda Research, QTUM VC, NGC Ventures, PetRock Capital, Coin98, MGNR, Sino Global Capital, SkyVision Capital, Solar Eco Fund, Chris McCann & Edith Yueng (Race.Capital), ROK Capital.
The Parrot team is honored and grateful to receive the support of these renowned investors to accelerate the development of Parrot Protocol.
Parrot Protocol is a liquidity network built on Solana Will include stablecoin PAI, a non-custodial lending marketplace and vAMMA margin trading. These are all use cases designed to solve a single problem: being able to access the locked value in a DeFi system.
The project's investors are also excited to share about Parrot's future.
Alameda Research:
"Stablecoins are at the core of the DeFi Solana ecosystem; Through its specialized platform for using tokens as the chap asset, Parrot will fill a niche in the stablecoin market. Furthermore, Parrot Protocol will build its own PAI co-stable lending product, which creates a strong network effect for both products. Alameda Research is excited to hear how the Parrot team will be able to continue to execute rapidly and innovate in product design."
Qtum Venture Capital:
"Qtum VC is pleased to support the development of Parrot Protocol. Making the LP token useful will be an important area of ​​impact as the DeFi industry moves towards a multi-pronged future. The Parrot team builds a stablecoin using the LP token that will unlock a huge amount of value that was previously inaccessible. We look forward to the Parrot team building a liquidity network for their lending products."
NGC Ventures:
"Parrot is absolutely one of the pioneering projects on Solana. We believe Parrot will be the foundation for the next-generation DeFi system."
PetRock Capital:
"Parrot Protocol empowers users to collateralize and unlock the productivity of their underperforming "locked" assets, serving as the foundation for the entire DeFi Vertical across different ecosystems. The team has also worked hard and passed the milestones outlined in their roadmap, and actively pursued integrations and partnerships with decentralized applications built on top of that. Solana, Ethereum and other ecosystems.
PetRock strongly believes that Parrot Protocol will succeed in its mission of building and optimizing a top-notch liquidity network across the system."
SkyVision Capital:
"The community has seen the explosion of Decentralized Finance, 'DeFi', which continuously disrupts ancient traditional financial institutions. However, DeFi is still in its infancy as it is growing rapidly while the infrastructure is being built.
As such, Parrot Protocol aims to solve current DeFi problems such as lack of liquidity and inability to access assets locked in current DeFi systems through the use of collateralized LP tokens. . SkyVision Capital is excited to support and collaborate with the team at Parrot Protocol as they help enrich and enhance the DeFi space while building the Solana ecosystem."
MGNR:
"We are excited for the growth of core DeFis on Solana. We think Parrot is in a great position to take advantage of this emerging ecosystem through their stablecoins and lending-to-borrow protocol."
Solar Eco Fund:
"Solar Eco Fund is delighted to announce a strategic investment in Parrot Finance. Parrot's goal is to increase capital efficiency by creating a liquidity and lending network that users can use as collateral for the multi-chain LP token. Its first launched product was stablecoin PAI. It's all built by a capable, efficient team that leverages Solana's high throughput and super low fees."
Chris McCann (Race.Capital)
Chris McCann is a Seed round investor in Solana and FTX:
"The Parrot team is building a suite of products to solve one of the most important problems in the DeFi ecosystem – by unlocking the value of liquidity provider (LP) tokens.
Through building an on-chain stablecoin (PAI), lending market, and leveraged market around this LP token, Parrot aims to turn these LP tokens into real productive assets. At scale, this will dramatically increase liquidity, new use cases, and a new layer of liquidity infrastructure into the Solana & Serum ecosystem."
With the above investors behind the project, the Parrot team will continue to work hard to strengthen Parrot Protocol's product offerings.
In order not to miss any updates from Parrot Protocol, users can join and discuss at Parrot Vietnam Community:
Synthetic
Maybe you are interested:
Join the chat group Coinlive Chats Now let's discuss hot issues of DeFi market with Coinlive admins!!!