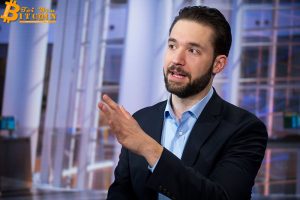 Reddit co-founder Alexis Ohanian shared last year that crypto represents part of his portfolio. His venture capital firm, Seven Seven Six, has since participated in a $5 million funding round for Bitcoin rewards app Lolli and invested in blockchain infrastructure company QuickNode.
But where does Ohanian put his money?
At least in part in Ethereum. Ohanian told Andrew Ross Sorkin on CNBC:
"I think Ethereum [có], at least in the next year or two, really has the most to prove, or at least the most potential to show something because there are so many interesting applications, NFT is just the beginning of the what's being built on top of the Ethereum blockchain and that's where a lot of my assets go public."
Unlike the Bitcoin blockchain, which is primarily used to create and securely transact with digital currency, the Ethereum blockchain more broadly incorporates smart contract code that eliminates middlemen and allows anyone to build applications on the same blockchain. That has largely evolved into two main use cases: non-fungible tokens or NFTs and decentralized finance (DeFi).
NFTs are digital certificates of title, primarily used to transfer rights to digital assets (such as virtual collectibles, artwork, or trading cards) or real property. physical. DeFi, meanwhile, refers to any financial services protocol that allows people to lend, borrow, or transact without going through traditional financial institutions.
Both sectors have seen rapid growth over the past year. According to DeFi Pulse, around $60 billion in cryptocurrency is floating around in the Ethereum DeFi protocols, compared with about $1 billion a year ago. NFTs have registered over $2 billion in sales, most of which comes from the Ethereum blockchain, where they originally appeared.
Even though Ohanian is heavily invested in Ethereum, the technologist is open to what's emerging and thinks the United States must take a light step to create room for similar blockchain innovations. Referring to El Salvador's recent decision to legal tender for Bitcoin, Ohanian shared
"In general, I would not support the application of any kind of regulation on this. At the end of the day, these are opportunities for us to seize and hopefully as a country we can lean on the best parts of this."
Maybe you are interested:
---
Join our channel to update the most useful news and knowledge at:
According to Coinlive
Compiled by ToiYeuBitcoin