Oracle is one of the fastest growing niches in crypto. With the continued growth of DeFi and financial services, the demand for data feeds is increasing. Today, we invite you to join Coinlive to learn about Tellor – one of the Oracle projects that many people expect to grow rapidly in the future.
About Tellor
Tellor (TRB) is an oracle system where miners compete for validation, adding data points to an on-chain data bank.
How Tellor Works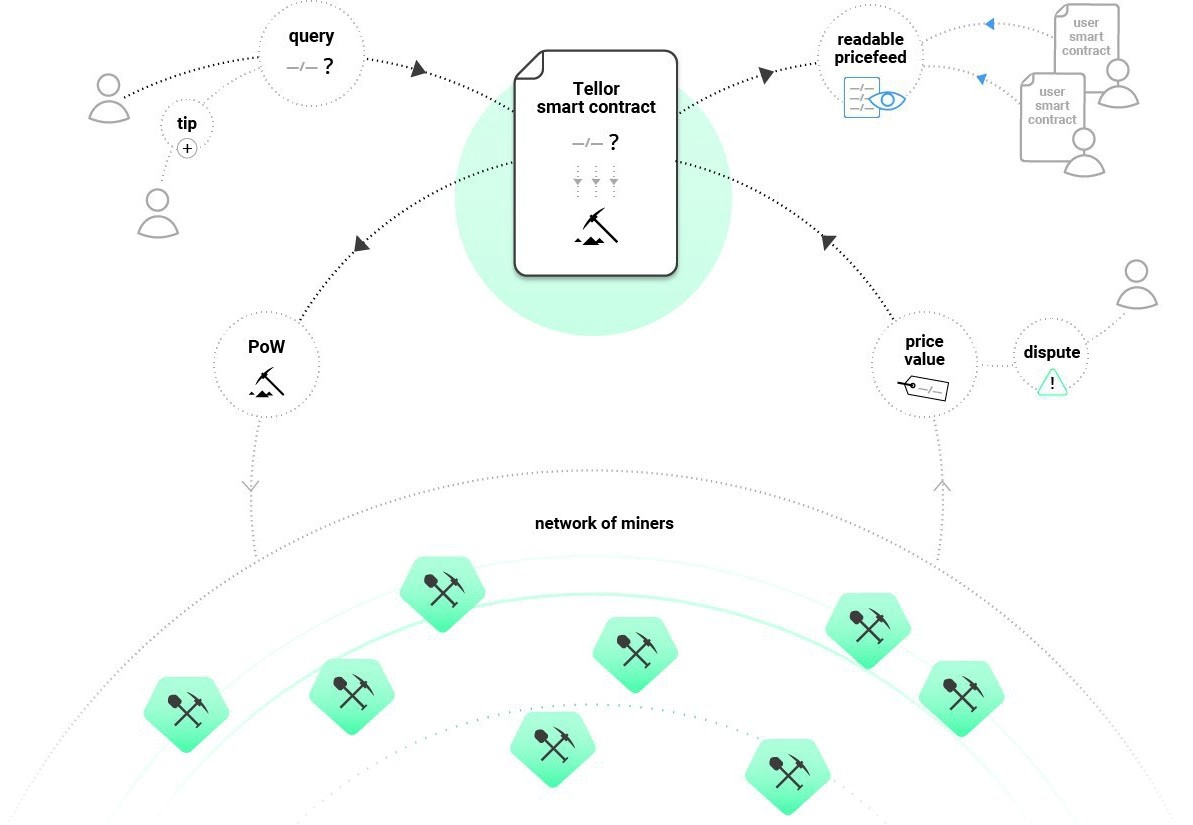 Above is a diagram showing how Tellor works. Specifically:
Users will send queries to Tellor with rewards to incentivize miners to execute their queries.

Some other users also want the same data as the user above, so will pay an extra tip to query the miner's preferred data.

Every 5 minutes, Tellor's smart-contract selects the groups of queries with the best funding, aggregating into a new challenge for miners to handle.

Miners will use PoW and their off-chain data to smart-contracts. Tellor's smart-contract will automatically sort the received values. After receiving 5 values, the final value (average of 5 values) will be selected and saved on-chain. Miners are allocated rewards (including basic reward + tip). Each such data update cycle is called a block. Thus, about every 5 minutes is the time to form a block of Tellor.

Anyone holding TRB can participate in disputes over the validity of the newly mined value by paying fees. For 2 days, TRB holders will vote on data validity. The results of the re-vote may be further disputed by paying the previous day's double disputing fee. Voting will continue. Just like that, the dispute process will continue until… no more disputes. If the data results are wrong, miners will lose their TRB stake. If true, the other party's dispute fee will be paid to the miner.

Each mining address cannot win consecutive blocks. The current waiting time for each miner is about 15 minutes (equivalent to 3 blocks).
As such, the mechanism of paying for data collection on Tellor is completely similar to how EIP-1559 works on Ethereum. There will be a Base Reward + Tip (in the form of TRB) for miners. Half of the tip is paid to the miner, the other half is burned.
Tellor .'s PoW Mechanism
To become a miner, every miner must stake 1,000 TRB. This is to ensure that miners are responsible for providing accurate data. With the stake value is not too large, Tellor can receive the participation of more parties, thereby ensuring decentralization.
With the mechanism of using the average value, Tellor allows to minimize the price manipulation that occurs by a few parties. In addition, the dispute and bet mechanism ensures optimal data accuracy and system security.
With this PoW mechanism, the security of Tellor will be enhanced when:
There is more than need to use data
More parties to dispute voting (thus, more decentralization)
Higher TRB price (to join miners and dispute more money)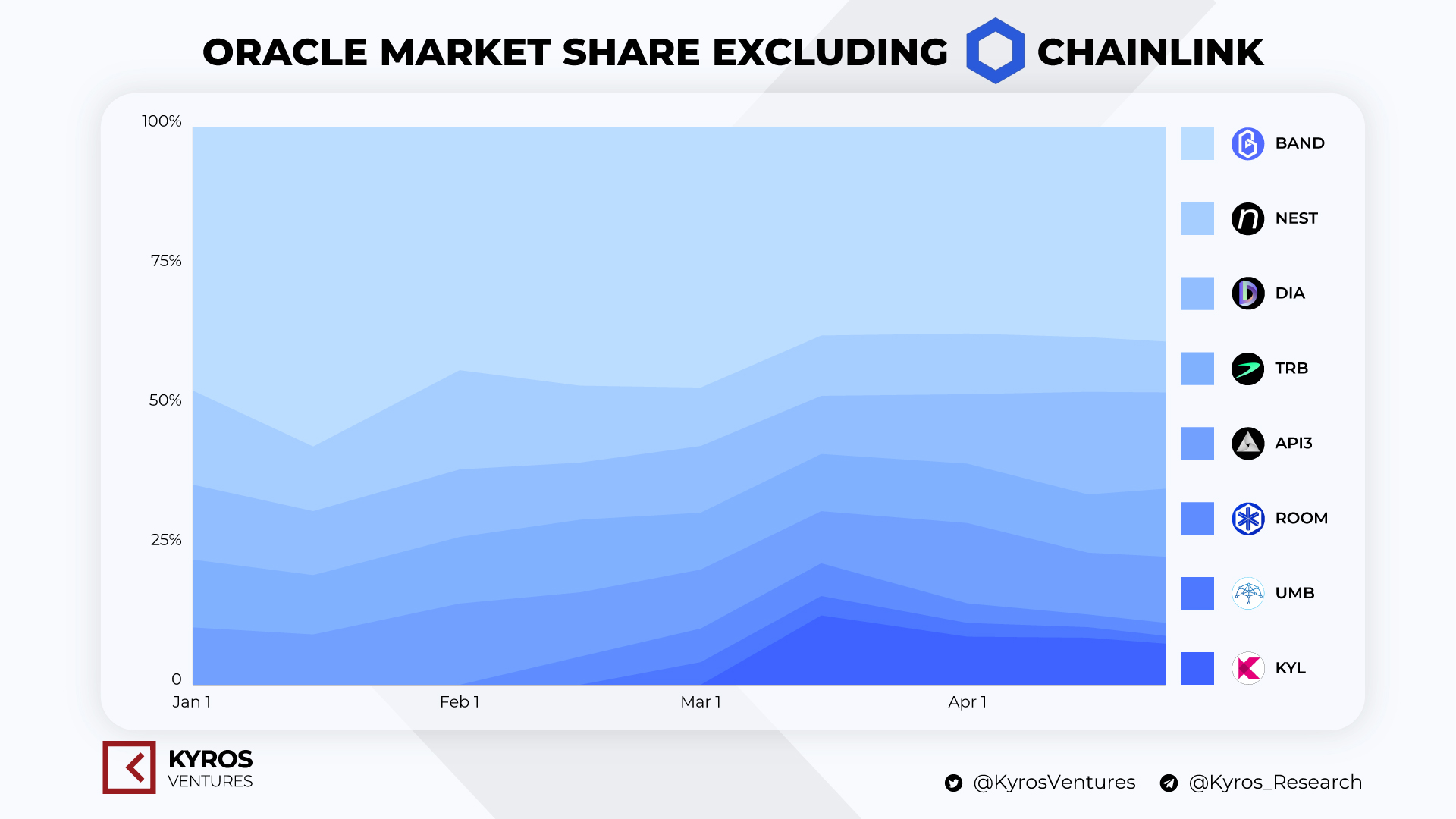 TRB Token
TRB is the native token of Tellor. Currently, TRB has the following main applications:
Rewards for data providers
Dispute and dispute voting costs
TRB has an infinite supply, determined by usage and mining rates. The inflation rate and the amount of TRB issued are updated according to this link.
It can be seen that the rate of burning TRB (tip) compared to the number of TRB Tokens issued per day is very small. Therefore, this tip burning has not really created a good demand for TRB.
Revenue sharing mechanism
TRB's revenue will be distributed mostly to miners. Just 10% of revenue will be shared with the project development team, used for many purposes such as advertising, ensuring a part of administrative rights, encouraging the team to continue accompanying the project…
This is also one of the ways to create demand for TRB when most of the revenue from the project is shared with miners.
Chorus – Tellor's new weapon?
In recent times, Tellor has announced the launch of Chorus – a product associated with Tellor Oracle Ecosystem.
Chorus is a protocol where the community can create semi-stablecoins suitable for each use.
How Chorus works
Users mortgage any ERC-20 asset into a pool (called Anthem). Each Anthem will have its own set of characteristics that, once established, will unlock a new asset called Note (a form of stable money). Collateral value will be calculated using data source from TRB Oracle.
Reading this far, you can probably see that Anthem is a protocol similar to MakerDAO.
Compare with other competitors (ChainLink and Band Protocol)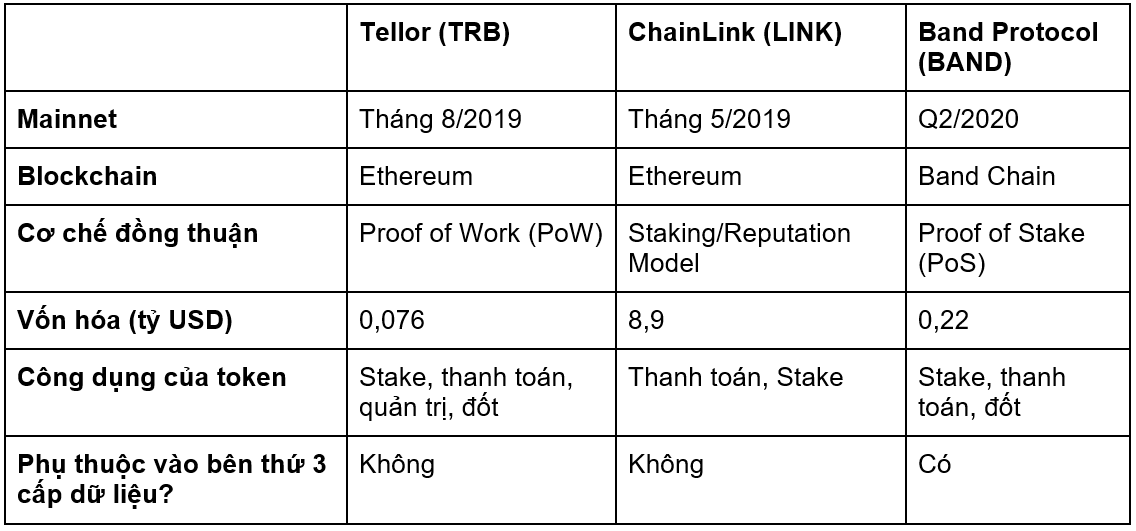 Investors
Maker, Binance Labs and Consensys
Customer growth rate
Currently, there are 4-5 projects using Tellor's solution, very modest compared to the 46 customers of Band and a few hundred customers of Chainlink.
One of the reasons for this phenomenon is that TRB's ability to provide data is not diverse, and it is not optimal for multi-chain support.
summary
In the writer's personal opinion, a potential oracle project is a project with rapid customer growth.
With TRB's utility token, only increasing customers => increasing queries => increasing fees + tips => increasing the amount of tokens burned and increasing the reward for stakers, the demand for buying TRB staking + the amount of TRB burned will be increased , creating a strong buy-demand for TRB.
At the same time, if there are more users and more queries, the inflation rate of TRB will decrease.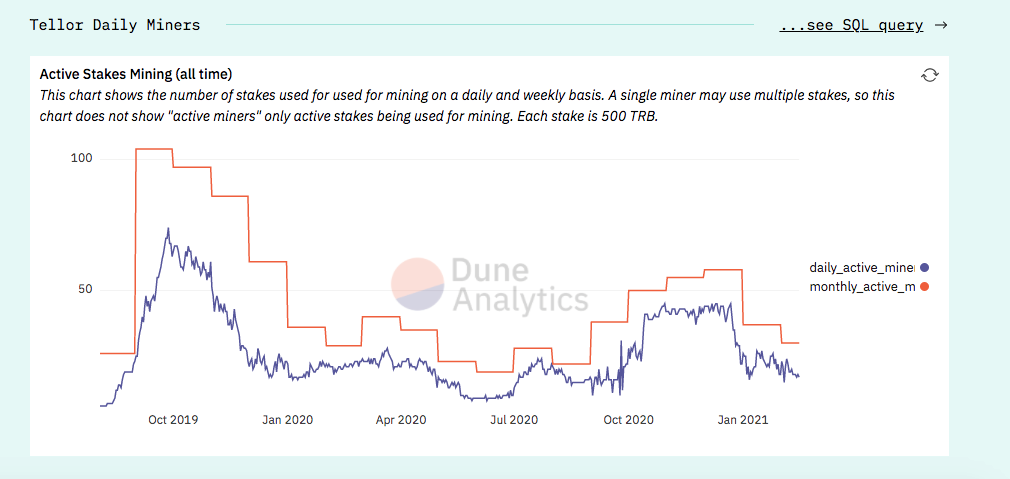 Here is a chart of daily and monthly active miners on Tellor. The reason for this decline is that the stakers are getting less and less reward (due to the small number of customers using Tellor) and the profit is not enough to cover the cost (if you can't buy TRB at a cheap price).
At the moment, the writer does not see much potential for the price of TRB in the long term. However, we also need to acknowledge 3 positive points that TRB is doing:
No dependence on 3rd party data, thus minimizing data manipulation

Have a good direction with the launch of Chorus product, contributing to increase TRB's buy-demand in the future

The market capitalization is still relatively small compared to Chainlink and Band, the growth potential is still a lot
Future expectations
Users may notice that one of Tellor's investors is Maker. Deploying Chorus – a project similar to Maker can be said to be a pretty smart move by Tellor. When Chorus is successful and used by many parties, the demand for Tellor will automatically increase, because Chorus is completely based on Tellor's data feed. Perhaps this is Tellor's move to open itself up to a new competitive direction compared to other terrible competitors like ChainLink or Band.
In addition, the author hopes that next time Tellor will improve in the following points:
Diversity of data

Increase utility for TRB token

Figure out how to grow customers faster (perhaps by exploring new ecosystems)

More support for multi-chain
For the author, the above analysis and data are not convincing enough to buy TRB at 4x USD and hold long term. The author will continue to monitor the project and wait for changes after the launch of Chorus to continue evaluating.
Poseidon
Maybe you are interested:
Join the chat group Coinlive Chats Now let's discuss hot issues of DeFi market with Coinlive admins!!!