GROK, the "following" token of Elon Musk's new AI chatbot Grok, has reached $160 million in capitalization and amassed $113 million in trading volume.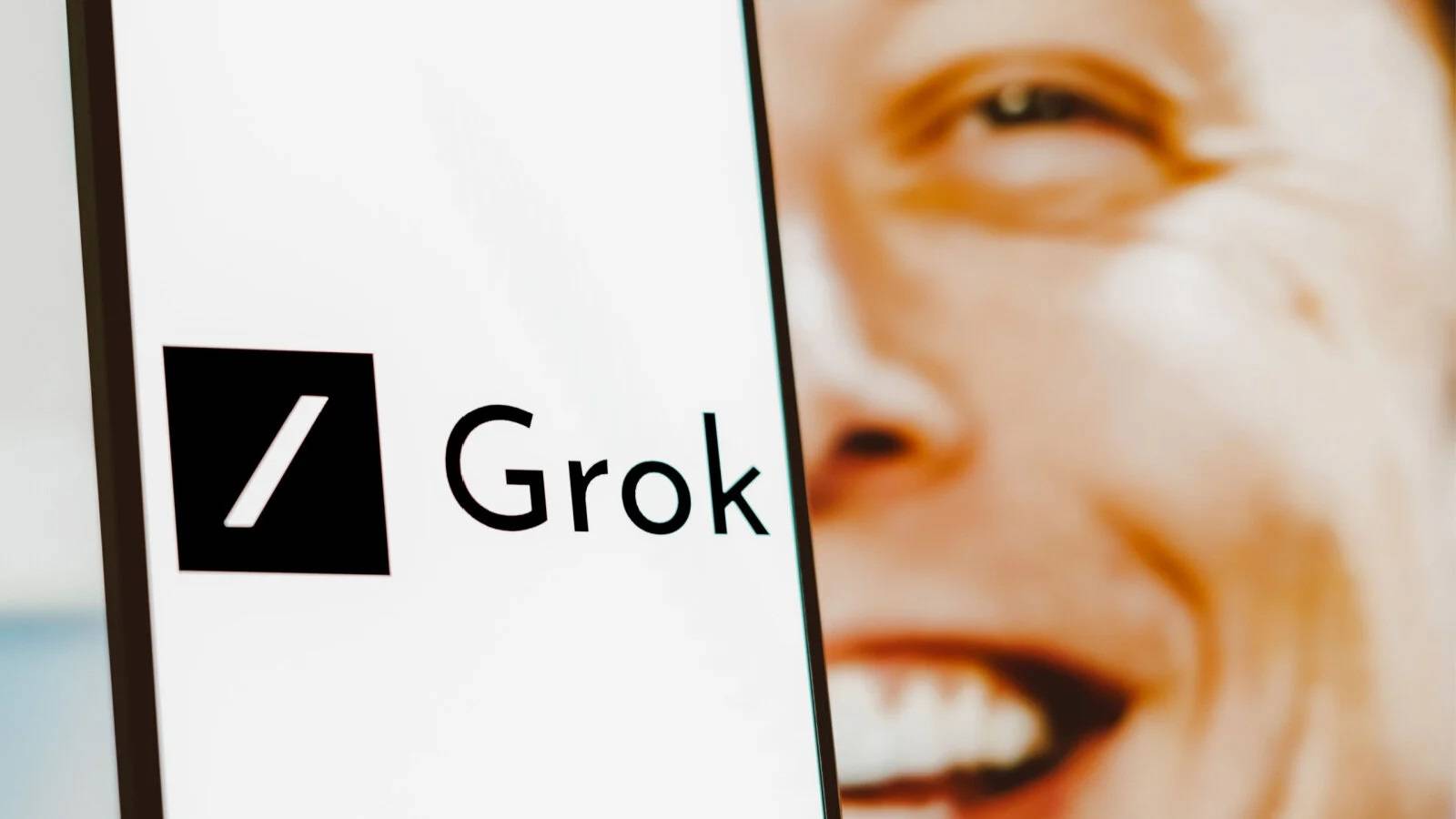 GROK price increased by more than 1,000% after a week of launch. Photo: decipher
Although it has no connection with Elon Musk's new AI product, the GROK token has still created a fever lately.
GROK's capitalization officially reached $16 million after just 8 days of launch, continuing the trend of green frog PEPE and hamster HAM memecoins earlier this year.
According to DEXTools, the price of Grok (GROK) more than doubled on November 13, extending the week's increase to 13,000%. This means that 100 USD can earn investors 13,000 USD in just 7 days of holding.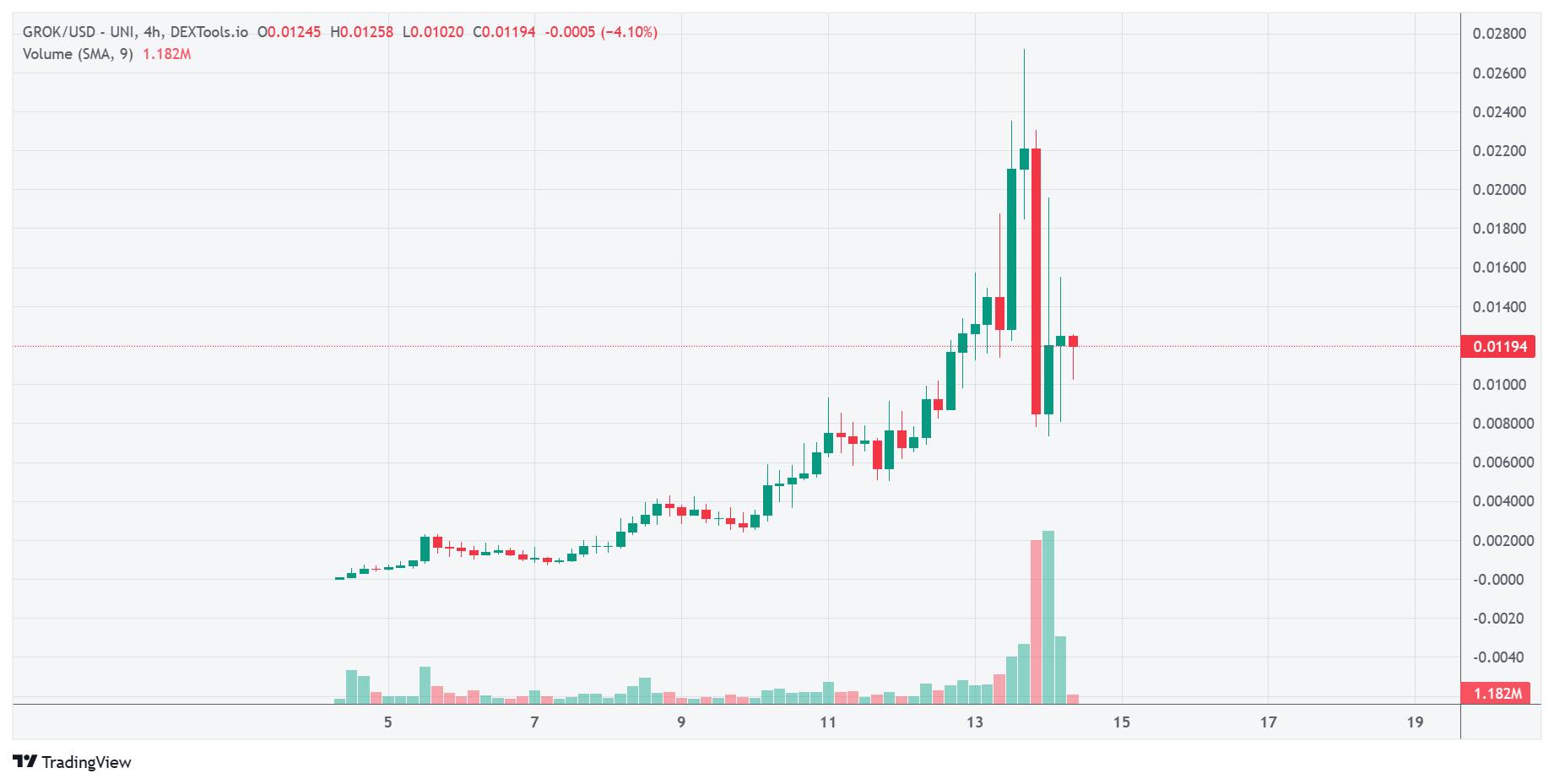 4-hour chart of GROK/USD pair on Uniswap, screenshot by DEXTools at 08:55 on November 14, 2023
There are currently around 11,000 GROK holders and the 24-hour trading volume of this token is $25 million. In More than 400 tokens "inspired" by the billionaire's new chatbotGROK is still the center of attention.
Estimated profits of major GROK holders range from $2.1 million to $6 million. However, the liquidity that the GROK-USD pair can accommodate is only USD 3.5 million, which means that even a small selling force can reverse the bullish momentum.
At the time of writing, this token is showing signs of cooling, the price has dropped by more than 20% in the last 24 hours and is trading at the price of USD 0.012.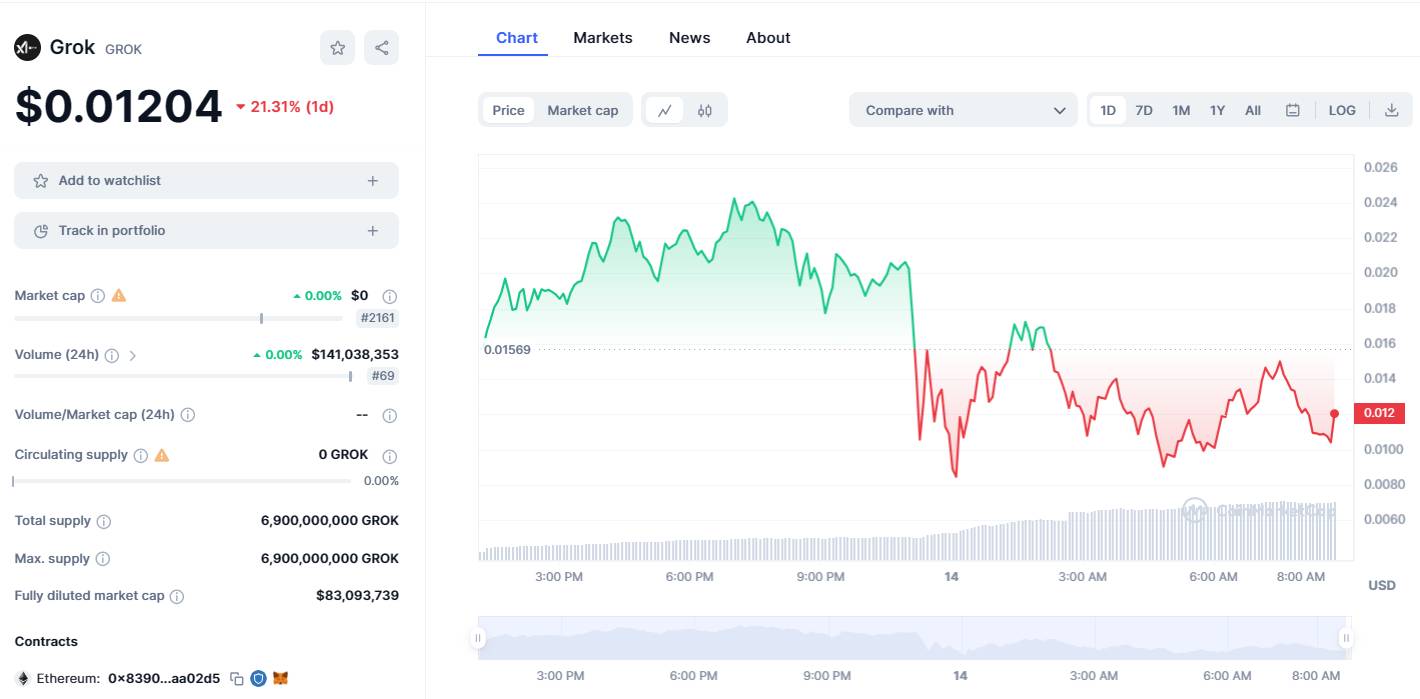 GROK's 24-hour trading volume reached $141.3 million. Source: CoinMarketCap
However, on-chain detective ZachXBT suspects this is a scam project, because Grok's X account ID is linked to at least one illegal crypto project.
Not that people in this space care, but @GROKERC20 $GROK it was created by a scammer.

The exact same X/Twitter account was reused for at least one other scam.

X/Twitter ID: 1690060301465714692 pic.twitter.com/iKu7zb6YeS

— ZachXBT (@zachxbt) November 13, 2023
On November 5, Elon Musk's xAI company announced the launch of the AI ​​chatbot Grok, integrated into the X and Tesla electric cars, with ambitions to compete directly with ChatGPT. In addition to the ability to respond to text, the Grok chatbot can also recognize images, voices, and create images. The difference in Grok is that the context of the response is mainly based on the content collected on X. Musk pointed out that Grok can interact with humans in a fun way, instead of just answering questions.
"Goodbye and thanks for all the homework" 😢
Douglas Adams with https://t.co/X3OwOieb0g

—Elon Musk (@elonmusk) November 11, 2023
Additionally, Elon Musk said that all of his companies, including Twitter, will not issue tokens.
To be very clear, none of my companies will ever create a crypto token

— Elon Musk (@elonmusk) November 4, 2023
Coinlive compiled
Maybe you're interested:
Join the discussion on the hottest issues in the DeFi market in the chat group Coinlive Chats Let's join the administrators of Coinlive!!