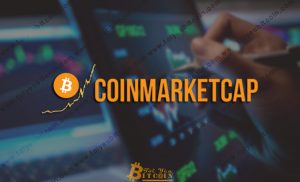 The world's largest cryptocurrency price tracker was misinformed, showing a 66% drop in market capitalization in just one day. This caused many investors to panic.
On June 14, many users said they felt panic when CoinMarketCap site "announced" the entire cryptocurrency market had evaporated $ 116 billion in just one day.
Accordingly, the display error shows that the entire cryptocurrency market is only 508.87 billion USD, equivalent to a decrease of 66.15% in value in 24 hours. Meanwhile, the cryptocurrency price tracking site Coingecko, the cryptocurrency market capitalization on June 14 reached 1.677 billion USD, and increased 8% compared to 24 hours ago. Besides the market capitalization error, users also cannot track the price of each digital currency on CoinMarketCap. In some other cases, the growth percentage of the cryptocurrency is displayed incorrectly.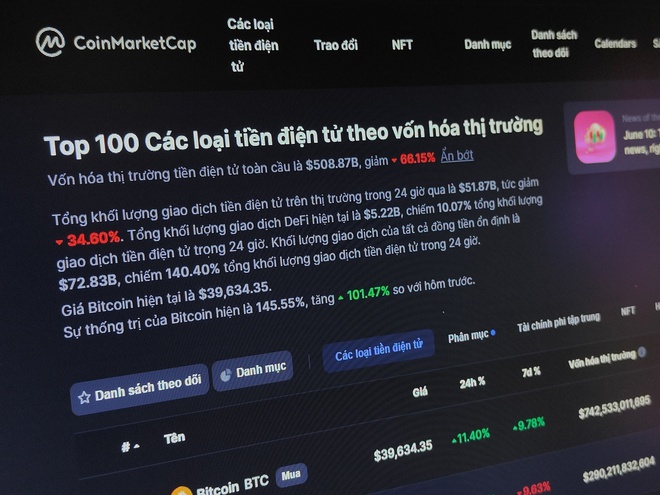 Typically, the case of codes such as: USDT, ADA, DOGE, SOL … all lost 50-98% of their value compared to 24 hours ago. In fact, the price difference of these digital currencies is only a few percent.
"I have been in the crypto market since 2017 and only track prices on CoinMarketCap. Checked today, this page reported that the total market capitalization has decreased by more than half. Immediately, everyone in the crypto groups I joined was bewildered," said Hung Thuan, a longtime cryptocurrency investor in Tan Phu, Ho Chi Minh City.
Meanwhile, social media users like Twitter are constantly sharing hashtags #CoinMarketCapdown and #heartattack. "CoinMarketCap makes me feel like I'm having a heart attack. Hope this is just a bug," Twitter account @LonardoMirco posted a post.
At 5:10 p.m., CoinMarketCap posted on the website's official Twitter that they were experiencing some lag in the APIs and that the developers of this website were actively fixing the bugs.
"I am sure this is an error because despite reporting total market capitalization of 507 billion USD, CoinMarketCap still shows the market value of Bitcoin at 735 billion USD. It is impossible for the capitalization of one coin to be higher than the total market capitalization," said Quoc Van, an analyst from the cryptocurrency forum.
I am sure there is a glitch in @CoinMarketCap…#Bitcoin dominance 145%@ethereum dominance 57%
Market Cap reduce to 66%

This is an error….
Retweet it until its corrects 🔥@binance @cz_binance @WazirXIndia #CoinMarketCap #BitBNS #BitcoinCrash https://t.co/3b1SbpiHf1 pic.twitter.com/nvlWuxDUvL

— Mohsin Ali (@Mohsin_71) June 14, 2021
CoinMarketCap is a website that tracks fluctuations in digital currencies launched in 2013, founded by Brandon Chez. This website has quickly grown to become the most trusted source by users, institutions and media to compare thousands of cryptocurrencies.
CoinMarketCap is often quoted by major news outlets like CNBC, Bloomberg… Even the US government uses CoinMarketCap data for research and reporting.
In April 2020, CoinMarketCap was acquired by Binance Capital Mgmt. Binance is the global blockchain company behind the world's largest digital asset exchange, by trading volume and users.
According to SimilarWeb, CoinMarketCap has a very large monthly traffic, about 272.32 million, ranking 179th in the world and 338th in the US in terms of traffic. If only in the category of financial and investment websites, CoinMarketCap ranks 8th.
According to Coin Desk data, the price of Bitcoin on June 14 (Vietnam time) increased to close to the threshold of $ 40,000 / dong. As of 5:20 p.m., the world's largest cryptocurrency was trading around $39,200/dong, up 11.17% from a day earlier.
The increase brings Bitcoin's market capitalization to $734.8 billion. Year-to-date, the Bitcoin price has increased by more than 35%.
Bitcoin's price rally also pulls other cryptocurrencies up. The price of Ether – the second largest cryptocurrency – is up more than 7% from a day earlier to $2,500 a coin. XRP and Cardano also saw price increases of 6.15% and 6.73%, respectively.
Talking to Zing, an international expert said that Bitcoin's large price increase once again shows the influence of billionaire Elon Musk on the cryptocurrency market. After the latest move of the CEO of Tesla, the Bitcoin price may touch $ 44,000 / VND this week.
Maybe you are interested:
---
Join our channel to update the most useful news and knowledge at
According to Zingnews
Compiled by ToiYeuBitcoin