Faced with environmental concerns caused by cryptocurrency mining, many ideas about finding an alternative clean energy source were born. If in recent days there has been a buzz about the president of El Salvador using geothermal energy from volcanoes to mine Bitcoin, now, farmers in the UK are looking for an infinite renewable energy source. and another surprise- cow dung.
And the fact that farmers in the UK use cow dung to power Ethereum mining has increased their revenue significantly.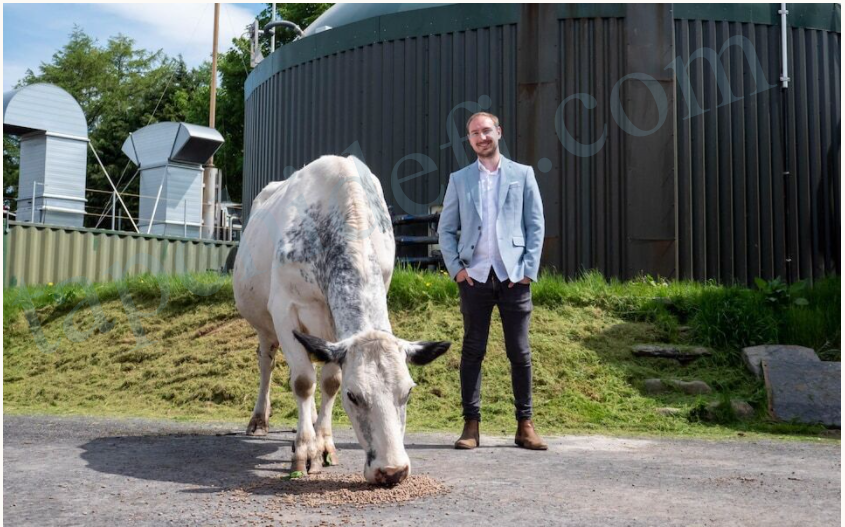 UK Farmers Use Cow Manure to Power Ethereum Mining
Currently, part of England's farmers are generating electricity from manure and selling it to National Grid, which operates the high-voltage transmission network in England and Wales. With the sale of renewables to National Grid, they can earn around 0.07 GBP ($0.1) per kilowatt, but running a crypto rig can make 40 GBP ($56.4) a day and about $21,000 a year, according to Britain's Daily Metro.
In line with this trend, Easy Crypto Hunter, a UK company that specializes in the production of crypto mining hardware, has observed a huge draw from farmers looking to diversify and increase sales. their revenue.
Josh Riddett, CEO of Easy Crypto Hunter said: "More recently, solar panel offers have dropped to almost zero but our machines are now offering great deals. lost it." "Farming is getting harder and harder, and that's what often forces farmers to diversify in order to make a good living."
The company uses manure — methane to be exact — to operate its own hardware and mine carbon-neutral cryptocurrency. They and their customers mine cryptocurrencies like ethereum (ETH), but not bitcoin (BTC), "because it's not as energy-efficient as other coins and not as profitable," according to Riddett .
He said that four years ago, when the company launched its operations, green energy "wasn't in the eye of the customer," but now it accounts for about 40% of East Crypto Hunter's business and continue to grow every day.
"There is a lot of diversification in agriculture today, and although the average age of our agricultural customers is 58, the vast majority of farmers today can talk about technology with confidence like they talk about cows and pigs," he said.
Why Using Cow Manure Can Power Ethereum Mining?
It's amazing how this waste, or just meant to be used as agricultural fertilizer, can generate electricity.
An American scientific research team did an experiment 6 years ago and proved it.
The American team extracted rumen fluid from a live cow. They then made a battery by pouring the liquid into one of two glass containers, each about the size of a 2-liter beverage bottle. The other box is filled with ferricyanide – a chemical needed to complete the power generation cycle. The two glasses are isolated from each other by a special material that allows protons to move from the cathode to the anode. The displacement of protons, as well as electrons along the conductor connecting the two boxes, induces an electric current. The voltage generated peaked at 600 millivolts – about half the amount needed to run an AA battery After 4 days it dropped to 200 millivolts, but the researchers brought the voltage back up by simply adding add the cellulose. "Although the voltage generated is very small, the results suggest that this technique can generate electricity from cow waste," said study co-author Ann Christy from Ohio State University. Christy and his colleagues also created similar batteries, but using cow dung, not rumen fluid. The generated voltage ranges from 300 to 400 millivolts. "We ran a few tests over 30 days with no loss of power output," Christy said. "Both studies show cow waste as a promising source of electricity. It is cheap and abundant, and could one day become a useful renewable energy source for developing countries."
An increasingly heated debate surrounding the use of renewable energy for bitcoin mining is further fueled by Elon Musk's recent decision to suspend Tesla's support for BTC payments because environmental concerns. The move was part of an avalanche that sent bitcoin prices down last month, but most recently, the entrepreneur said his auto business will continue to support BTC payments after "confirmation." about the rational use of clean energy (~50%) by future trend miners."
At a time when cryptocurrencies are exploding more and more strongly and in the midst of many different opinions, the fact that the people of the UK have created electricity from an extremely clean and cheap energy to mine Ethereum has inspired inspiration for many miners and crypto enthusiasts.
Although their idea is not for Bitcoin because it is not energy efficient and profitable but for Ethereum, it is also a hopeful new development on the way to find an alternative clean energy source. for cryptocurrency mining.
The company Simple Crypto Hunter says it now has over 250 registered customers, including crypto whales and high-net-worth individuals who typically own 30 to 40 mining computers.
Join our Facebook Group and Telegram Group Coinlive to chat and exchange information about the Crypto Currency market with more than 10,000 other people.
Important Note: All content on the website is for informational purposes only and is not investment advice at all. Your money, the decision is yours.