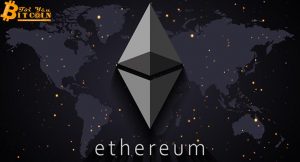 According to figures provided by The Block, the average transaction fee on the Ethereum network is now around $4.50 compared to nearly $45 a month ago – a 90% drop.
Average transaction fees are currently at a six-month low, according to The Block. (The data is a 7-day moving average (7MDA), which means it is the average of the past seven days and indicates the short-term trend.)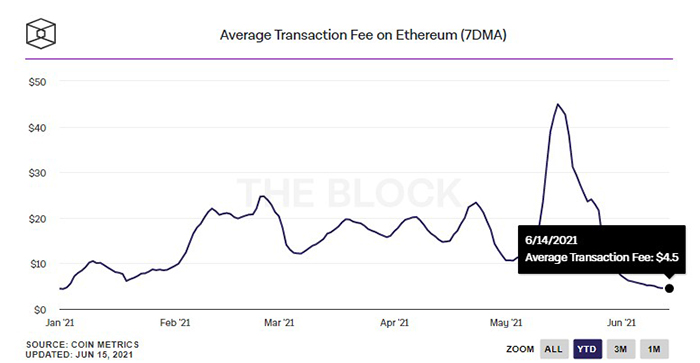 So why have gas fees dropped from record highs just a month ago? There are several factors contributing to this remarkable decline as follows.
First, there has been a significant drop in Ethereum transactions in recent weeks. Both Decentralized Finance (DeFi) and NFT transactions fell due to the negative impact of price movements in May.
For example, the number of daily transactions on Ethereum has dropped to about 1.2 million from 1.65 million a month ago. The volume and number of NFT transactions have also plummeted.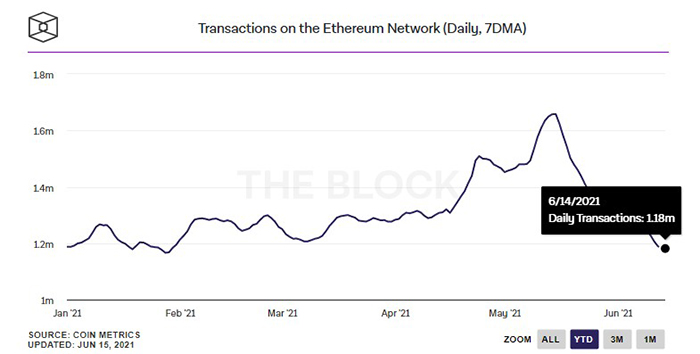 Another factor contributing to lower gas fees is the increasing use of Polygon (formerly Matic Network) Layer 2 scaling solutions. The number of transactions on the Polygon network has increased significantly in recent weeks.
From about 1.5 million, the number of daily transactions on Polygon is now close to 7.5 million, according to PolygonScan. That is more than five times the number of daily Ethereum transactions.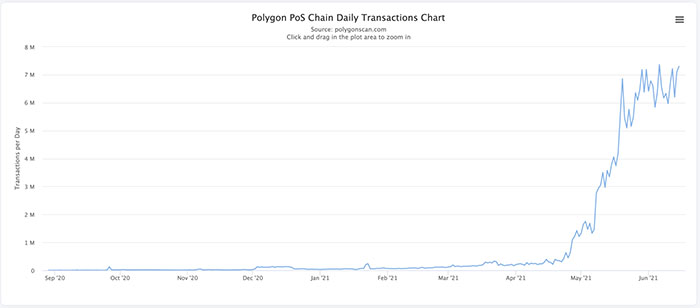 Polygon is a Proof of Stake (PoS) blockchain compared to Ethereum, which is currently a Proof of Work (PoW) blockchain, although it is hatching plans to switch to a PoS model in the future. The transaction processing capacity of the PoW model is limited, so it will generally have a higher cost, although both models have their own pros and cons.
However, one thing is for sure: the need for scaling solutions is growing. Polygon remains one of such popular solutions. According to a report by The Block Research, there are more than 350 DeFi projects in the Polygon ecosystem alone.

Finally, the increasing use of flashbot transactions is another factor that has contributed to the reduction in gas fees. Flashbots allow traders to communicate with Ethereum miners off-chain, as in a private channel, to execute transactions. This reduces the number of spam transactions on the chain and thus reduces gas fees. In other words, reduce the number of bots trying to set the highest gas price to get priority trading.
Maybe you are interested:
---
Join our channel to update the most useful news and knowledge at:
According to Coinlive
Compiled by ToiYeuBitcoin