What is Human Protocol (HMT)?
Human Protocol is a project that allows the creation of distributed marketplaces for tasks on a global network. This protocol is not a marketplace but an infrastructure that facilitates the creation, mediation, and automation of decentralized marketplaces. As the protocol provides a widely applicable solution for assessment, organization and workers' compensation, almost any type of work can be traded on the Human marketplace.
Although the protocol was designed to be widely applicable, early applications were marketed to facilitate machine learning, particularly by collecting large volumes of annotations. human preferences necessary to provide and maintain service quality.
Applications of Human Protocol
Application in Q&A system
One of the uses of Human Protocol is to facilitate an open, decentralized marketplace for asking and answering questions. Anyone can enter the platform and ask questions, anyone is free to contribute answers.
The basis of the Q&A system is not too different from Reddit or Quora. The protocol merely facilitates an automated marketplace in which questioners (work requesters) can reach, rate, and pay millions of people.
This is possible because Human Protocol is decentralized and automated. Launching, distribution, and compensation are automated. The protocol leverages blockchain technology to facilitate transactions and payments.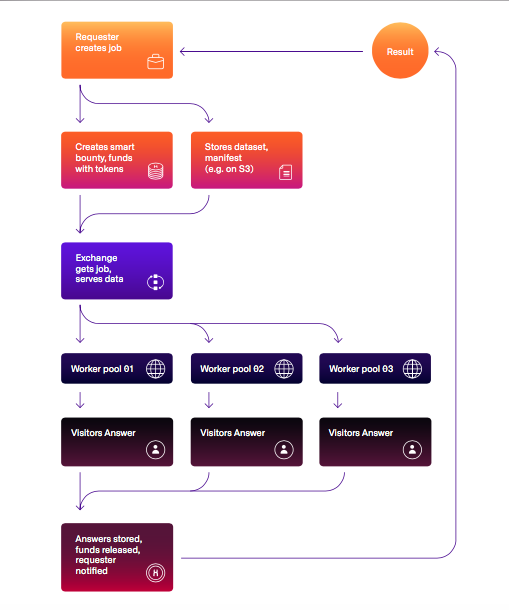 Requester: this is a human or machine paying a fee in HMT to launch work on the blockchain.
When job requesters want to assign work on the platform, they generate a smart bounty on the blockchain. Smart Bonus is a software algorithm that contains information about: job type, number of answers searched, bid amount, expiration date, etc. Attached to a smart bonus is a total. HMT token, held in escrow until the worker completes the work. Requesters can be human, or they can be simply software: The protocol allows the human labor request process to be fully automated.
Workers (Worker): are human, get paid in HMT to get those jobs done.
The exchange acts as an intermediary between these two users. It scans the blockchain for new smart bonuses offered by claimants and matches the jobs that best match existing workers. The exchange keeps a "order book" of jobs and administering tenders, as well as receiving information from both parties to determine whether a task has been fully completed.
Other Applications of Human Protocol
Machine Learning: AI requires labeled data. Applications that run on top of the protocol provide tools and connect the work force to the dataset labels. This allows companies to build AI using the Human API to get human insights. Millions of tasks run through the protocol every month.
Proof of Humanity (human proof): Blockchains need to know if a real person is interacting with them. Human Protocol allows on-chain human verification to protect against bots. This enables blockchain-based verification for markets like token exchanges, prediction platforms, etc.
Empowering the Gig Economy: It is difficult to recruit workers, ensure quality and pay workers based on scale. Human Protocol allows anyone to put in work and get it done by a distributed workforce. In principle, almost any type of work can be published on the protocol, with assessment and compensation management software.
Prediction market: The prediction market can be a powerful tool, but figuring out the consensus rate of any given event is difficult. Accuracy requires quantity. With access to multiple global respondents, Human Protocol allows prediction markets to ask questions and receive odds on the likelihood of an outcome, stored on the blockchain.
Translation and many other applications: Millions of people working in knowledge-related jobs​ can be represented through Human tasks, but reaching the right people at the right time is very difficult. From translation to transcription, the protocol allows jobs of many types to get results from a task-appropriate workforce, with software-guaranteed quality and payment.
Highlights of Human Protocol
Proven App
Applications powered by Human Protocol are used by hundreds of millions of people every month. Uses include labeling data, protection against bots, and more. Human is network agnostic and currently supports Ethereum, Polkadot, Solana, etc.
Empowering the workforce
Human Protocol encodes and executes interchangeable tasks of any size and requirement to help companies and individual workers maximize their resources, use the network to minimize time free.
Supporting the global job market
Support the creation of decentralized job markets in which employers and workers can transact securely, trustless, without the need for intermediaries. Human Protocol's smart bounty enforces rules, ensuring fair operation.
Basic information about HMT token
Token Name

: Human Protocol

Ticker

: HUMAN

Blockchain

: Updating

Token Standard

: Updating

Contract

: Updating

Token Type

: Utility

Total Supply

: 1,000,000,000 HUMAN

Circulating Supply

: Updating
Token Allocation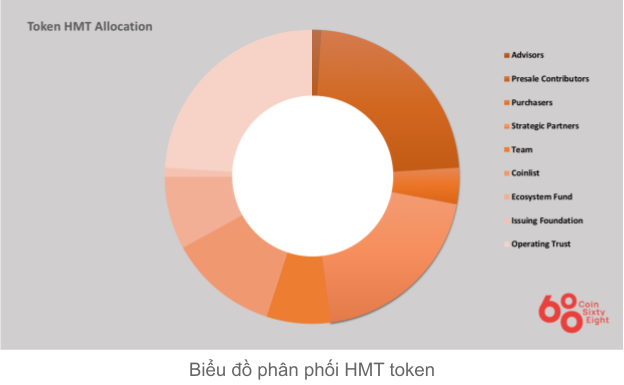 Adviser

: 1.3%

Presale

: 23.4%

Buyer

: 3.7%

Strategic partnership

: 20.5%

Team

: 7%

Coinlist

: twelfth%

Ecosystem Development Fund

: 8.2%

Issuing Fund

: first%

Operating Trust

: 23%
Token Release Schedule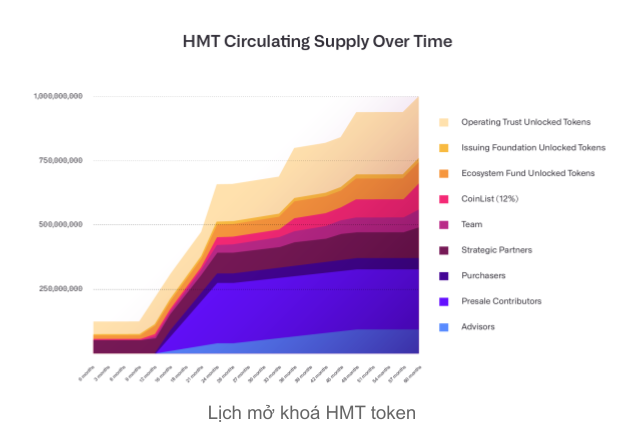 What is HMT token used for?
Wages for employees

Reward for validator
HMT token storage wallet
Updating
How to earn and own HMT token
Participate in answering questions on Human Protocol to receive rewards.
Where to buy and sell HMT tokens?
Join the Token Sale round on Coinlist platform on June 17, 2021.
Investors

What is the future of the Human Protocol project, should I invest in HMT token?
Human Protocol is a marketplace that allows the trading of jobs on the global market. With the recent hotness of projects opened for sale on the Coinlist platform, HMT tokens will have good growth potential in the near future when opening for sale and listing exchanges. Through this article, you must have somewhat grasped the basic information about the project to make your own investment decisions. Coinlive is not responsible for any of your investment decisions. Wish you success and make a lot of profit from this potential market.
Join the chat group Coinlive Chats Now let's discuss hot issues of DeFi market with Coinlive admins!!!