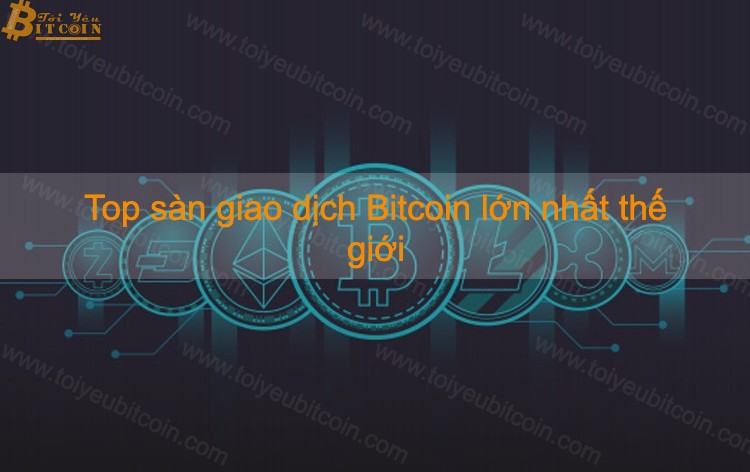 Choosing an exchange to trade coins is always important when participating in the cryptocurrency market, especially for newbies, newbies to Bitcoin in particular and cryptocurrencies in general. With 4 years of experience in this market, today I will introduce to you the Top 5 largest Bitcoin and altcoin exchanges in the world, used by the crypto community in Vietnam as well as internationally to trade a lot. with safety, prestige and the trust of a large number of traders.
Note, this article is aimed at exchanges used to trade spot coins, not P2P coins with VND or futures or margin trading, if you want to find an exchange to buy Bitcoin and altcoins with money. Viet can see this article, but with margin, I will have an article to share later.
TOP 5 most prestigious Bitcoin and cryptocurrency exchanges in the world
---
1. Binance
Binance is a name that is too familiar to crypto traders and investors in Vietnam as well as in the world. Founded in 2017 by Changpeng Zhao – who is nicknamed "CZ" in China, at the time of the crypto boom, Binance now has tens of millions of global users. According to statistics from CoinMarketCap (CMC), the 24-hour trading volume on this exchange is up to $26,742,815,014, with the number of transactions executed reaching 1.4 million orders per second. Binance exchange currently supports more than 500 cryptocurrencies, including major coins such as Bitcoin (BTC), Ethereum (ETH), Binance Coin (BNB), XRP (Ripple), ..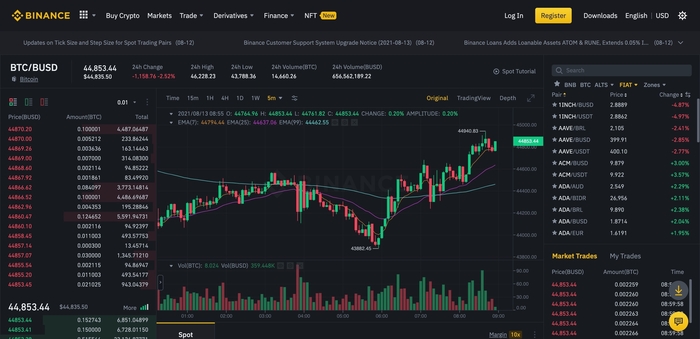 In addition to providing spot trading, Binance also supports futures, margin, options, and even P2P trading through the Binance P2P platform, which is now available. Support to buy and sell coins in VND. Besides, Binance also offers a lot of crypto-financial products such as Staking, Earn, Pool, Loans or payment cards.
If you are looking for a safe and reputable coin exchange, then Binance is always the first choice, worthy of the top 1 position in the world.
Readers can see detailed reviews and instructions about Binance in the article below:
2. Huobi Global
The second name I want to share is Huobi Global, this is also a crypto trading platform from China, but headquartered in Singapore. According to ratings from CMC, Huobi ranked 3rd with 8.7 points, behind Binance (9.9 points) and Coinbase Exchange (9.0 points). Huobi's 24-hour trading volume at press time reaches $6,331,527,061 with over 300 coins supported. Huobi is also very popular in Vietnam with spot, futures, margin or Huobi OTC services (supports buying and selling coins with VND). In addition, at Huobi users can also use financial products similar to Binance, including staking, earn, pool or Loans.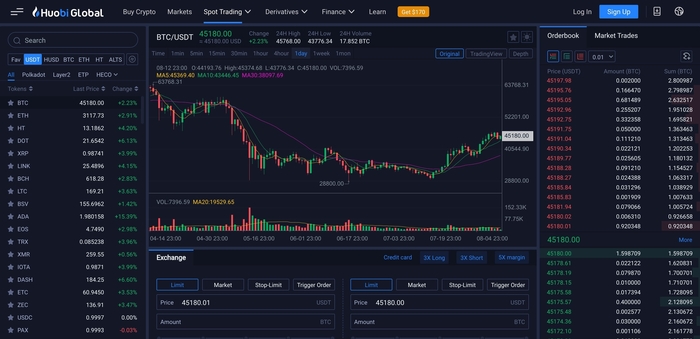 Huobi exchange was founded by Leon Li on May 15, 2013 and quickly became the number 1 platform in the world before being surpassed by Binance in late 2017-early 2018. Just like Binance, after China imposed a crypto exchange ban in late 2017, Huobi stopped providing services in the country to expand to Europe, Asia, and globally.
Readers can see detailed reviews and instructions about Huobi in the article below:
3. Kucoin
Kucoin is a Bitcoin and virtual currency exchange founded in Hong Kong, China on September 15, 2017 by a group of Blockchain and Crypto enthusiasts, around the same time as Binance launched. Kucoin provides a powerful, fast and efficient trading platform with over 400 coins supported, and lots of trading pairs. According to CMC, KuCoin ranks 6th worldwide with 8.4 points. At the time of writing, Kucoin owns a daily trading volume of $1,711,387,904.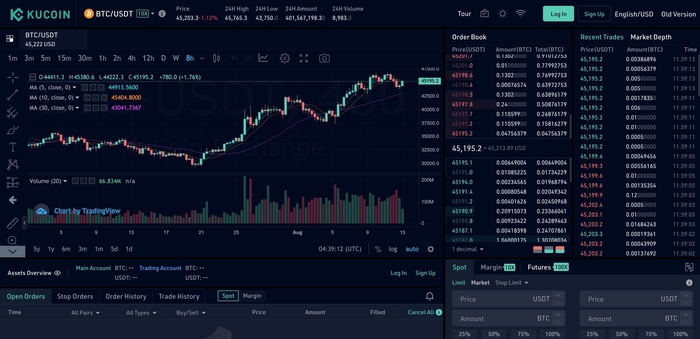 With Kucoin, in addition to trading coins (spot), users can trade derivatives such as futures, margin and even P2P as well as support to buy coins with Credit and Debit cards (Visa/MasterCard). Similar to Huobi and Binance, Kucoin exchange has launched a mobile app to make trading easier and more convenient for users. The point that Kucoin is loved by some customer groups is that it has a lot of "junk coins", small coins that are not available on Binance.
Readers can see detailed reviews and instructions about Kucoin in the article below:
4. Gate.io
Gate.io is a fairly popular cryptocurrency trading platform founded in 2017 by the company Gate Technology Inc based in Virginia, USA. Gate only started emerging a year or two ago when the platform provides a lot of services such as IEO, IDO, ICO to help traders join the new wave in the market. According to CMC, Gate.io ranks 10th globally with a score of 7.9. Gate's 24-hour trading volume at the time of writing is $622,982,761 with nearly 800 coins supported.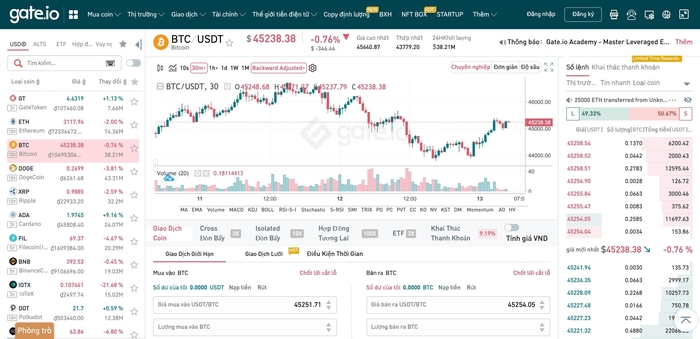 The main attraction of Gate.io exchange can be easily seen is the number of coins available, Gate lists a lot of "junk coins", a favorite spot for many surfers. Since 2018, this platform has always been in the top 50 of CMC's exchanges, which shows that Gate still creates competition and develops steadily over the years, while many platforms "explode". and then off" for a short time.
Readers can see detailed reviews and instructions about Gate.io in the article below:
5. OKEx
OKEx perhaps also an exchange that is too familiar to Vietnamese traders, a strong competitor of Binance or Huobi and other major exchanges in the world. OKEx exchange was launched in 2014 by Star Xu – the founder of OKCoin, and is headquartered in Hong Kong. OKEx also originated in China, but due to the country's ban, the platform had to leave the country to other countries operating since 2017.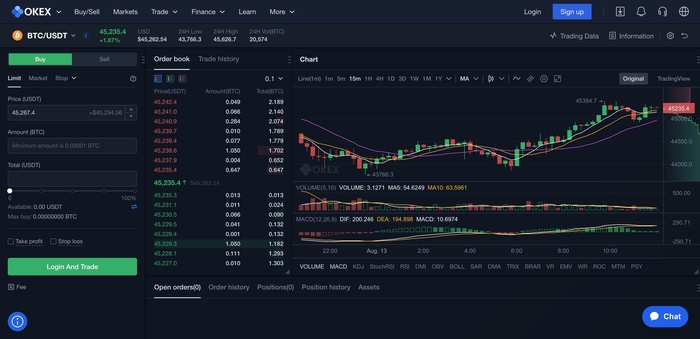 According to CMC, OKEx exchange has a 24-hour spot trading volume of $6,543,587,234 and ranks 15th with 7.2 points. Currently, OKEx supports about 300 coins, including BTC, ETH, OKB, XRP, LTC and many more. In addition to spot trading, OKEx also supports margin trading, futures, OTC and crypto financial products such as Loan, pool or Earn.
Readers can see detailed reviews and instructions about OKEx in the article below:
Epilogue
Ok, above is Top 5 largest cryptocurrency exchanges in the world that I want to share with you, this list is judged by myself based on my direct experience over the years and what I have observed in the crypto communities in Vietnam as well as in Vietnam. world.
In addition, I also rely on data on the famous cryptocurrency data aggregator CoinMarketCap, CMC ranks exchanges (spots) based on "Exchange Score" – an evaluation index based on factors such as: Web traffic, average liquidity and actual trading volume. Of course, the 5 exchanges above are not from the top 1 to 5 of CMC, because I have removed some exchanges that do not yet support Vietnamese users and some do not have spot transactions.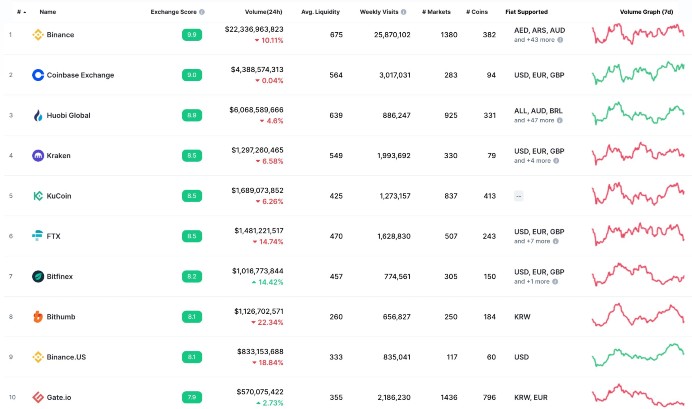 Hopefully this article will bring useful information to readers and help you choose a safe and reputable trading platform to accompany you during the process of participating in Bitcoin and altcoins. Don't forget to click Like, Share and rate 5 stars below to support I Love Bitcoin. Good luck.
---
Join our channel to update the most useful news and knowledge at:
---
Search keyword to article: Prestigious bitcoin exchanges, the world's largest bitcoin exchange, secure bitcoin trading platform, reputable bitcoin exchange, bitcoin exchange in vietnam, bitcoin exchange vietnam, trading platform bitcoin vietnam, top bitcoin exchanges, reputable virtual currency exchanges, reputable money exchanges, reputable money exchanges, prestigious world currency exchanges, the world's largest virtual currency exchange world, rankings of virtual currency exchanges, Vietnamese currency exchanges, cryptocurrency exchanges.