CoinMarketCap – a website, an indispensable tool if you are learning and investing in the cryptocurrency market (Cryptocurrency). However, some new entrants still do not know how to use CoinMarketCap most effectively. This article I Love Bitcoin will share with you what is the concept of Coin MarketCap? And guide you to read and understand the data on CoinMarketCap.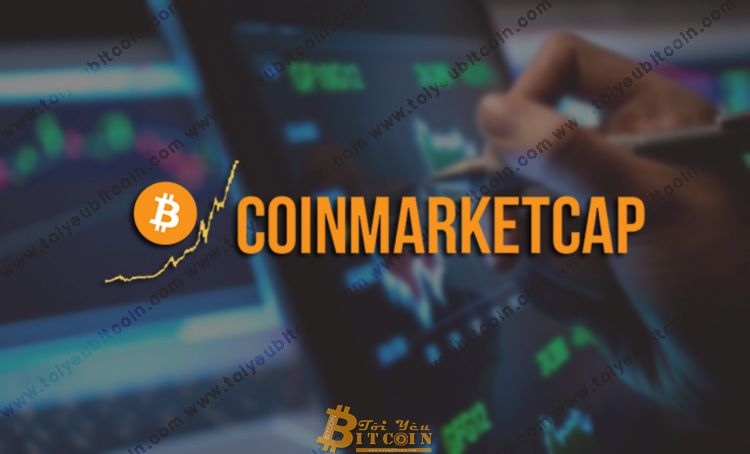 What is CoinMarketCap?
---
CoinMarketCap (CMC) stands for CryptoCurrency Market Capitalizations, which means cryptocurrency market capitalization, is a website that statistics information and tracks the prices and capitalization of all coins on the market. Cryptocurrency, there are currently about 1981 coins and tokens.
Page CoinMarketCap.com was born in 2013, when there were only 7 coins and a few exchanges listed and the total market capitalization only hovered around 1.6 billion USD. It can be said that CoinMarketCap is the pioneer and most reputable cryptocurrency market information monitoring site to date, some other prominent names are similar to CryptoCompare, CoinCheckUp, CryptoWatch…
Present, Coin Market Cap supports Vietnamese, however, in this article I will guide you in English, because when you switch to Vietnamese, some translation words are not standard, so it will be more difficult to understand.
How to use CoinMarketCap site for newbies
---
I will divide the introduction into small parts on CoinMarketcap for you to understand easily, in the article you may often encounter 2 terms Coin and Tokens, it is 2 different Crypto coins, you can see the article "What are Coins and Tokens?" for more.
1. CoinMarketCap page information
The top of this page will provide general information about the digital currency market, including the following information:

Cryptocurrencies: Total number of Coins and Tokens available (1981)
Markets: The total number of available trading pairs, eg BTC/USD, ETH/BTC, XRP/USDT,.. is different for each pair.
Market Cap: The total capitalization of the entire cryptocurrency market, ie adding all the capitalization of 1981 Coins/Tokens will be 210,660,199,409 USD (At the time of writing this article).
24h Vol: Total trading volume of all Coins and Tokens in the last 24 hours (Including buying and selling).
BTC Dominance: Bitcoin's Market Dominance Index, the example above is 53.4%, which means BTC is making up 53.4% ​​of the total market capitalization of all coins and tokens.
English: Click to select the language you want
USD: Click to display the currency (No VND)
Click on Crescent moon shape The other changes CoinMarketCap interface colors, night and day styles.
2. Main content on CoinMarketCap
This is the main piece of content that you are most interested in, the first page will show Top 100 Cryptocurrency has the largest market capitalization. Some basic information you need to know is as follows: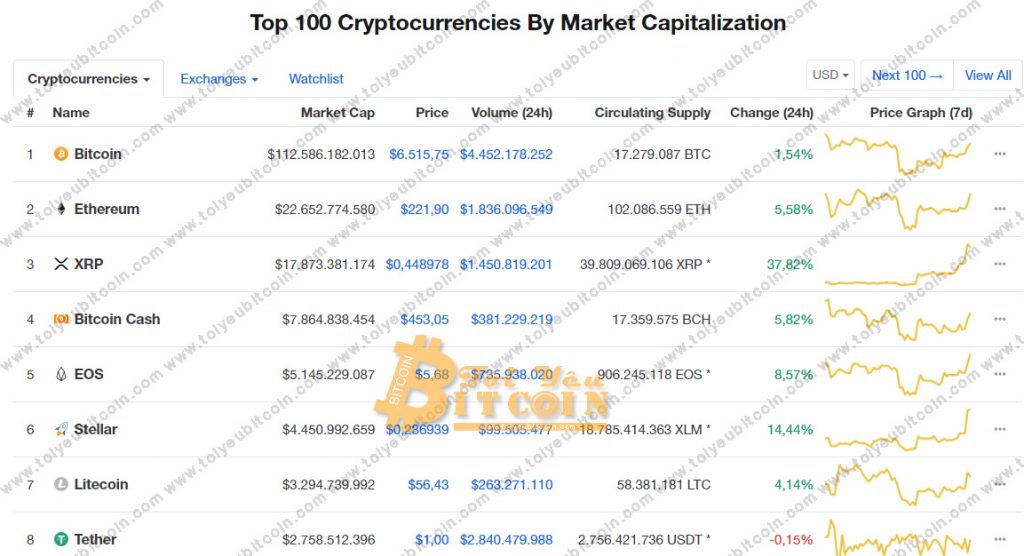 Market Cap: Total market capitalization of Coin/Token, the capitalization of a coin or token is calculated by the total number of coins in circulation (Circulating Supply) x with the current value of that coin.
Price: Current price of Coin, this price may differ from other virtual currency exchange and almost each exchange will have a price, CoinMarketCap aggregates the prices of many exchanges to have a common price.
Volume (24h): Total trading volume in the last 24 hours of Coin.
Circulating Supply: The total number of coins circulating on the market, you notice next to the number of coins there will be a sign *, if any coin has the * sign, it means the coin cannot be mined like Bitcoin and Ethereum which is self-published by the development team, typically Ripple.
Change (24h): Rate increase or decrease in % in the last 24 hours
Price Graph (7d): Coin's 7-day price chart
Main menu at the top of the page next to the logo CoinMarketCap There will be some information below, click on each menu to display the sub-items inside.

Rankings: Places

Market Cap – Top 100: Ranked 100 largest cryptocurrencies by market capitalization
Market Cap – Top 100 (Coins): Ranking 100 coins with the largest capitalization
Market Cap – Top 100 (Tokens): Rank of 100 tokens with the largest capitalization
Exchanges – Top 100 (Reported Volume): Rank of 100 exchanges by trading volume (24h, 7d, 30d)
Exchanges – Top 100 (Adjusted Volume): The ranking of 100 exchanges in trading volume (24h, 7d, 30d) has been adjusted, you click on this item and you will see an additional column called "Adj. Vol (24j)*"This is the actual volume column.
Exchanges – All (24h Volume): Rank all exchanges by trading volume last 24 hours.
Cryptocurrencies – All (24h Volume): Rank all Coins/Tokens by trading volume in the last 24 hours.
Cryptocurrencies – All (30d Volume): Rank all Coins/Tokens by trading volume of the last 30 days.

Trending: Market trend

Gainers and Losers: Ranking the most increasing Coin/Token by %.
Recently Added: List of newly added Tokens on CoinMarketCap.

Tools: Tools provided by CoinMarketCap

Global Charts: The graphs show the market capitalization of coins, Bitcoin alone and BTC dominance index
Historical Snapshot: History of data about coins that ConMarketCap has memorized, you can review information such as price, capitalization of any coin in the past, starting from 4 years 2013 to present.
Currency Converter Calculator: A tool to help you convert between coins or between coins and fiat money (USD, EUR, ..).
Crypto Glossary: The glossary of terms CoinMarketCap provides, quite a lot of useful information.
Watchlist: This is where you can add the coins you want to track separately, you just need to enter the coin/token name in the search box and then click to add.
Website Widget: Where you can get the price code of the coins to embed on your Website.

Services: CoinMarketCap services such as advertising, receiving news, ..
4. CoinMarketCap sub-memu
At the CoinMarketCap homepage, above the names of the coins you will see the word "Cryptocurrencies" when clicked there will be a list of current information. For each entry"All Cryptocurrencies" (applies to all cryptocurrencies), Coins Only (applicable to Coin only), Tokens Only (applies to Tokens only). Some options for you are as follows: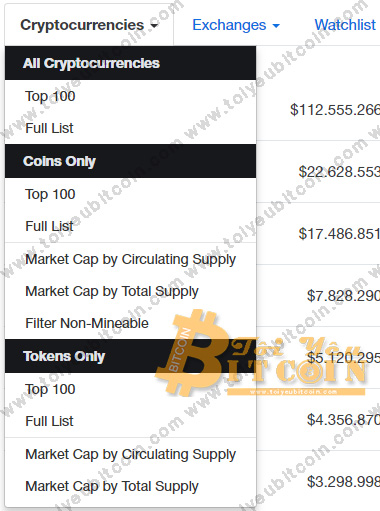 Top 100: Display Top 100 Coins and Tokens with the largest capitalization
Full List: Show all available coins
Market Cap by Circulating Suppy: Market capitalization rank according to the total number of coins in circulation, by default CoinMarketCap will calculate this way.
Market Cap by Total Suppy: The capitalization rank is calculated by the total amount of coins issued, this one I will tell more about the difference later.
Filter Non-Mineable: Does not display coins that cannot be mined.
How to read detailed information about a Coin/Token
---
When you click on any Coin or Token you will see more information about that coin/token. I will read from left to right and from top to bottom, please note that there will be some parts that the image below of Bitcoin does not have, but other coins will be available so I will still list them so you will know it when you see it. what.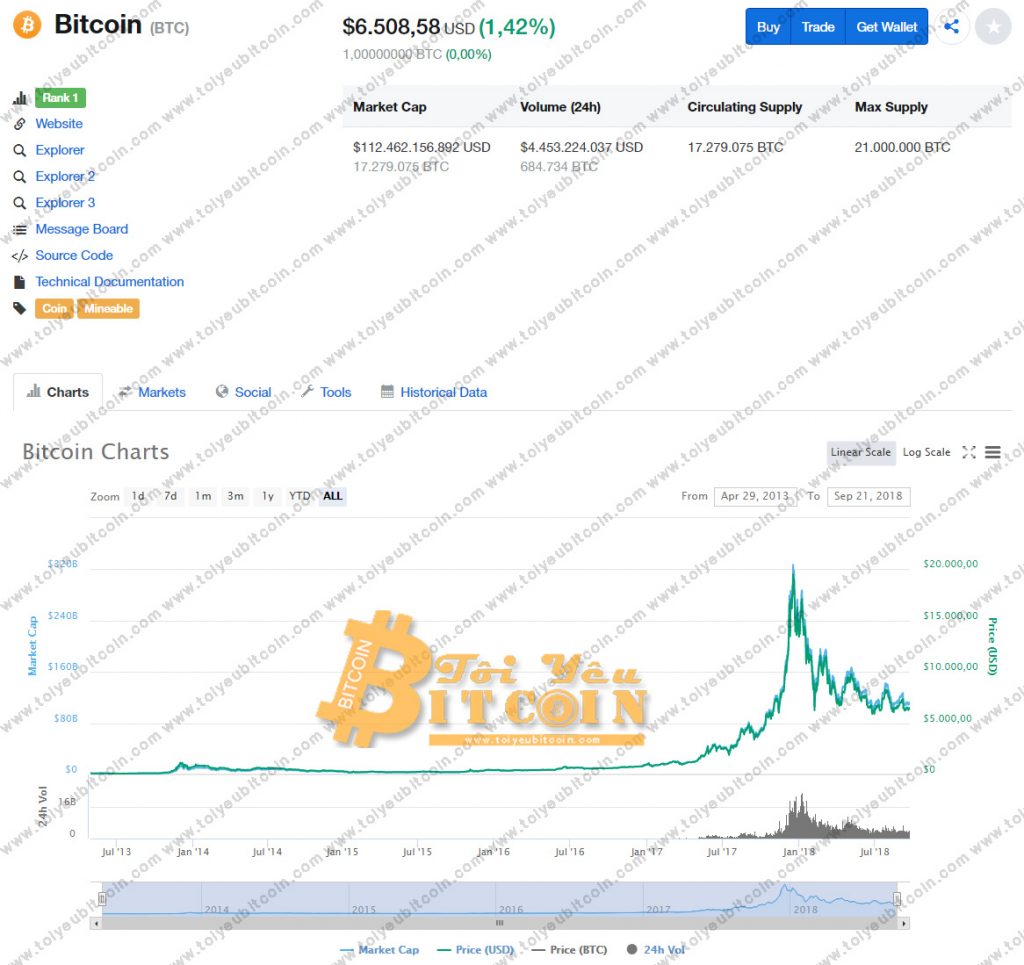 1. Link section (Link)
Rank: Coin's rank on CoinMarketCap
Website: Coin's official website
Announcement: Bitcointalk forum thread
Explorer: Website to check (check) coin's transaction information, some coins will have multiple check pages.
Message Board: Forum for discussion and support of coin
Source Code: The source code of the coin
Chat: Usually a Telegram link for coin discussion and support
Technical Documentation: whitepaper of coin
2. Right tab
In this section, information such as Market Cap and Volume (24h) you got it right, the remaining 3 I will explain a little more for you to understand the number of coins, the picture below is the sample of the coin Cardano (ADA).
Max Supply: Maximum total amount of coins, i.e. each coin when newly released will have a maximum supply and never be issued more.
Total Supply: Total amount of coins available, i.e. take Max Supply subtract the amount that was "burned" or "lost", like Binance Coin when it was first released there were 200 million Tokens but every quarter the development team would buy back a certain amount and then burn (cancel) until there are 100 million Tokens, then stop, so 100 million Tokens That is Total Supply and 200 million Tokens originally Max Supply of the BNB.
Curculating Supply: Total amount of coins in circulation in the market. For example, with Bitcoin, there is a Max Supply of 21 million, but the total amount of coins in circulation is only over 17 million, why??? Because the remaining coins have not been mined yet.

3. Tab below
Charts: Chart of coin's price movement, you can adjust by year, month, week, day, ..
Markets: All exchanges are supporting trading and trading pairs of that coin
Social: Announcement on the coin's social media sites, usually Twitter or Reddit
Tools: Get the price code to embed on the website
Historical data: Coin's transaction history, you can view the price history by day: opening price of the day, high price, low price, this end price, trading volume, total capitalization.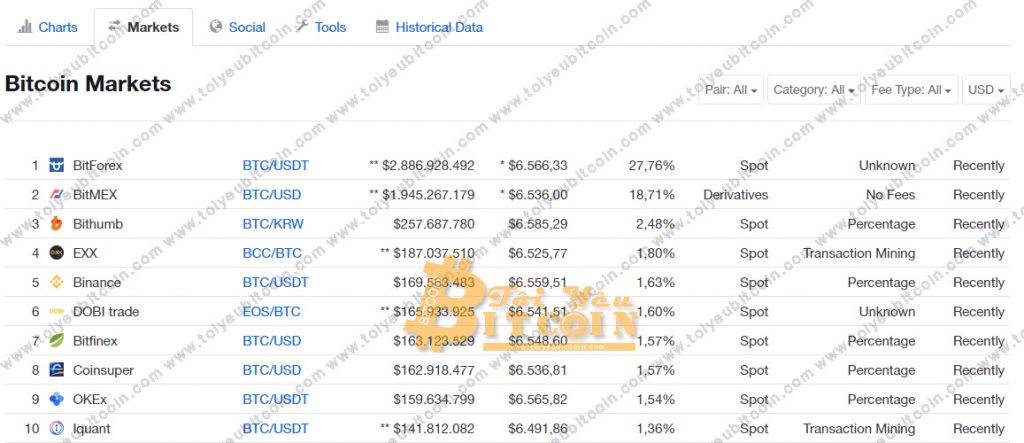 Epilogue
Ok. Above is all the information on how to use the CoinMarketCap site that I want to share with you, hope it will help you in the process. learn about CoinMarketCap. If you feel the article "What is CoinMarketCap? A complete guide on how to use CoinMarketCap for beginners"don't forget" Like, Share and 5 star rating to support Blog I Love Bitcoin Please. Leave a comment below if you have any questions you want me to help. Good luck.
---
Join our channel to update the most useful news and knowledge at:
---
Search keyword to article: What is Coinmarketcap, guide to coinmarketcap, see coinmarketcap, exchange coinmarketcap, register for coin mar ketcap, how to use coinmarketcap, register for coinmarketcap, how to buy coins on coinmarketcap.