Have you ever imagined a world full of energy moving around you? For those who are both passionate about technology and love to exercise, this year has been satisfied with a series of projects. Move to make money Very effective and fun.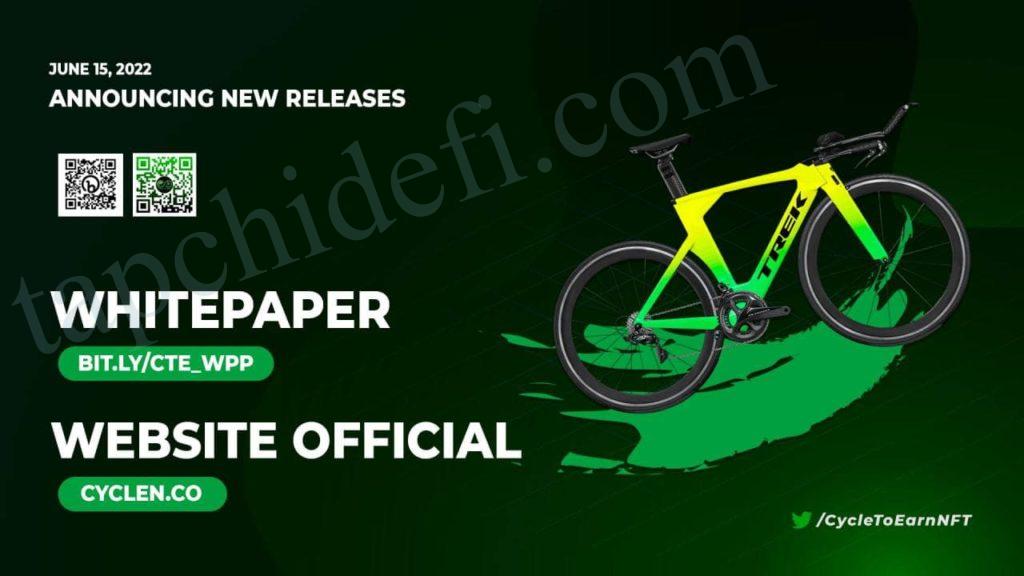 So, in the epic Web3 applications cross-platform, multi-function: combination of SocialFi, GameFi, NFT, Metaverse; Where is the place for Cycle To Earn (CTE) – the cool app 'Cycling to Earn' that is making communities seething for information and how to get involved?
We want everyone to have a good trip. Cycle To Earn is a green project and has an environmental development fund. Cycling can help protect you from serious diseases like stroke, heart attack, certain cancers, depression, diabetes, obesity, and arthritis. This is also one of the key benefits of our project to the community – the CEO of Cycle To Earn spoke about the values ​​of CTE.
Get 1000 CTEs now and join the Web3 ecosystem Cycle To Earn Money while being healthy and happy from Cycle To Earn
Cycle To Earn currently holding an Event Airdrop for the community, giving away 1000 free CTEs for each participant. Players will collect 1000 CTEs after completing assigned missions.
Event time: From June 17 to July 2.
Link to join: https://cyclen.co/
After accessing the website, please click on the Airdrop link to participate in the task.
Missons:
Fill in the required information
Enter your BSC code (your wallet address to receive CTE)
Follow CTE's Twitter account
Follow CTE's official channel
Click on the checkbox for Disclaimer
Click Submit Your Application to complete the task
So, ONLY 2 minutes and you can earn your first 1000 CTEs right away! A nice gift to get to know the CTE participating community. Don't miss this opportunity to earn CTE for free.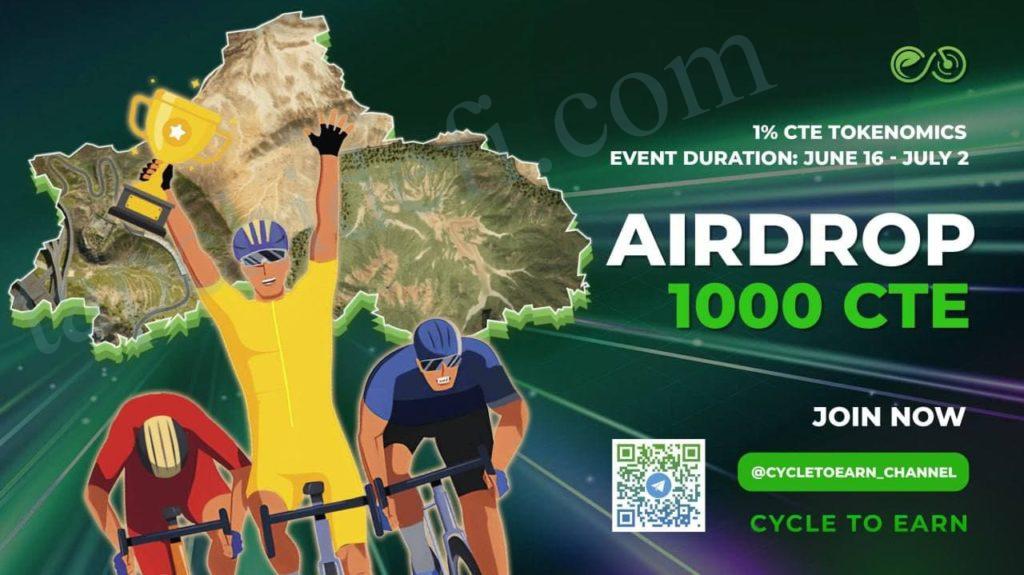 Cycling to Monetize and is CTE's ecosystem worth the investment?
The transparent distribution of Tokens (Tokenomics), plus a clear Roadmap, a thorough Community Marketing plan, a long-term vision, contributing to the protection of the living environment and human health, strong determination to change a healthier lifestyle for the community. These values ​​have brought confidence and a bright view to investors and players participating in the CTE 'Cycling to earn money' application. CTE supports flexible trading by BSC – BEP20 network with coins: BNB, BUDS, USDT.
The opening prices of CTE are starting prices that are very suitable for the market and reasonable for investors making their first investments with Cycle To Earn. Details are as follows:
Seed Round: CTE price is sold at $0.002. Token allocation rate is 20%.
Private Sale Round: CTE price sold is $0.005. Token allocation rate is 18%.
Public Sale Round: CTE price sold is 0.01. Token allocation rate is 1%.
To prepare to participate in the sale rounds that will take place immediately after the Airdrop event ends, participants need to prepare to transfer BNB to the Dapp wallet to be ready to participate in the sale rounds. After connecting the wallet to the Dapp, your CTE purchases will be returned to the wallet immediately. The community will be able to trade CTE freely at the Public Sale round.
If players need support, access Channel/Group for 24/7 support.
Official Token Symbol: CTE
Quantity Total Supply: 2 billion CTE Tokens
Smart Contract Code: 0xef34124801Cd526142fb6bfB5BD1022554008c4a
Network: BSC – BEP20
Copayments: BNB, BUSD, USDT
Website: https://cyclen.co/
Twitter: https://twitter.com/CycleToEarnNFT
Channel: https://t.me/CycleToEarn_Channel
Whitepaper: https://bit.ly/cte_wpp
Note: Beware of any fake links that are not reported on Cycle To Earn's Official Website, Channel and Twitter.
Join our Facebook Group and Telegram Group Coinlive to chat and exchange information about the Crypto Currency market with more than 10,000 other people.
Important note: All content on the website is for informational purposes only and is not investment advice in any way. Your money, the decision is yours.

PostViews:
11