Bitfinex – an exchange that is so familiar to crypto investors, is the oldest exchange and owns the top trading volume in the world. This article I Love Bitcoin will guide you how to use the latest Bitfinex exchange in detail. You will know how to register to open an account, login, secure, verify your Bitfinex account (verify – verify – KYC), create a wallet to deposit Bitcoin, Ethereum or USDT on Bitfinex exchange, how to trade (trade coin) ) and withdraw from Bitfinex. Besides, there are other useful Bitfinex floor evaluation information. Start…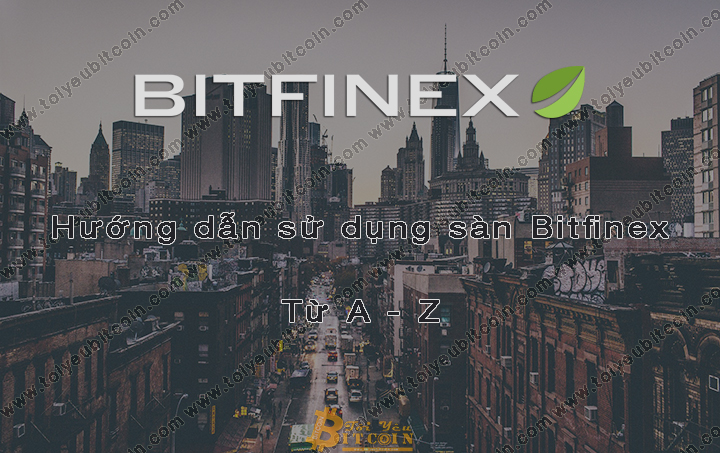 What is Bitfinex?
---
BitFinex is a leading cryptocurrency exchange in the world, holding the largest trading volume of Bitcoin today, as well as other Altcoins, at one time. Bitfinex exchange holding up to 10% of the total trading volume on the market. Bitfinex was established in 2012 in the British Virgin Islands and owned by iFinex Inc., Bitfinex has operations in all parts of the world such as Hong Kong, Taiwan, London, ..
BitFinex known as an exchange that provides many high-security and safe features, but is quite difficult to use for newcomers. On Bitfinex, in addition to trading coin to coin, coin to regular fiat currency, this exchange also allows margin trading with 3.3x leverage, with many different markets such as Bitcoin, Ethereum, EOS,. Besides, you can use many types of trading orders from basic to advanced.
Review the pros & cons of the Bitfinex exchange
---
1. Advantages of Bitfinex Exchange
Confidentiality and safety: Bitfinex always respects the security of customer information and assets, in history Bitfinex has been hacked, and then until now they have continuously improved security, Bitfinex provides many security features such as 2FA, Email encryption, withdrawal confirmation, ..
High liquidity: With a trading volume of billions of dollars, Bitfinex is obviously very liquid.
Reasonable transaction fees: Bitfinex exchange charges a trading fee that fluctuates at 0.1% for maker and 0.2% for taker, depending on the number of transactions increased, this fee will be reduced.
Fiat transaction support: Bitfinex allows users to buy and sell coins with Fiat (fiat) currencies such as USD, EUR, JPY and GPB.
OTC trading support: OTC trading means you can buy and sell directly with other users without going through orders, give yourself the desired price, but at Bitfinex to trade OTC you have to make at least 100k USD trade .
Cross-platform support: In addition to trading on the web you can use Bitfinex through a mobile app, available for iOS and Android.
Allow Margin . Trading: As mentioned, Bitfirenex exchange allows users to trade on margin with 3.3x leverage.
Support multiple command types: In addition to normal trading orders (Limit), Bitfinex also has other orders such as Market, Stop, Trailing Stop, Fill or Kill, One Cancels Other, Post Only, Hidden Order.
Professional trading: Bitfinex has a very professional and intuitive trading interface.
Strict listing process: Bitfinex usually only lists popular, really reputable coins, very few tokens are available on Bitfinex, so the "price" almost does not happen.
2. Disadvantages of Bitfinex
Does not support Vietnamese language yet
Charge deposit fee if deposit is less than 1000 USD
Quite difficult to use for newbies
Support few coins and tokens
Deposit/withdrawal time is a bit long, usually takes a few hours
How are transaction fees on Bitfinex calculated?
---
Similar to the Cryptocurrency exchange other, when you join Buy and sell on Bitfinex There will be 3 basic types of fees. In addition, there will be additional fees for OTC and Margin trading, specifically as follows:
Trade Fee: 0.1% for maker and 0.2% for taker
Deposit Fee: If deposit is less than 1,000 USD will be charged, higher than Free
Withdrawal Fee: Depending on the withdrawal coin, the fee will be different
1. Trading fees on Bitfinex
Bitfinex exchange fees will apply to both maker (buyer/sell order creator) and taker (buyer/sell order matcher). With maker will be 0.1%, and the taker is 0.2%. You can lower this fee by increasing the trading volume, specifically as follows:
| | | |
| --- | --- | --- |
| Trading volume | Maker Fee | Taker fee |
| From 0 to <$500,000 | 0.1% | 0.2% |
| From 500k to 1 million $ | 0.08% | 0.2% |
| From $1 million to $2.5 million | 0.06% | 0.2% |
| From $2.5 million to $5 million | 0.020% | 0.2% |
| From 5M$ to 7.5M$ | Free | 0.2% |
| From 7.5M$ to 10M$ | Free | 0.18% |
| … | … | … |
2. Bitfinex deposit fee
Bitfinex deposit fee It will be Free if the deposit is more than 1,000 USD, and if it is less than 1,000 USD, it will be charged as follows:
| | | |
| --- | --- | --- |
| Coin Name | Recharge fee | Deposit less than $1,000 |
| Bitcoin (BTC) | Free | 0.0004 BTC |
| Ethereum (ETH) | Free | 0.0018 ETH |
| EOS | Free | Free |
| Litecoin (LTC) | Free | 0.001 LTC |
| Ripple (XRP) | Free | 0.02 XRP |
| Bitcoin Cash (BCH) | Free | 0.0001 BCH |
| Iota (MIOTA) | Free | 0.5 MIOTA |
| ANCHOR | Free | Free |
| Ethereum Classic (ETC) | Free | 0.01 ETC |
| … | … | … |
3. Bitfinex withdrawal fee
Bitfinex withdrawal fee will be calculated depending on the coin you withdraw, specifically calculated as follows:
| | |
| --- | --- |
| Coin Name | Withdrawal fee |
| Bitcoin (BTC) | 0.0004 BTC |
| Ethereum (ETH) | 0.0018 ETH |
| EOS | Free |
| Litecoin (LTC) | 0.001 LTC |
| Ripple (XRP) | 0.02 XRP |
| Bitcoin Cash (BCH) | 0.0001 BCH |
| Iota (MIOTA) | 0.5 MIOTA |
| ANCHOR | Free |
| Ethereum Classic (ETC) | 0.01 ETC |
| Monero (XMR) | 0.0001 XMR |
| Dash | 0.01 DASH |
| Tron | 34,395 TRZ |
| Zcash | 0.001 ZEC |
| … | … |
4. OTC and Margin Trading Fees on Bitfinex
With OTC trading users will not be charged, however, to be able to perform OTC transactions users must have a minimum of 10,000 USD in the account and identity verification is required.
With margin trading, the loan provider will be charged 15%, while the borrower will be charged 18%. All these fees are charged only on active margin contracts.
Alternatively, you can view the full Bitfinex transaction fee table here.
Bitfinex exchange hacked, buggy, crashed, is it a scam?
---
About the problem Bitfinex exchange hacked, in the past Bitfinex has been attacked by hackers and stolen customer funds.
The first time in 2015, Bitfinex was hacked and lost 1,500 BTC
The second time in 2016, this time Bitfinex was stolen about 70 million USD, but then they issued BFX Token with value of 1 BFX = 1 USD and distributed to customers, then they gradually bought back the BFX. This is to make up for lost money.
Immediately after the 2nd hacked event, Bitfinex announced to move its headquarters to Switzerland. Since then, Bitfinex has always put security first, constantly upgrading security features, and up to now they have not encountered any other attacks.
As for the problem Bifinex exchange is faulty like unable to withdraw, unable to trade or not to register, login error is very normal and Bifinex will handle it within 24 hours. Bifinex exchange scam Not even better, because Bifinex.com has never been involved in any fraudulent accusations from investors.
See more information about the Bitfinex exchange
Instructions on how to use the complete Bitfinex exchange from A – Z
1. Instructions for registering to create an account on the Bitfinex exchange
Step 1: To open an account on Bitfinex, go here www.bitfinex.com and select "OPEN ACCOUNT" or "SIGN UP".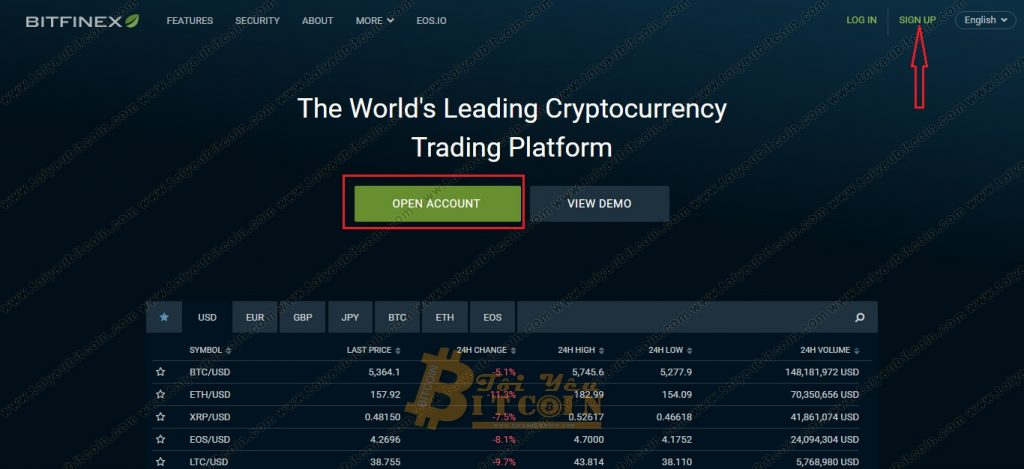 Step 2: Bitfinex will introduce a bit about their platform, you scroll down and check the boxes "In understand" and select "Proceed".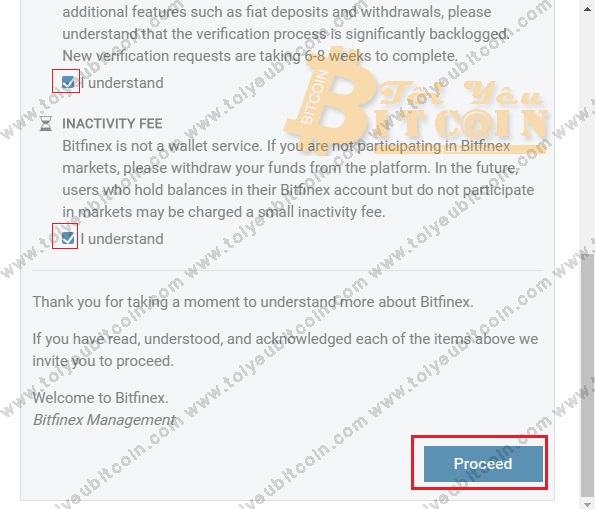 Step 3: Enter the registration information as follows:
Username: Enter your account name
Email address: Your email address
Password: Account password
Confirm password: Re-enter the above password
Timezone: Select "GMT+07 Hanoi"
Captcha Text: Enter the code on the right
Finally select "Open Account"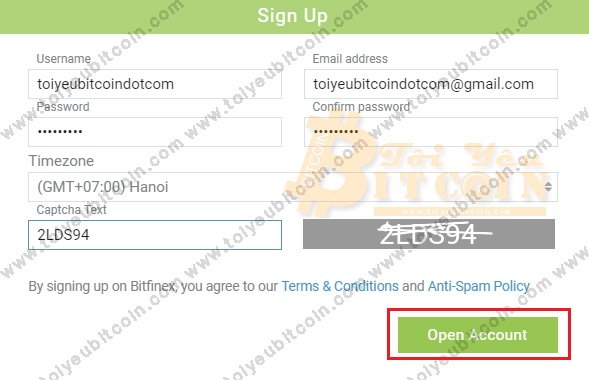 Step 4: Bitfinex exchange system will send you an email to activate your account, go to the email and click on "CONFIRM EMAIL ADDRESS"It's done.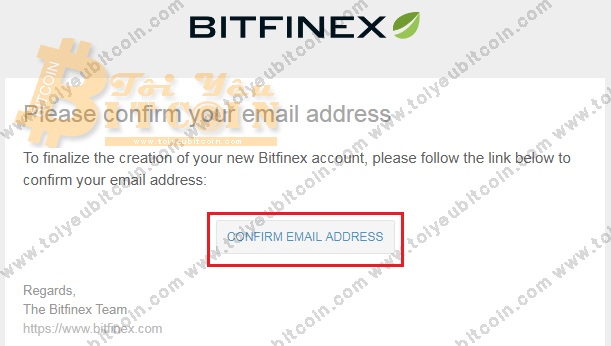 So you've create a Bitfinex account That's it, next is how to log in.
2. Instructions on how to log in to the BitFinex exchange
Step 1: Go to bitfinex.com and select "Login" in the corner of the screen.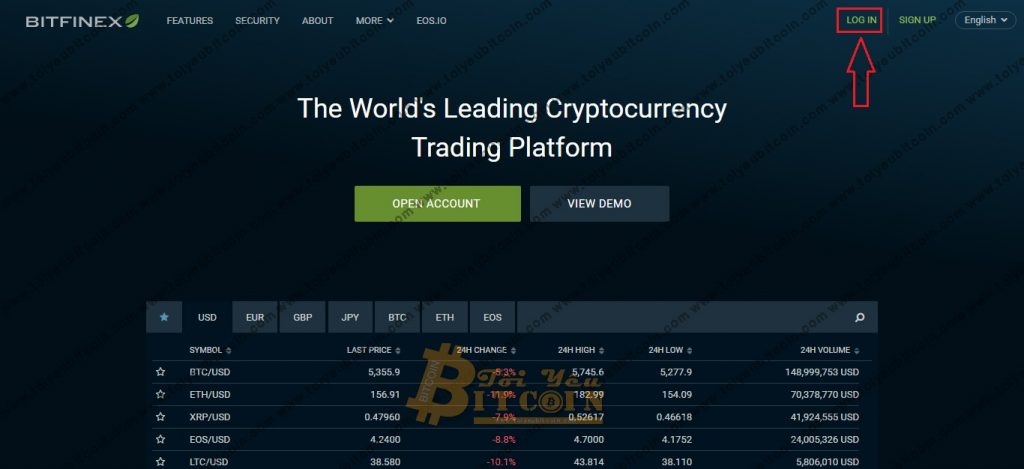 Step 2: You enter in turn Email + Password + captcha code then select "Log In"It's done. In case you have 2FA security installed, BitFinex will ask for an additional 2FA code.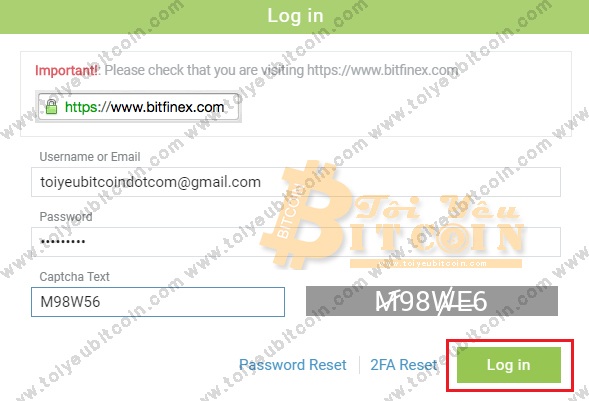 After Log in to Bitfinex successful, a message pops up is their terms of service, you scroll down and select "Yes, I agree"to agree and select"Submit".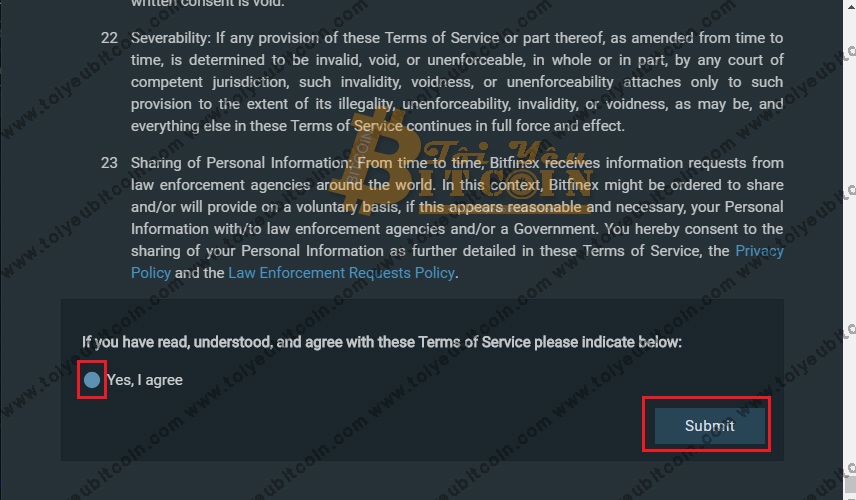 3. Instructions on how to secure your Bitfinex account
Bitfinex Exchange provide users 5 security features and in each feature there are some smaller features, in general Bitfinex has many layers of account security for users, but I will only guide you to enable 2 basic and most important features: 2FA and Withdrawal password, the rest to me is not very necessary, if you want, you can turn on more.
A. Enable 2FA security for Bitfinex exchange accounts
First you need to download the app on your phone Google Authenticator yes, download link below:
Step 1: Click on your account in the corner of the screen and then select "Security".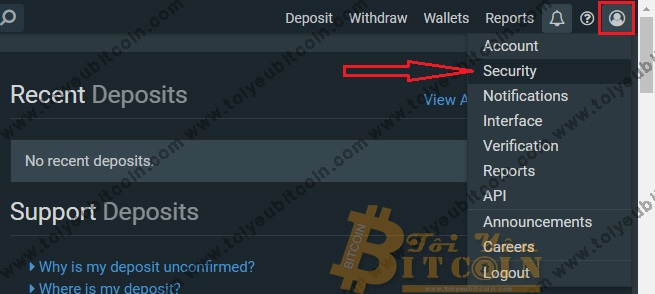 Step 2: You scroll down and select "Two-Factor Authentication".

Step 3: Choose "SETUP" in the right column of "Google Authenticator"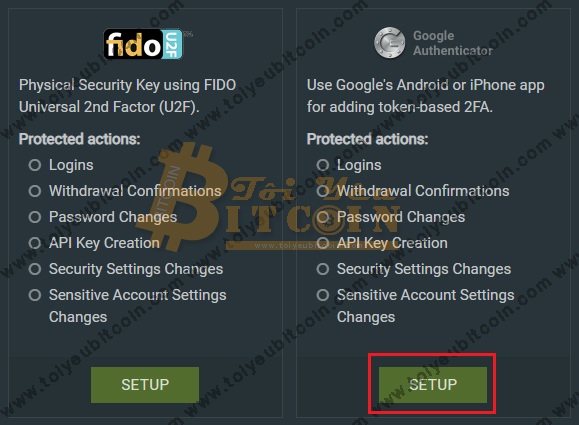 Step 4: First you save the code "Account token (KEY)"for me, this will be the 2FA recovery code in case you lose your phone. Then open the Google Authentacator app to scan the barcode (if you don't know how to scan, see how to use Google Authenticator this), then get the Bitfinex 2FA code and enter it in the 2FA token box and then select "ENABLE".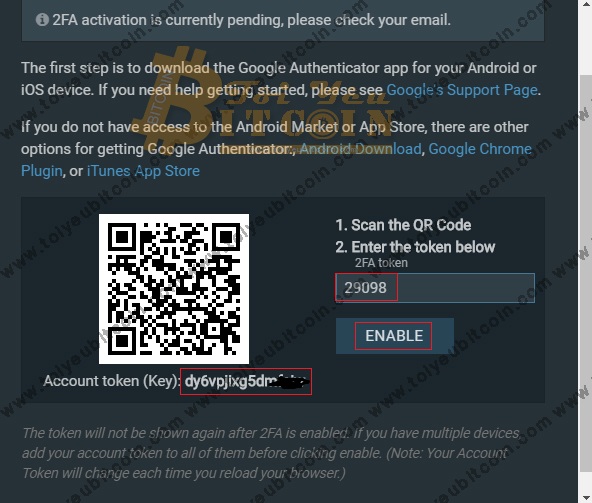 Step 5: Go to your email and click on "ACTIVATE TOKEN 2FA NOW" to confirm that 2FA security is enabled.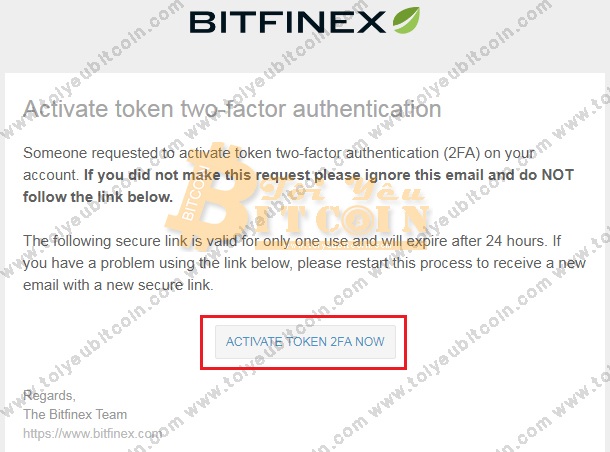 B. Set up withdrawal password on BitFinex
Step 1: Also in the "Security" you choose "Withdrawal Settings" => at the line "Custom Withdrawal Check"you tick"ON" => Enter the withdrawal password below (should be different from the login password)…