Hi guys. Today I Love Bitcoin will introduce to you a very HOT Bitcoin and Altcoin exchange, CoinEx, with the advantages of fast transactions, free transaction fees and a "private coin" similar to Binance. . In this article, I will guide you to use it from A – Z, from evaluation, registration, security, account identity verification (KYC), deposit/withdrawal and trading of coins on the exchange. CoinEx and other useful information. Let's get It Started…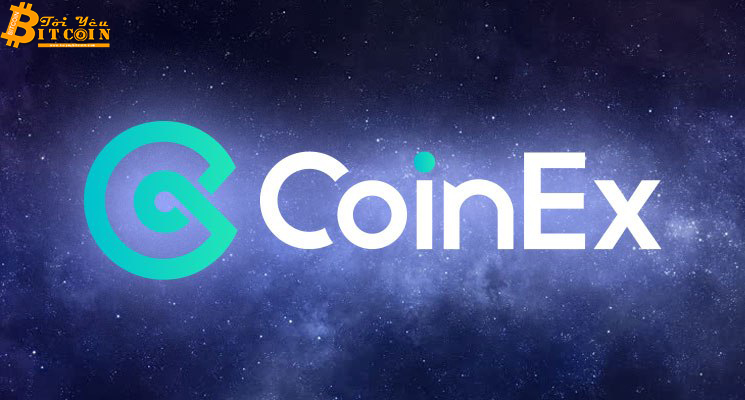 What is CoinEx?
CoinEx is a cryptocurrency exchange founded in December 2017 and headquartered in Hong Kong. CoinEx exchange has a team of experienced developers in the field Blockchain and the Crypto market, along with the application of a "conversion fee" mining model that is "free to trade" for users (I will explain it below), CoinEx has quickly surpassed 90 other exchanges to entered the TOP 10 exchanges with the largest trading volume in the world, there was a time when CoinEx rose to TOP 1, surpassing even Binance.
CoinEx exchange is owned by one of the largest mining pools in the world, ViaBTC.
What is the CoinEx exchange fee model?
Unlike the transaction fee reduction model when using "exchange own coins" like Binance, the "conversion fee" model of CoinEx will return the fee to the user after the trade, ie when you trade it will still lose the fee but will be returned later, but the return fee will be equal to CET Token (CoinEx Token) – CoinEx's own coin, with a price similar value. Of course, if you don't want to keep CET, you can still sell it to BTC, ETH, USDT depending on you, but usually the exchange coin will increase in value as the exchange develops, a typical example is the BNB Token of the Binance exchange. .
The fact that CoinEx is free when trading for users has both attracted a large number of users and increased liquidity for CET tokens, which is beneficial for both the exchange and users, in my opinion, this model is very win-win and effective. . I used it myself CoinEx exchange and found it very ok, no trading fees, fast transactions, fast deposit/withdrawal and security not inferior to other major exchanges.
What is CoinEx Token (CET)?
CET Token is a private token of CoinEx exchange, created to maintain and develop the system as well as reduce transaction fees for users. CET token is similar to Binance's BNB, Huobi's HT or Bibox's BIX. In the future CoinEx will also use CET as an intermediary coin like BTC, USDT and ETH. This is also a very potential Token you can hold.
What coins does CoinEx exchange support?
Present CoinEx offers 4 main markets: Bitcoin (BTC), Ethereum (ETH), Bitcoin Cash (BCH) and USDT (Tether).
As for coins and tokens, CoinEx exchange Support quite a lot, users can freely choose the coin they want to trade. Some of the most traded coins on CoinEx are:
Bitcoin Cash
Bitcoin
Ethereum
CoinEx Token
EOS
ANCHOR
Litecoin
Ethereum Classic
Dash
Zcash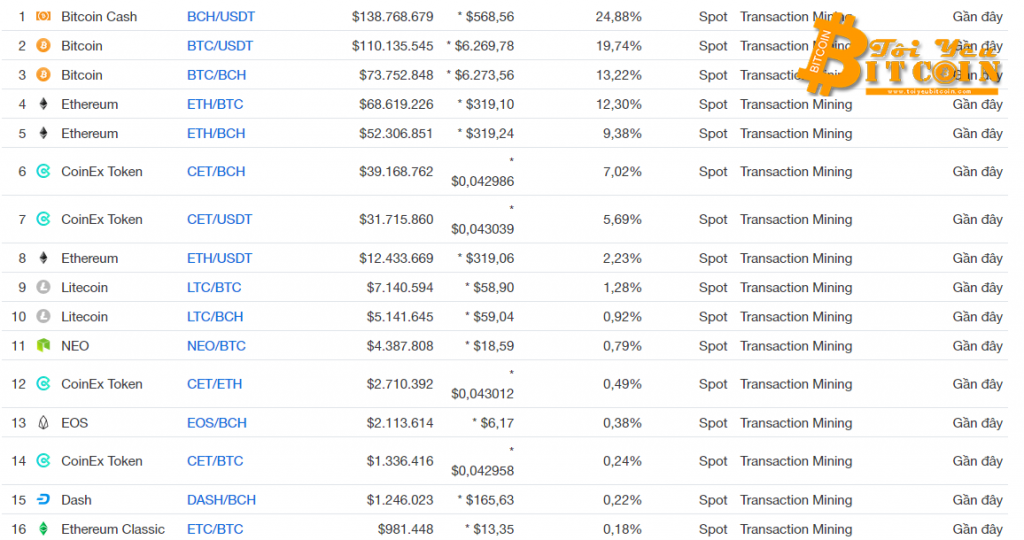 Total trading volume in the last 24 hours at time I Love Bitcoin make this post is $557,789,723 USD.
What is the transaction fee (trade) on CoinEx exchange?
When using CoinEx exchange or any other digital currency exchange, you will have to bear 3 types of fees as follows:
Transaction fee (trade): 0.1% for both buy and sell orders, but this fee will be returned to you later in CET tokens as I mentioned above.
Deposit Fee: Free of charge
Withdrawal Fee: Depending on the type of coin you withdraw, the fee will be different, such as, some coins are free.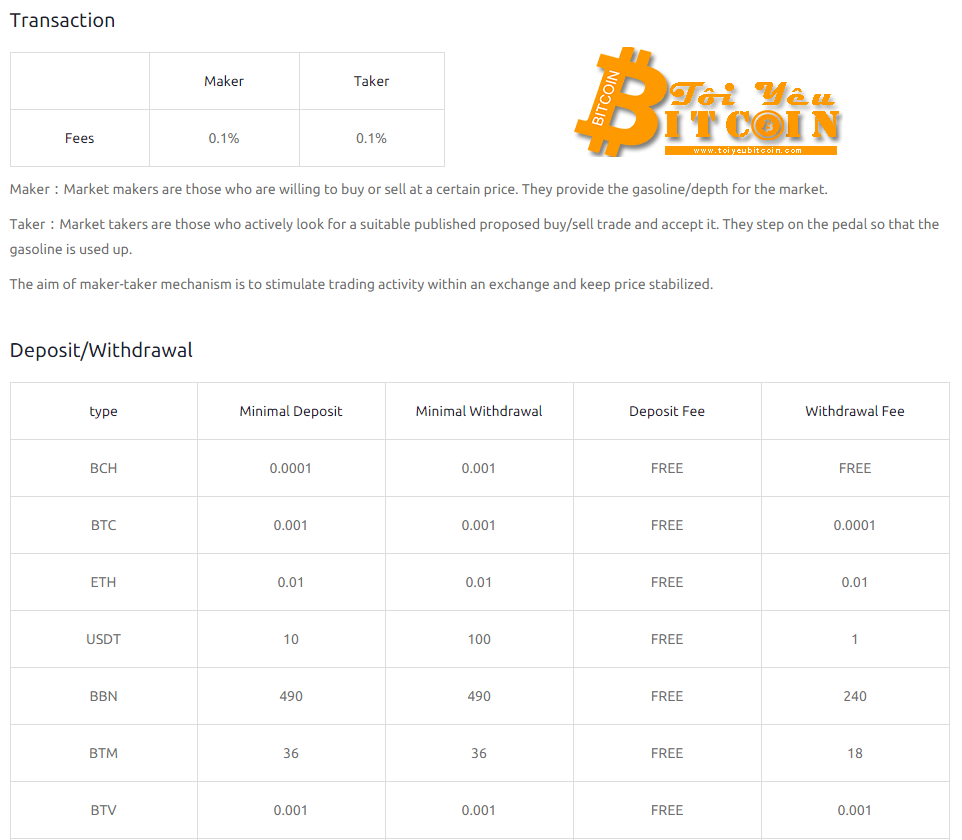 You can see more withdrawal fees of each coin here.
Has the CoinEx exchange been a scam or been hacked?
As far as I know CoinEx exchange Never been caught in any scam, hacked, crashed, even though it's normal to be attacked by hackers. Coin exchanges are always a good prey for hackers, Binance, Huobi or Bittrex have all been attacked by hackers, but each exchange has its own way of handling it and not letting users lose money unreasonably.
See more information about CoinEx exchange:
Instructions for registration, security, and account verification on CoinEx exchange
How to register a new account on CoinEx.com
Step 1: You click here http://bit.ly/2lJzxYO and enter Email, then press "Get code".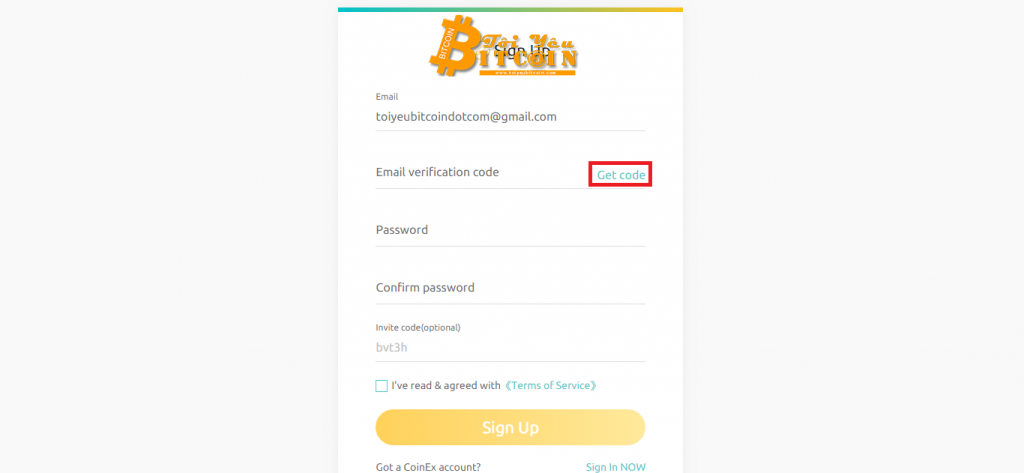 Step 2: You click and hold the . button ||| then drag the light to the right for the upper square to match the right square to confirm the captra. You may have to redo it 2 or 3 times, just do it until you can.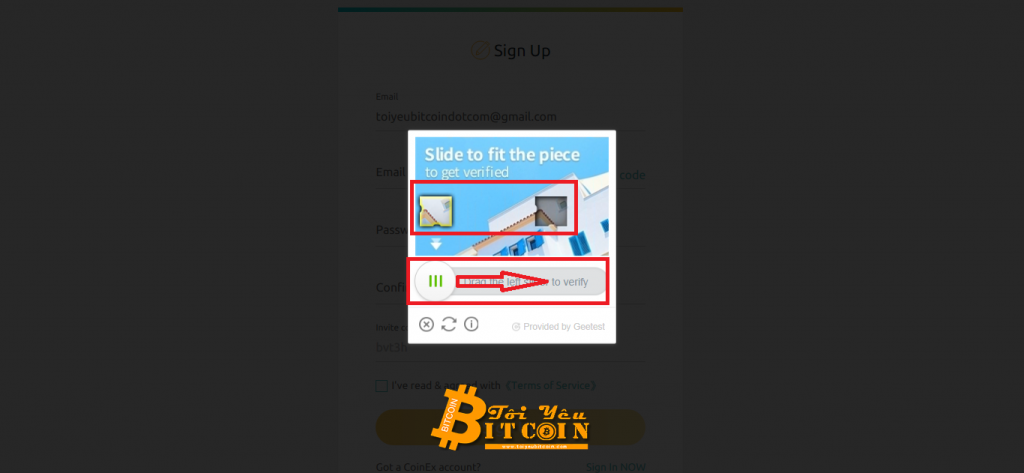 Step 3: Soon after, the system of CoinEx exchange will send an Email to you, go to the email to get the six-digit code as below.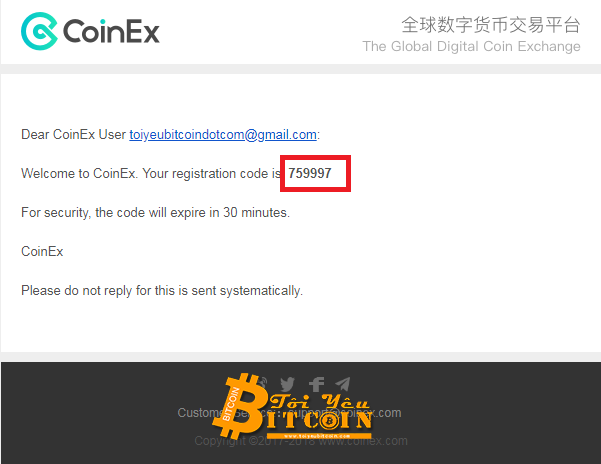 Step 4: You enter the remaining information as follows:
Email verification code: Enter the six-digit code above
Password: Your password
Confirm password: Re-enter the above password
Invite code: This is the referral code of I Love Bitcoin, please leave it as is to support me
Tick ​​"I've read & agreed.."
Finally click on "Sign Up"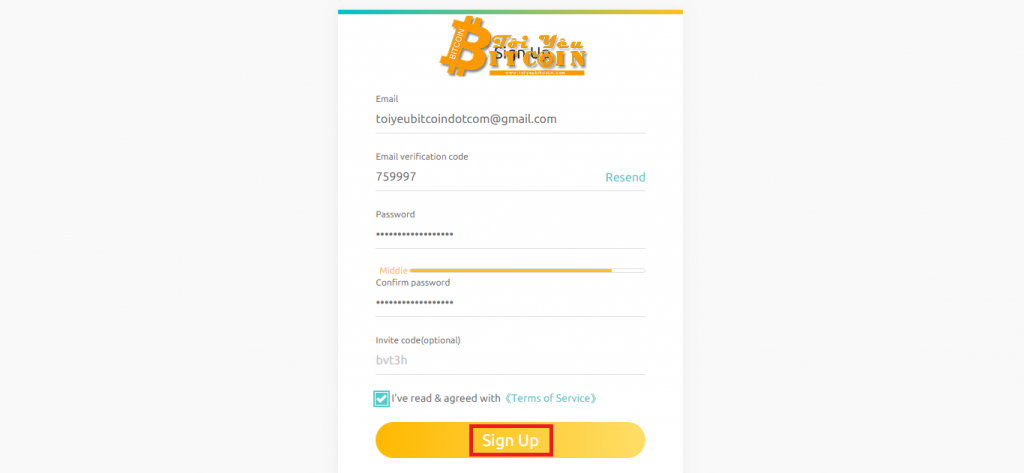 Ok. That's it, after pressing Sign Up then CoinEx will automatically log in for you, remember to save your Email and Password information to log in next time. The next time you log in to CoinEx, you will notice that the upper right corner of the screen has a button "Sign In" then click on it and enter information Email+Password come in.
How to enable 2FA security for accounts on CoinEx exchange
Security is a very important step after you successfully register an account, no matter what exchange you use, you should turn on security, not just CoinEx Please. To enable two-factor authentication (2FA) do the following:
First you need to prepare yourself a Smartphone, then download the application Google Authenticator about the machine. Download link below:
Step 1: After logging in, click on your account in the corner of the screen => select "Security" => click on "Bind" on the line of Bind Google.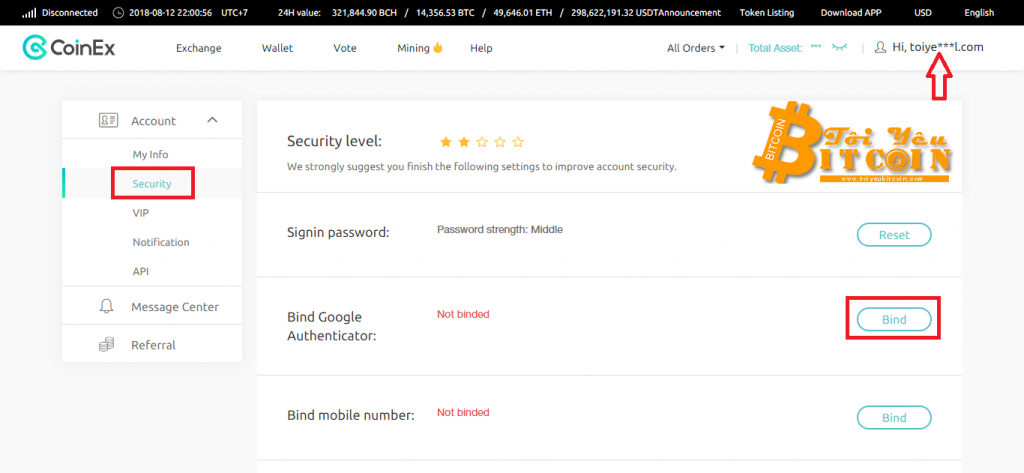 Step 2: Click on "Get code" and go to your email to get a six-digit code (same as when registering an account).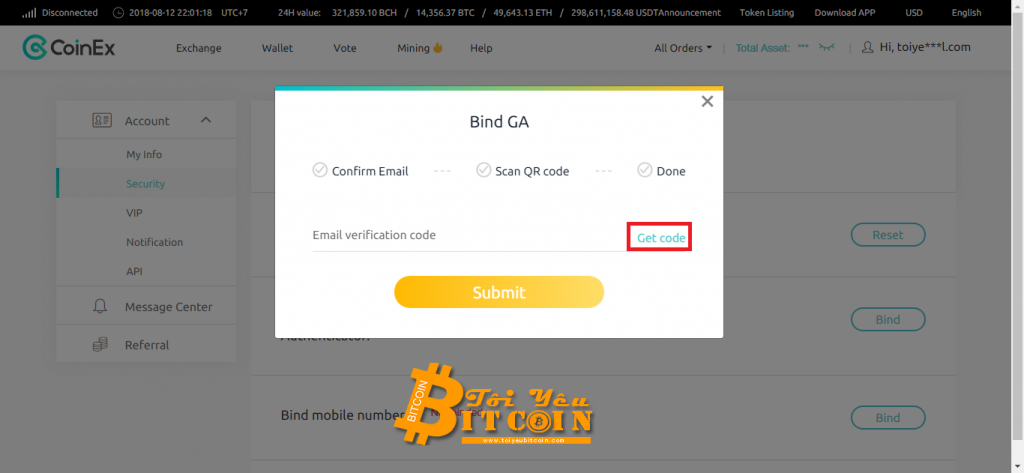 Step 3: Enter the code and click "Submit"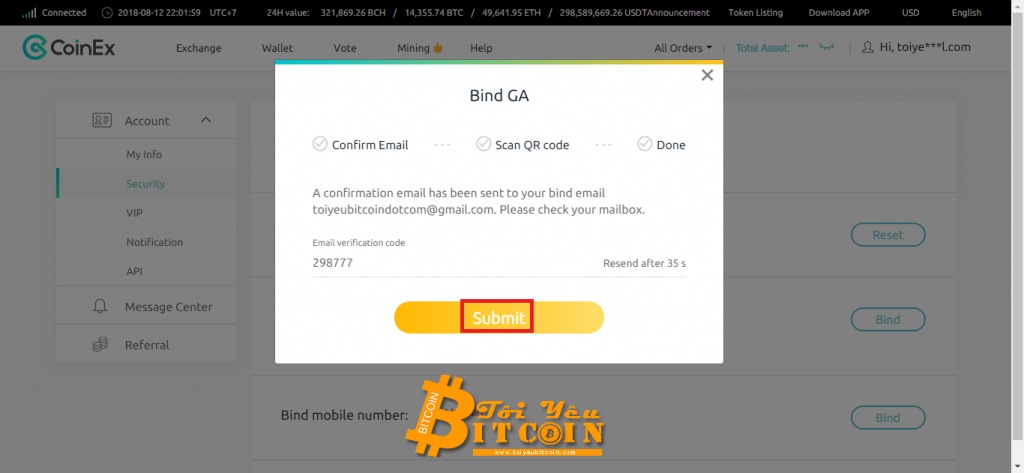 Step 4: First you save the backup key code as I circled in red below, this is the code for you to restore 2FA in case you lose your phone, so save it carefully.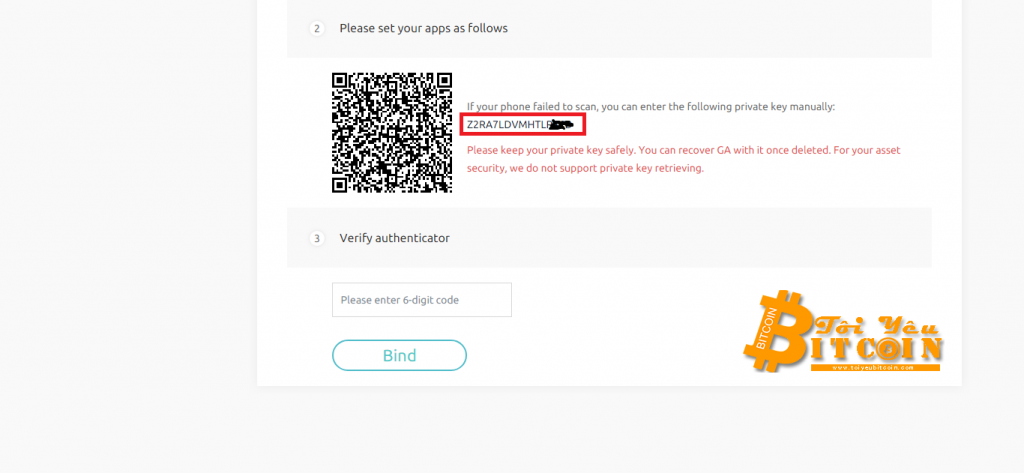 Step 5: Turn on the Google Authenticator app on your phone => click on the "+" => scroll down and select "Barcode Scanner" => put the camera in the black black white white square above to get the code.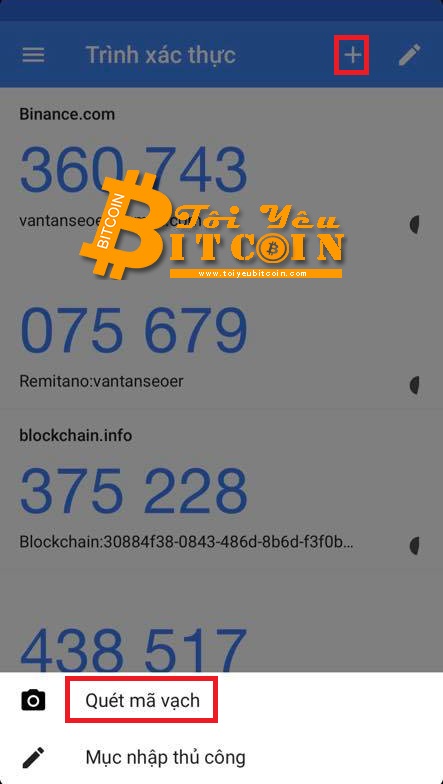 Step 6: You will then see CoinEx's six-digit 2FA code on the screen as shown below, this code will change every 30 seconds.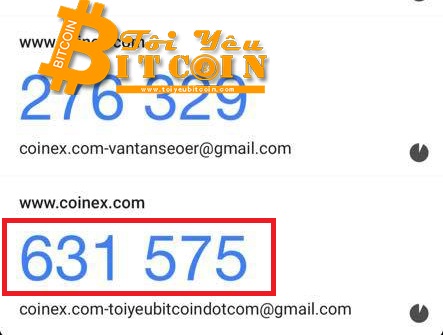 Step 7: Enter the CoinEx 2FA code in the box "Verify authenticator" and press "Bind".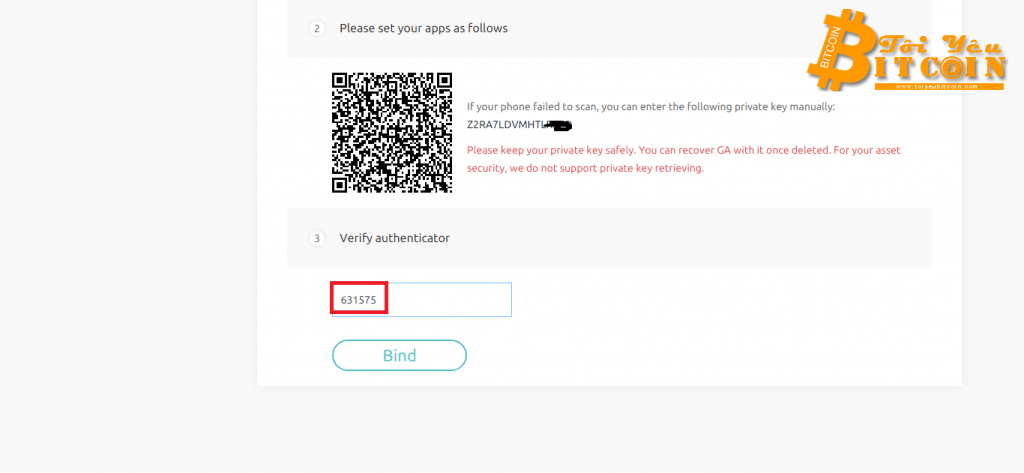 Ok. That's it, now you go back to your account and you will see the "Bind google authenticator" section is "Already bound".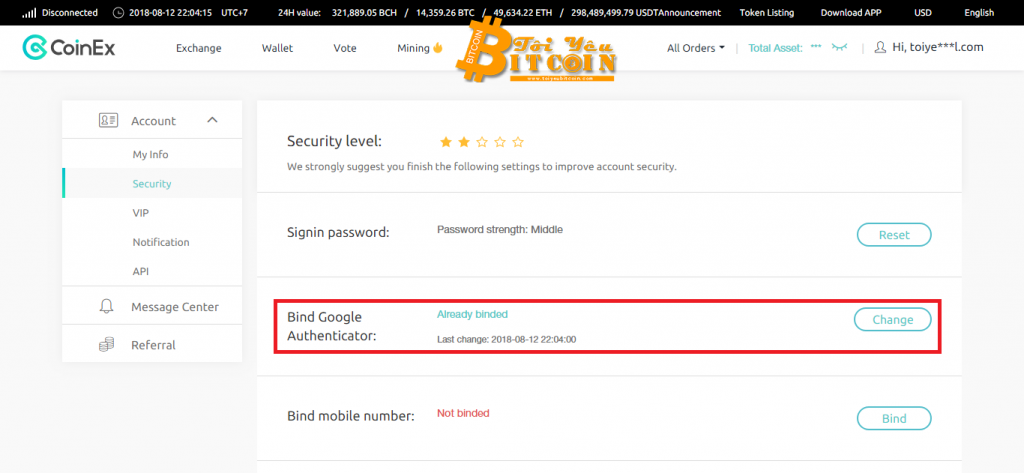 In addition, you can also turn on security by verifying your phone number, ie every time you log in or withdraw money it will verify via SMS, but I think 2FA is too good, so I don't turn on SMS Again, it's up to you.
How to verify your account (KYC) on CoinEx exchange
Job account verification will help you to increase your daily withdrawal limit 1,000,000 USD, the KYC verification with CoinEx Pretty simple too. First, prepare yourself 2 photos:
Photo of the front of ID card or Passport
A selfie with your face in your hand and holding your ID/Passport and a blank piece of paper with the words "CoinEx" + Date/month/year you verified.
You can see the example image provided by CoinEx or see the image I uploaded below. Now start verifying which account..
Step 1: Access your account => select "My info" => click on "Verify".
Step 2: Choose "Personal" (Personal Account)

Step 3: Section "Basic infoYou fill in the following information:
Nationality: Select "Vietnam-VNM"
First name: Your name
Last name: Your last name
ID number: Enter your ID or passport number
Front of ID document: Click Upload and upload a photo of the front of your ID or passport
Statement verification: Click Upload and upload a selfie like I said above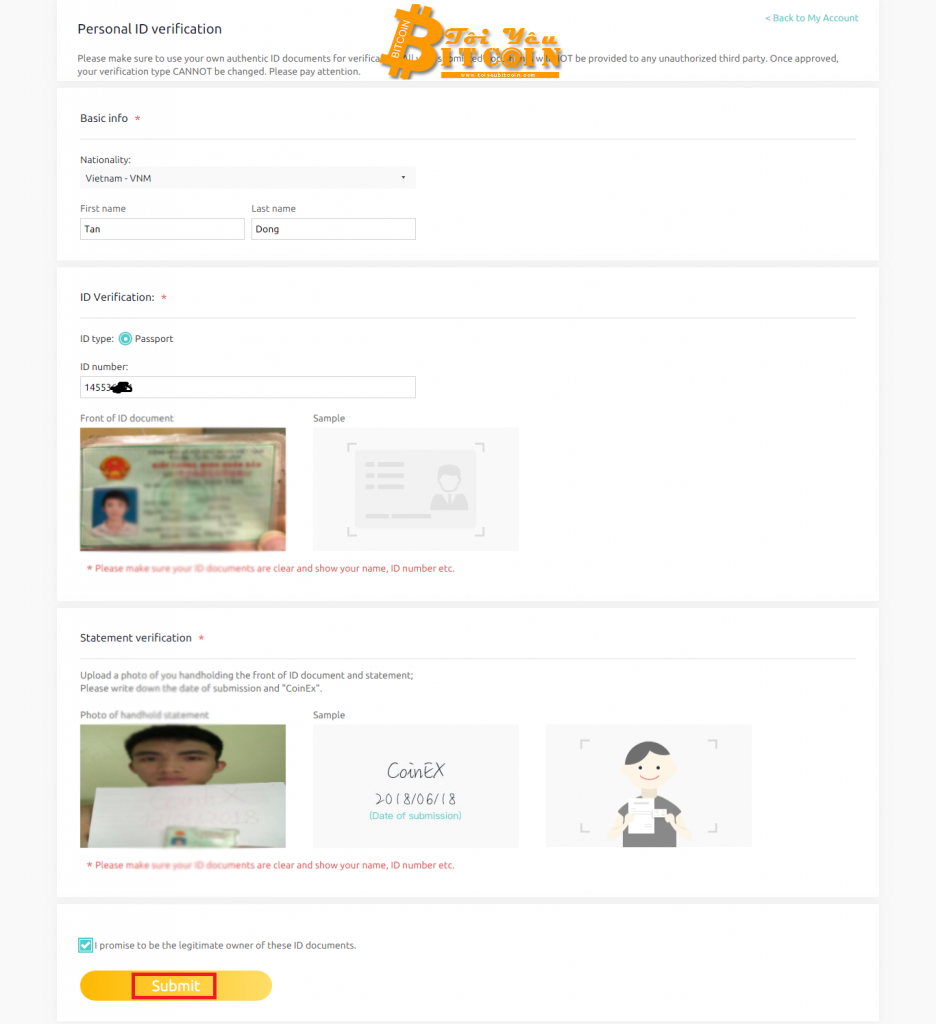 Tick ​​"I promise to be the…" and click "Submit" to complete the account verification process.
Then CoinEx exchange will inform you that you need to wait 24 hours for them to censor the documents you provide are correct or not.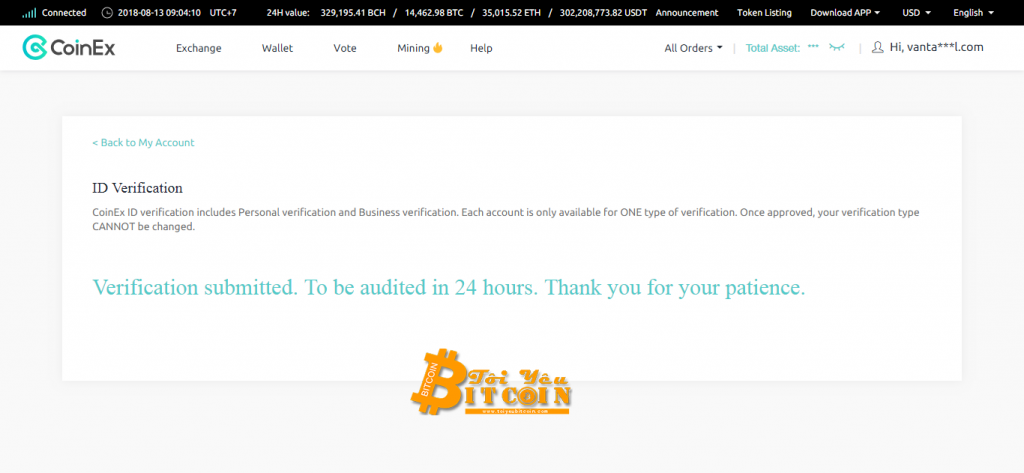 Like mine, just wait for about 30 minutes CoinEx exchange It has been verified and successfully notified via email.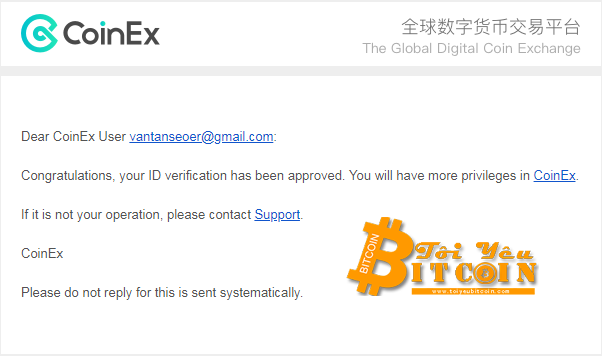 After receiving a successful verification email, when you go back to your account, you will see the status as "verified", ie verified.

Instructions on how to Deposit / Withdraw and buy and sell coins on CoinEx exchange
How to deposit Bitcoin, Ethereum, USDT, BCH on CoinEx exchange
As I mentioned above, with CoinEx exchange you can use BTC, ETH, USDT or BCH to buy and sell other coins, so you can deposit one of these 4 coins. But within the limits of this article, I will guide you deposit BTC to CoinEx okay, other coins you do the same.
Step 1: You click on "Total Assets" on the menu.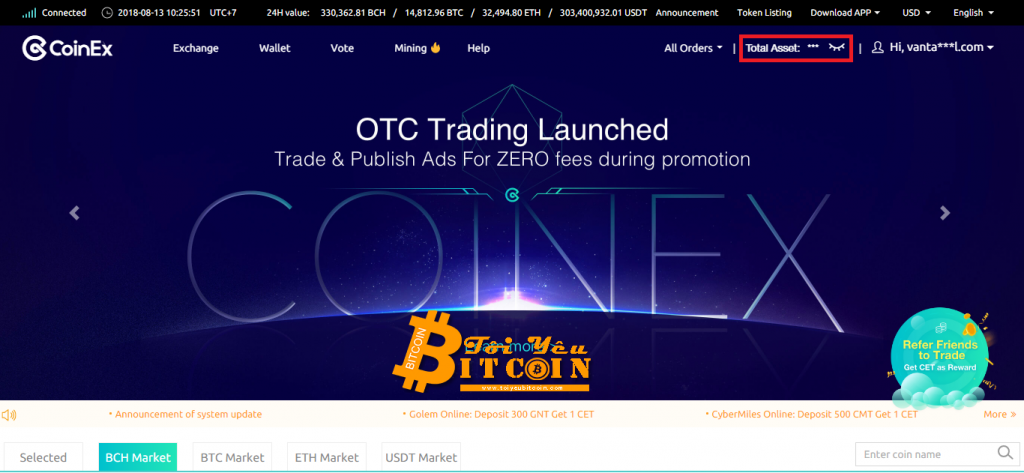 Step 2: Scroll down to the "Asset Portfolio" => enter the name or symbol of the coin you need to load, here I load Bitcoin, so I will enter "BTC" (See symbols for other coins here) => Click on "Deposit".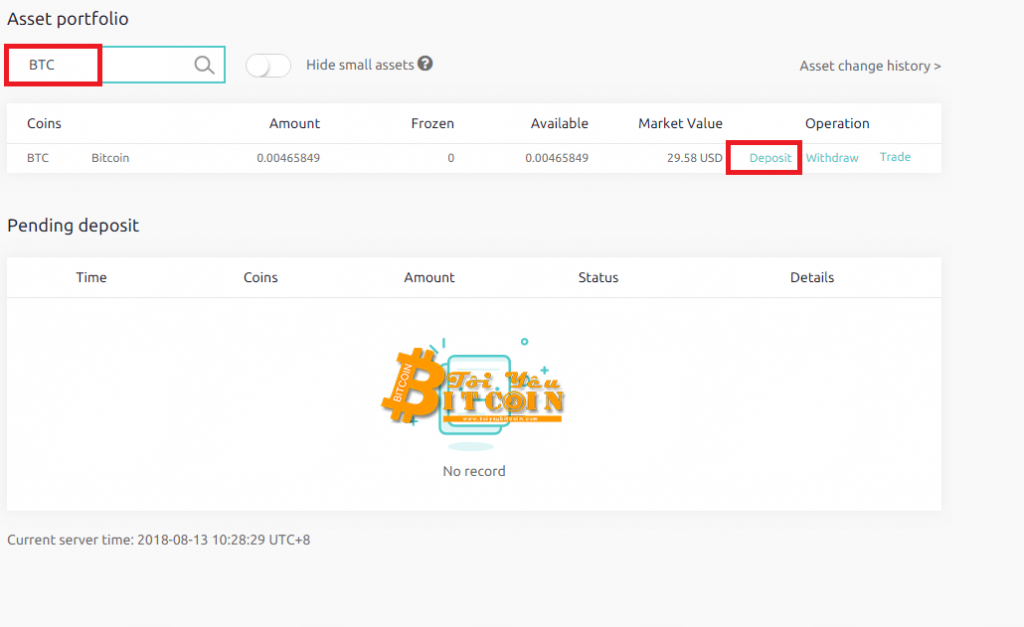 Step 3: You will see your BTC wallet address on CoinEx As shown in the picture below, I circled in red, now you need to load BTC into this wallet. If you have BTC in a certain wallet, you can transfer it, but if you don't have it, go to the exchange Remitano Buy it and load it up.
See also: Instructions for buying and selling Bitcoin on Remitano exchange from A – Z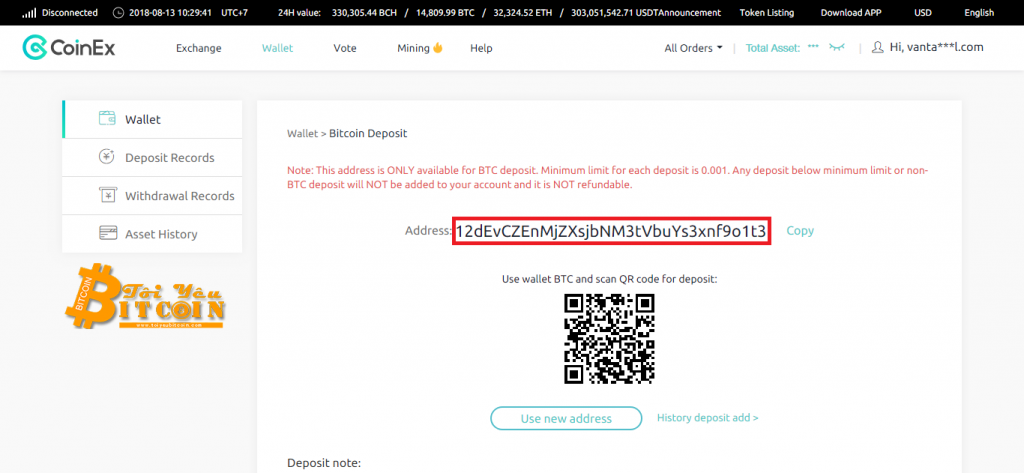 Step 4: After depositing you need to wait about 30 minutes to 1 hour for transaction confirmation, you can check by clicking on "Deposit Records"To see the status of your transaction confirmation, please look at the column "Status"when does it show up 6/6 okay okay.