Gate.io – a Bitcoin and cryptocurrency exchange that is so familiar to investors in the Crypto market, with the advantage of supporting many coin pairs, Gate.io is an indispensable destination for those I love "surfing" and especially investing in ICOs. This article I Love Bitcoin will guide you how to use Gate.io in detail, easy to understand and latest, from how to register to create an account, login, security, verify Gate.io account (verify). real – verify or KYC), create a wallet to deposit Bitcoin, Ethereum or USDT into Gate.io exchange, how to buy and sell (trade coin) and withdraw money from Gate.io. In addition, there will be information on Gate.io floor evaluation, transaction fees on Gate.io.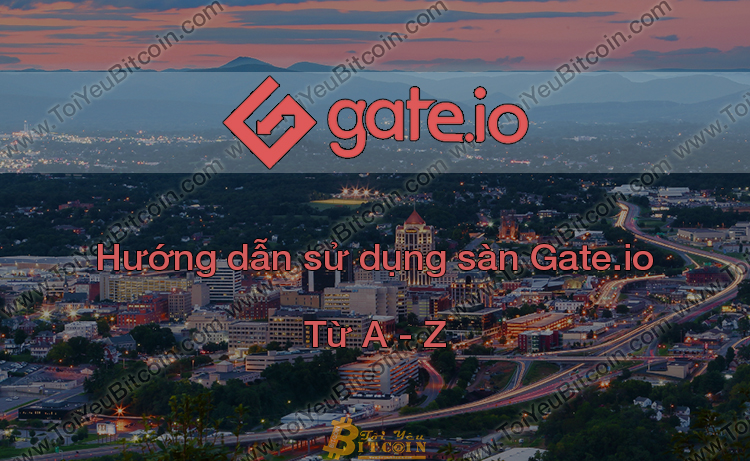 What is Gate.io?
---
Gate.io is a fairly popular cryptocurrency trading platform founded in 2017 by the company Gate Technology Inc based in Virginia, USA. According to the official website of Gate.io This exchange does not have much information about the development team, but it does not seem to affect the development speed of Gate.io, up to the present time. Exchange Gate.io has more than 1 million customers registered trading accounts around the world, and owns a 24-hour trading volume that is always in the Top 50 exchanges on the market. CoinMarketCap.
Review of the Pros & Cons of Gate.io
---
1. Advantages of Gate.io
Pretty good security: Gate.io Support users to secure accounts with 2FA, trading pass, phone number verification, identity verification, ..
No deposit fee: Users do not have to pay any fees when loading any coins into Gate.io.
Fast web loading speed: The web loading speed of Gate.io is quite fast, helping you to place buy and sell orders quickly without having to wait long.
Have a trading app on your phone: Gate.io has launched a mobile trading version, available for iOS and Android operating systems. Computers are available for Windows.
Margin trading support: Gate.io exchange allows investors to trade on margin with 3x leverage.
Vietnamese language support: In addition to languages ​​such as English, Chinese, Hong Kong, Korean, Spanish, Gate.io also supports Vietnamese.
Various types of trading orders: In addition to the basic buy and sell order Limit, Gate.io also supports Stop loss orders.
Support Multiple Tokens and Coins: Gate.io supports major coins and also new tokens that other major exchanges do not have, mainly tokens from ICO.
Support through various channels: Gate.io supports users with many different information channels such as: Telegram, Facebook, email and ticket. If you have any problems, you should chat on Gate.io's Telegram channel, there will be a support staff very quickly.
2. Disadvantages of Gate.io
Company and development team information is not clear
Does not support transactions with Fiat (fiat: USD, VND)
The transaction fee is quite high at 0.2%, the current fee of Binance is only 0.1%.
How are transaction fees on Gate.io calculated?
---
Similar to the virtual currency exchange other, when you join buy and sell on Gate.io There will be 3 types of fees as follows:
Trade Fee: 0.2%
Deposit Fee: Free of charge
Withdrawal Fee: Depending on the withdrawal coin, the fee will be different
1. Trading coin on Gate.io
Exchange Gate.io Using the maker and taker fee mechanism, the fee will be calculated for both maker and taker at 0.2%.
Maker: If you place a buy/sell order without immediate execution, ie the price is higher than the floor price when selling and lower than when buying, then your order will be displayed on the "My Orders" section, then you will be a Maker.
Taker: If you place an immediate buy/sell order, i.e. the price you place is equal to or greater than the floor price when buying, lower than the floor price when selling, then you will be a Taker.
However, you can reduce this fee lower by increasing the trading volume within the last 30 days, in BTC terms, there will be 10 VIP levels, each level will receive a different % transaction fee reduction, VIP The higher, the more discount. You see the version below, for example: When you trade greater than or equal to 3 BTC within 30 days, you will enter VIP 1 and get 5% off.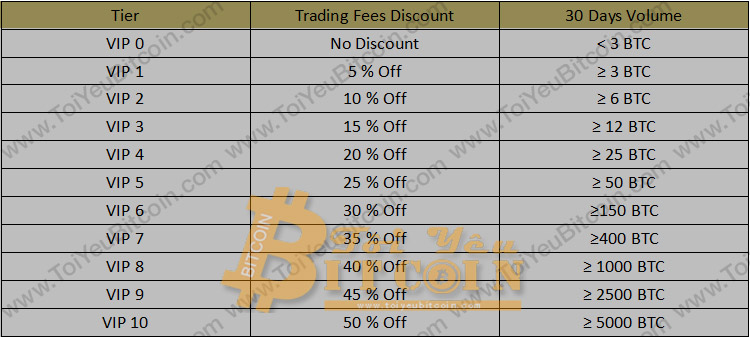 2. Deposit and Withdrawal Fees on Gate.io
Gate.io deposit fee then I mentioned above is Free
Withdrawal fee from Gate.io Fees will vary depending on the coin you withdraw, below are the withdrawal fees as well as the minimum withdrawal limit of some coins. (See full withdrawal fee table of coins here).
Gate.io exchange hacked, error, crashed, is it a scam?
---
According to the information I find out, up to the present time Gate.io have never been attacked by hackers, although in the future it is impossible to predict, most cryptocurrency exchanges are always the target of hackers, large exchanges Binance, Huobi, Bittrex have also been hacked. As for the problem Gate.io floor is faulty such as can't withdraw money, can't trade or can't register, can't log in is a very common error and Gate.io will process it within 24 hours. Gate.io exchange scam not even better, because Gate.io I have never been involved in any scams from investors.
See more information about Gate.io exchange
Instructions on how to use Gate.io complete from A – Z
1. Instructions for registering to create an account on the Gate.io exchange
Step 1: To open an account on Gate.io, click here http://bit.ly/2ET34di Then enter the following information:
nationality: Select "Vietnam"
User name: Enter username
Password: Login password
Confirm password: Re-enter the above password
Email address: Enter your email
Payment password: This password is used when trading and withdrawing money, you enter different from the login password. Enter 2 lines always and remember to save it carefully.
Inviter ID: Leave this as it is to get a 10% discount on transaction fees for the first year.
Tick ​​"I have read and agree…"
Choose "Register now"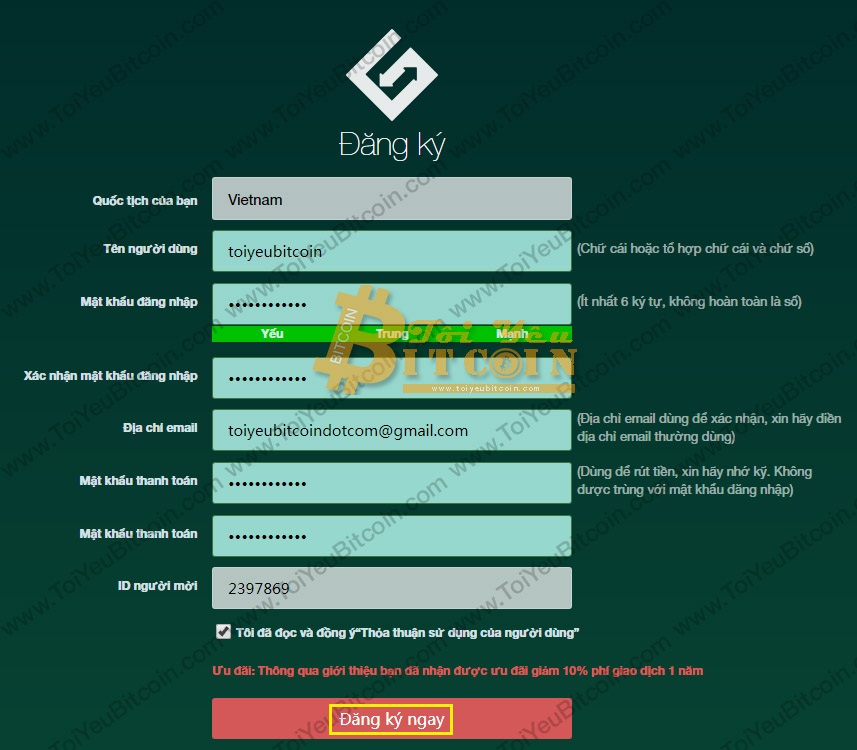 Step 2: Confirm the captcha by clicking on the sign ||| Click and drag to the right so that the puzzle piece above fits into the empty space is ok.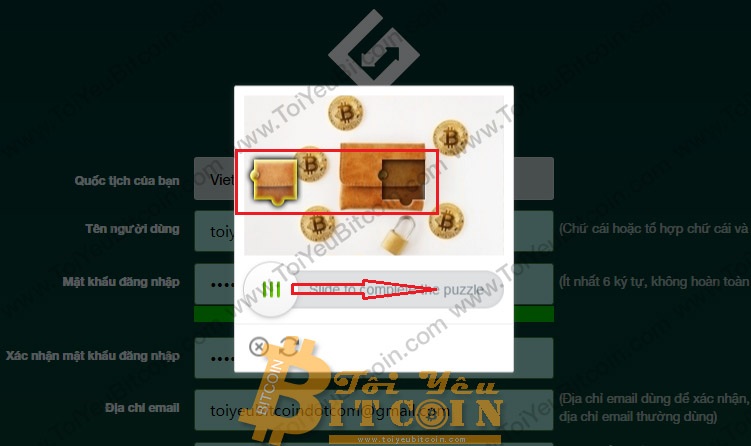 Step 3: System of Gate.io will send you an email to activate your account, go to the email and click on the link as below.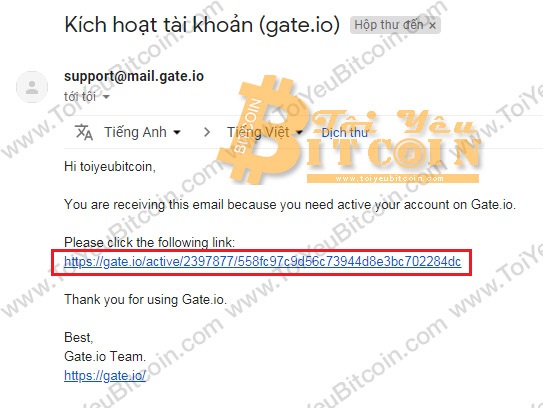 So you've created a Gate.io account, it's quite simple, isn't it, next will be how to log in to Gate io floor.
2. Instructions on how to log in to the Gate.io exchange
Step 1: Next time you want Log in to Gate.io then you also go to gate.io and click on "Log in".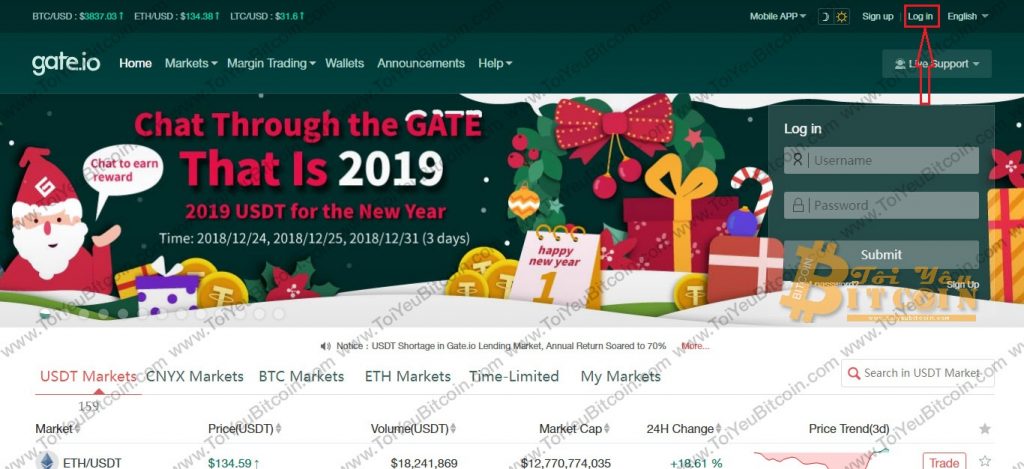 Step 2: Input Email or username + password then select "Log in", if you want to log in on the current computer next time without having to verify the IP, then tick "Bind IP".
Step 3: Confirm captcha like when registering an account, will login successfully. Below I will guide you how to turn on 2FA security next time Login Gate.io will ask for an additional 2FA code.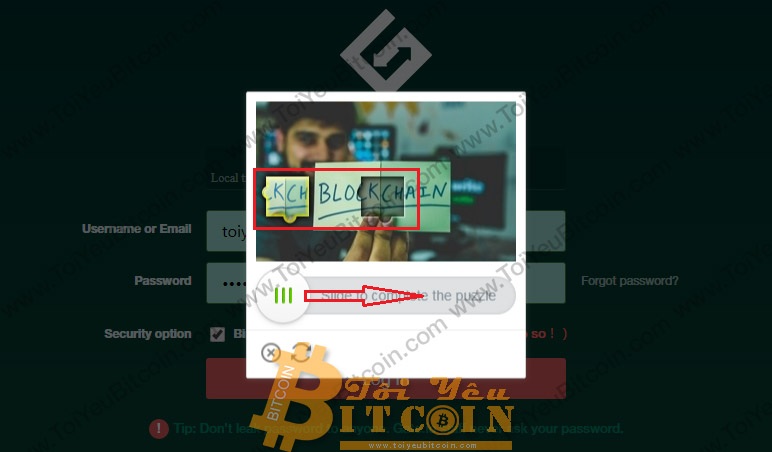 3. Instructions on how to secure your Gate io account
Exchange Gate io provides users with 3 main security features, which are two-layer security (2FA), trading password (payment password) and phone number verification, in which the trading password you have set up immediately upon registration. I will guide you to set up 2FA security and SMS verification:
A. How to enable 2FA security on Gate.io
First you need to download the app on your phone Google Authenticator yes, download link below:
Step 1: After logging in, click on account yours or"Wallets" on the menu bar.

Step 2: In the menu bar on the left, scroll down to the "Security Settings" choose "Two-factor Authentication" => right select "Click here".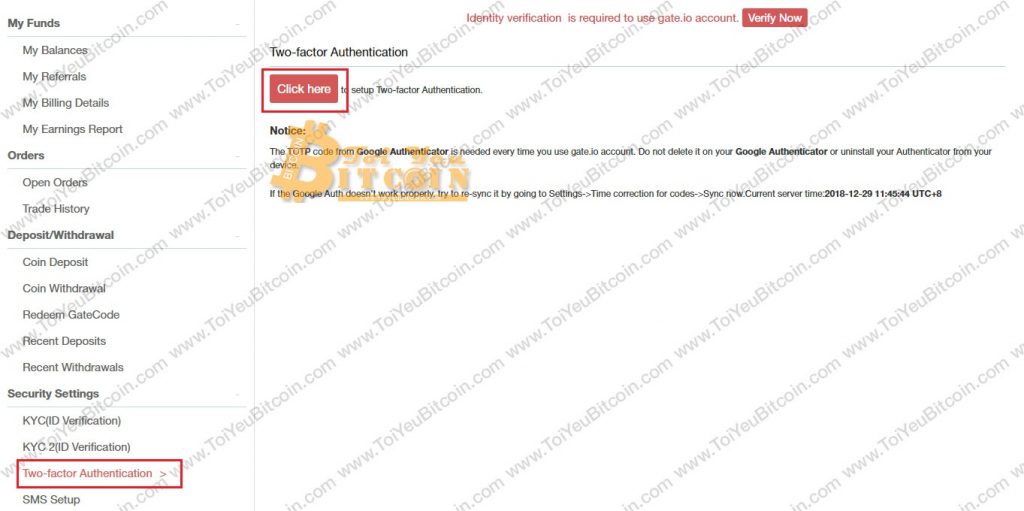 Step 3: First you save the backup code right below "Key", this will be the 2FA recovery code in case you lose your phone. Next, open the Google Authentacator application on your phone to scan the barcode (if you do not know how to scan, see Instructions for using Google Authenticator this) => enter the 2FA code in the "TOTP" box and the trading password in the "Fund Password" box and then select "Enable Two-factor Authentication"It's done.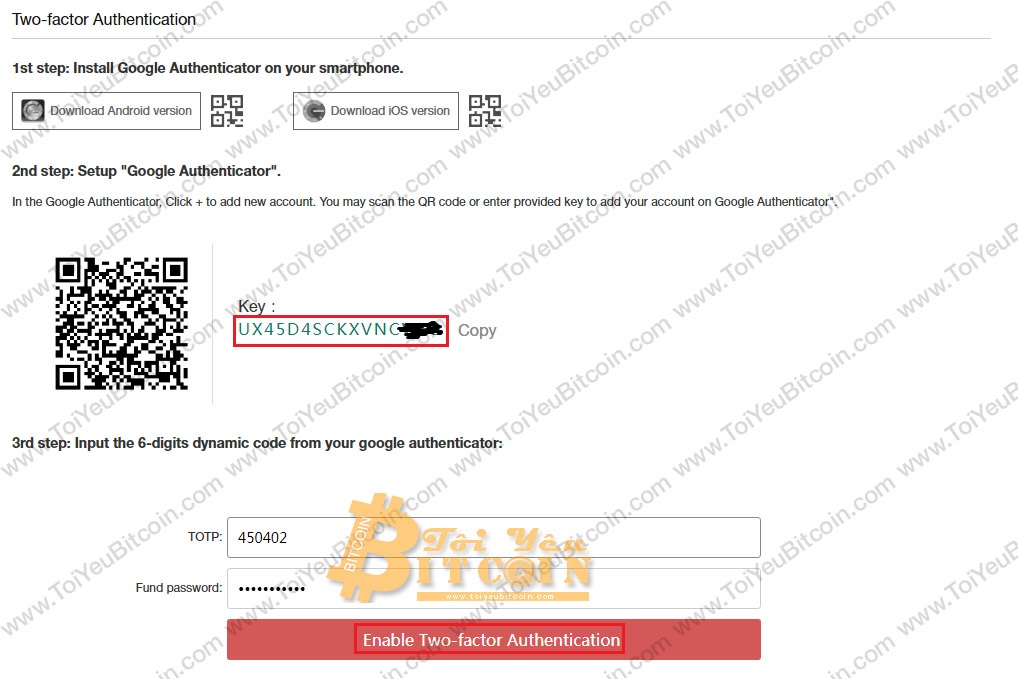 B. Phone number verifications with Gate.io
Step 1: Also in the "Security Settings" you choose "SMS Setup" and enter the following information:
Full Name: Enter your first and last name
Country: Select "Vietnam +84"
Phone number: Enter your phone number
Fund password: Trading password
SMS code: Click "Send SMS" to receive the code by phone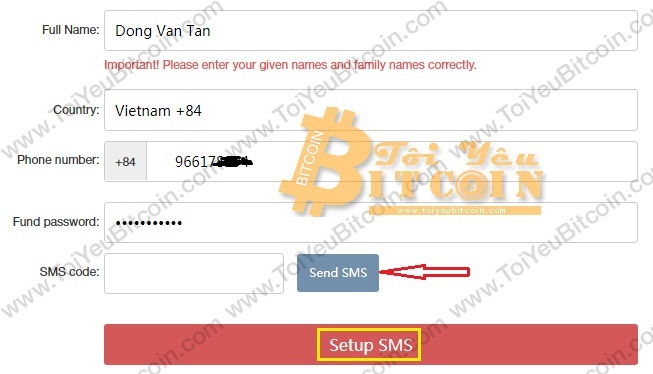 Step 2: Get the code Gate.io sent to you enter in the box "SMS code" and select "Setup SMS"It's done.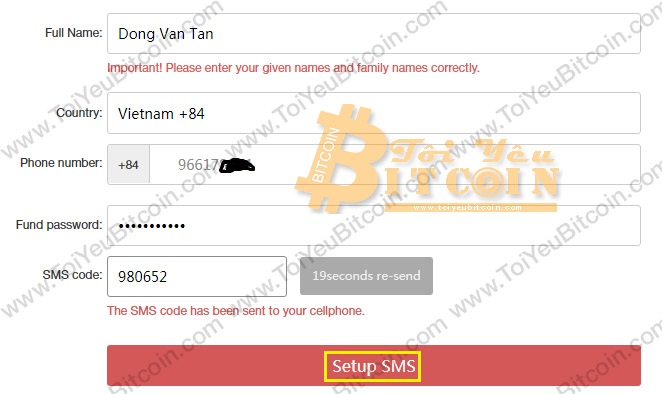 4. Instructions on how to verify (verify – KYC) RightBTC exchange account
With Gate io then the account authentication (real name verification) is "OPTIONAL", but you will be limited to a certain amount of withdrawal per day, maybe around 2BTC/day, because they don't give a specific number, I am asking support and will update when it is available. To increase this limit 100 BTC/day then you need to verify your account and I also recommend that you verify so that when you have problems during the transaction, you will be better supported. Gate.io will divide the verification into 2 levels (Level):
First you need to prepare yourself the following 3 photos: (See example photo below)
Photo of the front of ID card or passport
Photo of the back of your ID card or passport
Selfie with your face, holding a blank sheet of paper in your hand with the words "Gate.io" + your account ID (See right above "Your Gate.io ID:", as your ID you see is 2397860
Step 1: Also in the "Security Settings" you choose "KYC (ID Verification)" => at the No.1 You hover over each box "Passport cover", "Passport person page", "Passport self holding" and select "Upload", then upload the prepared photos one by one. Next to part 2, enter the following information:
Country: Select Vietnam
Full Name: Your full name
Full Name again: Your full name
Identity Document Type: Select "Passport"
Identity Document Number: Enter your ID or passport number
Finally select "Confirm and Submit"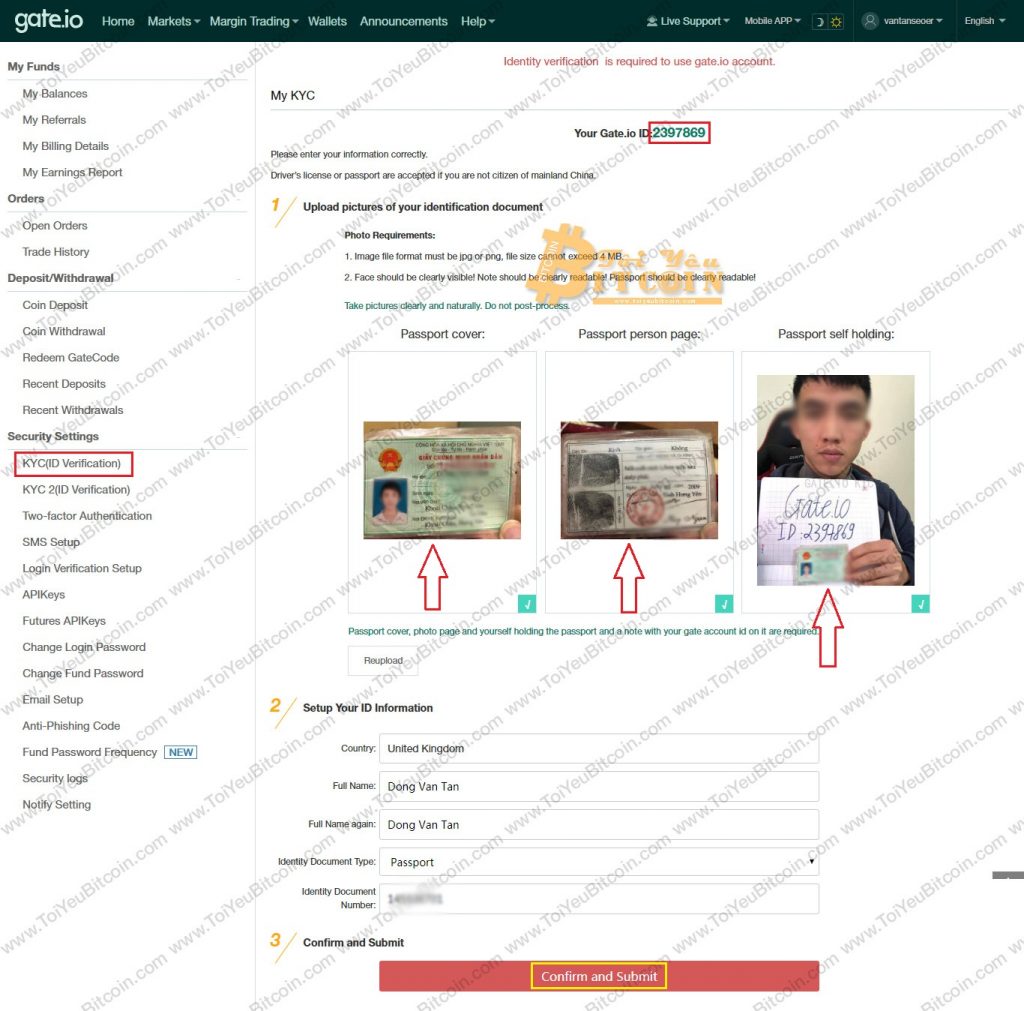 Step 2: Notification "Pending approval" it mean…