Huobi Global – Today's article I Love Bitcoin will guide you to use the latest Huobi Pro exchange from A – Z. You will know how to register to create an account, login, security, verification (verification). verify) account, how to deposit Bitcoin, Ethereum, USDT to Huobi exchange, create wallet, how to buy and sell (trade coin) on Huobi, huobi margin, withdraw money from Huobi to Remitano to sell VND. Besides that, there is useful information such as Huobi Transaction Fee, Huobi floor review, ..Let's get started..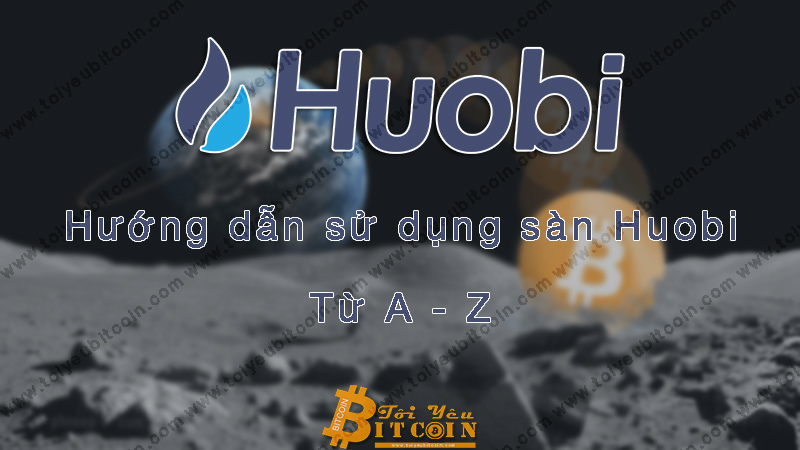 What is Huobi Global?
Huobi Global is one of the world's leading Bitcoin and cryptocurrency exchanges based in Singapore. Huobi exchange was established in China and currently has offices in many countries such as Hong Kong, Korea, Japan, the United States, Vietnam, ..and provides asset management services, secure transactions for users in more than 130 countries.
Huobi Exchange was founded by Leon Li on May 15, 2013. Huobi Group launched and started trading on September 1 under the domain huobi.com and quickly became the No. 1 exchange in China, accounting for more than 60% of global trading volume. By September 2017, China had issued a ban on Bitcoin exchanges and ICOs. Huobi stopped providing services in China and started to expand to Korea, then Singapore, then Japan, USA, .. and soon Huobi entered the top 3 largest exchanges in the world.
What is Huobi Pro?
Quite a lot of you do not understand and keep thinking Huobi Pro exchange and Huobi.com are 2 different decks, but they are actually the same. As I mentioned above, due to China's embargo, after expanding to Asian and European countries, Huobi operated under the domain name Huobi.pro. All websites Huobi.com, Huobi.pro, Huobipro.com, (3 these pages are now pointing to 1 is Huobi.com) Hadax.com, Hbg.com are owned and managed by Huobi Global, you only need to open an account to use it for all.
Advantages of Huobi Pro exchange
Large trading volume: Because it is always in the Top 3 exchanges with the largest trading volume in the world, the liquidity of Huobi Pro is very large.
Low transaction fees: Huobi charges a transaction fee of 0.2%, if you upgrade, your VIP account will be reduced.
Has its own exchange coin: Huobi Token is Huobi's own coin, and the value is second only to Binance Coin of the Binance exchange, the future growth potential is greater than BNB because the current value of HT Token is still low.
Super fast transaction speed: Not inferior to Binance, HuobiPro's trading platform is very powerful, the trading speed is almost instant.
Support many Altcoins: Many coins are supported by Huobi Pro to trade, you can freely choose the potential coin you want.
Good security: The Huobi platform is built strong thanks to advanced anti-DDOS technologies and most of the customer funds are stored in offline wallets.
Diverse trading platform: You can trade coins with Huobi exchange on many different platforms such as IOS, Android, MAC, Windows.
Margin trading support: Huobi also allows you to Margin trading with up to 3x leverage.
Good support team: In each country, Huobi Pro will have its own support team, fast support, currently Vietnam also has it.
Products of Huobi Global
Huobi Pro: Is a digital currency exchange based in Singapore
HADAX: Autonomous Digital Currency Exchange Huobi is a decentralized exchange, the tokens are automatically listed.
Huobi OTC: Exchange that allows investors to buy and sell coins with fiat currency, launched in November 2017, now operating in Vietnam, you can buy coins with VND.
Huobi China: A research and development division of Huobi in China, focusing on consulting, education and training services for blockchain projects in the country.
Huobi Mining Pool: Huoi also operates a Mining Pool.
Huobi Capital: An investment fund focused on the Blockchain industry based in Singapore, has raised a capital of 10 million USD.
Huobi Labs: Is a Blockchain "incubator", specializing in supporting Startup companies of the Blockchain industry, based in San Francisco.
Huobi Academy: Is a research institution focused on technology, industry analysis, applied innovation, trend analysis and business consulting in the Blockchain field.
Huobi Token (HT): A token issued by Huobi, the HT token uses Ethereum's ERC20 platform.
What is Huobi Token (HT)?
I'll explain a little more about it Huobi Token, it is a Token issued by Huobi Exchange, or we often call it "Exchange Coins". Similar to Binance Coin of Binance exchange, HT Token is also listed by Huobi for trading as a normal coin and as a main market like Bitcoin, Ethereum and USDT. Huobi Token was born with many different purposes: The point is to reduce transaction fees for users.
Should I use Huobi or Binance?
Each floor will have its own advantages and disadvantages. Although born later Huobi but Binance has grown faster and stronger than Huobi, however, recently Huobi has also expanded the market and started campaigns to surpass Binance. For me, I am currently still using both of these exchanges for trading. Here are a few advantages and disadvantages of the two exchanges:
Transaction fee: Currently, trading and deposit/withdrawal fees on Binance are a bit cheaper than Huobi.
Huobi OTC: Huobi launches Huobi OTC (similar to Remitano), the exchange allows trading with fiat currency, in Vietnam Huobi OTC has also operated. Binance hasn't done this yet.
Exchange Coins: In my opinion, Huobi Token is currently more potential than Binance Coin because the value of HT Token is still lower than that of BNB Token.
"Make a price"Recently, the Binance exchange has been entangled in a number of "scandals" about "price manipulation", typically the case of Bytecoin. With Huobi, nothing like this has ever happened.
Margin Trading: Huobi supports Margin and Binance does not.
Here are a few pros/cons of 2 Huobi Exchange and Binance, and both are essentially the same. For me, it is better to trade both exchanges and allocate capital to minimize risk than to use 1 floor.
How is the transaction fee on Huobi exchange calculated?
Similar to other exchanges, Huobi exchange will also have 3 types of fees as follows:
Trade Fee: 0.2%
Deposit Fee: Free
Withdrawal Fee: Depending on the withdrawal coin, the fee will be different
1. Trading fee on Huobi Pro
The default trading fee on Huobi exchange will be 0.2%. for both buy and sell transaction you can reduce the transaction fee by upgrading VIP but must buy HT Token to extend. This is the difference with Binance, to upgrade VIP on Binance you do not need to pay fees, just increase the daily trading volume (the lowest is 100 BTC and 50 BNB), and Huobi you have to buy with HT Tokens but in return get instant fee reductions without the need to trade in large quantities during the day.
Huobi has 5 different VIP levels from 1 to 5 and the transaction fee will be reduced according to the level as below, of course the higher the level, the more you have to buy with HT Tokens:

2. Deposit and Withdrawal Fees on Huobi Pro
Deposit fee to Huobi then I mentioned above is Free
Withdrawal fee from Huobi Depending on the coin you withdraw, the fee is different, I will show some fees of the coin such as:
| | | | | |
| --- | --- | --- | --- | --- |
| Coin Name | Minimum withdrawal (hours) | Maximum withdrawal (hours) | Maximum withdrawal (days) | Withdrawal fee |
| Bitcoin (BTC) | 0.01 | 200 | 200 | 0.001 |
| Ethereum (ETH) | 0.01 | 2,000 won | 2,000 won | 0.01 |
| USDT (Tether) | 200 | 1,500 yen | 1,500 yen | 20 |
| Bitcoin Cash (BCH) | 0.01 | 200 | 200 | 0.0001 |
You can see withdrawal fees for other coins here.
3. Margin transaction fee on Huobi
Huobi Pro exchange USDT loan interest rate is 0.1% per day and if you borrow for Margin trading, the interest rate will be 0.2% for ETH, BCC, ETC, LTC, XRP, EOS, DASH, OMG, ZEC.
Huobi exchange hacked, buggy or scam?
Most cryptocurrency exchanges are always the target of hackers, Binance has also been hacked, but with Huobi Up to now, I have not seen any hacks, and I still get errors like can't withdraw money, can't trade or can't register, can't login is a very normal error and Huobi will handle it in within 24 hours. Huobi scam Not even better, because Huobi has never been involved in any fraud accusations from investors.
See more information about Huobi . exchange
Instructions on how to use Huobi floor completely from A – Z
1. Instructions for registering to create an account on Huobi Pro exchange
Step 1: To Open a Huobi account you click here http://bit.ly/2NFYXpN then enter the new account registration information as follows: (You can choose Vietnamese on the corner of the screen for ease of use.)
nationality: Select Vietnam
Email: Enter your email
Login password: Your password
Confirm password: Re-enter the above password
Tick ​​"I have read and agree"
Finally click on "Registration"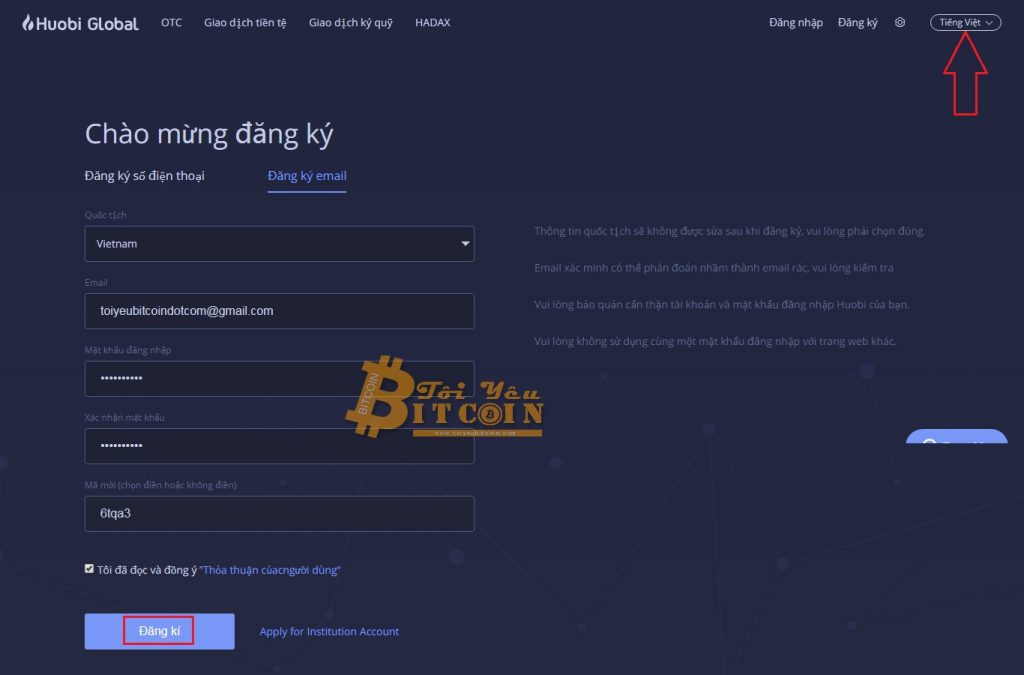 Step 2: Click on "I am not a robot" to verify the capcha and then select "Confirm".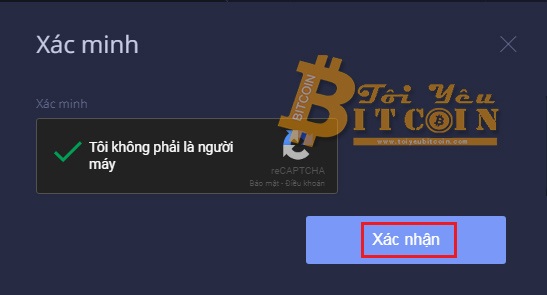 Huobi will have 2 types of capcha verification, 1 is the way above 2 is the way below, you click and hold your mouse on the sign >> then drag to the right, then click "confirm". Capcha will appear when you login, withdraw or turn on security,..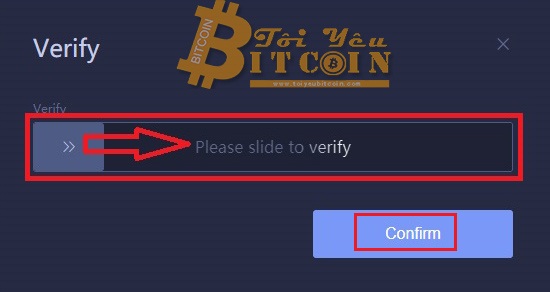 Step 3: System of Huobi exchange Will send you an account activation code via Email, go to your email to get the code as below: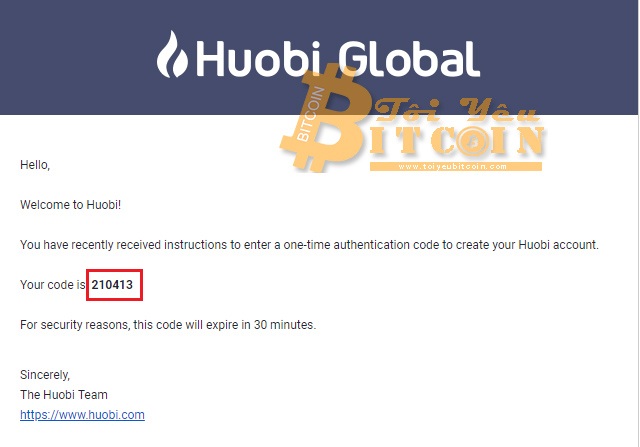 Step 4: Enter the activation code and then press "Complete registration".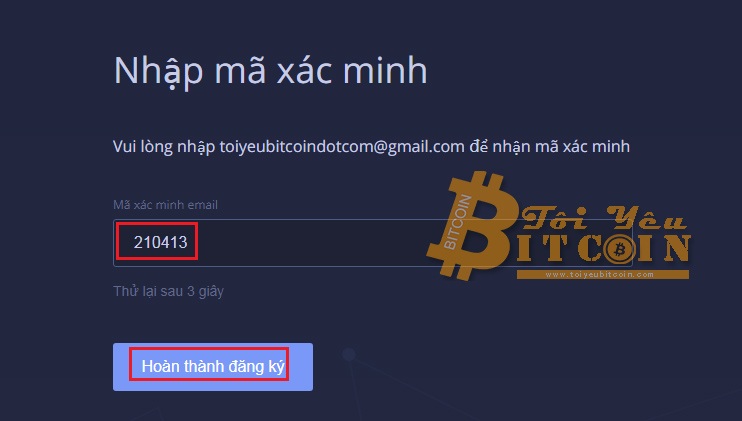 Ok. So you've create a Huobi account done, now to login you fill in Email + password enter then press "Log in".

That's it, the next time you log in, just click "Login" on the corner of the screen, I will guide you to turn on 2FA security, then when you log in, Huobi will ask you to enter another 2FA code.
2. Instructions on how to secure your account on Huobi Pro exchange
HuobiPro exchange gives you 2 very good security features verify phone number and two-factor authentication (2FA), I recommend you to use both and if you use any exchanges Either way, you should turn on all the features that the broker offers to ensure the safety of your assets.
Ah….