Hi guys. Recently, some of you inbox asked ToiYeuBitcoin how to buy coins (cryptocurrency, virtual currency, cryptocurrencies) such as Bitcoin (BTC), Ethereum (ETH), Ripple (XRP), USDT (Tether), ..with a Visa or Mastercard credit card. Therefore, I went through a round of exchanges or services that allow buying coins with a reputable, safe, cheap credit card, which is highly appreciated by the community around the world, and today I will introduce to you. I will introduce to you the best platform I found, as well as detailed instructions on how to buy Bitcoin with Visa/Mastercard the easiest way.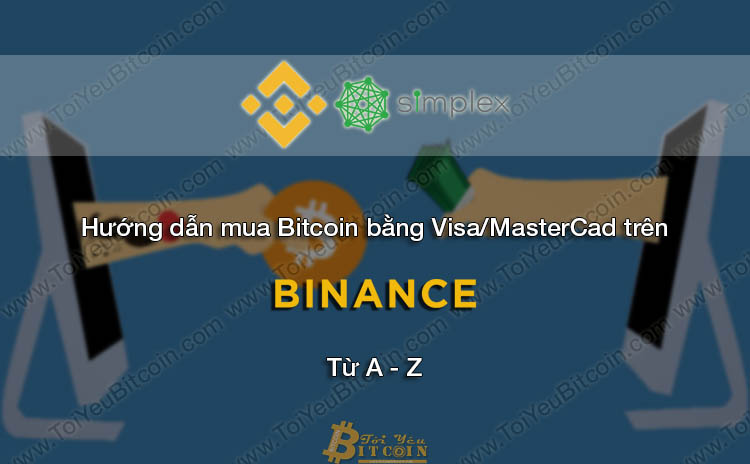 Should I buy Bitcoin and Altcoins with a local card or a credit card?
---
You can probably answer this as well, and of course should buy coins with domestic card thẻ (ATM card). This is also a popular way that investors in Vietnam are using to buy Bitcoin, Ethereum, Ripple, USDT and Altcoins, which is not only fast and convenient for payment, but the purchase price is also much cheaper than the picture. purchase by credit card tính Visa/MasterCard. Usually when you buy coins with credit card It will cost a very high fee for the service provider, besides, the buying process is also quite complicated, having to verify the identity is very time consuming.
However, some people abroad cannot buy with a domestic ATM card, so using a credit card like Visa nice Master Card is the optimal choice, or many countries have strict regulations on cryptocurrencies, the buy Bitcoin with local card must prove their income, and then other complicated procedures, so they will also choose to buy by credit card to avoid legal risks.
In Vietnam, most popular banks such as Vietcombank, Techcombank, Agribank, MB, ACB, Sacombank, BIDV,..you can use your domestic ATM card to buy Bitcoins and other coins easily on exchanges, provided that your card must register for internet banking service to pay online. Remitano and Fiahub are two exchanges that you can use to buy Bitcoin and Altcoin with local AMT card, these are also the two best exchanges in Top 5 reputable and cheapest Bitcoin exchanges in Vietnam.
Where to buy Bitcoin, Ethereum, Ripple with Visa/Mastercard credit card, cheap and reputable?
Currently there are almost no detailed instructions on how to buy coins with Visa or Mastercard All, simply because in Vietnam, very few people buy this way, often they will buy directly with a domestic card with a much cheaper, convenient and faster fee. However, for some reason many people have to buy with Visa/Mastercard. I went through some reputable blogs in the world about crypto and know some platforms that allow buying Bitcoin, Ethereum, Ripple, .. and Altcoins by credit card such as Coinbase, CoinMama, Luno, Bitpanda, and most recently Binance,.. of which Coinbase and Binance are known by everyone, but currently Coinbase does not support users in Vietnam.
I've checked some of the pros and cons, price and support, and I see Binance is still the number 1 choice, not only because Binance is the world's largest cryptocurrency exchange currently, but it also supports Vietnamese users quite well. Binance exchange is also just providing the service buy coins with credit card has been in the last few weeks (see details), but has been supported by a large number of users around the world because of its low fees, fast purchase time and quite simple process. To support investors buy crypto with credit card then Binance has partnered with Simplex – a licensed financial company since 2014, providing services of buying and selling coins with various forms of payment such as bank accounts, credit cards around the world, every year Simplex processes goods. billion USD in cryptocurrency transactions.
What coins does Binance support buying with a credit card?
---
Currently on Binance exchange you can buy a total of 5 coins with Visa and MasterCard cards. One thing you need to keep in mind is that Binance does not sell you coins with Visa/MasterCard, nor does Binance charge your transaction fees, but Binance is just an intermediary to help connect users to the platform. Simplex, all transactions and payments will be made between the user and Simplex. Here are the coins that you can buy with Visa/MasterCard on Binance through Simplex.
Note: Bitcoin Cash on Binance is Bitcoin Cash ABC (BCHABC).
And of course in the future, Binance will add more altcoins other coins to this service to buy coins with this credit card, I will update more coins when Binance announces the addition.
Transaction fees when buying coins with Visa/MasterCard on Binance?
---
Fee per transaction giao buy Bitcoin with Visa/MasterCard or any other coin on Binance would be 3.5% or 10 USD, this fee is not collected by Binance but is paid to the platform Simplex. This is a very high fee compared to buying with a domestic ATM card, but compared to most supporting platforms. buy coins with credit card Otherwise, this is the current lowest fee.
Instructions on how to buy Bitcoin, Ethereum, Ripple, Altcoins with Visa/MasterCard on Binance
---
Step 1: Sign up for a Binance account
Of course, to buy coins on Binance, you must have an account, if you already have an account on Binance, you can skip this step, if you don't have one, click here for instructions.
Step 2: Verify Binance Account
Although this is not a mandatory condition for buy Bitcoin with credit card on Binance, but in my opinion, you should still verify your account to ensure the best support when disputes arise later. If you have not verified your Binance account, click here for instructions.
Step 3: Proceed to buy coins with a credit card on Binance
Note: Coins you buy will be transferred to Binance wallet, then if you want to transfer to another exchange or wallet, you can withdraw from Binance wallet only.
First you need to prepare yourself 2 photos of personal documents that will be used for identity verification later:
Photo of the front of your ID card or passport
Photo of the back of your ID card or passport
Step 1: After logging in to Binance, select "Fund" and select "Buy with Credit Card".

Step 2: Enter coin purchase information as follows:
Order amount: Click on the "∨" on the right select the coin you want to buy, here I will select "BTC" and enter next to the amount of BTC you want to buy.
Total Charge (fee included): The total amount of USD you have to pay to buy the above BTC, including the 3.5% fee.
Choose "Buy now"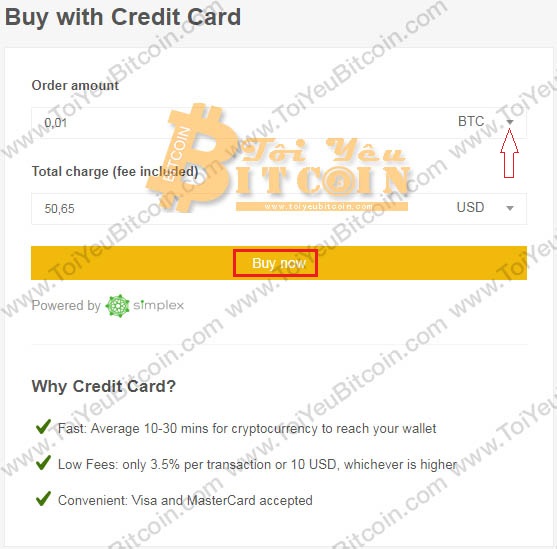 Step 3: Check the information and tick "I have read…"Finish select"Go to Payment".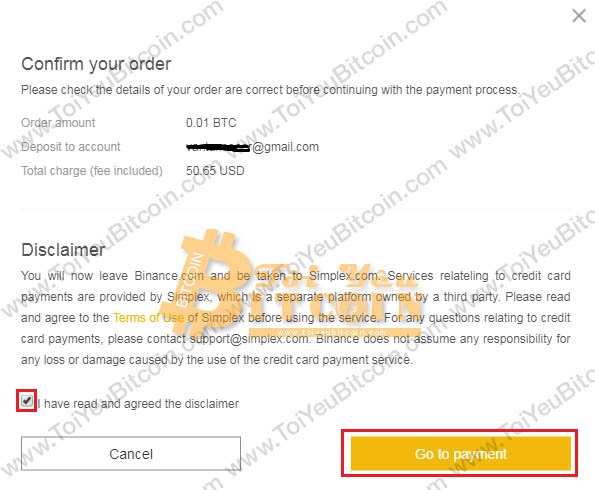 Step 4: You will be redirected to Simplex's website to make payment, enter the following information: (Must write the same information as in your ID card or passport).
Personal Details:

Email: Enter your email
Mobile Phone: Enter your phone number (eg +84

977898999

)
Date of Birth: Choose your date/month/year of birth

Billing Address:

Address Line 1: Your address
Address Line 2: Can be overlooked
City: City
Zip Code: Each province/city will have a different zip code, you click here to get the zip code of the province/city you live in
Tick ​​"I have read…"
Finally select "TIẾP TỤC"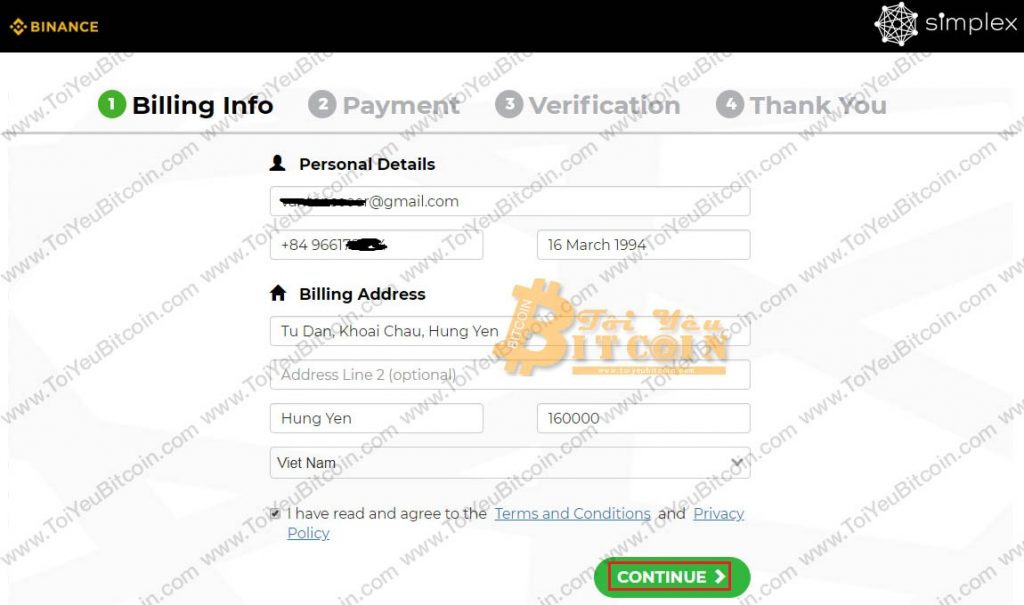 Step 5: System of Simplex will send you an email to confirm this order, go to the email and click on "Verify" as below: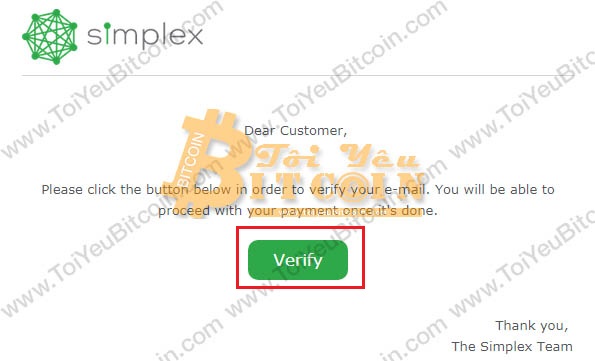 Step 6: Simplex will also send you a 4-digit code via phone SMS, you get the code to enter and select "Verify", then select "TIẾP TỤC".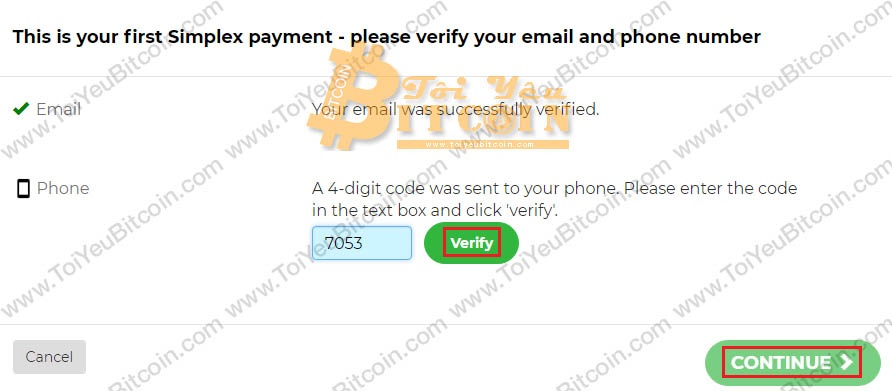 Step 7: Enter payment card information Visa or Master Card (If you're a familiar Visa/MasterCard user, you probably don't need to like much about the information below.)
First name on card: Your name on the card
Last name on card: Your last name on the card
Card number: Card number
Expiration Date: Card expiration month/year
Security code: 3 numbers on the back of your Visa/MasterCard, these 3 numbers are very important to use to spend money in the card
Choose "PAY NOW"

Step 8: Continue to enter personal information and upload a photo of your ID card or passport as follows:
Select the document your want to upload: Select "Id Card" if using ID card and Passport if using passport
Upload:

Front side: Click on "choose file" and upload a photo of the front of your ID card or passport
Back side: Click on "choose file" and upload face photo AFTER ID card or passport

Identity document details: Enter in turn:

Your first and last name
Date of birth
Men choose "Male", women choose the other one
Vietnam
ID card or passport number
Expiration date of ID card or passport (if using ID card without expiration date, you should choose after 20 years from the date of card issuance)

Risidential address: You enter the same as above, address, city, zipcode, Vietnam
Finally, choose "Upload Document"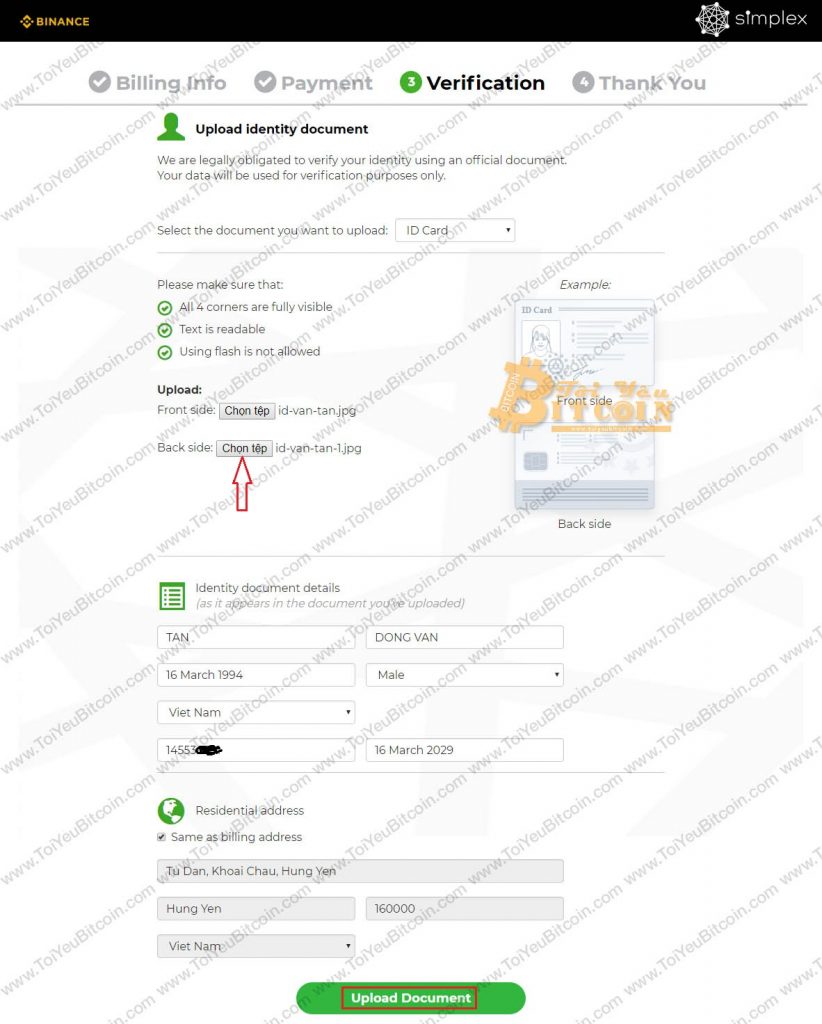 Step 9: So to complete the payment step for Simplex, you choose "Return to Binance"

Step 10: You will be taken back to the Binance interface, choose "I finished payment".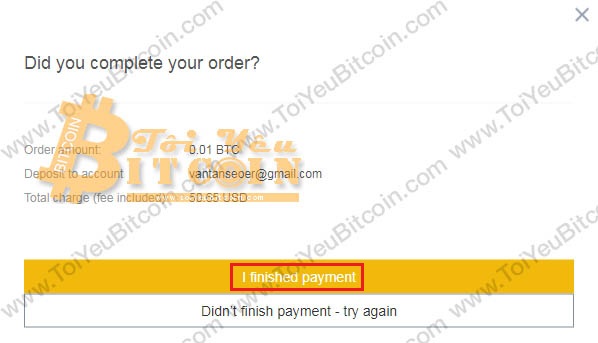 That's it, your job now is to wait Simplex confirm your personal information, money in Visa/MasterCard will also be deducted immediately.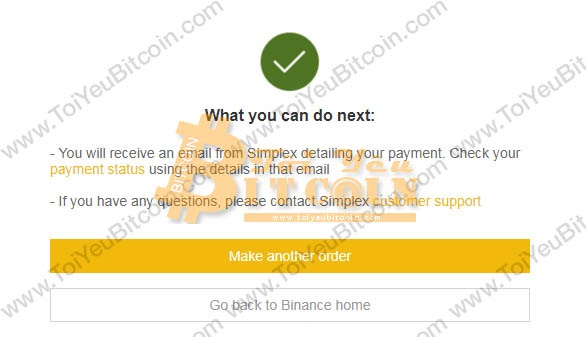 Simplex then also send you an email to let you know that they are reviewing your personal documents, you can check your coin purchase order by clicking on "here".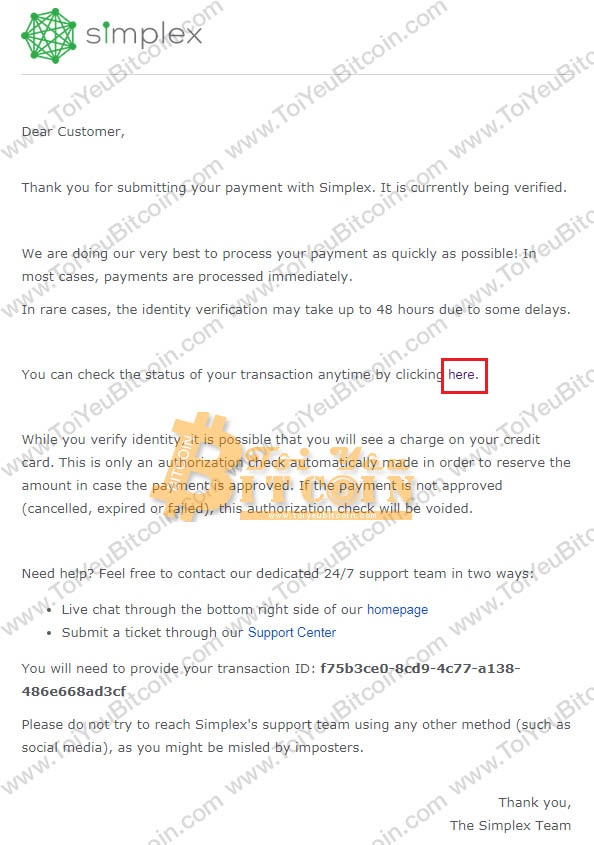 You can see your transaction ID as I circled in red, this ID in case the coin is not received will be used to submit a complaint to Simplex, as you can see this order is in the statusPending ID Verificatoin" means waiting for personal ID review. This process will take about 20 to 30 minutes.