KuCoin – one of the cryptocurrency trading platforms launched not long ago but is considered a direct competitor to Binance and Huobi. This article I Love Bitcoin will guide you how to use the latest detailed Kucoin exchange. You will know how to register to open an account, log in, secure, verify your Kucoin account (verify – verify – KYC), create a wallet to top up Bitcoin, Ethereum or USDT on the Kucoin exchange, how to trade (trade coin) ) and withdraw money from Kucoin. Besides, there are other useful Kucoin floor evaluation information. Start…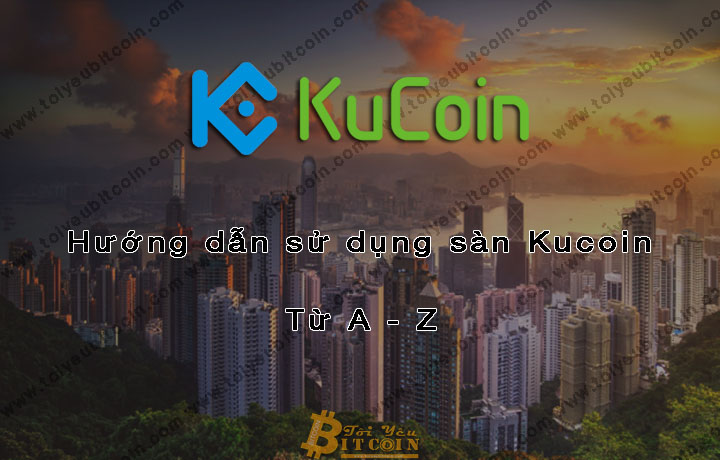 What is Kucoin?
---
The cryptocurrency industry in Asia in the past year has witnessed a strong development, not only many coins were born but exchanges were also "born like eggs". China is one of the countries that owns the largest number of coin exchanges in the world Binance, Huobi, OKEx,..and KuCoin also on this list.
KuCoin is a Bitcoin and Cryptocurrency exchange founded in Hong Kong, China on September 15, 2017 by a group of Blockchain and Crypto enthusiasts, with the goal of making the platform one of the Top 10 The world's leading crypto exchange. Kucoin Exchange provide users with more than 300 trading pairs with a lot of coins Coins and Tokens different. In addition, a highlight that Kucoin has is Kucoin Shares (KCS) – ERC20 token, when investors holding KCS coin will enjoy many incentives from Kucoin exchange.
---
Kucoin Shares (tokens: KCS) is a coin ERC20 Token developed on the Blockchain platform of Ethereum, released by Kucoin itself, or a name that we often know as "Exchange Coin". Kucoin Shares is similar to coin Binance coin of the floor Binance nice Huobi Token of the floor Huobi. The purpose of KCS coin is to support the development of the Kucoin ecosystem and reduce transaction fees for investors. I will dedicate a more detailed article to talk about this coin later.
Evaluate the pros and cons of the Kucoin exchange
---
1. Advantages of Kucoin exchange
Transaction fee: The kucoin exchange has a reasonable transaction fee at 0.1%, similar to Binance, cheaper than Huobi. Free deposit and reasonable withdrawal fees, cheaper than many other brokers.
Safe and secure: Kucoin supports users with security features such as 2FA and verification via SMS, as well as the most advanced technologies available today.
Safe coin storage wallet: Most users' funds are stored in offline wallets (cold wallets), so you can rest assured when keeping money on Kucoin.
Support multiple coins/token: Kucoin exchange supports trading over 300 other coin and token pairs, from popular coins to Tokens from the latest ICOs.
Fast transaction: With the most advanced technologies, the speed of matching buy/sell orders on Kucoin is almost instant.
Fast deposit/withdrawal: I have directly experienced deposit / withdrawal on Kucoin and find it very fast, no less than Binance.
There is an app on the phone: Kucoin exchange also successfully developed a mobile trading app, you can buy and sell directly on your phone. Available for iOS and Android operating systems.
Vote coin/token: Coins or tokens on the Kucoin exchange are all "voted" by the community for listing.
Passive income with KCS: Users holding KuCoin Shares will receive daily rewards (Stake reward program)
Support multiple languages: Kucoin supports about 12 popular languages, including Vietnamese.
24/7 support: Kucoin has a very fast support team, you can find help through channels like Telegram, online chat website, send stickets, ..
2. Disadvantages of Kucoin exchange
Coin transactions with fiat money (USD, UER, VND) are not supported yet.
No margin trading (margin)
How is the transaction fee on Kucoin exchange calculated?
---
Similar to the virtual currency exchange Otherwise, when you participate in buying and selling on Kucoin, there will also be 3 fees as follows:
Trade Fee: 0.1%
Deposit Fee: Free of charge
Withdrawal Fee: Depending on the withdrawal coin, the fee will be different
1. Trading fees on Kucoin
Trading fee on Kucoin exchange will be 0.1%, this fee applies to both taker (who matches buy/sell orders) and maker (who creates buy/sell orders). There is a way for you to reduce this fee lower that is hodl (hold) Kucoin Shares on the Kucoin exchange. The reductions are calculated as follows:
Keep under 10,000 KCS: 1% off
Hold from 10,000 to 30,000 KCS: Sale 10%
Hold over 30,000 KCS: 30% off
Kucoin will charge this fee daily based on the amount of KCS in your account, every day at 00:00 kucoin will "take a picture" of your KCS balance and apply the corresponding fee as above.
2. Deposit and Withdrawal Fees on Kucoin
Deposit fee on Kucoin exchange then I mentioned above is Free
Withdrawal fee from Kucoin exchange Depending on the coin you withdraw, the fee is different, I will show some fees of the coin such as:
| | | |
| --- | --- | --- |
| Coin name | Withdrawal fee | Minimum withdrawal |
| Bitcoin (BTC) | 0.0005 | 0.002 |
| Ethereum (ETH) | 0.01 | 0.1 |
| Bitcoin Cash (BCH) | 0.0005 | 0.01 |
| USDT (Tether) | 3.2 | 20 |
| Kucoin Shares (KCS) | 0.5 | ten |
In addition, you can see the full withdrawal fees of all other coins/tokens on the Kucoin exchange here.
Is the Kucoin exchange hacked, buggy or scam?
---
Most cryptocurrency exchanges are always the target of hackers, Binance has also been hacked, but with Kucoin Up to now, I have not seen any hacks, and errors like can't withdraw money, can't trade or can't register, can't log in is a very normal error and Kucoin will handle it in within 24 hours. Kucoin scam Not even better, because Kucoin has never been involved in any fraud accusations from investors.
Only once recently, when it was reported that Kucoin's office in Hong Kong was just "virtual", this incident was done by an anonymous journalist who broke into Kucoin's office, but then has been corrected that Kucoin's headquarters is actually in Singapore, not in Hong Kong. You can view information about Kucoin's staff and offices here.
See more information about Kucoin exchange
Instructions on how to use the complete Kucoin exchange from A – Z
1. Instructions for creating an account on the Kucoin exchange
Step 1: First you visit here https://goo.gl/pYRyxR then select "Sign up" to begin Create account Kucoin new.

Step 2: Enter the account registration information as follows:
Email: Enter your email
Password: Enter password
Confirmation password: Re-enter the above password
Tick ​​"I have read…"
Choose "next"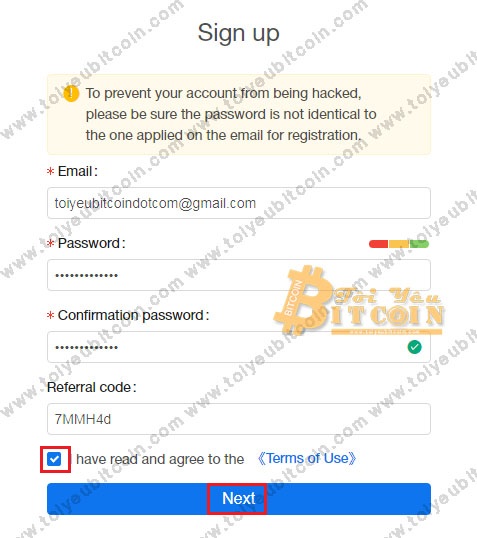 Step 3: Kucoin will ask you to confirm the capcha, every time you log in you have to confirm, you click and hold the button ||| then drag to the right so that the puzzle piece above fits into the empty space.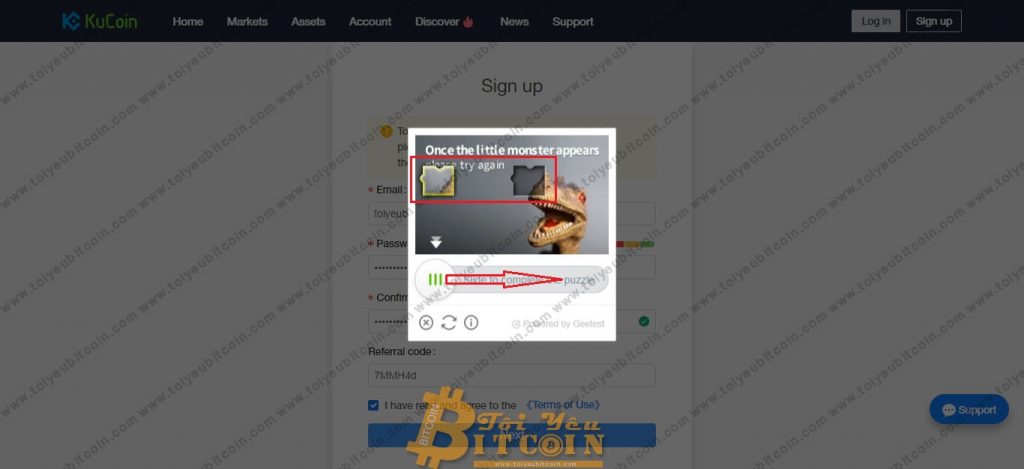 Step 4: The system of Kucoin exchange will send you an email to activate your account, go to the email and click on the link as below.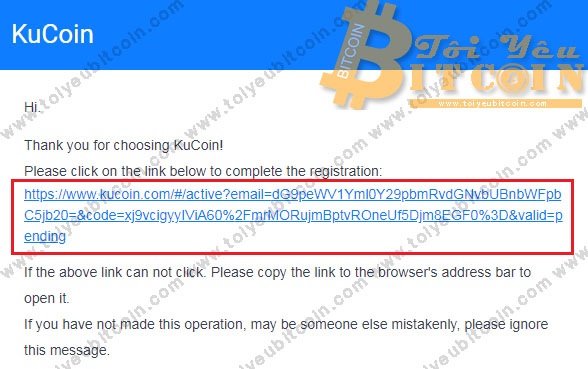 2. Instructions on how to log in to the Kucoin exchange
Step 1: You also visit kucoin.com and select "Log in"

Step 2: Input Email and Password then select "Log in", then confirm the capcha as I instructed above is successful login. Below I will show you how to turn on 2FA security again, then later when you log in you will have to enter another 2FA code to log in.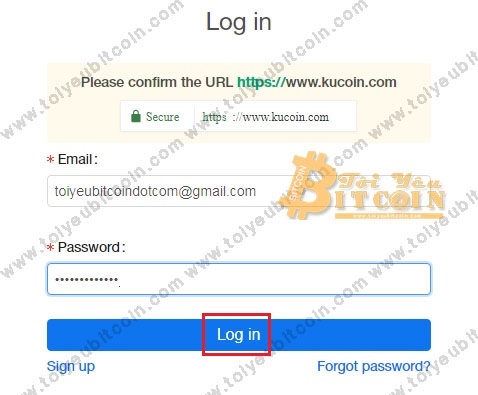 2. Instructions on how to secure your account on Kucoin exchange
Kucoin Exchange provides you with 3 security features which are: 2FA (two-layer security), security question and anti-phishing phrase. In particular, two features 2FA and security questions you should install because this is a mandatory requirement for you to switch to account verification, and protect your money, and the other anti-phishing phrase you have. I can turn it on or not, I don't turn it on because I don't feel it's necessary. I will guide you to do it one by one.
A. Enable 2FA security for Kucoin account
First you need to download the app on your phone Google Authenticator yes, download link below:
Step 1: After logging in, select "Account" on the menu bar => below select "Overview" => to the right of the line Google 2-Step you choose "Bind 2-Step verification".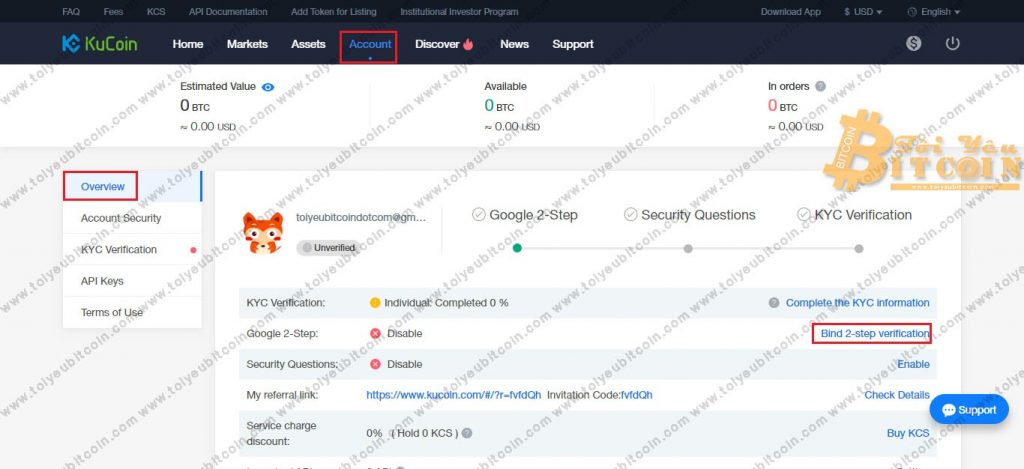 Step 2: This step Kucoin provide the link to download the google authenticator app for you, but you have downloaded the above, then select "next".

Step 3: This step Kucoin will give you the code 2FA backup, it is a piece of characters and numbers, used to recover 2FA in case you lose your phone, copy and save it carefully. I forgot to take a photo at this step, so you can just do as I say.
Step 4: Open the Google Authenticator app to scan the QR-code through the other black and white square, then take the 2FA code and enter it in the box next to it, then press "Submit"It's done. If you do not know how to scan the code, see this article "What is Google Authenticator?".

B. Enable Security Question on Kucoin
Step 1: Also in the "Overview", on line "Security Questions" you choose "Enable".

Step 2: There will be 3 security questions, you choose any question that Kucoin provides and then enter any answer yourself below, and remember to save both the question and the answer, you will need it when withdrawing or another action as needed. When done, press "Submit".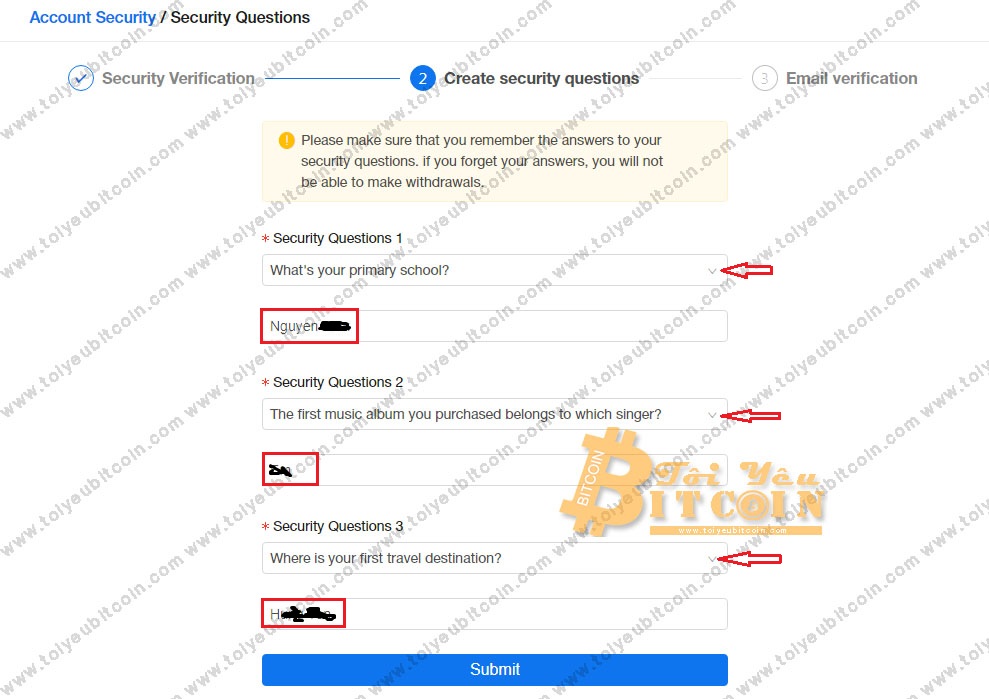 C. Set up Trading Password on Kucoin exchange
This is a new feature Kucoin exchange requires users to install, when they have just registered for an account, Trading Password aka fund password,…