OKEx – Continuing the series on exchanges, today's post I Love Bitcoin will guide you to use the latest OKEx floor from A – Z in 2018. After this article, you will know how to register to create an account, login, 2FA security, OKEx account verification (verify), how to create a wallet and deposit Bitcoin, Ethereum, USDT to OKEx exchange, how to buy and sell on OKEx (Trade coin), withdraw money from OKEx to the exchange Remitano to sell VND. In addition, there will be OKEx floor evaluation information, OKEx transaction fees, ..Get started!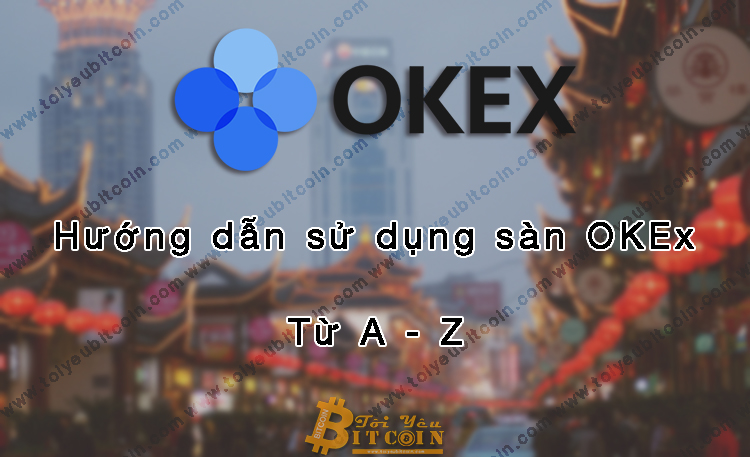 What is OKEx?
---
OKEX is a Bitcoin exchange and Cryptocurrency world leader, at the time of writing this article, OKEx is holding the third position on CoinMarketCap in terms of trading volume, just behind Binance and Huobi. OKEx exchange was established in Hong Kong, China in 2014 by Star Coins – Founder of OKCoin exchange.
Currently, OKEx offers more than 100 trading pairs Coins and Tokens, in addition, OKEx also supports trading futures contracts of Bitcoin, Ethereum, Litecoin, EOS, ..and many other coins. OKEx also allows investors to trade on margin (margin trading) with leverage from 10x to 20x.
Exchange OKEx has achieved quite a lot since its inception, 11/04/2018 OKEx expanded to Malta, 5/6 issued an ETF based Token to reduce transaction costs and risks, 19/ 7 a memorandum of understanding has been signed by OKEx with the Maltese stock exchange to launch a cryptocurrency trading platform by the end of the year called OKMSX,..
Advantages of OKEx exchange
---
High liquidity: Being in the top 3 exchanges with the largest volume globally, OKEx's liquidity level is very high.
Powerful trading platform: The transaction speed on OKEx is also very fast, all transactions are almost instantaneous when you place an order.
Maximum security: OKEx offers very strong security features like 2FA and SMS verification.
Support multiple platforms: OKEx floor supports multi-platform such as Windows, MAC OS and mobile app (beta version).
Trading Margin: OKEx also allows users to trade on margin with leverage from 10x to 20x.
Support Multiple Tokens/Coins: More than 100 Coins and Tokens supported by OKEx, you can freely choose to trade.
Support FIAT trợ: You can trade coins with fiat currency, however, currently only support for investors in China.
Relatively low transaction fees: The transaction fee on OKEx exchange is only about 0.1% for Maker and 0.15% for Taker.
Pretty good support: OKEx supports users through many portals such as Telegram, Email, Tickets, directly through the website.
What is OKEx Token (OKB)?
---
OKB Token is a private Token issued by OKEx.com itself, it is similar to BNB coin of the floor Binance and HT Token of the floor Huobi. OKB was born with the purpose of supporting OKEx's system development and reducing transaction fees for users. Currently, OKEx used OKB As a trading market on its platform, the liquidity is quite high, however, OKB has not been listed on CoinMarketCap nor widely used like BNB or HT. I will have a detailed article about this OKB Token later.
How is the transaction fee on OKEx exchange calculated?
---
No different from the other exchanges in the world, OKEx exchange There are also 3 types of fees as follows:
Trade fee: From 0.1% come 0.15%
Deposit fee: Free
Withdawal fee: Depending on the coin you withdraw, the fee will be different
1. Fee for trading (trade coin) on OKEx exchange
Trading fee on OKEx exchange will depend on your total trading volume in the last 30 days, as the table below you can see, there will be 8 levels, the higher the level, the cheaper the fee will be, this fee will be divided into 2 types:
Maker: Those who make both buy and sell orders
Taker: Those who match buy and sell orders on
I give an example lvl1, is the lowest level, when you are new Open an OKEx account then you are at this level, the purchase fee will be 0.1% for maker and 0.15% for taker. And if you want a lower fee, you OKEx account upgrade up lv2 provided that the 30-day trading volume must be 100 BTC, the fee will be reduced to 0.09% for maker and 0.14% for taker, similarly the above levels will decrease gradually. The column next to it is the fee for futures trading as well as the maximum withdrawal limit on OKEx.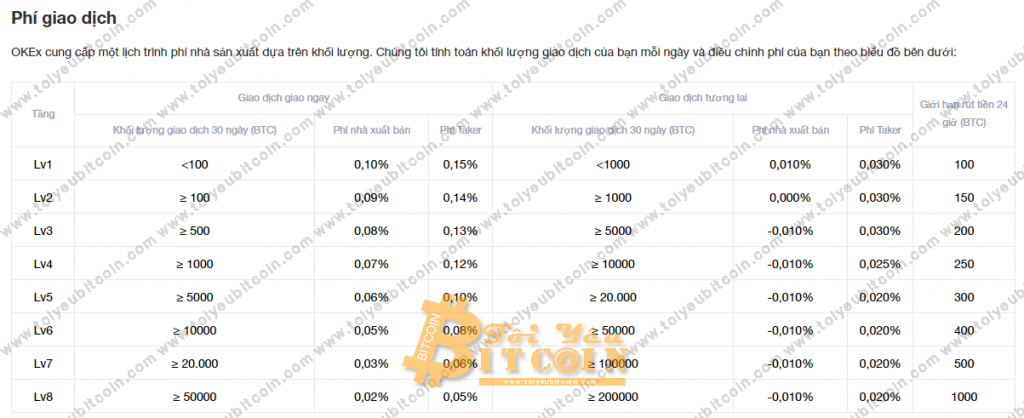 2. Deposit and withdrawal fees on OKEx exchange OK
---
With OKEx deposit fee then I mentioned above is free okay
Still withdrawal fee from OKEx will be charged depending on the coin you withdraw, I will list the fees of some coins below:
| | |
| --- | --- |
| Coin Name | Withdrawal fee |
| Bitcoin (BTC) | 0.0005 BTC |
| Ethereum (ETH) | 0.01 ETH |
| Bitcoin Cash (BCH) | 0.0001 BCH |
| USDT (Tether) | 2 USDT billion |
Exchange OKEx does not provide a detailed withdrawal fee table like other exchanges, but when you make a withdrawal, for each coin you will see how much the withdrawal fee is in the withdrawal information table. And this withdrawal fee will change depending on the price situation of the market, not only OKEx but most exchanges are like that, the fee will change.
Is OKEx exchange hacked, buggy or scam?
---
In the time I have been using it for the past few months, I have not had any problems with OKEx, the error is not there, maybe you get an error like can't withdraw money, can't trade, it's normal, OKEx will process in 24 hours and if you wait a long time, please contact support of the exchange. OKEx exchange hacked??? I regularly monitor and update Cryptocurrency news daily and have never seen OKEx hacked, although it is not uncommon for coin exchanges to be hacked. OKEx scam??? No, OKEx is a reputable and large exchange in the world, there is no such thing as scams or scams.
See more information about OKEx exchange
---
Instructions on how to use OKEx floor completely from A – Z
---
1. Instructions for registering to create an account on the OKEx exchange
Step 1: To create an OKEx account you just visited here https://www.okex.com/ then select "Sign UP" in the corner of the screen.

Step 2: There will be 2 ways for you OKEx account registration is to use Email or Tel, I will use your email, and the phone number will be added later, the security step will be added. Enter your email and click "Get code".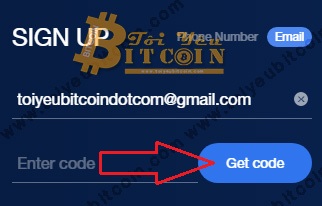 Step 3: Go to Email to get the account activation code, the code consists of 6 numbers as below.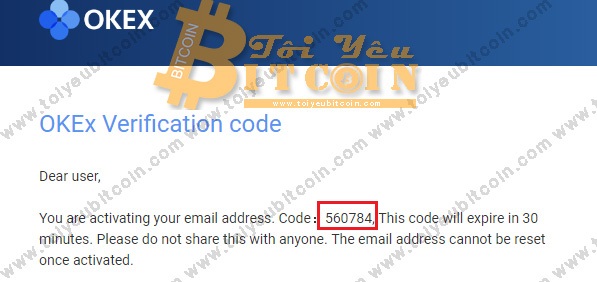 Step 4: Enter the remaining information to create a new account as follows:
Box Get code Then enter the new 6-digit code you got above
Password: Enter your password
Confirm password: Re-enter the above password
Tick ​​"I have read…"
Finally select "Sign Up"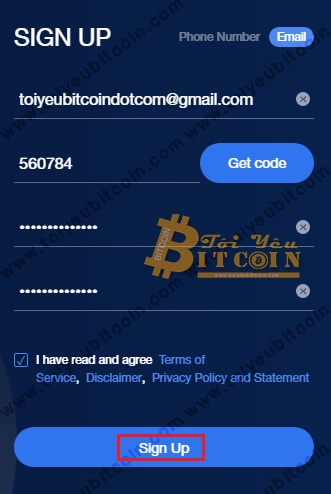 Step 5: So the step is done Register an account and that, OKEx Instructions will be displayed, you can click outside to turn it off or click 1 of 2 and then click outside to turn it off.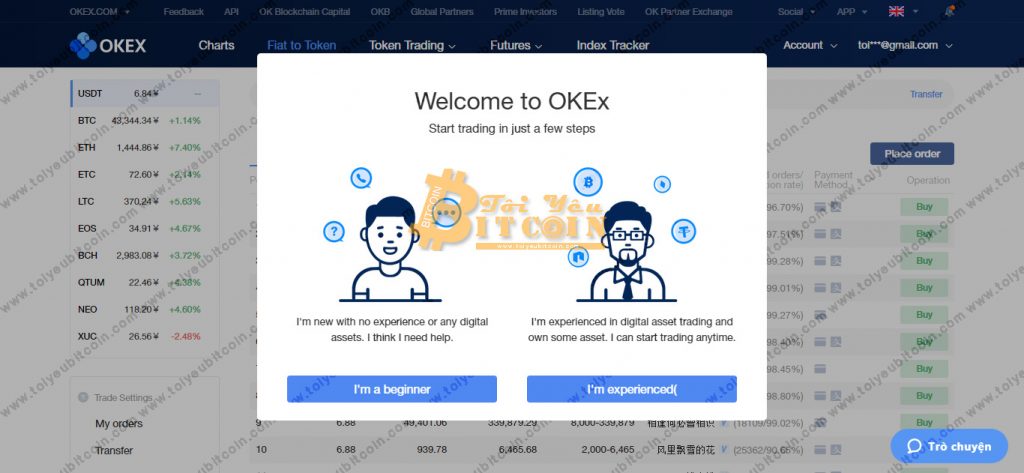 2. Instructions on how to log in to OKEx exchange
Next time if you want login to OKEx then also go to okex.com and select "Login" in the corner of the screen, then enter Email + Password then click "Login" is to be.

Below I will guide you to add a phone number to your account, when OKEx login You will be asked to add a verification code via SMS, now click on "Get code" to get the code.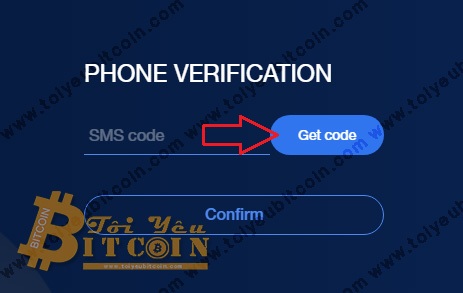 OKEx exchange will send you a 6-digit code via SMS, enter it and press "Confirm' is to log in. If you log in on a computer device, you won't need to verify via SMS next time, because OKEx has already saved your computer cookies.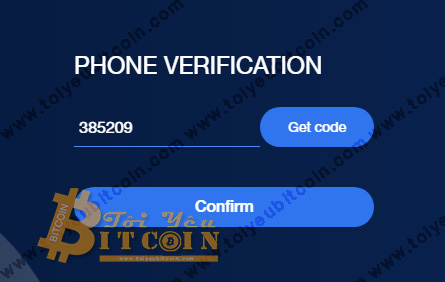 3. Instructions on how to enable account security on OKEx
OKEx exchange supports many security features, including 3 security features you should use and OKEx also requires yêu Obligatory you must enable these 3 features to allow you Withdrawal. That is: Tel, 2FA and Fund Password, I will guide you to do each one:
A. Verify phone number with OKEx
Step 1: First hover your mouse over your account and select "Security".

Step 2: You scroll down and in the "Link Mobile Number"then choose"Settings" on the right.

Step 3: Here you enter the following information:
Country: Select "Vietnam 84"
New mobile number: Enter your phone number
Click on 2 boxes Get code to receive a confirmation code on Email and phone number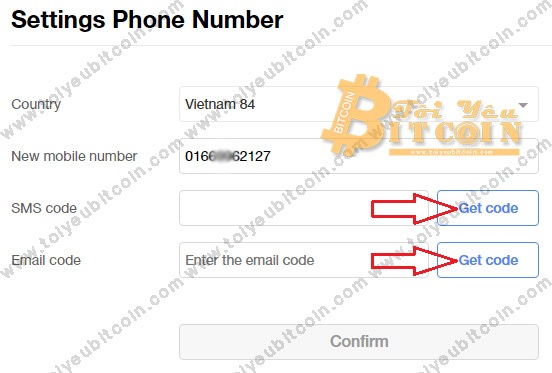 Step 4: Exchange OKEx will send the verification code via Email and SMS your file, you take and fill in 2 corresponding boxes, then press "Confirm".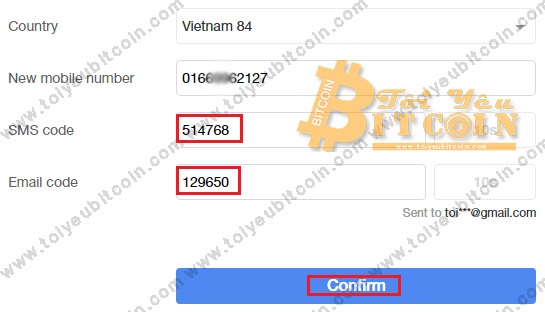 After that, the step of activating verification via phone is complete.
B. Enable 2FA security and Fund Password for OKEx account
First you need to download the app on your phone Google Authenticator yes, download link below:
Step 1: Also in the "Security"you scroll down"Google Authenticator" and select "Settings".

Step 2: Here, you first save the code backup key right below that black and white square, it's a 2FA recovery code in case you lose your phone, then you open the Google Authenticator app to scan the code, if you don't know how to scan it, see this article "Google Authenticator User Guide", after scanning, click on "Get code" to receive a verification code for enabling 2FA via SMS.
Note: At this step you will see there are 3 QR-code scanning boxes, then scan in the box below item 2.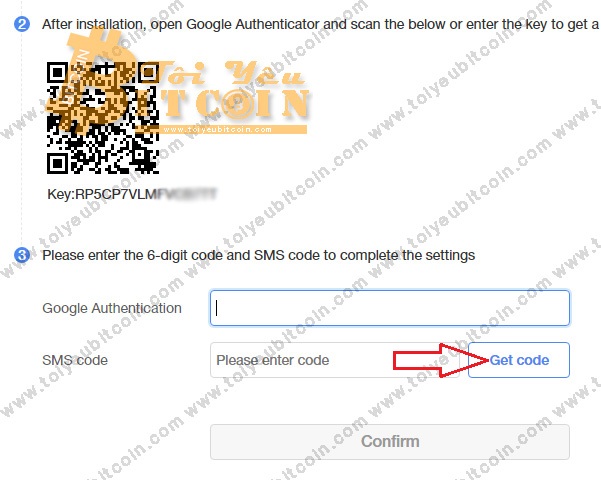 Step 3: Insert code SMS code and code 2FA code in the corresponding boxes and then click "Confirm"It's done.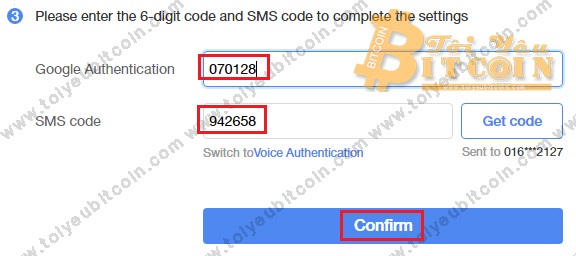 With Fund Password, this is also a form of password but not used to log in, but used when you Withdrawal and buy and sell coins on OKEx. To set up, also at the "Security"you scroll down"Fund Password"then select"Settings".

Enter the following information:
Fund Password: Enter password (Should be different from login password)
Confirm Password: Re-enter the same as above
Google code: Enter code 2FA
Finally select "Confirm"It's done.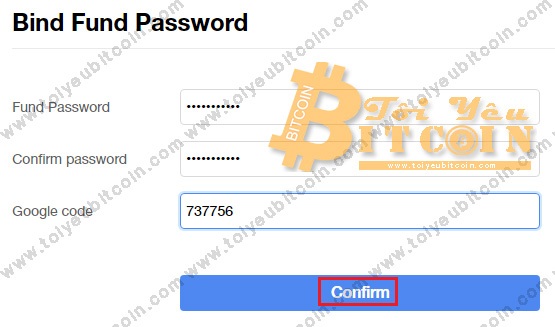 Note: The Fund Password This will be used a lot later and is important so you have to save it carefully.
4. Instructions on how to verify (verify) OKEx floor account
Job account verification (KYC) with OKEx exchange is "optional", but you will be limited to the amount of BTC withdrawn in a day to 0.5 BTC, to increase the limit to 300…