Update: Currently, the Remitano floor has changed to a completely new interface, the image instructions below are no longer the same as Remitano's current interface, but basically you can still rely on this guide to manipulate with The interface is new, I will try to update the latest instructions with Remitano for readers. Thank you for visiting ToiYeuBitcoin.
---
Remitano – perhaps I don't need to introduce much, Remitano is one of the exchanges that buy and sell Bitcoin (BTC), Ethereum (ETH), USDT (Tether), Ripple (XRP), Litecoin (LTC) and Bitcoin Cash ( BCH) prestige, safety and cheapest price in Vietnam. This article I Love Bitcoin will guide you to use Remitano from A – Z: From how to register an account, security, account verification (verify), create a coin wallet and top up the VND wallet of Remi, how to buy and sell coins and withdraw money from Remitano market to the latest Vietcombank.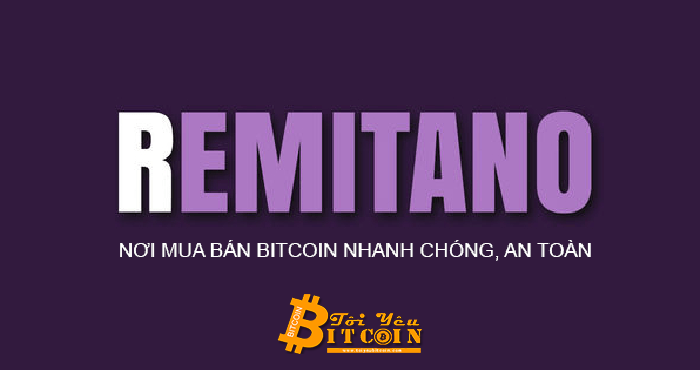 Note: If you are a completely new person, you have never done Bitcoin trading on the exchange, specifically Remitano, you are worried about risk when the transaction leads to loss of money, ..I can help you do it from A – Z, provided that:
You have registered a Remitano account according to your instructions below, following the link in this article.
You must have a need to buy or sell at least from 1 BTC or more, under 1 BTC I will not support and you can do it yourself, but note that you should start with a small amount first.
If you meet the above 2 conditions, please inbox me via Toiyeubitcoin fanpage here, I will support you from creating a wallet, buying BTC and sending it to your wallet, and when you want to sell BTC to VND.
Instructions on how to register to create an account, log in on the Remitano exchange
With Remitano you just need to create an account to be able to trade BTC, ETH, USDT, LTC, XRP and BCH, registration is quite simple. You do the following:
Step 1: You click here https://goo.gl/BNyiQ1 then select "LOG IN SIGN UP" as below: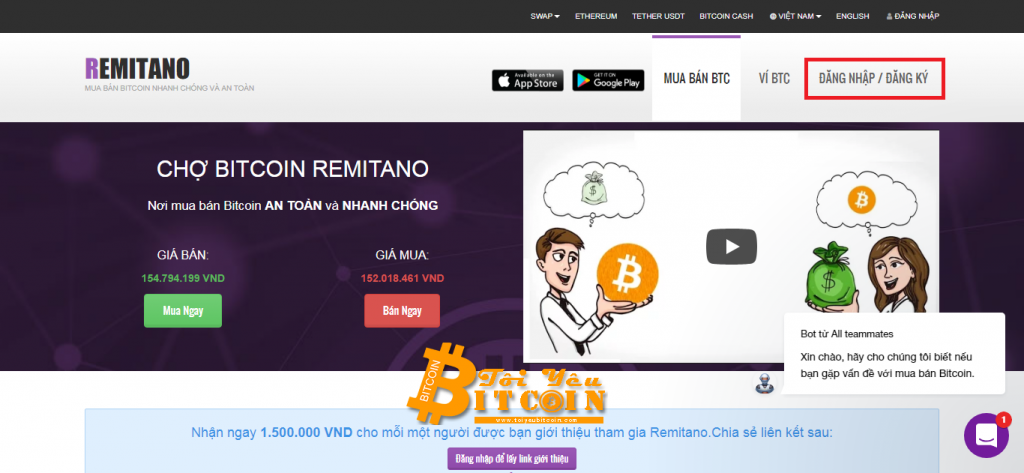 Step 2: Input Email you want to register a new account and select "Continue".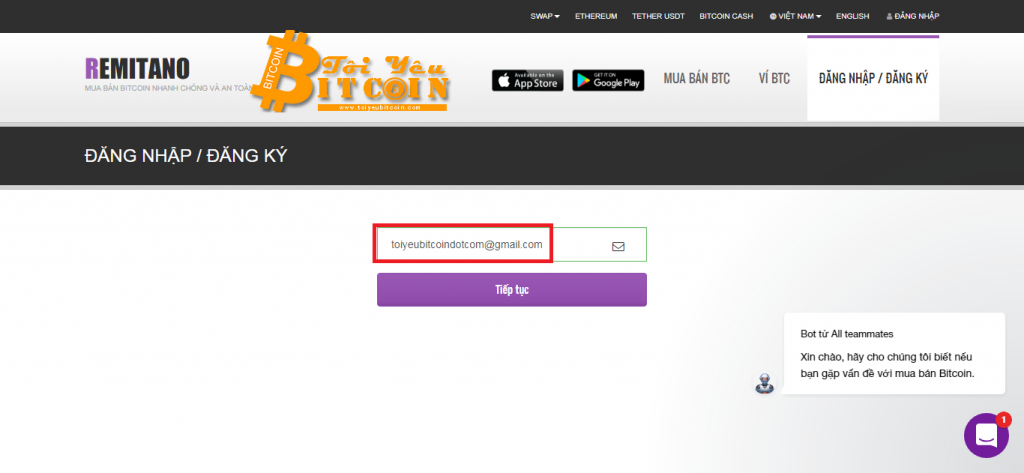 Step 3: Remitano floor will send you an Email to login to your account, go to Email and click on "Sign me in to Remitano".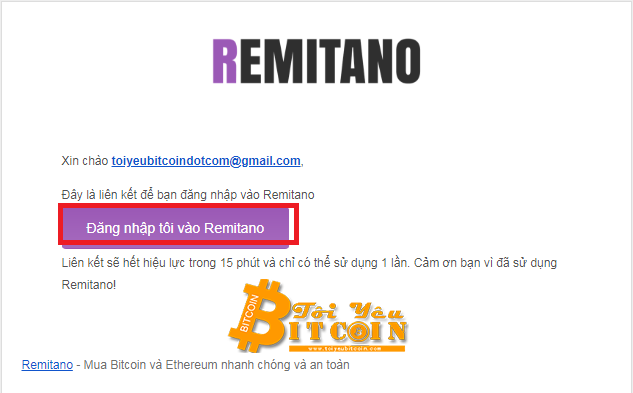 Step 4: Next, enter your username (user) and then press "Continue"It's done.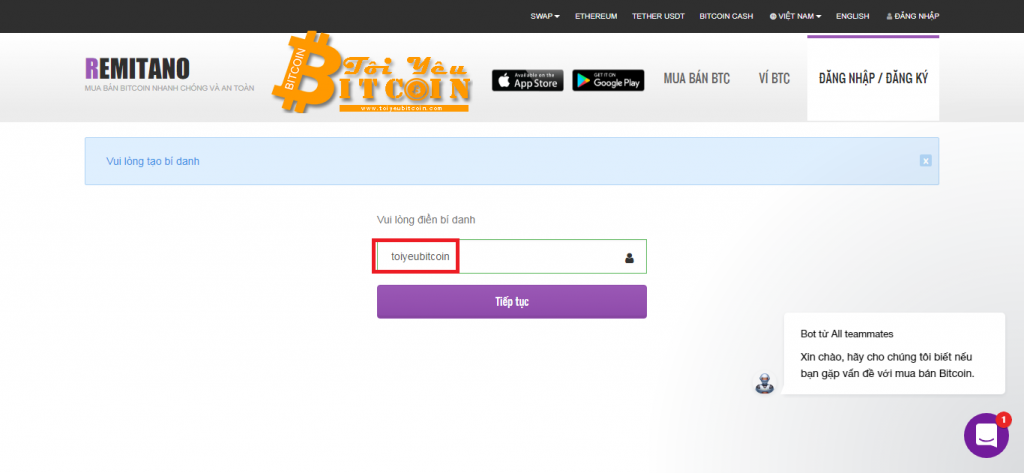 So you've create account Remitano khoản It worked, next time I want to Log in to Remitano then you just need to do the same as when registering: Select "Log in" => Type in Email => Go to Email click "Sign me in to Remitano"It's okay.
Instructions to enable 2FA security for accounts on Remitano marketplace
Security is a very important step to keep your money safe, Remitano provides very good 2-layer security function (2FA), avoiding hackers from snooping on your account. To enable 2FA, do the following:
Step 1: First you need to prepare yourself a phone, then download the application "Google authenticator" or "Authy", these 2 apps are basically the same so you can use 1 of 2, I usually use Google authenticator more. If you use Google authenticator, download according to the link below, and use Authy, Remitano also has instructions for the security section.
Step 2: You choose "Setting" on the menu => at the item "Security Authy"you click"Activated".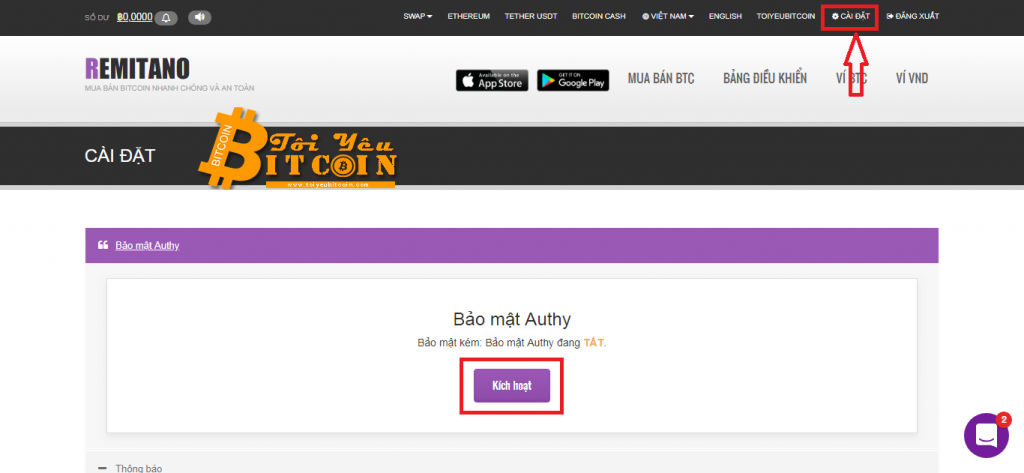 Step 3: An information panel will appear as below, first save yourself the code "Verification key", this is a text that will help you re-enable 2FA security in case your phone is lost.
Next, turn on the Google authenticator application and select the "+" => scroll down and select "Barcode Scanner" => put the camera in the black and white square to get the 2FA code => you will see Remitano's 6-digit 2FA code on the screen (this code will change every 30 seconds) => enter the 6-digit code in the box "security code Authy" and press "Enable Authy . security"It's done. See how to do it in detail here.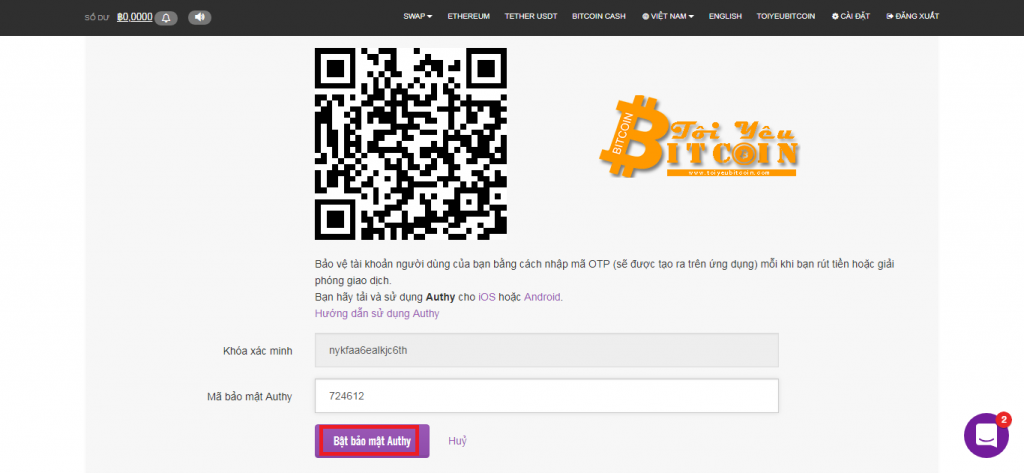 If the screen appears as below, then you have successfully turned on 2FA security, in case you want to turn off 2FA, click "Pause" and then enter the 2FA code.

Instructions on how to verify (verify – Verify – KYC) Remitano account
To be able to use trading, deposit/withdrawal on Remitano exchange, you must account verification your. You need to verify 2 things with Remi:
Verify your phone number
Verify your identity (KYC), send some of your identification to Remi
Note: Do not use your personal documents to authenticate multiple Remitano accounts, you will be locked out of both accounts if you do, each of your personal documents only verifies 1 account only.
I will guide you to verify each one in turn. Also in the "Setting"you will see the" sectionphone number" and "Account Status"is"Unsent".
1. Verify phone number with Remitano
Step 1: Click on "Add phone number" (You can enter your first and last name in the "Name" box.)

Step 2: Enter your phone number then press "Continue". Note: You must enter both +84 and omit the zero.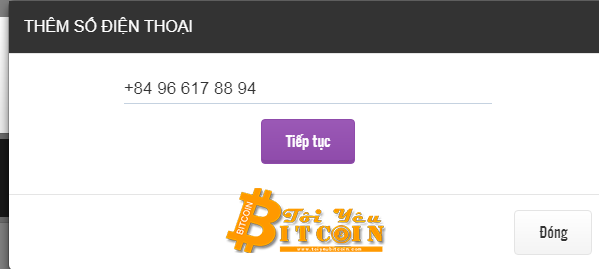 Step 3: Immediately after that, Remitano's system will send you a 4-digit code via phone SMS, enter it and press "Accuracy"It's done, in case you don't receive it for a long time, press "SMS not received yet" to get the code back.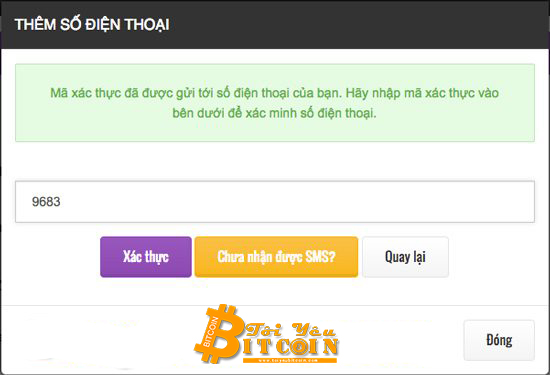 2. Verify account status on Remitano (Verification)
Before going in Remitano account verification (verification), you need to prepare yourself the following 4 photos:
Note: The photo must be clear, not blurred or edited, my photo below does not want to reveal personal information to many people, so I cover it, and you are not allowed to cover or edit anything.
1. Photo of front and back of ID card (Main identification document)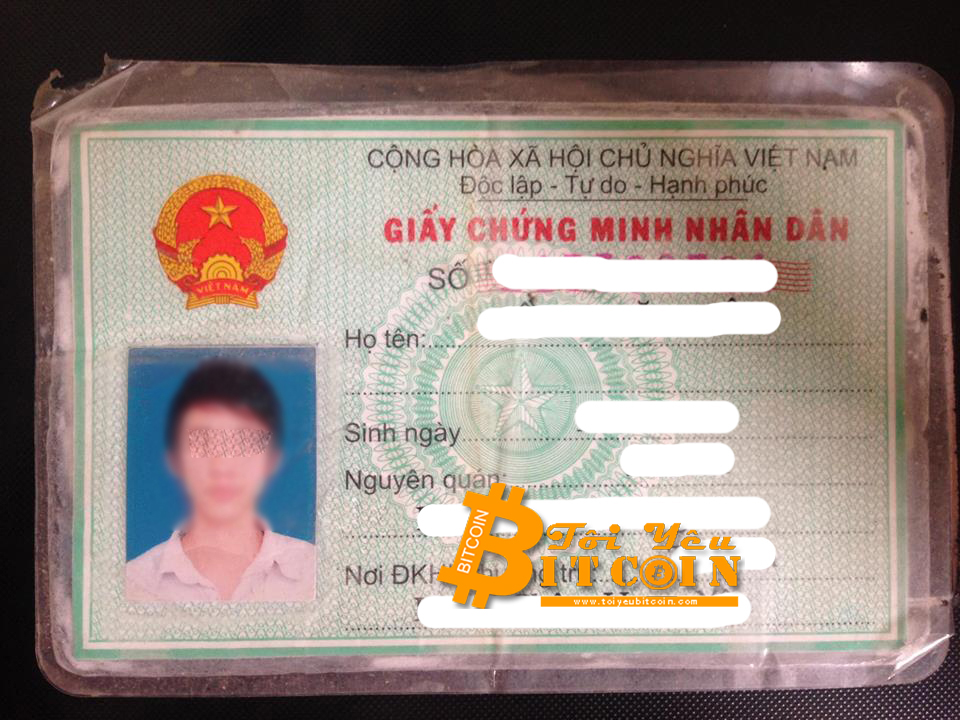 2. Selfie with your face and ID in hand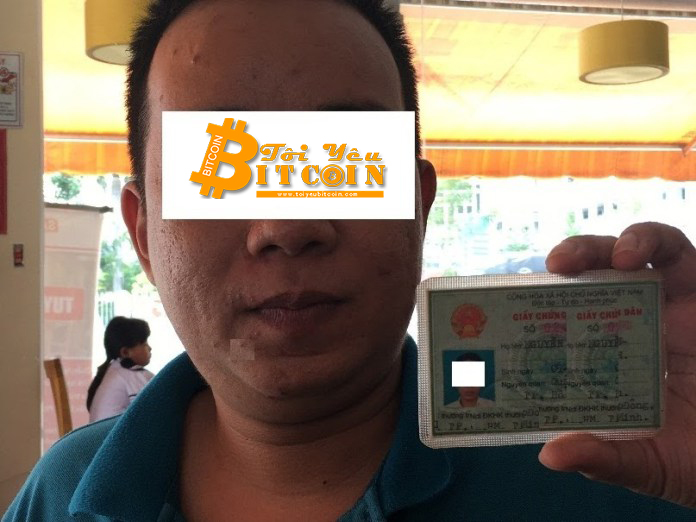 3. A photo of a blank sheet of paper with the words "Remitano Verification" and ID card written on it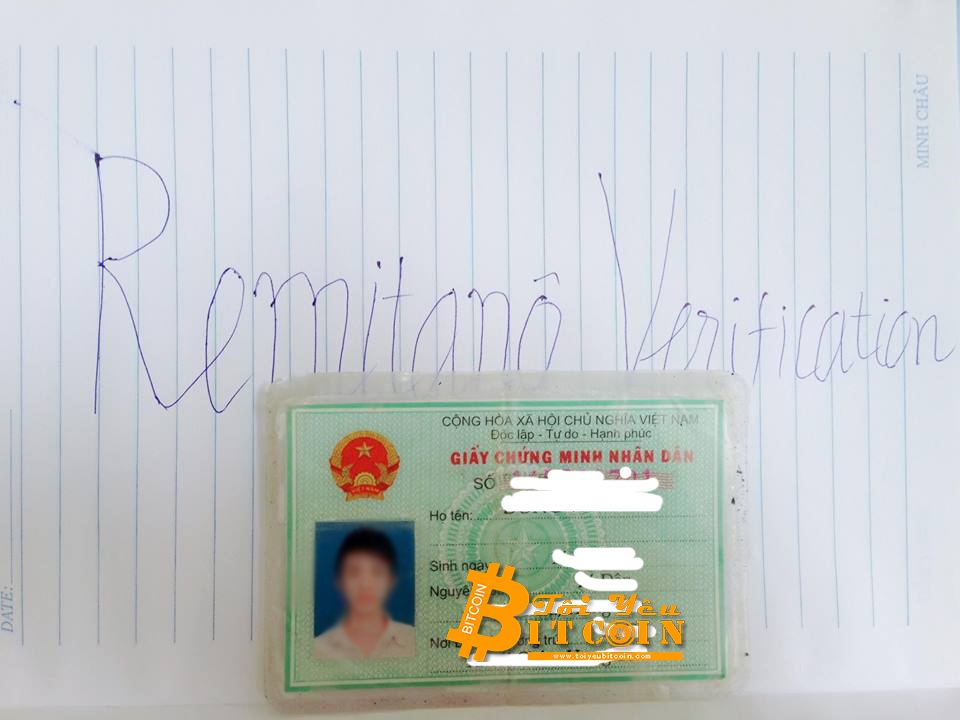 4. Photo taken of driver's license, household registration, passport, etc. is generally different from photo of ID card (Secondary identification document)
Ok, after preparing 4 photos to Remitano account verification Then, you proceed as follows: Go to "Setting", section "file"you click"Upload documents".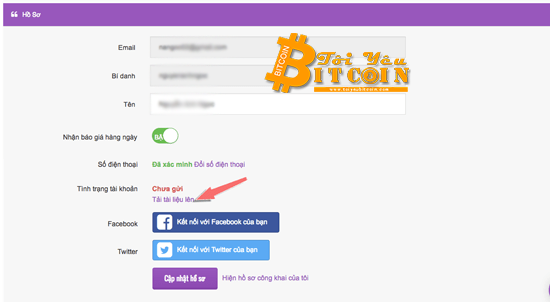 Note: You will upload each photo in turn, not all 4 games at once.
Photo 1: Click "Upload" and upload a photo of the front/back of your ID card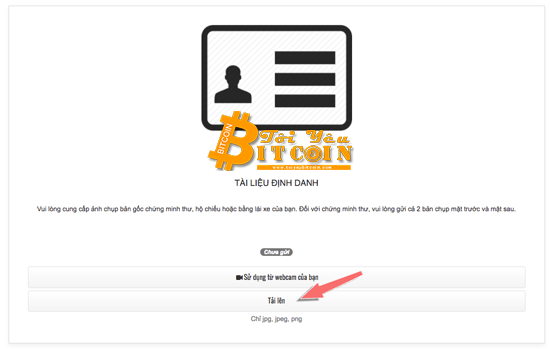 Enter your full name and your full name the same as in your ID card and your ID number, then click "Update".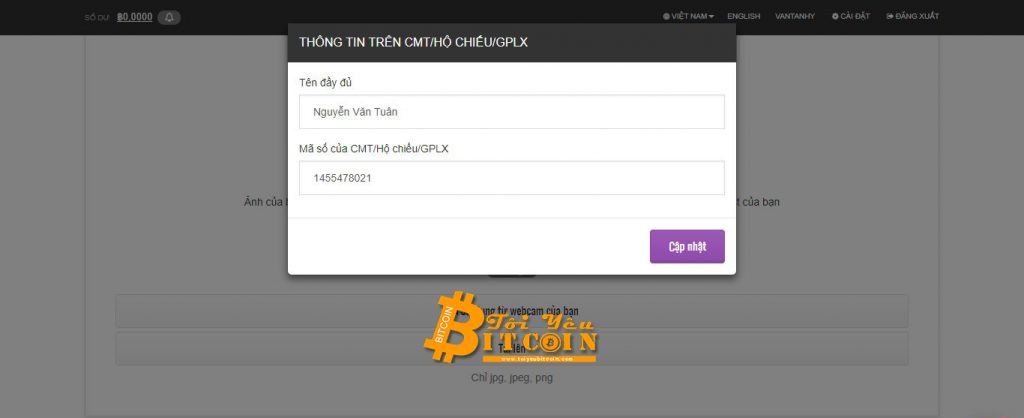 Photo 2: Click "Upload" and upload a selfie with ID card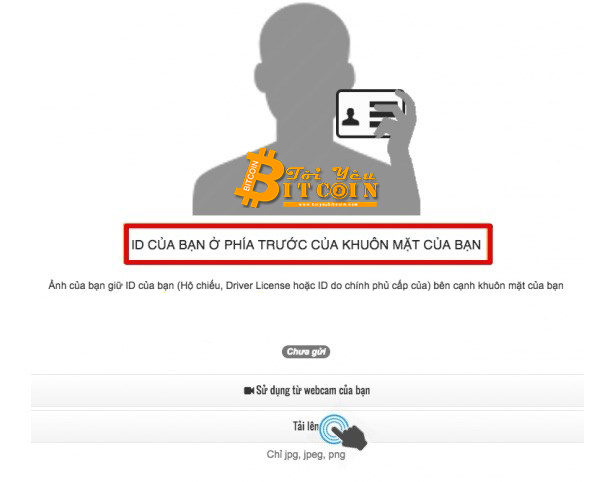 Photo 3: Click "Upload" and select a photo of a blank sheet of paper with ID card and the word "Remitano Verification".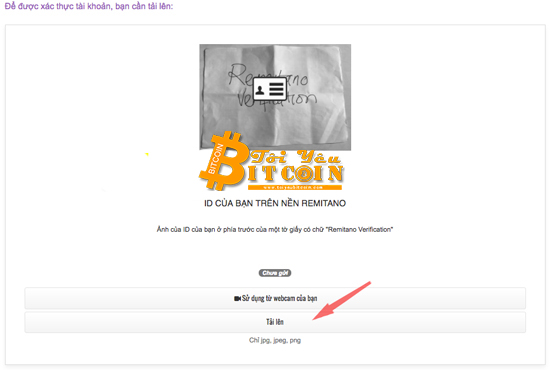 Photo 4: Photo of driver's license, passport,..Secondary identification document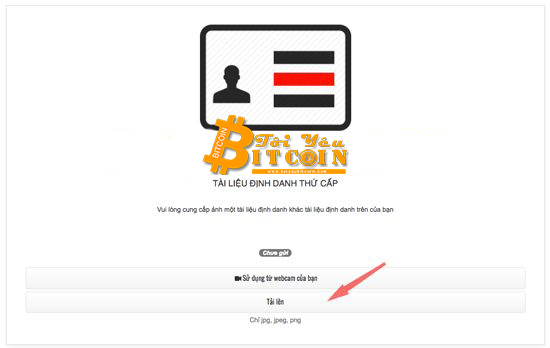 Waiting process Exchange Remitano Reviewing your documents will take about 20-30 minutes.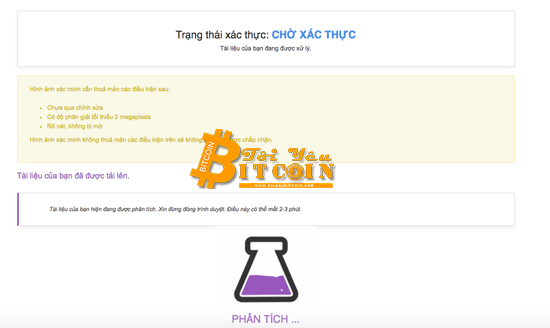 When does your account verification status show "FOR VERIFICATION" means you have Remitano account verification successful and that.

Instructions to create BTC, ETH, LTC, USDT, BCH, XRP and VND wallets on Remitano
This part will be a bit confusing for newbies, so I will explain it first, above Remitano floor will give you 2 types of wallets:
Coin Wallet: Includes BTC, ETH, USDT, LTC, XRP and BCH wallets ONLY
VND Wallet: It is your bank account number to deposit/withdraw VND
1. Create and use BTC, ETH, USDT, LTC, BCH, XRP wallets on Remitano
With BTC, ETH, USDT, XRP, LTC or BCH wallet, it is also a normal wallet address as you use Blockchain wallet, Coinbase or wallets on other exchanges like Binance, CoinEx,.. Remitano will automatically create these wallets for you, you just need to go in and get the wallet address to use for deposit/withdrawal.
Many of you ask me that "Should I store coins on Remitano wallet?", then Remitano wallet it is no different from other wallets, but in my opinion, for long-term storage, it is not recommended to store on Remi, but should use separate wallets like Blockchain or Coinbase, only use Remitano coin wallet when buying / selling, short storage term only. To get the wallet address on Remitano, you do the following: I will do the tutorial with Bitcoin wallet on Remitano, Ethereum wallet, USDT wallet, Bitcoin Cash wallet, Ripple wallet, Litecoin wallet you do the same.
Step 1: You choose "BTC Wallet". (For other coins you just need to click on the coin name on the top menu bar and then do the same)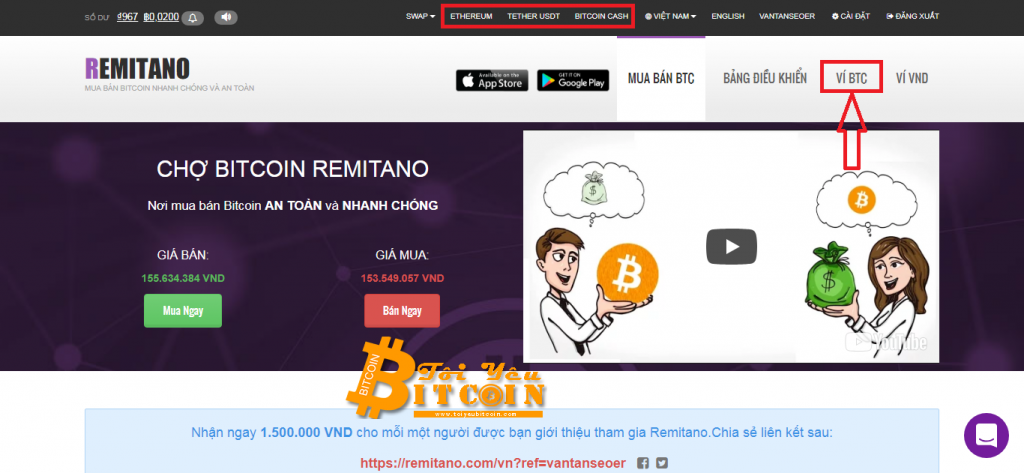 Step 2: You choose "Load" is to see your BTC wallet address in the box as below, for example my BTC wallet on Remitano is 3LMdcJnPVsojSGJQBbq1NFaXw24XVgGztp. In case when you want to sell BTC and want to load BTC into Remi, it will be transferred to this wallet address.
Note: With Ripple wallet address on Remitano When you take it, it will look like this rLpumSZQNJ6Cve7hfQcdkG9rJbJhkSV8AD?dt=985378042 , but you note in there:
XRP wallet address is: rLpumSZQNJ6Cve7hfQcdkG9rJbJhkSV8AD
And the Tag is: 985378042
But you can't copy all of this, Tag The other is the number sequence that comes with the XRP wallet when you make a deposit/withdrawal transaction at any exchange.