Bitcoin Exchange – Although the heat of Bitcoin and current cryptocurrencies has decreased significantly compared to the end of 2017, the demand to learn and invest in this market is still quite high, the search volume is still quite high. There are still a lot of Bitcoin virtual currency exchanges in Vietnam. When buying and selling Bitcoin, finding a reputable, cheap and safe transaction address is essential. This article Blog I Love Bitcoin will introduce the Top 5 most reputable, cheap and safe Bitcoin virtual currency exchanges in 2021.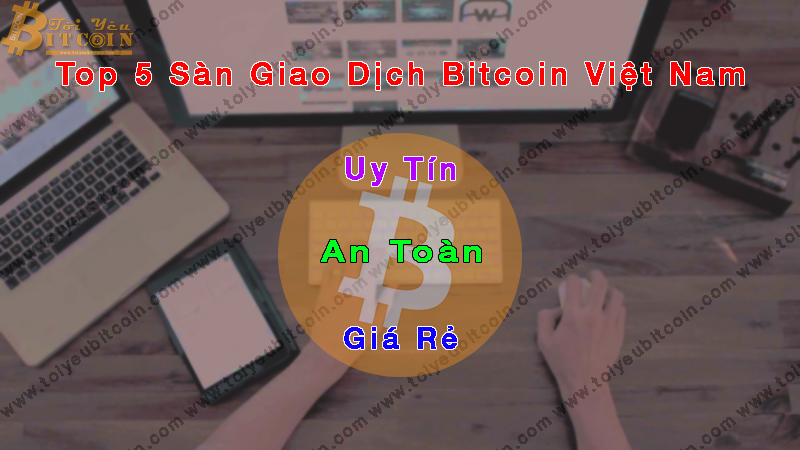 TOP 5 reputable Bitcoin and virtual currency trading exchanges in Vietnam
---
1. Remitano – The No.1 Bitcoin Exchange in Vietnam
Remitano – one Bitcoin trading floor can be said to be the number 1 in Vietnam today, not only The first Bitcoin exchange in Vietnam but also the most prestigious and cheapest floor at the moment. Remitano floor support buying and selling of cryptocurrencies like Bitcoin (BTC), Ethereum (ETH), USDT (Tether), Bitcoin Cash (BCH), Ripple (XRP) and most recently Litecoin (LTC). Remitano provides virtual currency trading services in many countries around the world such as China, USA, Australia, Nigeria, Malaysia, Vietnam, Cambodia, ..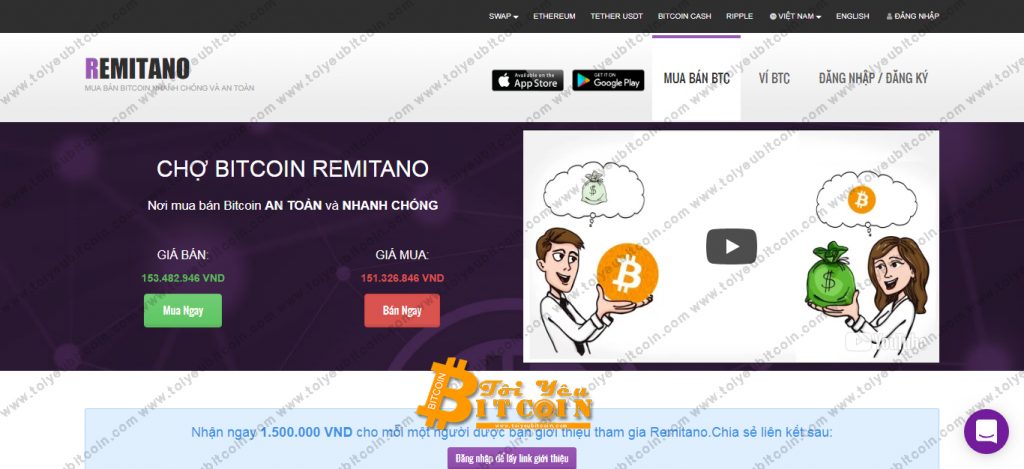 Remitano Market is a form of intermediary trading floor, ie Remitano does not directly buy/sell coins with you, but they only act as a reputable intermediary, keeping the coins and money of both parties, the buying/selling price is also set by the investor himself. Privately, Remitano did not interfere at all. Remitano.com is operated by the company Bit Giga Pte. Ltd. Singapore.
Advantages of Bitcoin Remitano Market
Safe: Bitcoin transactions on Remitano.com are absolutely safe, I have been using Remi for more than 1 year without any problems.
Cheap: Reasonable Bitcoin buying and selling price due to competition between investors' bid/ask bids, buying and selling prices on Remitano only differ from 1.5 million to 2.5 million for one BTC.
High liquidity: Remitano is the exchange with the largest trading volume currently, if you want to buy and sell BTC in large quantities, you should use Remi.
Fast: Extremely fast buying/selling transactions, only a few seconds, you have completed the transaction and can withdraw money. (If using VND wallet)
Support VND wallet: You can directly deposit VND through Vietcombank bank account into Remi's VND wallet, I also recommend you to use this method.
Display Remi website is very user-friendly and easy to use, even if you are new to the market, it is completely easy to use.
Good security: Remitano supports you with 2-layer security (2FA) and phone number verification, when logging in and withdrawing, you are required to enter the 2FA code.
Support multiple banks: Vietcombank is still the main bank that Remitano supports, but in addition Remi also supports other banks such as Agribank, ACB, Techcombank, Sacombank, VPBank, Vietinbank, BIDV, MB, ..
There is a mobile app: Remitano has developed both a mobile trading application, you can buy and sell BTC at Remi right on your phone, available versions for IOS and Android.
Disadvantages of BTC exchange Remitano
The transaction completion time is a bit slow: If you don't use VND wallet but buy and sell directly, it will take a while for the other party to confirm the transaction, and I recommend you to use VND wallet, which is both fast and extremely safe, because many schools money scam. Remitano also encourages users to use VND wallets to avoid unfortunate situations. If you do not use a VND wallet, you should check the profile of the buyer/seller to see how other people think about them, whether the number of transactions is large, whether it is reputable, and then transact.
Support is a bit slow: Due to the large number of users, Remitano's support team is currently overloaded, no longer supporting as fast as before, but of course they will still support you, usually during the day.
Transaction fees on Remitano a bit higher than other exchanges, currently the transaction fee at Remi is 1%, but if you are an ad creator, there is no fee.
You should see the article "Complete guide to buying and selling Bitcoin on Remitano" to know how to register, secure, verify and buy and sell coins on Remitano.
2. Binance P2P – The trading platform of the giant Binance
Binance P2P is a peer-to-peer trading platform of the world's largest cryptocurrency exchange Binance, surely everyone is no stranger to this giant from China of CZ. Binance's P2P platform came to the Vietnamese market in early 2020 and is now also becoming the preferred choice of many domestic traders.
Binance P2P has the advantage of being part of Binance, benefiting from prestige, security, safety, and high liquidity. Currently, Binance also does not charge transaction fees to their P2P users. You can buy and sell coins like BTC, ETH, BNB, BUSD, EOS and USDT on Binance P2P with no fees.
Advantages of Bitcoin exchange Binance P2P
Owned by the world's largest exchange, its reputation and security are extremely high
Currently no transaction fees
Today's best spread
Fast transaction speed
The interface is quite friendly and easy to use
There is also an app on the phone which is very convenient
You can use any bank in Vietnam to pay and receive money
24/7 support team
Disadvantages of the Bitcoin exchange Binance P2P
No support for VND wallet (Currently, VND can be loaded into Binance wallet through Vietcombank)
Mandatory identity verification, this will take a bit of time, but in my opinion it is just to ensure your safety.
We already have an extremely detailed tutorial on how to use Binance P2P exchange on phones and computers. Please see below.
3. Aliniex – Prestigious Bitcoin Exchange in Vietnam
Aliniex is an emerging name in Vietnam, established around the beginning of 2018, the Aliniex virtual currency exchange is known as a competitor to Remitano when offering many attractive incentive policies to investors. fourth. Basically Alinex floor is similar to Remi in terms of operation, also an intermediary. Aliniex Market support buying and selling coins like Bitcoin, Ethereum, Bitcoin Cash, USDT and Litecoin (LTC).
Advantages of Bitcoin trading floor Aliniex
Deposit Coins to Aliniex exchange without fee
The transaction fee is quite low, only from 0.6%
The transaction speed is quite fast
No identity verification required
The interface is quite friendly and easy to use
Support multi-bank payment
Provides 2-layer security (2FA)
24/7 support team
Disadvantages of Aliniex Bitcoin Exchange
VND wallet not supported yet
There is no app on the phone
There is no clear information about the company yet
You should see the article "A complete guide to buying and selling coins on Aliniex exchange" to know how to register, secure, verify and buy and sell coins on Aliniex exchange.
4. Fiahub – Potential Bitcoin and Ethereum Exchange
Fiahub – is also an emerging brand, established in March 2018, but the Bitcoin and Ethereum virtual currency exchange Fiahub has left many imprints on the digital currency market in Vietnam. Fiahub is headquartered in Singapore, belongs to Digitex Private Limited, supports Bitcoin and Ethereum trading with Vietnam Dong.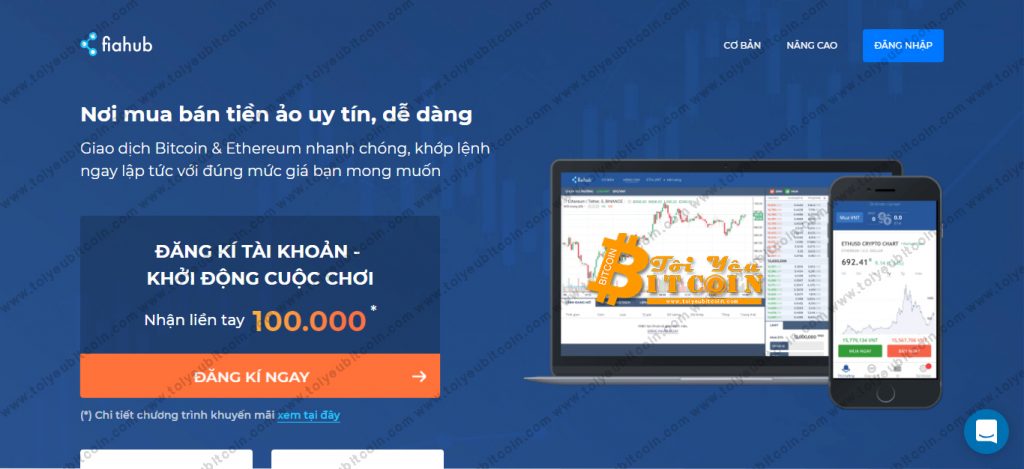 Fibhub floor Different from Remitano in that it offers 2 trading options, "basic" and "advanced", the basic is similar to Remitano, and advanced, trading like international exchanges, you can place buy/ sell and wait for the match, avoiding the case that someone places a buy/sell order but doesn't trade and wastes your time.
Advantages of trading floor BTC, ETH Fiahub
The transaction fee is quite cheap, from 0.5%
No fees when depositing BTC and ETH
Support VNT wallet, similar to Remitano's VND wallet
Have clear company and headquarters information
Friendly interface and easy to use
Support mobile trading version
Support for 2-layer security
24/7 support team
Disadvantages of BTC and ETH exchange market Fiahub
Low liquidity, because the floor is new, the number of people participating in trading is not much.
Only support buying and selling Bitcoin and Ethereum.
There is no email transaction notification yet.
You should see the article "Guide to buying and selling coins on the complete Fiahub exchange" to know how to register, secure, verify and buy and sell coins on Fiahub.
5. BitMoon – Cheap Bitcoin virtual currency trading floor
According to the introduction on the official website Bitmoon Is one Reputable virtual currency exchange according to the first order matching mechanism in Vietnam. Bitmoon Exchange head office is quite obvious at 18C Cong Hoa, Ward 13, Tan Binh District, City. HCM. In addition to major coins such as Bitcoin, Ethereum, USDT, Ripple, Litecoin, Bitcoin cash, .. the Bitmoon market also supports buying and selling more than 200 different Altcoins.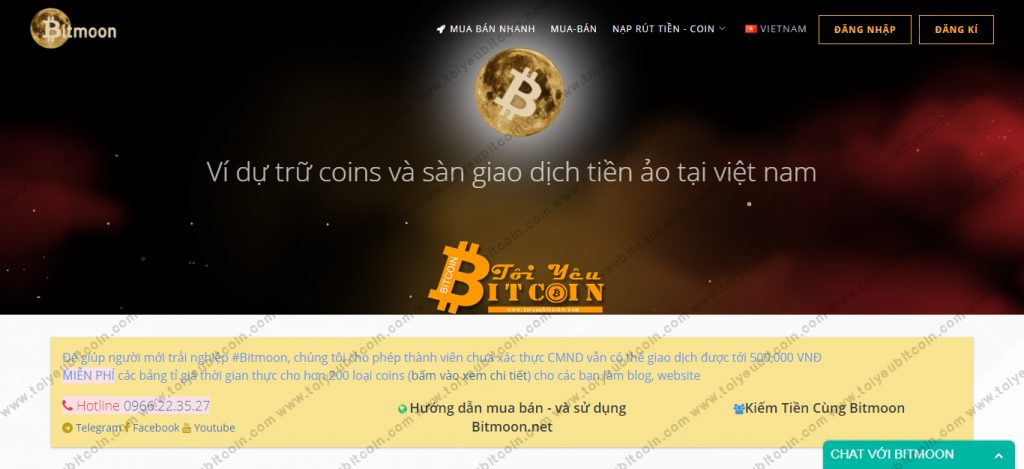 According to the information introduced by Bitmoon, this exchange is in the process of filing a business registration application with the legal authority in Vietnam. Really, Bitmoon no different from Remitano, which is also an intermediary exchange. Because of its new establishment, Bitmoon also offers many attractive policies for investors. Here are some pros and cons of the Bitmoon exchange.
Advantages of Bitmoon virtual currency exchange
Low transaction fees, from only 0.25%
Support more than 200 popular coins
Deposit coins to Bitmoon with no fees
Support coin wallet and VND wallet
Support many banks in Vietnam
Support for 2-layer security
Professional 24/7 support team
Disadvantages of Bitmoon virtual currency trading floor
Liquidity is not high, because it has not been established for a long time, the trading volume on Bitmoon is quite low
There is no app on the phone
Register an account and start trading here. I will have a detailed guide on how to register, secure, verify and purchase later.
Epilogue
OK. Above is Top 5 Bitcoin and virtual currency exchanges (cryptocurrency, coin, digital currency) the most prestigious, safe and cheapest price in Vietnam that I would like to introduce to you. With Remitano and Binance P2P, I don't need to say much about credibility and safety, but the exchanges below are still in the process of using and evaluating more, I will update more evaluation information. More useful in the near future. You can rely on the advantages and disadvantages of each floor to choose for yourself the best floor to buy and sell.
If you see the post "Top 5 reputable, safe and cheapest Bitcoin and cryptocurrency exchanges in Vietnam"This is useful, don't forget…