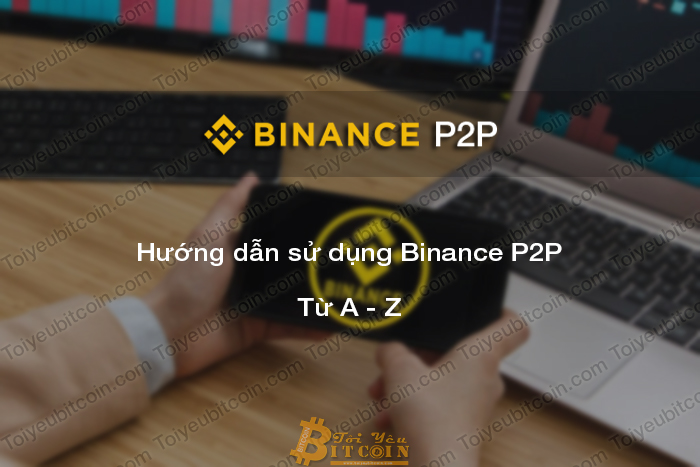 Binance P2P – Hello guys, after a while of using and experiencing the P2P platform of the Binance cryptocurrency exchange, today I would like to introduce and guide everyone, as well as give objective reviews about Binance P2P. This Binance P2P exchange. Although it has been launched in the Vietnamese market for a long time, there are still many people who do not know what Binance P2P is? How to trade Bitcoin and altcoins with VND on Binance? Is the coin price good and cheap when buying and selling? Is this a reputable and safe place for you to transact? This article, I Love Bitcoin will answer and detailed instructions from AZ.
What is Binance P2P?
---
Binance P2P is a Bitcoin and peer-to-peer (peer-to-peer or P2P) trading platform of Binance – the world's largest crypto exchange, ie all transactions will be made directly between users and users. Users or traders, Binance stands in the middle as an intermediary, providing the platform, ensuring safety and timely transfer of assets when making transactions. You understand roughly the same as Remitano's mechanism, the difference is that Remitano supports VND wallets, and Binance does not.
Binance exchange launched the P2P platform for the first time in China in October 2019, then expanded to different countries, in January 2020, Binance P2P officially supported the Vietnamese market to help investors. easy investment to buy and sell coins directly with VND. One convenient thing about using P2P is that you can buy BTC, Tether (USDT) or Ethereum (ETH) on Binance and then transfer it directly to a spot (spot) wallet to trade right away, without the hassle of buying coins. This base coin on Vietnamese exchanges, like Remi or Aliniex, then moves to Binance.com to trade, which is quite time consuming.
What coins does the Binance P2P exchange support?
---
Present, Binance P2P is supporting a total of 6 cryptocurrencies, and of course in the future they will add other coins/tokens that the community is interested in. Below I will make a table to list the coins available on Binance's P2P and will be updated in the near future.
| | | | |
| --- | --- | --- | --- |
| Bitcoin (BTC) | Ethereum (ETH) | Tether (USDT) | EOS |
| Binance Coin (BNB) | Binance USD (BUSD) | | |
Note: For those of you who don't know, BUSD is a separate stablecoin issued by Binance.
Which banks does Binance P2P support in Vietnam?
---
With Binance P2P, you can use any bank in Vietnam to deposit and receive money when transacting with other users or merchants. However, you should note that purchases on Binance P2P only take about 15 minutes for you to complete payment to the merchant, so your bank account is required to register for the service. internet banking or mobile banking of that bank, to be able to transact online through the web or mobile app (app). This if you do not have it, go to the bank branch you are using and ask their staff to advise and activate it. Some popular banks used by users on Binance P2P are: Vietcombank, ACB, Techcombank, TPBank, BIDV, VietinBank, etc
How are trading fees on Binance P2P exchange calculated?
---
Currently, the Binance exchange is free full transaction fees for Vietnamese users on their P2P platform. This means, whether you buy or sell BTC, ETH, USDT or any other coin, there are no fees. Of course, it is possible that in the future Binance P2P will charge a fee, this I will update when they have an announcement.
Can I buy and sell coins on Binance P2P over the phone?
---
Have! Currently, Vietnamese users can trade on Binance P2P through an online web platform and mobile apps, including Android and iOS.
Binance P2P Exchange Hacked, Error, Crashed, Is It Scam?
---
First of all about the issue of fraud, I always confirm that Binance P2P Not Scam Guys, Binance is the largest trading platform in the world, its reputation has been confirmed over the years, so there is no scam at all. As for hacking, this is always a permanent problem with cryptocurrency exchanges, not only Binance, but about errors, it is very normal, Binance always handles quickly during the day and does not affect. to customers. In general, trading with Binance, you are completely assured of security and safety.
Review of Pros & Cons of Binance P2P
---
1. Advantages of Binance P2P
As the world's leading reputable and secure platform, you can rest assured when trading on Binance, full of security features such as 2FA, SMS verification, anti-phishing password.
No transaction fees
Support Vietnamese on both web and mobile app
Support to buy and sell coins in VND through all banks in Vietnam
The spread is good, ie the bid and ask prices are low, with BTC just over 1 million VND, this spread is better than all exchanges in Vietnam, and so are other coins.
The speed of completing the transaction is quite fast, the transaction is completed quickly or slowly, depending on the buyer transferring money and the seller confirming, not Binance, I personally think it is quite fast, about 10 minutes to complete. money to a bank account.
Having a trading app on your phone is very convenient for trading 24/7, anytime, anywhere.
Supports many payment methods, in addition to bank transfers, Binance P2P also supports several dozen methods, suitable for many countries, in Vietnam, we probably still use bank transfers a lot. Besides, you can use PayPal or Payeer.
Quite easy to use, if you have used the Binance app, you will probably love it, I myself use the app more on the web version, Binance's app is quite smooth, easy to use, there are always instructions attached to each operation. your.
Using multiple products on one platform, this as I mentioned above, you can buy base coins and then transfer to spot wallet to trade right away, without having to buy BTC, USDT in VND at one place. any exchange in Vietnam, and then move to Binance to trade.
24/7 support team: Binance has a Vietnamese support team, so when you encounter any difficulty during the transaction, you can ask for their help at any time.
2. Disadvantages of Binance P2P
No wallet VND: This is actually not a disadvantage, VND wallet (like Remitano is supporting) is quite convenient, because you just need to load VND into your wallet and then store it on the floor, when you need to buy, it only takes a few seconds to complete a transaction. translation, there is no need to spend time transferring back and forth and waiting for confirmation, but there will also be potential risks, the VND wallet is actually Remitano's bank account, if this account has any problem. , for example, related to money laundering being monitored by the authorities, it will be troublesome for you to store VND in it, although Remitano has not encountered this situation so far.
Not showing specific bank name on buy/sell ads: Failure to display the name of the bank that the person who posted the advertisement buy/sell will make it difficult to transfer money, because if you are different from the bank you will have to use the "bank 247 money transfer service" you are using, this will costs extra and not everyone knows. You have to go to step 3 to see the seller's bank name, now if you see a different bank and want to cancel the transaction, you can, but many cancellations will affect the reputation of the account. , cancel 3 times a day, you will not be allowed to trade on that day anymore. However, in my opinion, this is not too big of a problem, transferring 247 money outside the bank is now as fast as internal transfer, and the fee of 7,700 VND is not too big for a purchase, and many banks This service is also free.
Support quite a few coins: As mentioned, Binance P2P currently only has 6 large coins, if you want to buy other coins, smaller coins will have to buy BTC, USDT, ETH or BNB and then transfer to the spot wallet to buy, not buy. be in VND immediately. However, in the future, Binance will definitely add more new coins/tokens.
Not many traders/traders yet: Although the liquidity is quite high, depending on the coin, the most exciting currently is USDT, then BTC, but as far as I can see, there are not many traders and traders trading on this. This is actually understandable, Binance has not focused on promoting the P2P platform in Vietnam and launched after a long time other platforms in Vietnam, but recently Binance has started promoting strongly in the VN market, so I hope the number of traders/traders will be larger in the near future.
Instructions on how to use the complete Binance P2P exchange from A – Z
---
1. Conditions to participate in trading on Binance P2P
Before using Binance P2P, you need to have an account on Binance, if you already have an account you can skip this step, if not, go here to see how to register, secure and verify your account. account. Here are 3 things to do before using Binance P2P:
Prepare a bank account registered with internet banking or mobile banking services to transfer money online.

Your Binance account must successfully verify your identity (KYC) level 2

Binance accounts must complete phone number verification (SMS)
After you have met the above conditions, you need to have a smartphone and download the Binance application to your phone, we have an article on how to install and use the Binance app, you can go here let's see.
2. How to use Binance P2P on mobile phones
First, check if your account has met two conditions: level 2 verification and SMS.
Step 1: Open the Binance app => below select "Deal" => above you swipe left and select "P2P".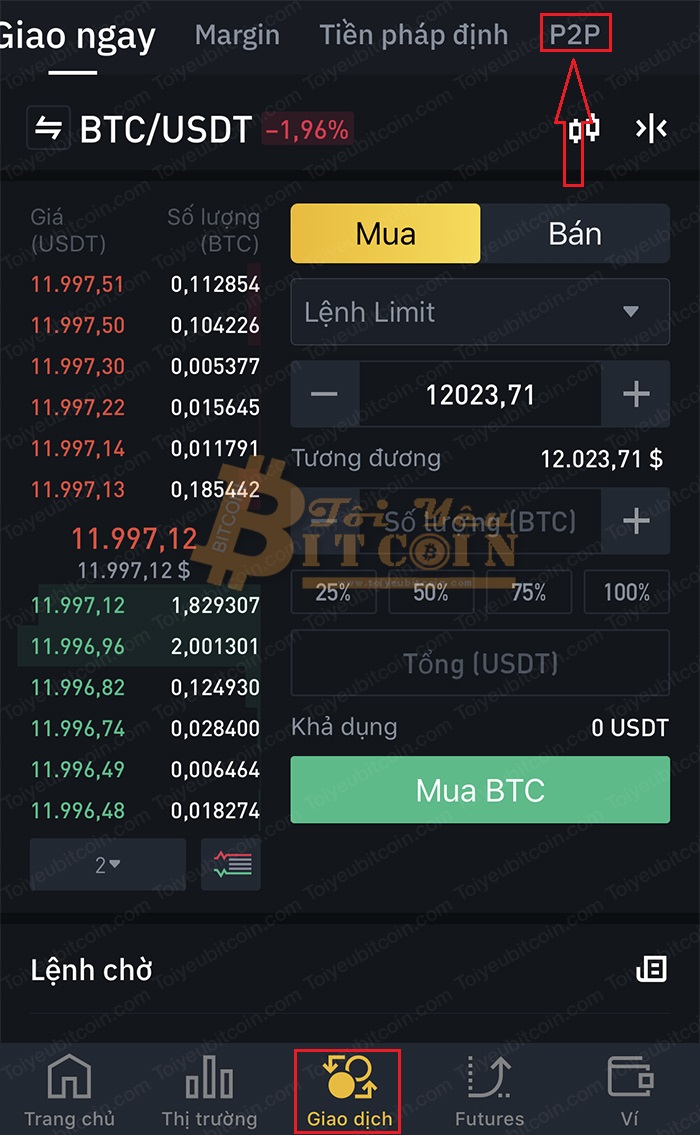 Step 2: Select 3 dots (number 2) and then select "User manual".
Note: You notice the notes, I will number a few features, in the article, whenever I mention a part, I will mention the number for ease.
No. 1: Where to choose the currency to transact, if not VND then click to select VND.
No. 2: Payment settings and advertising management on P2P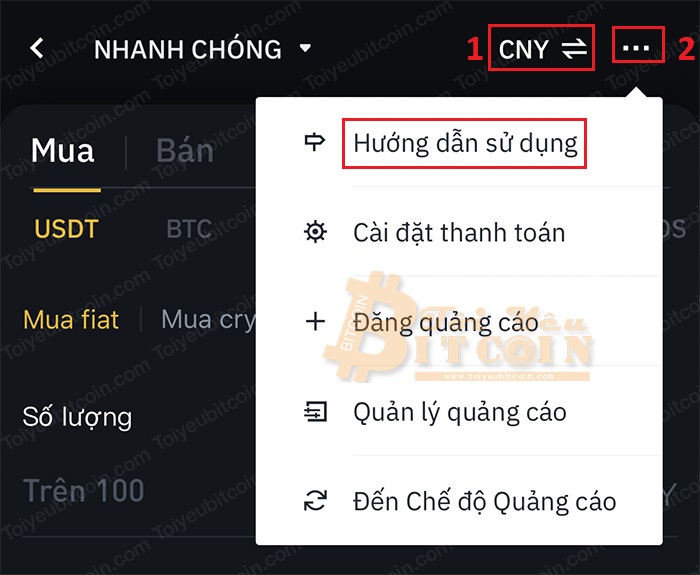 Step 3: Below you can see your account has successfully verified KYC level and activated SMS.