Pump and Dump (pump and dump) are probably two terms that you often hear when participating in discussions in trade coin groups or crypto communities on Telegram or Facebook, even groups. created solely for the purpose of playing pump coin and dump coin. Pump Dump in trading coin is an extremely risky form of surfing investment, if you are a newcomer without knowledge, it is easy to become "prey" for "sharks". This article I Love Bitcoin will help you find out what Pump and Dump is? How to recognize and some experiences to know.
What is Pump and Dump?
---
Pump and Dump in the cryptocurrency market, especially trade coin, is understood as a form of market manipulation, "making the price", "inflating the price" of a certain coin up (Pump), and then continuously selling to bring the price of that coin down to a pathetic level. (dump), not even the price when pumping. Pump and Dump action is very common in markets like stocks, forex or gold, not just in electronic money.
Pump and Dump is actually an illegal practice, however, if in a traditional market like securities, investors and traders are protected if they become victims, then in cryptocurrency exchange absolutely not, because cryptocurrencies in most countries do not have a legal framework, in Vietnam there is no bill to protect investors, so when investing in the market In cryptocurrency, investors must be knowledgeable and protect themselves against such Pumps and Dumps.
Pump & Dump usually done by organizations, groups of "sharks" (only those with large capital) or whales (only those with super capital). When holding a large amount of coins or coins, they can direct the market in the direction they want, they can pump the price high and dump the price low, also known as market manipulation.
Pump coin groups on Telegram, Facebook "roll chickens"
---
Not only in Vietnam but also in the world there are many pump & dump group on Telegram or Facebook was created by the sharks to "pull chickens" to make money. The "chickens" are usually newcomers, experienced traders, and eager for immediate profits.
At the beginning of 2017, when I first joined the cryptocurrency market, I also learned to trade coins, at that time I had no experience, was also drawn into groups on Telegram, these groups often post pictures. about pump coin and attract people with 20%, 30%, even 50% profits in just a few minutes. I also tried participating in some "bets" they gave, the first time, I also made a little profit, but the more I followed, the more I lost and finally "burned" the entire $ 1,000, only later did I realize that these groups were established. just to fool immature people like me. In essence, this "pump and dump" game is no different from a form of fraud.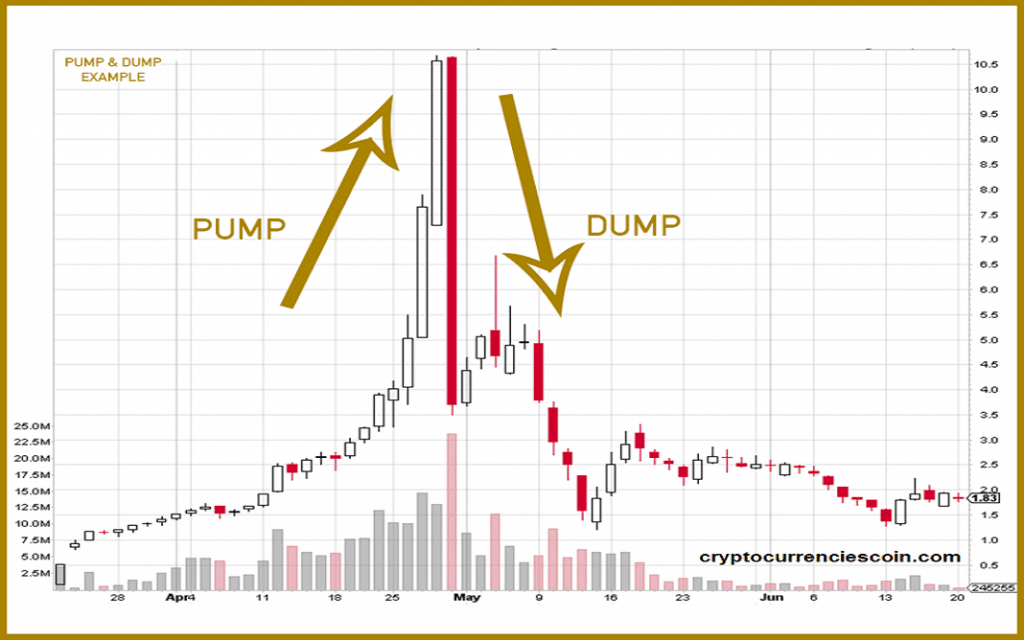 The process of performing Pump and Dump of the "shark" groups
---
First, the owner of the Pump and Dump coin group This will choose a coin with a market cap + with a small volume aka "Junk Coins". Why is it a small coin, because small volume coins are easy to make prices, but with big coins like BTC, ETH, XRP, a huge amount of capital is required if you want to make prices. Next, they will start buying slowly to "collect" and then push the price up slowly.
When they have bought a large enough amount, they start announcing (trading) on ​​Telegram or Facebook groups, the group usually has two types of "free" and "paid", of course, the bet will be given to the group. pay a premium to buy in, at this time the group owner can sell (discharge) a small amount in advance to reduce risk.
Finally, they pushed through the free groups, at this time the coin price pumped a large green column, this green column immediately attracted the attention of the members. FOMO . syndrome started to appear and people kept buying in order to "get on the boat". Meanwhile, the group owner and the paid members started to "discharge", and when the pump stopped, they released a lot, causing the price to dump strongly.
This process can take days, hours and even minutes, as the chart below you can see, a small volume coin on Binance exchange, in less than 1 hour, the two red and green columns are almost the same, if you buy at the right peak, you don't know when you will return to the "shore", ie the price when you first bought it and may never return. OK.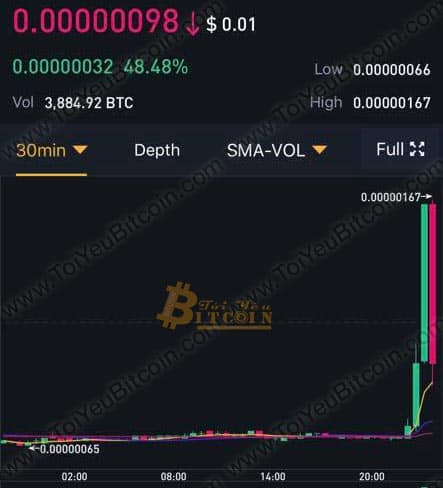 Some tips to avoid becoming a victim of Pump & Dump
---
If you are a newbie, you should limit buying coins with a small volume, you can follow these groups to understand the pump and dump mechanism, if you want to be able to join with a really small amount of capital to get real experience.
Coins that have pumped a few green candlesticks should not be bought, especially small volume coins, because there is a high probability that you will swing to the top.
Choose large and reputable exchanges to avoid junk coins, often shark groups will choose exchanges with small volume, often there will be many junk coins to make Pump dump easier. Therefore, choose major exchanges like Binance, Huobi, OKEx,..of course, these exchanges will still have junk coins and be overpriced, but very little.
Never "all-in", ie never invest all in a certain coin, but should allocate capital to 3-4 coins for example, 60-70% of the capital should be hold coins Top like BTC, ETH, XRP, ..30% remaining to trade, thus minimizing risk when investing.
Don't be "annihilated", you will often be added to Pump and Dump groups on Telegram and regularly receive notifications of group profits, but do not rush to follow the contract, because almost no one shares benefits without purpose, maybe they will give you a bet 1-2 times, but then lose more than win, this is called "fat and meat".
Knowing how to select groups to join, Telegram has an annoying thing that you will automatically be added to groups, to avoid this, you should set it up so that no one can add it yourself without your consent. (this one you can find out for yourself). Of course, there will still be "quality" groups, sometimes they give good bets and not Pump Dump games, but no one can predict with 100% accuracy the direction of the market, there will be times when the analysis is right. , at the wrong time, the risk is always there, know how to properly allocate capital.
Although there are still people who can earn money by "surfing" with groups Pump and Dump this, but very few, usually PRO traders, who are already experienced, but for you, if you are a newcomer, I recommend that you do not participate at all, I am sure you will lose more is to win, buy high and sell low is what will happen.
Epilogue
Here is the article "What is Pump and Dump? Why is it dangerous? Some experiences for newbies Trade coin"Hopefully it will bring you useful information, thereby avoiding becoming a victim of groups những Pump coin in Vietnam and internationally. One last piece of advice, equip yourself with a knowledge base, at least basic, cryptocurrency is a potential market to make money, but it's usually not for newbies, those who don't understand. know. Do not forget Like, Share and 5 star rating below to support ToiYeuBitcoin Please. Good luck.
---
Join our channel to update the most useful news and knowledge at: