Tether (USDT) – If you have been involved in investing in the cryptocurrency market, especially as a trader, it is impossible not to know about Tether (USDT), besides popular coins such as Bitcoin, Ethereum, Ripple, .. So what is Tether? How it works, how to use USDT, where to create a storage wallet and buy and sell on which exchange is the cheapest, safest and most reputable?. Learn about Tether with I Love Bitcoin below.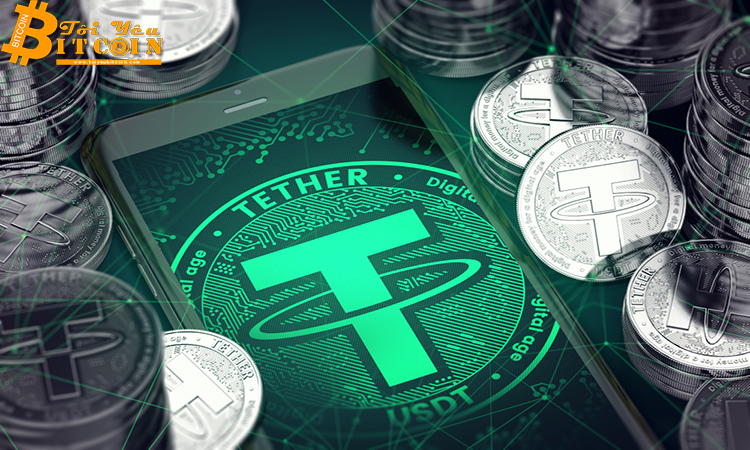 What is Tether (USDT)?
Tether (Symbol: USDT) is a digital token issued on Blockchain of Bitcoin through a layer called Omni Protocol. The value of USDT is guaranteed by real money, i.e. 1 USDT will be worth 1 real USD. So we can understand USDT as a digital version of USDT.
The company that owns USDT is Tether Limited, they created USDT with the purpose of helping people exchange money with each other easily, transnational transactions. With a fixed exchange rate of 1 USD, USDT provides users with a more stable option than Bitcoin or other coins, or traders who often use USDT to avoid "storms", ie when the market fluctuates. Instead of selling Bitcoin to USD, you can sell Bitcoin to USDT and buy back Bitcoin as soon as you want.
What is Tether (USDT) ERC-20?
---
USDT Currently, there is not only one type as you can see, the USDT we usually still use is based on Bitcoin's Omni protocol, as I described above. However, recently, the company Tether Limited has issued a number of other USDT coins based on many different blockchain platforms such as Ethereum, TRON or EOS, this move aims to speed up transactions for USDT faster.
In particular, Ethereum-based USDT, also known as ERC20, is being applied very popularly, many exchanges have announced complete changes or additional support. USDT ERC20, such as Remitano, Binance,..
What I want you to note is that USDT Omni and USDT ERC20 are two completely different coins and they will use each different type of wallet address. When you deposit USDT on an exchange, you need to pay attention to what platform that exchange is supporting USDT on and get the exact wallet of USDT on that platform. In case you load USDT ERC20 but entered wrong wallet address USDT Omni then the possibility of losing all that USDT is very high. Here are two types of USDT Omni and ERC20 wallet addresses that you should know:
USDT Omni: 3GuXA2MyWNtxjXp7LcTW6jP7T2yn2RT2A3
USDT ERC-20:

0x

8ca41a1874f2a9d229a6f5b08ab23c789ee03a20
With USDT ERC-20 wallet address, it always starts with "0xThe USDT Omni wallet is not, you just need to notice this feature to be able to identify it.
How is Tether different from Bitcoin and other Altcoins?
The biggest difference we can see between Tether and Bitcoin In terms of value, the value of Tether is almost fixed at 1 USD and BTC is always quite volatile. In addition, another point that many people probably don't know, is about the quantity provided.
With Bitcoin, the quantity is "finite", BTC only has 21 million dong, currently only more than 3 million dong has not been mined and this amount is fixed, this is also one of the factors that makes BTC have value. What about Tether?
Tether issued by a company, many people ask me "Is it possible to mine Tether?"I can answer no! So many people will ask questions.How many USDT can be issued by the company? So is it prone to inflation and loss of value?". To ensure that the value does not decrease, the issuer of USDT announced that for every 1 USDT generated, they will put the corresponding 1 USD in the bank. This ensures that as much USDT circulates on the network as possible, there will be real USD in the bank, avoiding the fact that USDT is widely "printed" and makes it depreciated or worthless.
All transaction information of USDT is publicly and transparently displayed on the page omniexplorer.info, this is also a page for you check USDT transaction.
How Tether USDT Works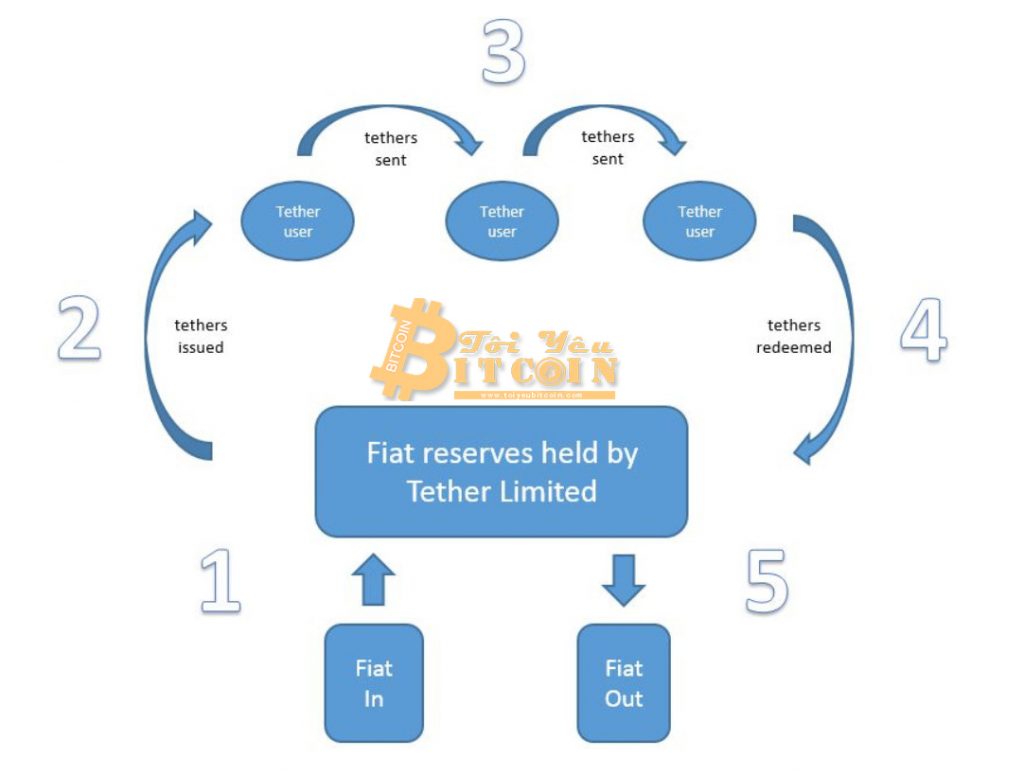 Step 1: We use money to buy USDT
Step 2: Then Tether will generate a similar USDT Token. The USDT you buy is valued at the value of 1 USD you deposit.
Step 3: You can trade, buy/sell, exchange freely
Step 4: You don't want to hold USDT anymore, you can sell your USDT to Tether to withdraw real money, or sell it to an exchange, someone you want.
Step 5: If you sell USDT back to Tether then Tether will pay you back and permanently destroy that token.
How to use USDT?
As I mentioned above, USDT is a coin to store value because it has a stable rate of 1 USD, often used to "avoid storm"when the market fell. I will be more specific:
For example, you buy 1 BTC in VND at the price of 20,000 USD, a few days later the price of BTC drops to 19,000 USD and you believe it will drop to 18,000 USD today, but you believe that after dropping to 18k it will jump to 50,000k. Now you will sell your BTC at 19k and wait for 18k to buy it back, so instead of selling in VND, you will lose transaction fees and the buying/selling process takes time because you have to go through a domestic bank, you can You can sell BTC to USDT and store it on the exchange, then wait for the price of BTC to drop to 18k, you use USDT to buy BTC again, this process is called "Trade coin".
Should I invest USDT?
Many of you also ask me "Should you invest in USDT?", for those who are new to it, they will often think of USDT as a coin similar to BTC, ETH, XRP and it is possible to invest for a profit, but that is not the case. As I mentioned above many times, the price of USDT always fluctuates at 1 USD, it is just a coin for you to store the value of other coins.
As for BTC, ETH, .. and other Altcoins, their value is always very volatile, and you can take advantage of that to make a profit by buying when the price is low, selling at high price. I'm sure you'll understand when you say it here, right?
Where to buy and sell Tether USDT?
You can buy and sell USTD on exchanges in Vietnam, and if you want to invest in other Altcoins, transfer USDT to international exchanges like Binance, CoinEx, Huobi, Bittrex, .. for trading. But first you need to buy USDT in VND at Vietnam floor. Currently, the most reputable, safe and cheapest floor I still use is Remitano – one of the largest exchanges in Vietnam, supports buying and selling Bitcoin, Ethereum, USDT and Bitcoin Cash.
You can see the instructions below to know how to use the full Remitano floor and buy USDT Please.
For those of you overseas who can't use Remitano to buy and sell USDT, you can go through the exchange Changely to buy and sell.
Where to create a wallet and store USDT?
You have 2 options for storing USDT coins:
Stored on Tether's Private Wallet
Stored on exchange wallets
Tether also provides a very popular online wallet service, which is used by many people https://tether.to/, you can create a USDT wallet and store it there.
But if you regularly trade Bitcoin and Altcoins, you should buy USDT on Remitano then transfer to wallet international exchanges for ease of use and less deposit/withdrawal fees. When you don't want to store USDT anymore, you withdraw to Remitano to sell VND.
More information about Tether
Epilogue
Here is the article "What is Tether (USDT)? How is it different from Bitcoin? Where to create a wallet to store and buy USDT?"Hopefully it will bring you a lot of useful information about USDT. If you still have any questions, please leave a comment below and I will help you. Finally, don't forget Like, Share and 5 star rating to support ToiYeuBitcoin grow more and more. Good luck.
---
Join our channel to update the most useful news and knowledge at:
---
Search keyword to article: what is USDT, what is tether, what is usdt, buy usdt, sell usdt, buy usdt prestige, create usdt wallet, buy cheap usdt, where to buy usdt, buy usdt with paypal, what is usdt, check txid usdt, dig usdt, exchange usdt.