Trade coin or Trading is a term that is too popular in the cryptocurrency market (Cryptocurrency), a lot of people make very good money from tradecoin work, but there are also people who have to "take bitter fruit" when investing in trading coins. without inquiring, without knowledge. If you are a beginner, do not know how to trade coins, you should first understand what Trade coin is? What types of trade are there? Understand the basic terms when trading coins and learn effective coin trading experiences from previous PRO Traders. This article I Love Bitcoin will share with you from A – Z about tradecoin.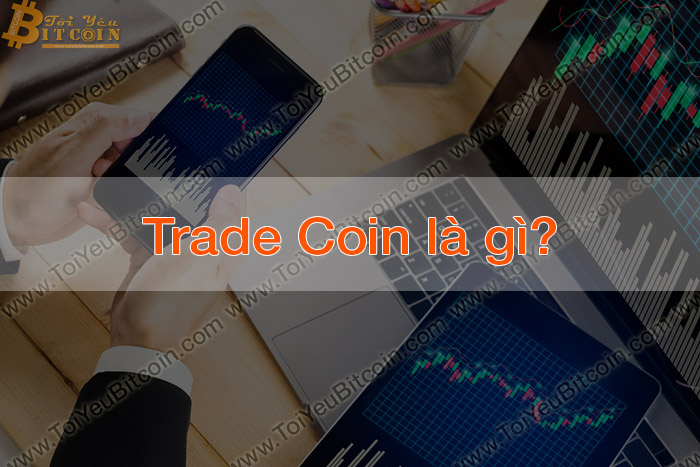 What is TradeCoin?
---
If you have ever participated in or learned about the stock market, Forex, you will know the concept of "Trading", it is a form of activity participating in the financial market to seek investment opportunities through buying and selling activities, instead of long-term investment and hope that the market will increase in price, then trade coin The same applies here, but in the cryptocurrency market.
Trade coin concept appeared when cryptocurrencies began to gain popularity across countries around the world, highlighting some coins like Bitcoin (BTC), Ethereum (ETH), Litecoin (LTC), Ripple (XRP),.. and the Altcoins. Tradecoin also known as "surf", you simply understand trade coin is a form of buying and selling coins on exchanges to make a profit, you buy when you think in the future that coin will increase in price and you sell when you think in the future that coin will decrease. But different from "Hold coin" (long-term investment from a few months to a few years), trading activities only take place in the "short-term", it can be within a day, for a few hours or even a few minutes. And the participants in this trading activity are called "Trader".
Terms to know when playing Trade coin Trade
---
Sharks, whales: Only one or a group of people hold a large enough amount of coins to manipulate the market.
Pump: Pushing the price up
Dump: The price dropped sharply.
Hold: Hold a certain coin and do not sell even though the market fluctuates.
Match (match order): When a buy and sell order have the same price, the trade will be matched.
Bull (buyers): When a person believes the market will go up and buys continuously, we call it bullish.
Bear (sell side): When a person believes the market will go down and sells continuously, we call it bearish.
Stop Loss (stop loss): When you feel the coin price will go down, you execute a sell order to minimize the loss.
Stop-Limit: Place an order that is automatically matched when buying and selling at a specific price. Stop is the price at which you want the order to be executed, Limit is the best price you want to get for that trade.
Take Profit (take profit): When you think the price has reached its highest peak and start selling for a profit.
Volume: Trading volume of that coin in a trading session, usually calculated in 24 hours.
Low: Lowest price in the trading session (usually 24 hours).
High: The highest price in the trading session (usually 24 hours).
Last price: The last bid or sold price.
Margin: A form of financial leverage. When you borrow money from the exchange to trade, you can buy more coins than you actually have.
Long: When a trader borrows money from the floor to buy coins continuously in the hope that the price will be even higher. (Used in margin, when the coin price is higher, you only have to pay the price when you borrow money).
Short: When a trader sells a coin in the hope that the coin will go lower to buy it back. (Used in margin, when the price drops, you still have a balance left after you have paid the debt to the floor).
Support threshold: Is the price area where when the price goes down, it will be supported by buyers to increase again.
Resistance level: Is the price area where when the price goes up, it will be supported by sellers to fall.
FIAT (fiat currency): Is the currency issued by the government, for example USD, VND.
USDT (Tether): As a digital USD, traders often use USDT when trading coins to "avoid storms", that is, when the market is highly volatile, traders will sell coins to USDT to protect assets from falling, because USDT has a price. worth ~ 1 USD.
Market capitalization: Is the total capitalization of all coins present on the cryptocurrency market combined.
Coins and Tokens: Coin and Token are two different cryptocurrencies, see this lesson to understand clearly.
BTC Dominance: Is the Bitcoin dominance index, i.e. the total capitalization of Bitcoin / the total capitalization of the entire market.
What are the ways to trade coins?
---
Currently, as far as I can see, yes 2 forms of Trade coin The most commonly used by traders are:
Trade by technical analysis: This is quite a difficult form if you are a newbie and need to learn how to use it properly. With this form, traders will rely on charts, graphs of price movements and trading volumes of coins to analyze supply and demand fluctuations, then determine when to buy, sell or hold. original. Of course, technical analysis is not always right, no matter how pro traders, there are times when the market goes against their predictions.
Trade according to the news: The current cryptocurrency market is affected by a lot of news, good news, the price goes up and the bad news goes down, because most investors suffer from "FOMO syndrome", with this trading coin trader will rely on market news to predict prices, thereby determining when to buy and sell to make a profit.
So with these 2 ways, which way to trade coins is more effective? Each trader will have their own way of trading, the ultimate goal is still to make a profit, and both ways are used a lot. But often they will use method 1 to trade according to technical analysis, and method 2 is only used in the short term, because there is not always news to trade.
Should trade coins on any reputable and safe exchange?
---
Currently there are many cryptocurrency exchanges you can use to Tradecoin, usually international exchanges, but with Vietnam now I see the number coin trading floor very few, mostly intermediate trading markets (OTC trading) as Remitano, Ailinex, ..and you only use it when there is a need to liquidate coins in VND. Below I will list some large, reputable, safe and community-based exchanges that use the island to trade coins:
You can see more categories international floor this by ToiYeuBitcoin for more Reputable coin trading platforms other.
Which coin should I trade? Coin Top or Coin "junk"?
---
1. What is Coin Top?
Coin Top are coins or tokens with large market capitalization, be it in the Top 10, Top 20 or Top 50 on CoinMarketCap.
Advantages: Usually the price movement is not large (small waves), less manipulated (makes the price), of course the level of risk when trading is smaller.
Defect: Because of the small volatility, the profit will not be much.
2. What is a "junk" coin?
Coins "junk" are coins or tokens with a small market cap, usually tokens from New ICO project release.
Advantages: Strong price volatility (big wave), if you analyze well, choose a reasonable buy and sell point, you will earn huge profits.
Defect: The large price fluctuations are both advantages and disadvantages of junk coins, if you do not have technical analysis knowledge and look at the market, it is easy to be "swept away", losing money when trading junk coins. very easy to encounter. Besides, junk coins will often be manipulated by sharks.
So which coin is the most effective and profitable to trade? In my opinion, for new entrants, it is advisable to trade Top coins to limit risks, big coins like XRP, BNB, XLM, LTC, XMR, TRX, .. are very difficult to be priced by sharks, you new no coin trading experience It will be very easy to level FOMO and when trading junk coins is extremely easy to lose. Junk coins are only for professional traders who have had a long experience of trading coins.
Effective Trade coin experience for newbies
---
1. Thoroughly research the market as well as concepts and tools before starting to trade. Remember: trading is not for everyone. Not trading is going to be profitable, if someone else makes a profit, someone will suffer a loss, that person can be you.
2. Set profit target as well as risk tolerance. When you have a target, you will know when to take profits to avoid getting too deep into the market and not withdrawing in time. Risk tolerance is the percentage you will accept to lose, when the market drops to this level, immediately sell, do not hesitate, do not believe in hopes like "it will go up again".
3. Understanding the Nature of Bitcoin, USDT and AltCoins: Bitcoin price will be volatile and expressed in FIAT currency. USDT and AltCoins fluctuate depending on the price of bitcoin. Usually if Bitcoin goes up, most altcoins will go down and vice versa, sometimes all go down.
4. Trade AltCoin with caution: There are stable and rising value altcoins like ETH, XLM, LTC but there are also coins that keep falling in price. If you want to hold altcoins, you need to choose carefully, otherwise only short-term goals should be set.
5. Start from the singular: Start with low investments, set short-term goals, target low-priced and high-volatility altcoins. You will quickly adapt to the market and if you are lucky, you will accumulate capital to prepare for bigger plans.
6. Long-term investment with ICO: ICOs are a long-term investment channel and regular profit if you invest in the right project. A reputable ICO with a clear mission will be profitable for investors when it goes into official operation. Do not believe in projects that promise huge profits in a short time, most of them are just scams.
7. Buy low, sell high: The obvious thing to do when participating in trading coins. Place buy order lower than current market price, place sell order higher. You can also place a buy order really low if you expect the market to go down there and then go up.
8. Buy rumors, sell facts: Rumors will often push the coin's price significantly higher, you should start buying as soon as there are signs. On the contrary, the truth from the articles can make investors withdraw and push the market price down, sell now. Subscribe to the category Cryptocurrency news of the…